Alright, alright: I know there's nothing quite like that feeling of running through Cinderella Castle or finishing strong through Epcot. No amount of home-grown pixie dust is going to replicate that! But if you're completing your Virtual runDisney Race this year and want some ideas on how to make it feel like the real thing, we've got you covered!
How To Make Your Virtual runDisney Race Feel Like The Real Thing
Guest Post By Alex Balandis
Be sure to follow Alex on Instagram and check out her Etsy shop!
2020 has been a year to say the least.
It's pushed us physically, mentally, and emotionally as we learned to navigate a global pandemic.
So many things have been stripped away from us: vacations, holidays, birthdays, graduations, and weddings – to say the least.
And one thing so many of us have missed out on is running a race in-person.
Primarily, Disney races.
runDisney Race Cancellations
At the time of writing this: 4 race weekends have been canceled, 3 of which have turned into Virtual Runs, and we have been given the opportunity to run the races on our own (and fingers crossed that the 2021 Star Wars Rival Run happens in person!).
If you're not familiar with a virtual run, the concept is simple: you run the race on your own time, and in runDisney's case, at your own pace, and you earn a medal that is mailed to you upon completion.
This unique situation has presented a new challenge to a lot of runners who registered for races with the expectation of a Disney-run running event: do you keep your registration and run at home, sacrificing the in-person experience that we crave and love?
Or, do you choose to get a refund?
It seems like most people I saw on the internet chose the latter – and I totally, completely understand why.
But I chose the former. And here's why.
runDisney Summer Virtual Summer Series
This summer, I signed up for the runDisney Virtual Summer Series.
I'm a sucker for cute medals, and I typically use the summer runs as training runs and motivation for the next season ahead.
Plus, they really got me this summer with the Space Mountain medal!
I have done all 5 years of the summer virtual series, so it was a no-brainer for me this year.
Naturally, the Wine & Dine 2020 Half Marathon weekend moving to virtual sucks, but the virtual option was better to me than *nothing*.
Having been in the depths of quarantine when the sign-ups for the Summer Series became available, and the 2020 Star Wars Rival Run had been canceled (one of the first of what turned into many canceled races, globally) I started to brainstorm ways that I could bring the magic of runDisney to my backyard.
The little spark of inspiration (I'm here for you, Figment fans!) came when I saw a clever video of our favorite runDisney announcers.
As I mentioned, the Star Wars Rival Run race had been canceled in the height of COVID, but that didn't let our announcers keep the magic and spirit of runDisney alive.
They compiled home videos to "virtually" send-off runners the morning the Star Wars 2020 race was supposed to take place.
They tried to make it as real as possible using their classic (infamous?) banter, wit, and signature send-off quotes.
Virtual Race Start Line Experience | The runDisney Race Announcer's Video
So watching this video, combined with the "survival mode" creativity that came from quarantine, my mind has really let my creativity manifest itself, and thus an idea was born: bring the magic of runDisney home for the virtual runs.
Recreate elements that we love about runDisney at home.
Turn a style of racing that has a connotation for just "buying a medal" into an actual experience.
How did I turn what could be a boring training run into a fun experience at home?
I listed out what I like about runDisney and got creative with ways I can bring it home.
All with a lottttt of help from my fiance.
Here are some ways that you can bring the magic of runDisney home with you for your next virtual run!
1. Make a runDisney Virtual Race Playlist
With there being so many great themes this year, especially the Wine and Dine villains theme, there are some fun songs to be had when creating a playlist you can run to, to get you in the mood.
I thought about what songs would be played at the send-off of each corral. And I tried to stay on-theme with the race – even outside of Disney music.
For example, when I did the Space Mountain 5K, I would search for words like "space" and "planet" and "stars" to see what songs or bands came up that I could add to my list.
I found a few cool new songs along the way!
I found Spotify to be a little more user-friendly for creating playlists, but I have a subscription to Apple Music that is what I ultimately ended up using.
I put all the playlist links in my Linktree, so feel free to take a listen!
2. Dress Up!
At runDisney races, my creativity shines in my DIY runDisney race costumes.
I look forward to making and wearing a costume sometimes more than the actual race itself.
And while I won't go full-out costume in my neighborhood, I can still dress in theme.
Put on a cute Sparkle Skirt, a themed shirt, visor, and maybe some ears if you're feeling it, and you'll be brought back to your runDisney days.
3. Create a Start Line
You've got your music. You've got your outfit. Now, you're ready to go.
And to me, the *literal* best part of starting a race at Disney is the fireworks.
What other race does that?!
Given that I run in a quiet neighborhood with noise ordinances, we used sparklers as a make-shift firework.
Same effect, smaller scale.
We also played Disney music to count me down and get the adrenaline going – just like they do at the release of each corral. You can also do bottle party poppers or confetti cannons if pyrotechnics are not your thing.
Additionally, runDisney has provided some Start Line and Finish List posters that can be used as well – I plan to use those for the Wine & Dine virtual run.
4. Character Stops and Photo Ops
I think this is where I had the most fun and let my creativity soar.
I personally look forward to who/what will be on the course this year, and I wanted to create that same excitement.
I took souvenirs I had from around the house and had my fiancé come outside every so often (based on my running path, approx every .7 miles) with a new item to literally come outside and "pose" as a character stop.
We used Wishables and popcorn buckets for the most part, but since I really had no idea what he was going to come outside with based on the options I gave him, it was always a fun surprise to see who would be next.
If you don't have souvenirs or a person to help you with this, you can create photo ops along your route.
Got a big tree you find on your run? Well, guess that's the Tree of Life! See how many fun "Disney inspired spots" you can find.
5. Mile Markers
Disney has provided mile markers for the virtual races, but if you're like me and you want to get creative, you can create your own!
Maybe it's a balloon with a number on it or a poster staked into the ground with a character picture on it (similar to the ones on the actual course), you can add a little magic to every mile.
6. Cheerleaders and Signage
One of the best parts of a runDisney race are the spectators and the energy they give off.
Who doesn't love a funny sign telling you how hot you look at mile 11?
Find a friend or two that will come outside to check on you every so often, and have them hold up a handmade poster with a quote or picture that will make you laugh, smile, or feel energized again.
My personal favorites signs are the ones that are relevant to whatever is going on in the world right now in pop culture (i.e. "You're running better than 2020 is").
But having a sign to look at just brings a little bit of that runDisney crowd familiarity to the comfort of your home.
7. PhotoPass
If you are like me, you are always on the hunt for the PhotoPass photographers.
You can see those green tents a mile away.
And if you've got a friend that's good with a camera, have them come outside and take photos as you run-by!
Maybe you'll get a fun photo out of it!
8. Finish Line
I think what I miss the most about runDisney races is the finish line feeling.
While it's completely irrational to have someone build a 30' metal archway in my driveway (but I won't judge you if you do and will ask where you live so I can come borrow it), we can get a little creative here.
You can have a toilet-paper roll (those should be available now) or party streamers that you can run and break through.
You can line it with some helium balloons, too.
You can also have someone set off a confetti cannon, or pop those little bottle party poppers (similar to the Start Line suggestions).
Whatever floats your boat here! And maybe have someone snap a picture or two of your finish line accomplishment!
9. Snack Box
I miss my free banana, people!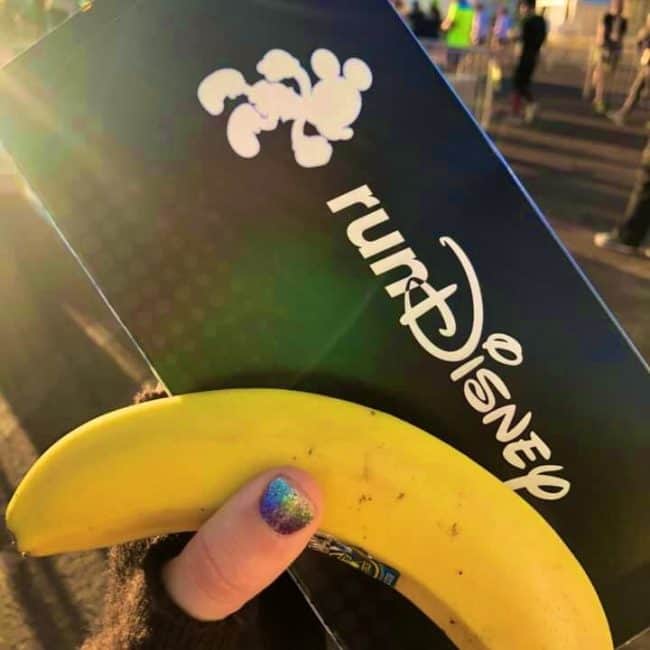 I think I got the most creative by creating a snack box for myself as "treat yo self" moment.
Hey – you ran the miles. You deserve it.
I tried to theme each snack box based on the race's individual theme.
For example, I made Cheshire Cattails for the Alice in Wonderland 5K, based on the delicious snack you can find in Magic Kingdom.
While we don't have easy access to the cheese that everyone but me *ducks* loves, maybe you can make yourself some nachos, grab a banana and a Powerade, and relive those post-race cool-downs from the comfort of your couch.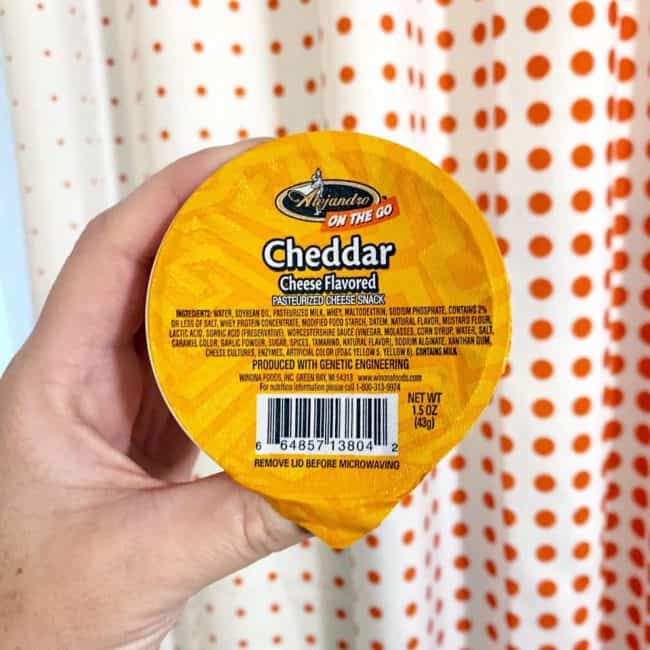 10. A Photo Op Finish
Do you miss waiting in line for a black backdrop with the runDisney logo on it, while you hold a paddle saying that you did it?
Well, me too.
If you've got the time, you can try to recreate your own fun background!
You can make it out of streamers, tinsel, gift wrap (Pinterest is your friend here), and create an "I Did It" sign to hold to share with the world your new accomplishment!
This is definitely one of those "extra" ways to get creative, but if you've got a group of friends you're running with, it could be a fun project with a great reward!
11. Run at Disney, If You Can!
I will never forget the 2017 Marathon Weekend half that was canceled.
I was bummed that I couldn't run the race due to inclement weather.
But, a group of friends woke up early and we got our miles in at the Boardwalk.
We ran laps around the parking lot and pathways from the hotel to the parks.
I remember driving back to my hotel and seeing so. many. people. running their race at the resorts.
And what moved me was seeing so many pictures of Cast Members out there with signs, noisemakers, and make-shift finish lines to really keep the energy alive.
While running a virtual race is definitely on your own time – and not as convenient as your home – it could help bring back some of that Disney magic.
And here are a few places to get your mileage in when you need to run on Disney World property.
Plus, Patty can help you plan your stay 😉
Thanks, Alex!
This post is one of my all-time favorites and is just chock full of creative ways to bring runDisney home with you during a virtual race. And like the lady said- I'm happy to help anyone get to Disney proper for those miles if you need to soak in some real Florida sun!
If you need a trip to Disney World for your virtual race, please fill out this form and I'll be in touch.
Patty Holliday has been running Disney since 2011. She knows just about every tip, trick, and hack there is to cover the runDisney Magical Miles at Disney World and Disneyland. She knows every mile isn't *always* magical- but with training, tips, and a little bit of pixie dust, they can be a lot of fun! You can also find her at noguiltlife.com and noguiltfangirl.com