We're all about runDisney around here. But with the runDisney races cancelled this spring and a long wait until we can even get into the parks in front of us, our Disney loving running selves are missing out! Put a little magic into your workouts by running through Disney from home with these virtual runDisney Vacation videos. Plus you can take a Disney virtual field trip through Walt Disney World or Disneyland. OR BOTH!
Bringing Disney To Our Homes
I know I'm not alone missing the Disney parks.
But during this weird and wild time, it just means we need to be creative and experience Disney at home however we can!
Maybe it's time to raid your pantry for supplies to make these Disney foods in your own kitchen.
If you haven't taken a virtual vacation through the Magic Kingdom this spring, you just might need to make that happen.
But what about the runDisney lovers out there? A runDisney virtual vacation is just what you need to "run" through the Disney parks this summer.
Hey, no one will cut you off on your own treadmill, so consider that a bonus!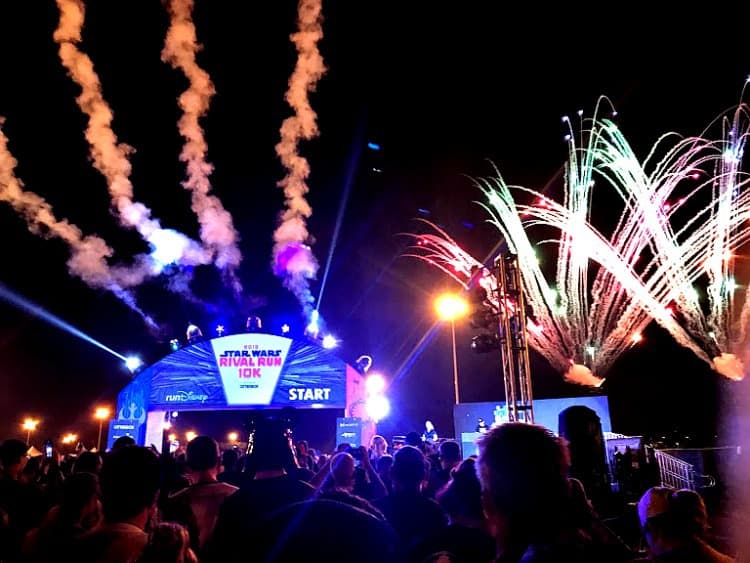 Virtual runDisney Vacations
I pulled together some of my favorite runDisney YouTube videos from previous runDisney race weekends.
Hop on your treadmill, fire these babies up, and get your runDisney race on- virtually.
There are some amazing runDisney vloggers out there- make sure you give them a follow!
One warning: I got super emotional watching all of these. But also super motivated to get back out there, train, and hope that all the pixie dust in the world allows us to get back on the Walt Disney World roads real soon.
Virtual runDisney 2020 Marathon Race from RunArnoRun
Ever want to run from corral A? From the FRONT of corral A?
Here's your chance. This is a quick 36 minute 26.2 miles of magical memories from the 2020 Walt Disney World Marathon.
And they ran in Marvel character costumes which makes it just that much more awesome!
2020 Princess Half Marathon From Run The Impossible
I had to include this one because of one specific moment.
Run the Impossible always brings their costume A-game and when they met up with the wicked stepsisters? The reaction was priceless!
2019 Wine and Dine Half Marathon With RezRuns: Disney Virtual Field Trip
The Wine and Dine is not my personal favorite, but it's incredibly popular with the runDisney crowd!
And the 2020 races sold out pretty quickly this year- so I know we're all hoping the pixie dust is strong with runDisney this fall.
Take a look back at the 2019 race with RezRuns- adventure is out there- go find it on your runDisney and Disney virtual field trip!
2019 Star Wars Rival Run With Fierce Kittenz
We didn't get this race in 2020, the Empire won that round.
But all the fingers and running shoe laces crossed that we get to make an epic return- with Galaxy's Edge run though perhaps?- in 2021.
May the Force Be With all of us!
Disney Virtual Field Trip: Walk or Run Through the Parks!
If you don't need a race, per se, to get your Disney running fix, you'll want to use this playlist to get your Disney virtual field trip on.
Each park at Walt Disney World and Disneyland can be found.
Do you love Animal Kingdom? Take a walk through it!
Need some Epcot in your life? This virtual Disney World field trip walkthrough will satisfy that need.
Dearly miss all things Disneyland? Me too, y'all, me too. But I can run through Disneyland on this virtual field trip and get that itch scratched!
All these videos come from Run The Impossible, and you REALLY need to give them some love by following their account.
I've been using these on my treadmill walks all month and it's making me feel a little more hopeful- try them out!
You can even speed up a little if you want to feel more "real-time" on your treadmill run by hitting the gear on the YouTube playback menu. Speed things up and get your heart pumping.
Disney World Virtual Field Trip Epcot Treadmill Walk Through
Treadmill Walk Through Walt Disney World Animal Kingdom
Walt Disney World Magic Kingdom Treadmill Walk Through
Treadmill Run Through Disney's Hollywood Studios
Disneyland Virtual Field Trip Treadmill Walk Through
Walking Through Disney California Adventure
Enjoy the runDisney virtual vacations- but let's hope we can see each other at the parks REAL SOON!
More runDisney Posts You'll Love
runDisney Princess Half Marathon: Everything You Need to Know
The Secret runDisney Playlist Hiding in Plain Sight!
So You Bought Your runDisney Bibs Through a Travel Agent…
Patty Holliday has been running Disney since 2011. She knows just about every tip, trick, and hack there is to cover the runDisney Magical Miles at Disney World and Disneyland. She knows every mile isn't *always* magical- but with training, tips, and a little bit of pixie dust, they can be a lot of fun! You can also find her at noguilttravel.com and noguiltfangirl.com