We're all looking for that extra way to celebrate our Disney-side these days. Since we can't all get to the parks right now (looking at you, my west coast Disneyland friends!) its nice to connect to the magic through- well, things. Cute, adorable and magical things that remind you of the Disney Theme Parks. One of our favorite shops for Magical Theme Park and Pop Culture Inspired Gifts is Magical Mimosa on Etsy – you just gotta check this cute corner of the internet out! Affiliate links are included in this post.
Magical Mimosas: Magical Theme Park and Pop Culture-Inspired Gifts
Full disclosure here: one of my besties runs this shop, but I'd totally support it even if I didn't know her!
How stinking cute are these mugs, notebooks, stickers, and prints in the MagicalMimosas shop on Etsy?
If you're looking for something to celebrate your Disney Halloween at home- check out one of the wine tumblers or mugs that are offered.
I'm just here for the Boos– yes, please!
My personal favorite, however, is the "When Can We Do This Again?" Paint the Night travel mug.
Because, y'all, I miss Disneyland something fierce and miss this super fun parade a lot.
That's right- I miss a parade. I know, I know, I was just as surprised as you when I realized it since I'm not a huge parade person.
But this one? So great, so fun, and oh so missed.
I'll just have a drink to remember her by until we can do it again!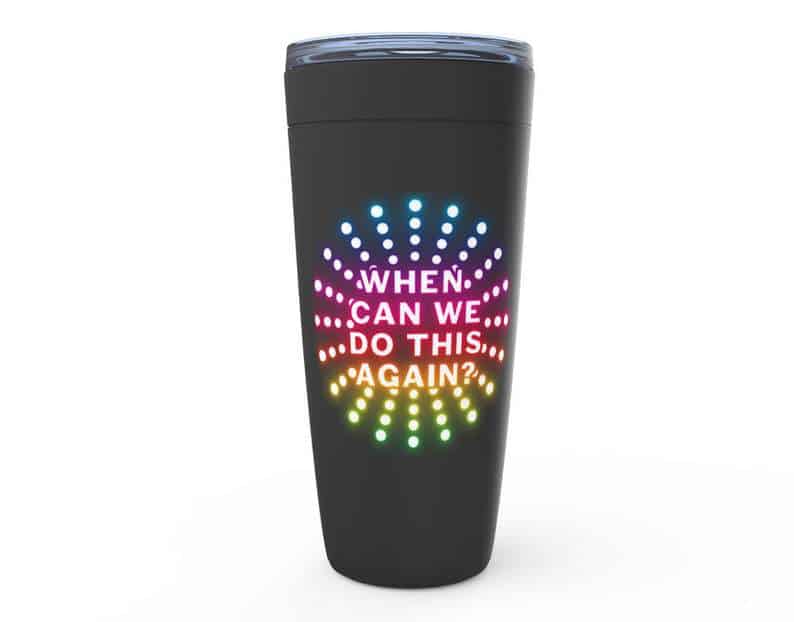 Disney Scented Wax Melts: Magical Theme Park and Pop Culture-Inspired Gifts
I also snagged some Disney scented wax melts from Magical Mimosas on Etsy for my warmer.
This is me, sniffing that glorious scent of Main Street popcorn while working the day away at home.
Yeah, I might have planned my Pop Century getaway soon after these arrived: totally coincidental, I'm sure!
Mickey balloon shaped with a strong, but not overpowering, scent made me one happy Disney girl!
There are notebooks perfect for stocking stuffers or teacher's gifts this year.
It's been a long, hard couple of months: if you know someone who needs a little Disney in their life, check out Magical Mimosas.
And honestly, don't we all need a little more Disney right about now?
More Disney Gifts You'll Love
Disney Men's Fashion With Cufflinks.com
Unique Souvenirs to Remember Your Disney Trip
Patty Holliday has been running Disney since 2011. She knows just about every tip, trick, and hack there is to cover the runDisney Magical Miles at Disney World and Disneyland. She knows every mile isn't *always* magical- but with training, tips, and a little bit of pixie dust, they can be a lot of fun! You can also find her at noguilttravel.com and noguiltfangirl.com