The Walt Disney World Marathon weekend is a race weekend like no other. Fireworks at the start, flat, fast course, and incredible medals at the end. But what really makes this marathon stand out: the runDisney character stops. Things do change every year, but here is a list of characters you might meet on the courses during Disney World Marathon Weekend.
runDisney Character Stops | Disney World Marathon Weekend
Some people run for time, glory or fabulous medals. Me? I run for characters.
If you're like me and need some distractions to make the miles fly by, then running a marathon at Disney World is an excellent choice for you.
Why? Because it's loaded up with runDisney character stops along the way!
And each race is treated the same, no matter which distance (or distances- crazy Dopey runners!) you decide to run.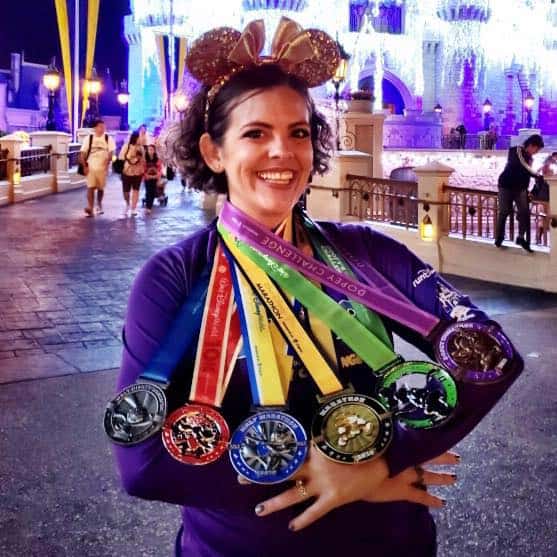 So who can you expect to find on the course during Disney World Marathon Weekend? The answer is: someone different every year and every race. BUT…
Below are the runDisney character stops lists from the 2019 race weekend. You can get an idea of what to expect when you run Disney and are looking for characters on the Half Marathon Course or Full Marathon Course.
And if you're brand new to runDisney, be sure to take a spin through this post.
Pre-Race runDisney Character Stops
Your runDisney characters journey is going to start before the race.
runDisney character stops are available in the family reunion area before each race, starting around 3:00 am. And no, that is not a typo. When you runDisney, you also get up very early!
Security will not let runners enter the family reunion area until they are ready- so keep this in mind. You might need to cool your jets a bit if you arrive VERY early.
And be warned: they do cut off the lines as the need to get characters on the course and runners into the corrals will necessitate. So if you want these characters before the race, arrive early and head directly to the line you wish to stand in!
Disney World 5K runDisney Characters
The 5K was themed for Oswald, the Lucky Rabbit this year. In the past, the 5K has been slotted as "Pluto's race" so this was a change for the 2019 runDisney 5K during Marathon Weekend.
He's considered a rare character, which meant he would have stopped traffic on the course. And that's why he was out pre and post run for everyone to get their pics.
runDisney Character Stops Pre-5K
Oswald
ESPN Mickey
ESPN Minnie
Dopey
runDisney Characters on the 5K course
Atta and Flick
Norway- the Vikings
Italy- Pinocchio
Morocco- Genie
UK- Scottish Goofy
Test Track-Racing Donald
runDisney Character Stops Pre-10K
Dopey
ESPN Mickey
Minnie
Pluto
runDisney Characters on the 10K course
Holiday Mary Poppins
Ralph and Vanellope
Rescue Rangers Chip and Dale

Evil Witch from Snow White

Mardi Gras Stilt Walkers

Italy: Jiminy Cricket

Morroco: Abu

ESPN Club- Football Goofy

Showcase Plaza- Max
runDisney Character Stops Pre-Half Marathon
ESPN Mickey
ESPN Donald
ESPN Goofy
Dopey
runDisney Characters on the Half course
World Drive- Jack Sparrow
Toll plaza- Cars
Ralph/Vanellope
Villains: Evil Queen, Queen of Hearts, Maleficent
Tomorrowland: Mike and Sully
Teacups: White Rabbit
Goofy
Ariel's Grotto: Sebastian
Castle breezeway: Stepsisters/Lady Tremaine
Frontierland-Woody/Bullseye
Cinderella/Prince Charming/Tiana/Naveen
Chip and Dale
Incredibles/Edna Mode
Green Army Men
Up characters
Clarabelle
Finish Line: ESPN Chipmunks/Pluto
runDisney Characters on the Full Marathon course
The full had a ton of characters on the course, and this is not all-inclusive.
Sarah ran the Dopey this year and she took pictures- I think for the first time ever on the marathon course?! I was so impressed because this girl doesn't like to stop!
Captain Hook
The Incredibles
Guardians of the Galaxy: Star-Lord and Gamora
Fantasia Ostrich
Evil Queen
Clarabelle
Haunted Mansion Grave Diggers
Darkwing Duck
Launchpad McQuack
Judy Hops and Nick Wilde
The Tweedles
The Mime from Rapunzel
Dr. Facillier
Jafar
Penguins from Mary Poppins
Princesses switching out
The Fairy Godmother
Buzz/Woody/Jesse from Toy Story
Alice in Wonderland
Chip and Dale
Green Army Men
Inside Out: Joy and Sadness
Chip and Dale and Daisy at the finish line
How Long Are the Lines for the runDisney Characters?
For this answer: well, it depends.
If you are a speedy runner in the front corrals, your stop will be much shorter than someone mid-pack. The way back of the pack can sometimes luck out with little to no lines because most of the runners have gone on by. But that really depends on the race and how long runDisney allows the characters to stay out on the course.
If you run the marathon, you can pretty much walk up to any character near the end of the race in Epcot.
By then, everyone is just ready to finish and tend to keep moving past the characters on the course.
runDisney Characters at Race Retreat
If you are running the half or the full (or both!) then you can also pay for the race retreat experience.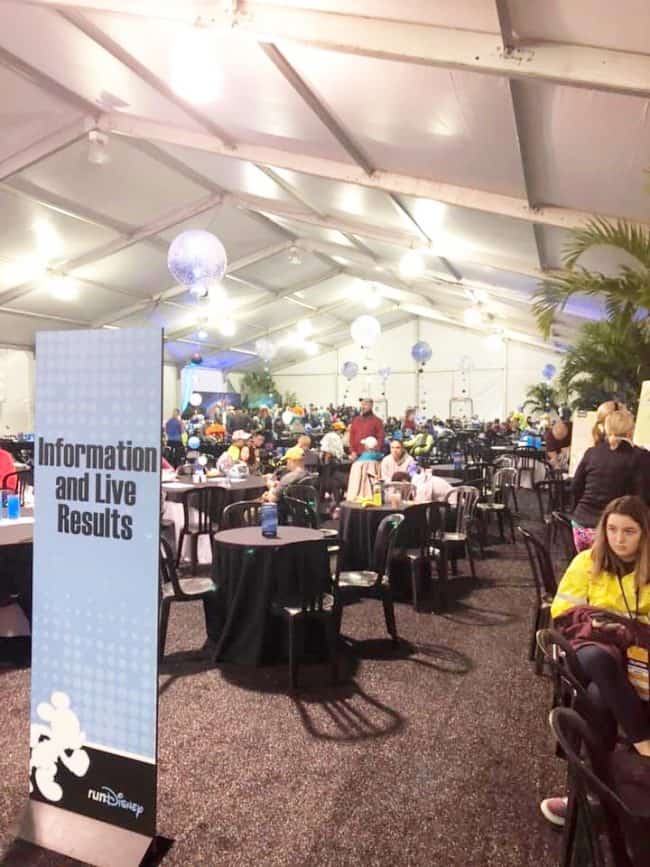 Inside a special tent at the start and finish, you can stay warm and dry while waiting for your race. And recover with food and drinks once it's all over.
And yes, you can pay for alcoholic drinks on the inside. Cheers!
But the reason a lot of people buy race retreat is for – you guessed it- the characters.
Half Marathon Race Retreat Characters
Mary Poppins
The Penguins
Bert
Full Marathon Race Retreat Characters
Hades
Pain and Panic
Hercules
Megara
This should answer the ever-burning question "What runDisney Character stops are on the Walt Disney World Marathon Course?" – with a little extra information thrown in!
Let me know if I missed anyone in the 2019 Walt Disney World Marathon runDisney character lists and I'll get things updated.
Tips for runDisney Race Pics
Check out this video if you're looking to brush up on your race picture skills!
runDisney Character Stops
Want to know what characters will be on the next runDisney race course? We've got the list of past characters for all runDisney race weekends to help you pre-plan your stops!
runDisney Character Stops | Princess Half Marathon
runDisney Character Stops | Star Wars Rival Run Weekend
Patty Holliday has been running Disney since 2011. She knows just about every tip, trick, and hack there is to cover the runDisney Magical Miles at Disney World and Disneyland. She knows every mile isn't *always* magical- but with training, tips, and a little bit of pixie dust, they can be a lot of fun! You can also find her at noguiltlife.com and noguiltfangirl.com