The runDisney weekends are special events held at Disney World every year. A place where you can get your fitness on, along with a healthy dose of pixie dust! If you've signed up for the races but need a little help navigating this special type of racecation, look no further. We've got a runDisney 101 for you with answers to your runDisney FAQs.
I've been running Disney races since 2011 and they must do doing something right to keep me coming back!
But I was once new and had #allthequestions when it came to these races.
It's why I started blogging, actually, and there's no shortage of things to talk about when heading to a runDisney race weekend.
If you want the long version (and I do mean LONG) head over to the Beginner's Guide to runDisney Race Weekends.
Inside that post, you'll find tons of details to run/walk/run you through the actual race weekend- from runDisney packing lists to race day details and beyond.
But if you like short and sweet bullet list kinds of things, then this post is for you.
It will probably also be long, but hopefully in easily digestible chunks of content.
Important note: this information is accurate as of November 8, 2021.
runDisney 101 | runDisney FAQs About the Races At Disney
Okay, race fans, let's do this!
If you find more questions that aren't answered here, please let me know in the comments. I'll get you an answer and update the post as needed.
First I'm going to start with some general Disney World vacation tips and then move into runDisney FAQs.
Get Familiar With the My Disney Experience App
On your Disney World vacation, My Disney Experience is your BFF. It's an app on your phone where you can plan pretty much every part of your Disney World trip.
Be sure to download it in advance, link your resort reservation, and refer to it through the racecation.
What's on My Disney Experience?
ERRRRYYYYTHING.
Well, most things, anyway.
Your resort information- room and location and recently there's been an update that allows you to unlock your resort door with your phone. Mind blown. Technology, amirite?
You can make, modify, and cancel table service dining options on My Disney Experience.
Same for your theme park reservations.
You'll also use the app to link up your race photos, which are free if you purchased Memory Maker.
What's The Deal With Genie, Genie+ and Lightning Lane?
This is a GREAT question.
New for 2021 and beyond, you have planning help from Disney's Genie, the new FastPass program.
This program is found in the My Disney Experience App and you can check out the Genie 101 details here to learn just what it can do for you.
You have many options so please check out the 101 post to learn more about it!
How Do I Link My runDisney Photos to PhotoPass?
The instructions for linking runDisney race photos to PhotoPass are found on the back of your race bib. So be sure to look there first.
You can link multiple race codes under the same Memory Maker account, which is all linked in-you guessed it- My Disney Experience.
Where Are My Park Tickets?
For most runners, they will be easy to find: on your wrist!
At Disney World, you can use a Magic Band which is a nifty bracelet that electronically links up to many Disney World systems.
You can open your room door with it, scan into your FastPass entrance with it, and enter the Disney Parks with it. You can even add in your credit card information and pay for food and merchandise in official Disney locations with it.
Your Magic Band is your Disney World park ticket!
New Technology Alert: Mobile Magic!
Mobile Magic allows you to use your phone and smartwatch as a Magic Band. We think Magic Bands may be on their way out, so getting familiar with this process would be smart to do.
If you do not want to purchase a Magic Band, you can also ask for hard tickets and use those for themepark and Lightning Lane entry.
You can pick them up at any Guest Service window in the Parks and at Disney Springs.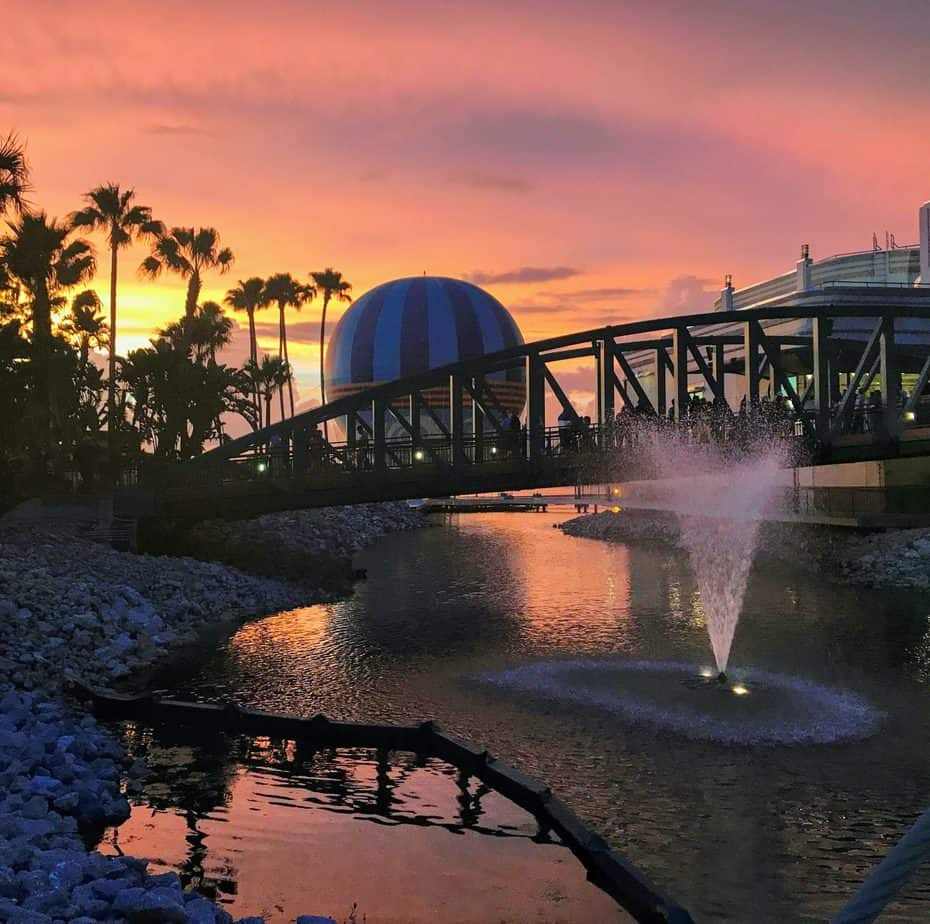 What Is The Weather Going To Be Like at Disney World?
Well… that's complicated. Weather in Disney World can pretty crazy to predict. Even hurricanes can be hard to predict with accuracy in the area.
It's Florida and things can change wildly, even on the same day!
Best response here is to check the weather right before you plan to pack. Not weeks before, but days before. Because it will change on you.
Wine and Dine Weather Information
runDisney FAQs: Is My Resort a runDisney Host Resort?
At this time, all official Disney World Resorts are host resorts for the runDisney race weekends.
Okay, let's get running!
I have a Question About My Hotel/Tickets/Bib. Who Do I call?
If you've used the services of a runDisney travel agent, then please, PLEASE contact them FIRST.
In almost all cases, the travel agent can address and correct the issue for you.
I repeat: CONTACT YOUR TRAVEL AGENT FIRST.
That's what they are there for!
If you did not book with a runDisney travel agent like No-Guilt Travel, then any bib-specific questions should be sent to runDisney directly.
You can reach them at (407) 939-iRUN or (407) 939-4786 or on their contact page at runDisney.com/contact
Transportation to the Expo
You can drive to ESPN Wide World of Sports and park for free.
You can also use Uber and Lyft in Orlando as well.
Or you can take a specially marked runDisney Expo bus from your Disney World Resort- which is also free and lessens any chance you might get lost!
If you are staying offsite, then you will need to use Uber/Lyft or rent a car.
Check the Event Guide for your race at specific times for the buses, but they generally run all day to get you back and forth as needed. The event guides are great resources for specific race-related runDisney FAQs.
The Expo buses will NOT take you to the parks.
If you want to go to Magic Kingdom from the expo, you can take an expo bus to the Contemporary Resort and walk or Monorail to the Magic Kingdom from there.
The same technique can be used for Epcot or Hollywood Studios: bus to Beach Club, Boardwalk, or Yacht Club. From there you can walk to both Epcot or Hollywood Studios.
Every runner needs to head over to the runDisney race expo at the ESPN Wide World of Sports complex. Here you will pick up your bib, race shirts, and do any shopping that might strike your fancy.
Check the Event Guide for bib pick-up locations.
They have changed over the years, so each race may be different. But the general location for bibs is in the HP Field House.
Can I Pick Up Someone Else's Bib?
No! But also yes.
All adults must visit the Expo to get their bibs.
Children, however, do not have to be at the expo in person. A parent may pick up a minor's bib on their behalf.
This leads to another important note in the runDisney FAQ…
No Strollers Allowed in runDisney Expo Areas
Kids are totally welcome, but their strollers are going to be parked right outside of all buildings.
There is a Cast Member to direct you to the best stroller parking, and I'd suggest not leaving those bibs or shopping bags on the strollers.
I'd love to say that no one steals at Disney, but sadly… people.
What Do I Need For Bib Pick Up?
Check out this guide to picking up your race bib at the runDisney Expo.
You'll need a photo ID (driver's license or passport) and make sure you signed your digital waiver. All waivers can be found in your runDisney account about 2 weeks before the race- but don't sweat it if you forget it!
There are computers located at the Expo where you can quickly and efficiently print out your waiver if you have problems signing digitally.
When is the Best Time To Visit the runDisney Expo?
If you are the kind of person that LOVES Black Friday kinds of crowds and madness, then you'll want to show up early on the first day that the expo opens. Some folks report showing up and starting the line to get in at 6 am for a 10 am opening.
For the folks who love to get in, pick up the things you must pick up, and get out, consider waiting until mid-afternoon or an hour before the Expo closes.
Fewer people, the merchandise is restocked, parking is easier, and I can cruise through without any lines.
I'm an in-and-out kind of girl, so this is always my choice.
runDisney FAQ: Where Should I Start at the Expo?
Go ahead and pick up the bib first. There are two reasons for this.
This is the one item you MUST have to run your race!
You can't pick up your race shirts without the race bib in hand.
After you get the bib, follow the signage to the Visa Athletic Center for your shirt pick-up and shopping enjoyment.
Let's Talk runDisney Expo Shopping
If you're running a big event, you'll want to make sure the whole world knows about it. One of the biggest runDisney FAQs is about what you can find at the expo.
Disney knows this, and they know that this might be one way to pick up a unique souvenir from your Disney World vacation.
The expo will have all kinds of things to shop for: gels, shoes, shirts, skirts, socks, coffee mugs, magnets, "I Did It" t-shirts and so much more.
The official runDisney merchandise has been housed in a 3rd building for the past few races; it's located on the way to the parking lot and buses, so you won't miss it!
Here you can get an AP discount and use your Magic Band to pay for things.
The Expo floor will have vendor booths for you to shop. Pretty much anything you might have forgotten at home can be found at the expo.
You cannot get an AP discount or use your magic band here, however.
Cool. But What If I Miss the Expo? Can I still Get My Bib?
NO. At least that is the current wording put out by runDisney on the website when the races were announced for 2021-2022.
But historically speaking, there has been a day-of emergency bib pick-up.
And there was a day-of bib pick-up at the 2021 Wine and Dine, so this appears to be a continuing option.
I can't say if this will still be available on-site for each race so I would make every effort to visit the expo to pick up the bibs you need.
runDisney FAQs: Race morning transportation
Again, you have options!
Park for free in the Epcot parking lot. You can leave your car there all day if you desire.
Uber/Lyft over.
Or take the Disney World runDisney buses to the start.
Important note: arrive EARLY. All options are great options— if you plan to be at the race early. If you decide to sleep in a little extra, you might end up stuck in traffic.
According to the 2019 Princess Half Marathon Event Guide: you need to heed these warnings on race day. Be sure to check the guide out or this post for a link to the guide for your particular race weekend.
Princess Half Marathon Only
FOR DRIVERS: On race day, all participants and spectators who drive must park at Epcot by 4:00 AM.
FOR RESORT GUESTS: Participants and spectators who are staying at Host Resorts are encouraged to utilize the provided runDisney event transportation.

Runners and Guests staying at Disney's Contemporary Resort & Bay Lake Tower, Disney's Polynesian Village Resort & Villas or Disney's Grand Floridian Resort & Spa MUST TAKE the monorail to get to the start of the race.
Princess 5K and 10K
FOR DRIVERS: On race day, all participants and spectators who drive must park at Epcot by 4:30 AM.
FOR RESORT GUESTS: Participants and spectators who are staying at Host Resorts are encouraged to utilize the provided runDisney event transportation.
Runner Drop-Off is located at Epcot on all race mornings. Guests should follow the directions provided by signage on the roadways and Cast Members within the parking lots.
All taxi and ride-sharing services will drop off and pick up near the blue balloon in the Epcot parking lot. Drivers should follow the directions provided by signage on the roadways and Cast Members within the parking lots.
Gear check at runDisney
That plastic bag you'll get with your t-shirts doubles as your Gear Check bag at the race.
There will be either tents or trucks available for you to check your gear bag at the start of the race.
What Characters Will Be On The Course?
The official list is not published in advance as runDisney does not want to spoil the magic.
But we can report that the Wine and Dine 2021 races, the first since runDisney returned after the pandemic closures, had characters, DJs and some bands on the course!
You can get a general idea of what characters may be out by looking at past race recaps.
I have a summary of the characters found on the Marathon Weekend Course here and characters found on the Marathon Weekend Half Marathon Course here.
For example, the Haunted Mansion Gravediggers are always on the Marathon course.
Here's a couple of updated posts on where to find characters on the Marathon weekend racecourses and where to find characters on the Princess half racecourse.
How the runDisney Corrals/Start Groups Work
This one needs a bit more explaining since it's one of the most talked-about of the runDisney FAQs.
Start Groups are the new terminology for Corrals. Best we can tell, they are THE SAME THING.
Just using S1, S2, etc instead of Corral A, B, etc.
To sum up: you will be seeded as a runner into a start section according to how fast you expect to finish a race.
You cannot move up into another corral if you think you will finish faster.
You can move back if you wish, and some do to join friends or family who are in different corrals.
You just can't move up.
The early corrals take 2-3 minutes to release; the later ones are more like 5-6 minutes. Typically it takes 1 hour between the first person starting and the last person starting.
For more corral info, check out this post on runDisney corrals.
What Time Do I Need For XYZ Corral?
That is going to vary race by race, but there seems to be a trend based on historical information.
You can look at the following posts to see where the corral breakdowns end up
The 10K and 5K corrals are not released in advance but based on your bib number you can get a general idea of where you will land.
5k
40000-42000 Corral A
42001-44000 Corral B
44001-46000 Corral C
46001-48000 Corral D
48001-50000 Corral E
50001-52000 Corral F
10k Challenge Bibs (two letters on the bibs A/B means A corral for 10K and B corral for the half)
30000-30800 Corral A
30801-31600 Corral B
31601-32400 Corral C
32401-33200 Corral D
33201-34000 Corral E
34001-34500 Corral F
10K
20000-21360 Corral A
21361-22720 Corral B
22721-24080 Corral C
24081-25440 Corral D
25441-26800 Corral E
26801-28070 Corral F
Are Strollers Allowed in runDisney Races?
No, they are not. There may be exceptions made by runDisney officials, but unless there is a medical exception, strollers are not allowed on the course.
Babywearing is also prohibited for safety on the course.
Who are the runDisney Balloon Ladies?
They are a visual sign that you are falling behind pace during the 10K, half or full marathons. They do not run the 5Ks as they are untimed events and sweeping from the course generally does not occur.
All the great info about the runDisney Balloon ladies can be found here.
Do I Get My Medal if I Don't Finish?
Yes, you do.
You can also finish slower than the 16-minute mile pace and still earn your medal, including a challenge medal.
Here's what you need to know about claiming that medal- and everything that happens after you cross the runDisney finish line!
Why Doesn't runDisney race at Disneyland?
There were runDisney Disneyland races once upon a time.
But runDisney had to put the races on hiatus in 2017.
Will runDisney return to Disneyland?
There is no official word on the races resuming at Anaheim and Disneyland at this time.
Trust me, when/if there are plans to bring them back, this space will explode with joy. I super miss the Disneyland races.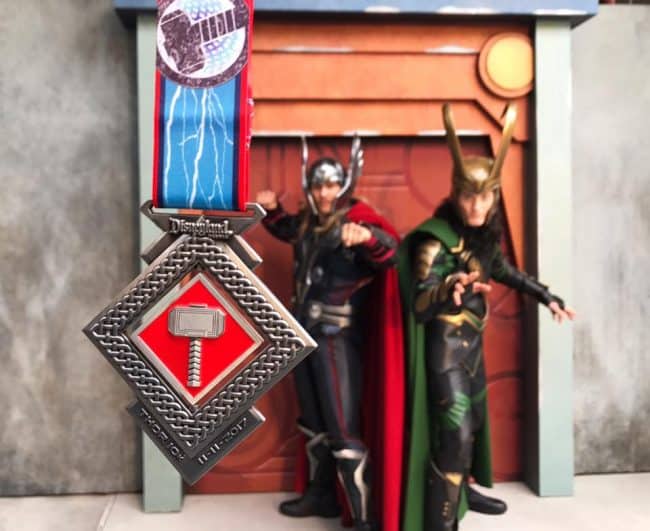 runDisney FAQs: Do I have to wear a costume at a runDisney race?
Absolutely not! I'd say most runners aren't dressing in costume unless their costume is being an awesome runner!
But you can, and it's a lot of fun. Here are some DIY running costume ideas.
Here are my tips on running in costume if you decide to give it a go!
What's at the finish line of a runDisney race?
When you cross the finish line, you'll have an amazing feeling of accomplishment.
And a shiny new medal. You can read this post for a more complete walkthrough of what happens at the finish line of a runDisney race. And this one if you want to know what we WISH was at the finish of a runDisney race.
Volunteers will direct you to the medal area and you'll continue down the finishers chute.
You'll also be offered Powerade (usually in different flavors), bottles of water, bananas, snack boxes, and maybe a mylar blanket if it's cold.
After you receive all the goods, you can take a finisher picture with your medal and reunite with your family in the reunion area.
Still have runDisney questions? Leave them in the comments and I'll be sure to answer them for you!
Happy running!
More runDisney Posts You'll Love
If you need all things runDisney, you've come to the right place! Here you'll find a list of important runDisney posts that will help you run the next Disney World race- where every mile is magic! All the tips you need for the expo, corrals, bibs, costumes and more.