When the Disney Parks shut down in March of 2020, we didn't know that the days of using FastPass+ were over. That was one Disney Parks program that did not make a comeback when the parks reopened. After a long wait (on standby, no less!) get ready to meet your new Disney BFF with this Disney Genie 101. We'll answer all the frequently asked questions about Genie, Genie+, and Lightning Lane to help you decide if this program is worth the added costs. Here's your guide to Disney Parks new FastPass+ option.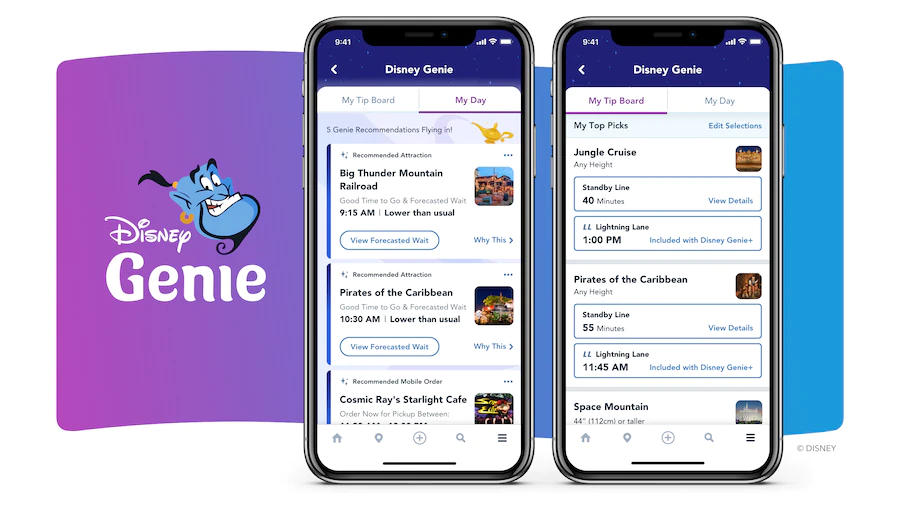 Disney Genie 101 | Your Guide To Disney Parks New FastPass+
You've never had a friend like this!
Genie is a new system coming to the My Disney Experience app that will help you plan and navigate your day through the Disney Parks.
There are a TON of pretty cool options that are coming out with this new system that will certainly benefit both the returning and new Disney Parks guests.
Here's what we know so far about Disney's Genie, Genie+, and Individual Lightning Lane passes.
This guide to Disney's Genie will help you decide if adding the cost to your vacation is worth it.
Three Separate Products Are Launching With Disney's Genie
The first thing to note: there are three distinct products that are launching with the new park planning program:
Genie
Genie+
Individual Lightning Lane Purchases
We'll break them down in the first part of Disney Genie 101.
What Is Disney's Genie?
What does Genie Cost? Nothing (see, there are still free things at Disney!)
Genie is free to all users of the My Disney Experience app.
It is a personalized park planner with real-time tip boards that will help you decide what your next move should be
Genie will include estimated wait times for attractions near you, Mobile Order service, restaurant check-ins, waitlists, and reservations.
You will also use Disney's Genie to access virtual queues like Remy's Ratatouille Adventure.
Reminder: Disney's Genie is FREE for all guests.
Genie would be incredibly beneficial for families and guests who are not as familiar with the Disney Parks such as first-time visitors.
What Is Disney's Genie+? Guide To Disney Parks New FastPass+
Genie+ is the PAID replacement for FastPass+. That's right: you'll pay for this one.
What does Genie+ cost?
Disney's Genie+ will incur a daily fee starting at $15 per person and replaces the free FastPass+ option. If you were familiar with Disneyland's old MaxPass program, it's similar.
Starting June 8, 2022, you will only be able to book Genie+ on a day-to-day basis, subject to availability.
Included in Genie+ are the tips and planning services in the free Genie option, plus Augmented Reality photo shots and short Audio Tours that share facts or secrets about the area you are currently in.
But here's where it gets good: Genie Plus will allow families to reserve a return time and bypass the standby line via a 'Lightning Lane' for 40 different attractions at World Disney World. See the Attractions Lists Below.
Some attractions are not included in Genie+ but may be available through a paid Individual Lightning Lane option. More on this below.
You can only go through the Lightning Lane 1 time per ride per day. Ex: You use LL to experience Haunted Mansion, but want to go back and do it again later in the day. You'll need to experience the 2nd trip on Haunted Mansion through the regular Standby Line.
You can purchase Genie+ after midnight eastern time each day.
Genie+ passes sold subject to availability, which sounds like there will be a daily limit imposed starting June 8, 2022.
Your first attraction booking through Genie+ begins at 7 am each day for guests: Disney World Resort guests. Shades of Green & Swan and Dolphin, Annual Passholders, off-site guests… everyone!
Once you have used your attraction reservation via Lightning Lane (LL) you will be able to immediately book another.
You will also be able to book another within a specific window (120 minutes) even if you have not used your previous LL. The app will tell you when you are eligible for another LL choice.
What Are The Individual Lightning Lane Purchases?
Lightning Lane is the name of a location you will use to bypass the standby line. So it's not a product in and of itself, but actually part of the Genie+ system.
But there is an option to purchase individual Lightning Lane passes for select attractions.
These are not included in the Genie+ attraction list; they are the most popular rides and therefore are going to be a premium to ride while at the parks.
What does Individual Lightning Lane passes cost?
The pricing will change from day to day and ride to ride, so a complete price list for Individual Lightning Lane passes is not available at this time.
Disney has given examples of $7 to $20 per attraction.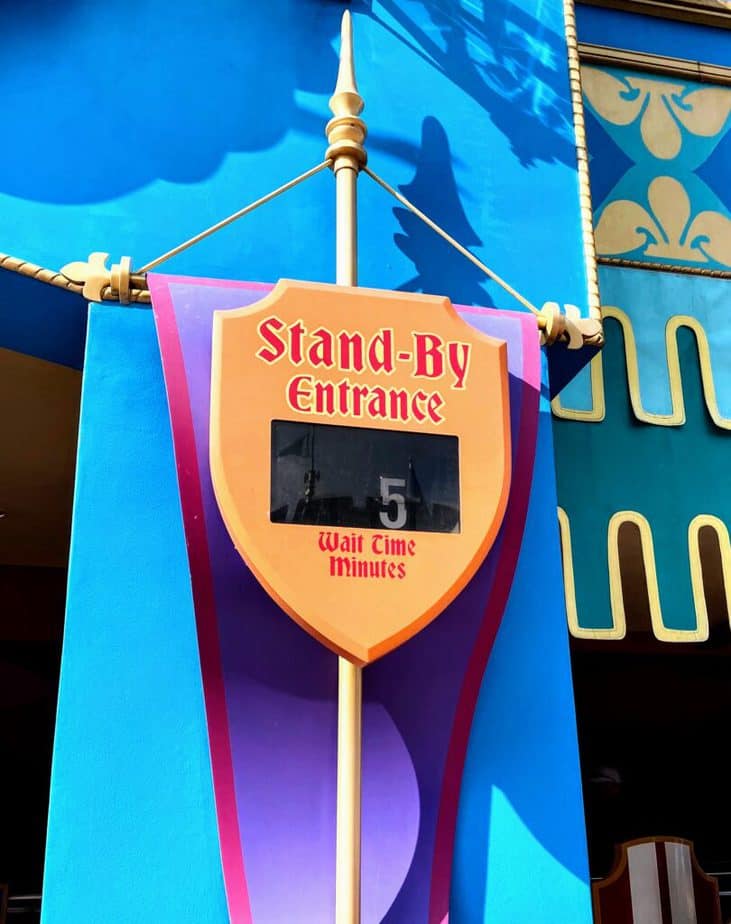 You can purchase 2 Individual Lighting Lane passes per day.
You can purchase both of them in the same timeframe: you do not need to wait 120 minutes to purchase an Individual Lightning Lane.
Sales for Individual Lightning Lane begin at 7 am each day for Disney World Resort guests. Shades of Green, Swan and Dolphin guests are included.
Sales begin at park opening for all other guests
If you are park hopping, you can purchase Individual Lightning Lane at the same park, different parks, or even both passes at a park you plan to hop to later. Genie knows when you will be able to enter the new park and will not book you before you are eligible to hop.

Ex: you have a reservation for Animal Kingdom, but want to purchase the Individual Lightning Lane options at Hollywood Studios for later. You can purchase the individual LL for Rise of the Resistance at 7 am for a time after 2 pm. Genie will know you cannot enter the park until 2 pm, so they will choose times that fit the park hopping experience.
Do You Need To Purchase Genie+ In Order To Purchase Individual Lightning Lane passes?
You do not!
You can skip the $15 a day Genie Plus purchase and only buy Individual Lightning Lane passes ala cart.
** Boarding Groups for Cosmic Rewind begin on May 27, 2022**
If you want to skip the virtual queue drama, you can simply purchase Individual Lightning Lane Access for Guardians of the Galaxy: Cosmic Rewind.
Will you be able to ride Cosmic Rewind with both an individual LL and a boarding group?
You can!
You will be able to return with an ILL and a Virtual boarding group if you want to experience the attraction twice.
If you plan to try this, we suggest purchasing the ILL first and then following the Cosmic Rewind boarding group process afterward.
If you don't get the boarding group at 7 am, you will have a 2nd chance at 1 pm, so buying first might be the more sure bet.
What Attractions Are Included In Genie+?
MAGIC KINGDOM PARK
Big Thunder Mountain Railroad
Buzz Lightyear's Space Ranger Spin
Dumbo the Flying Elephant
Haunted Mansion
"it's a small world"
Jungle Cruise
Mad Tea Party
Mickey's PhilharMagic
Monsters Inc. Laugh Floor
Peter Pan's Flight
Pirates of the Caribbean
Space Mountain
Splash Mountain
The Barnstormer
The Magic Carpets of Aladdin
The Many Adventures of Winnie the Pooh
Tomorrowland Speedway
Under the Sea ~ Journey of The Little Mermaid
EPCOT
Disney and Pixar Short Film Festival
Journey into Imagination with Figment
Living with the Land
Mission: SPACE – Green
Mission: SPACE – Orange
Spaceship Earth

The Seas with Nemo & Friends

Turtle Talk with Crush
Frozen Ever After
HOLLYWOOD STUDIOS PARK
Alien Swirling Saucers
Beauty & The Beast Live on Stage
Disney Jr. Dance Party
For the First Time in Forever: A Frozen Sing-Along Celebration
Indiana Jones Epic Stunt Spectacular – Returning December 19, 2021
Millennium Falcon: Smugglers Run
Muppet*Vision 3D
Rock 'n' Roller Coaster
Slinky Dog Dash
Star Tours
The Twilight Zone Tower of Terror
Toy Story Mania!
Mickey & Minnie's Runaway Railway
ANIMAL KINGDOM PARK
Celebration of the Festival of the Lion King
DINOSAUR
Feathered Friends in Flight!
It's Tough to Be a Bug!
Kali River Rapids
Kilimanjaro Safaris
Naʻvi River Journey
The Animation Experience
Expedition Everest – Legend of the Forbidden Mountain
What Attractions Are Included For Individual Lightning Lane Purchase?
MAGIC KINGDOM PARK
EPCOT
HOLLYWOOD STUDIOS PARK
Star Wars: Rise of the Resistance
ANIMAL KINGDOM PARK
How Can I Add Genie+ To My Disney World Package?
Genie+ will no longer be available to add to packages after June 8, 2022.
Until June 8, Genie+ can be added to the package (every person in the room will need to purchase Genie+ for the length of stay) up to 24 hours before travel.
OR you can purchase Genie+ on a day-by-day basis through the app as an add-on purchase.
Please note: If you booked with a travel agent, they can add Genie+ to your resort package booking until June 8, 2022.
If you booked a room-only reservation, a travel agent cannot add Genie+. It is only available to add on to packages that include theme park tickets.
But you will be able to add Genie+ to your individual tickets (see below).
Guide To Disney Parks New FastPass: How Can I Add Genie+ To My Theme Park Ticket or Annual Pass?
You will no longer be able to add Genie+ to your theme park tickets in advance starting on June 8th. You will need to add Genie+ on a day-by-day basis starting every night at 12 midnight ET.
There is not a special Annual Passholder Genie+ program at this time, so APs will add Genie on a day-to-day basis.
The Genie 101 Big Question: Do I Need Genie+ At Walt Disney World? Is Genie Plus Worth It?
This is one of those "that depends" kinds of questions.
If it's in your budget to access the full program, then this might be a great investment in your Disney World vacation. Everyone likes to skip as much of a line as possible!
If you are traveling during an exceptionally busy time (think Christmas, Halloween, Easter) then it most certainly will be helpful for your family's park enjoyment. We'd strongly suggest guests consider using the program during these high volume times.
What we don't know is how Genie+ will impact wait times in the standby lines. More time and data are needed to say if standby lines are significantly impacted.
FastPass+ did have a significant impact and increased the standby wait times, but we hope Disney has learned from that experiment.
And since not everyone in the park will choose to access Genie+ due to cost, there's a good chance that it will not cut into the standby line too much.
Please note: like most theme parks or even restaurants, inflated estimated wait times are NORMAL at Disney World. So use your best judgment when you see an 80-minute wait time for an attraction that truly looks more like a 30-minute line.
Of course, that's easier to estimate if you are familiar with the parks and attractions, but bottom line: you can't always trust those numbers! You'll likely spend less time in line than posted.
Guides For Genie+ At Each Disney World Park
Guide For Using Genie+ At Magic Kingdom
Guide To Using Genie+ At Hollywood Studios
Guide To Using Genie+ At Animal Kingdom
Guide For Using Genie+ In Epcot
More Disney Tips Posts You'll Love
Will Your Kids Have To Wear a Mask At Disney World?