One of the biggest questions we see every year is what runDisney character stops Princess Half Marathon will have? We can't guess exactly who runDisney will have on the course, but we can guess where!
Before we dive into the runDisney character stops, jump on over to read about Princess Half Marathon Etiquette. It just might help you enjoy the race weekend a little more!
But hurry back and let's chat characters! Keep in mind, these are just guesses – based on years of running the races- but still just guesses. runDisney sure could change things up on us this year!
But hopefully, this gives you an idea of who and where to expect to make a stop on the Princess Half Marathon course.
And don't forget to check out the Ultimate Guide to runDisney, a place to find all your general runDisney questions answered.
runDisney Character Stops | Princess 5K
The Princess 5K is themed after Elena of Avalor this year. My guess is that she will not be on the course, but meeting guests before the race. So get there early if getting a picture with her is important!
Here's where the characters should be positioned for the runDisney Princess 5K this year.
Mile 1
Norway: the Vikings
Italy or Morrocco (or both!)
UK
Test Track
runDisney Character Stops | Enchanted 10K
This race typically has between 6-9 runDisney character stops each year. There may be a few more or less depending on how runDisney decides to staff things!
Here's where you can expect to find characters on the Enchanted 10K course.
Look up! As you go under an overpass, you might see someone stationed above. Typically it's the popular or rare character that they don't want huge lines for on the course. Moana and Anna/Elsa have been up there in the past. I kinda feel like Mulan might make an appearance here.
Mile 1. First stop is right at the first mile. Right before you make a turn and head up the first big hill! We've seen all kinds of people here- Alice and Wonderland characters for example.
Mile 1.5. On the left side, as you go down a hill, you'll find a runDisney character stop. Lilo and Stich and the Fairies are favorites for this location.
Mile 2-ish on the right. We've seen the witch from Snow White set up here in the past.
Entering Epcot on Mile 3.2. Typically these are characters from the parades on stilts.
In Epcot, things can be mixed up depending on the year. In recent years, you'll be greeted with the Vikings in Norway as you enter the World Showcase.
Italy, Morocco, and France are also traditional stops. This year, we might see a stop at China for Mulan, but I kinda expect her to be on the overpass to make sure lines don't get crazy!
Entering the Boardwalk is my favorite part of the race! And you usually find Sports Donald or Goofy located over here.
As you enter Epcot again, you probably won't have additional stops. There has been one last character located before you get to Spaceship Earth in the past, but it's more hit and miss on this part of the 10K.
runDisney Character Stops | Princess Half Marathon Course
This one is a little more exciting. But also pretty predictable when it comes to runDisney character stops.
We can generally guess who will be in their "standard" places as well!
Early on, there's not a lot of characters. Really, there's nothing! You'll have a DJ and maybe a hot air balloon to look at, but no stops until just before the TTC.
Mile 1.5
Mile 2.5
Mile 3
Mile 3.6ish
These character stops on the runDisney Princess course are more predictable. You will probably find a mixture non-Princessy characters like Pirates of the Caribbean, Princes, Villains, Cars, and Ralph and Vanellope.
Magic Kingdom will have multiple runDisney Character Stops.
Tomorrowland: usually Buzz Light Year
Teacups: Alice & Wonderland characters (The Queen of Hearts, Tweedles, Alice, Mad Hatter)
New Course this year might include stops near Ariel's Grotto.
Castle Photo: exit the ramp and go to the left. PhotoPass photogs will take ONE shot so make it count!
Liberty Square: Tiana and Navin are sometimes spotted here
Adventureland: Toy Story characters like Woody, Jessie, and Bullseye
Backstage at Magic Kingdom: Princess and Princes (rotate out) I'd guess Aurora and Prince Phillip will be in the mix here, and since Maleficient's dragon is back in action, I wouldn't be surprised to see her parked here either!
The Long Road Back To Epcot: kinda stinks. But should give you a few runDisney character stops.
Grand Floridian around mile 7 has been Mary Poppins or penguins recently.
You can also count on seeing the men in tuxedos. They represent the Wedding Pavillion and are a lot of fun for a stop.
Golf cart on the right side by Shades of Green sometimes has characters, sometimes it's just a fun photo opp.
8.0 median of World Drive- the Princes are often here.
Mile 9 photo stop is the same as mile 1.5. So you can skip it early and catch it on the return.
Mile 10.5 is the biggie. Get moving, Princess! The Green Army men are stationed here and get you up and over the traditional last hard sweep of the course.
Entrance to Epcot around mile 12 usually has a character or stilt walkers. And you can often meet Sophia and the Fairy Godmother inside Epcot.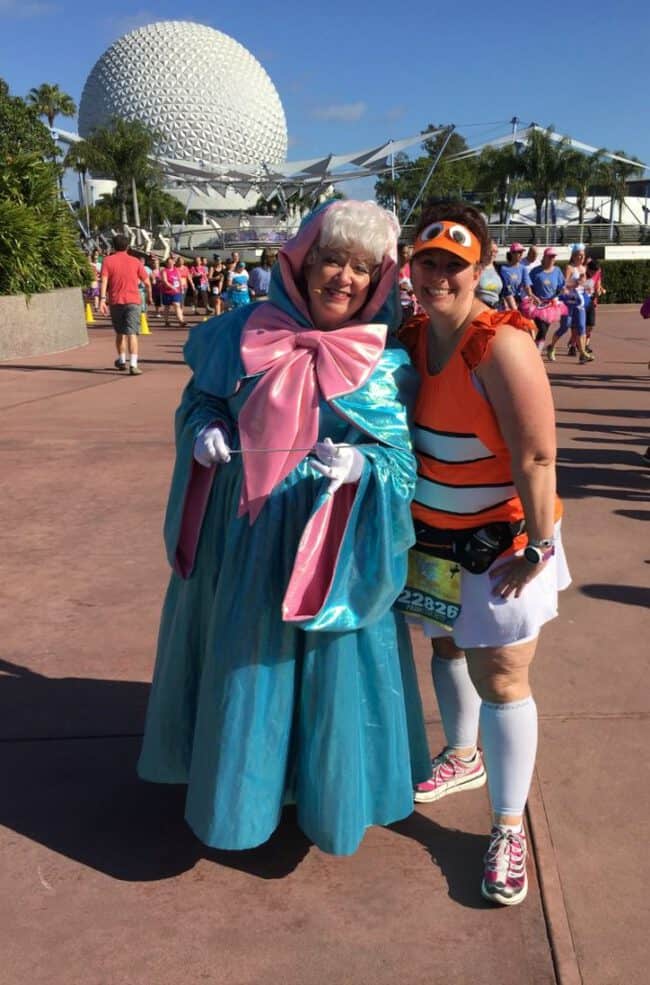 At the end of the race, you usually get to see Royal Fab 5. So get your high five hand out and ready as you cross the finish line!
If you are looking to compare Princess Half characters to Marathon Weekend characters, check out this post about runDisney character stops on the Marathon Weekend course. We've covered the runDisney character stops at Star Wars Rival Run too!
Which Characters Were On The Princess Half Course?
Here's a list of the characters that were on the Princess Half Weekend courses in 2020.
5K

Moana (in winter wear)
Lilo and Stitch
Flynn and Rapunzel
Ball Gown Belle and Beast
Frozone
Mexican Donald

10K

John Smith
The Governor
Meeko
Miss Bunny
Mushu
Pinocchio and Geppetto
Esmeralda and Quasimodo
Racecar Mickey
Clarice the Chipmunk
Fairies from Sleeping Beauty

Half Marathon

Suzy and Pearla
Tremaine family
Carriages for Frozen & Cinderella
Rapunzel and Snow White
Lewis from The Robinsons
Dopey
Chip and Dale (in western wear)
Cinderella float and Merida float
Flora and Fawna and Merryweather (various combos)
Princess Atta/Flick
Cinderella and Prince Charming
Jafar
Shan-yu (the bad guy from Mulan)
Tinkerbell and Periwinkle
Bolt
Panchito from the 3 Caballeros
Sir Donald/king Mickey/Queen Minnie at the finish
Photo Tips for runDisney Races
Check out this video from Sarah and I about taking great runDisney race pictures for all the tips!
More runDisney Posts You'll Love
If you need all things runDisney, you've come to the right place! Here you'll find a list of important runDisney posts that will help you run the next Disney World race- where every mile is magic! All the tips you need for the expo, corrals, bibs, costumes and more.
Patty Holliday has been running Disney since 2011. She knows just about every tip, trick, and hack there is to cover the runDisney Magical Miles at Disney World and Disneyland. She knows every mile isn't *always* magical- but with training, tips, and a little bit of pixie dust, they can be a lot of fun! You can also find her at noguilttravel.com and noguiltfangirl.com