Disney+ has my complete and total attention. And when I was watching Disney+ on the treadmill yesterday, one show stood out. Here is a list of the all of the most bad-A quotes from The Mandalorian on Disney+. I picked my favorite Mandalorian quotes by episode because this show just gets better and better! ps- you can also check out the Onward Movie Quotes from Barley too. Ready for the Mandalorian season 2 quotes? Got those as well!
If you're looking for where the Mandalorian fits into the Star Wars movie timeline, it's between Return of the Jedi and The Force Awakens.
And if a Star Wars movie marathon is on your mind, be sure to add this series into the best way to watch the Star Wars movies list in the right place!
But I want to talk Mandalorian quotes today, because this dude? He's a bad-A. And in the words of David Rose, that should be celebrated.
I pulled together the best 99 quotes from The Mandalorian season 1.
Don't you agree is one cool guy? Even if a bit, ahem, violent… but bounty hunting is bound to be messy, amirite?
ps- check the Ultimate Parent Guide to Disney+ for updates on the kid-friendliness of most of these shows.
What's The Mandalorian About?
After the stories of Jango and Boba Fett, another warrior emerges in the Star Wars universe. "The Mandalorian" is set after the fall of the Empire and before the emergence of the First Order. We follow the travails of a lone gunfighter in the outer reaches of the galaxy far from the authority of the New Republic.
99 Of The Most Bad-A Quotes From The Mandalorian on Disney+
He's a man of little dialogue so far. But when he does speak, The Mandalorian delivers.
And if I know the internet, I'm sure they will give these the Disney Plus meme treatment soon enough!
If you've seen the show, you know just how powerful these lines are delivered. This list of The Mandalorian quotes are giving me LIFE!
I can't wait to add more as the series progresses.
Chapter 1 Quotes From The Mandalorian
1. I can bring you in warm, or I can bring you in cold.
2. No droids.
3. Probably not.
4. I don't know if you heard but the Empire is gone.
5. I like those odds.
6. Let's see the puck.
7. I was once a Foundling.
8. Well, then I don't know if I want your help.
9. Perhaps he remembers I tried to roast him.
10. Droids.
11. I'm in the Guild.
12. Do not self destruct. We're shooting our way out.
13. You know you're not so bad for a droid.
14. Anyone else?
15. We'll bring it in alive.
That's the best 15 Mandalorian quotes from episode 1 spoken by the Mandalorian himself.
And of course: you know this quote HAD to be included, even if it's not directly stated by The Mandalorian. Because it's probably the best quote of the whole Star Wars series.
16. "I HAVE SPOKEN" – Ugnaught
I've been using that one a lot around the house with the kids- ha!
And if The Mandalorian isn't your thing, don't forget all the Disney Christmas movies on Disney+!
More Mandalorian Quotes From Episodes 2 and 3
The Mandalorian has a ton of great quotable moments, so I'm just going to keep adding them on! I've decided to make a Mandalorian quote list for each episode.
I'll update this every week as we go along, hopefully, every Friday as the newest Mandalorian episode drops for new quotes.
17. They all hate you because you're a legend
18. I'm going to have to relocate the covert. This is the way.
19. This is the way.
20. I gotta get one of those!
21. It was not a noble kill, he did not know he was my enemy.
Most BADASS Mandalorian Quotes From Chapter 4
Guys, these Baby Yoda memes are totally going to be the end of me. He's so dang cute- and each episode we get cuter and cuter Mandalorian and The Child interactions.
Episode 4 of The Mandalorian Quotes are perfect examples!
22. Stop touching things.
23. You stay, don't move.
24. You want some soup? (GUYS!!! Swoon!)
25. Looks like this planets taken.
26. You think I'm some kind of mercenary? (response from the farmer) You are a Mandalorian, right?
27. (to farmers) Bad news. You can't live here anymore.
28. We'll be coming in hot.
29. Come to mama!
30. Take the bait you hunk of junk!
31. Was that the plan? – Something like that (Cara Dune)
32. I don't belong here, but he does.
33. Til our paths cross.
The Best Quotes From The Mandalorian Chapter 5
My girl, Ming-Na Wen, shows up in this one. Combine that with the most adorable Baby Yoda moments yet (hello to that giggle!) and this might be my fave episode so far.
34. Hand over the child, Mando- I might let you live. I can bring you in warm or I can bring you in cold- Bounty Hunter
That's my line.- Mando
35. Just remember… – Mando
Yeah, no droids. You don't have to say it twice. I heard you. Womp Rat. – Peli
36. I'm going to look after you until the Mandalorian gets back. And then I'm gonna charge him extra for watching you. – Peli
37. Think again, tin can. -Toro Calican
38. Fennec Shand is an elite mercenary. She made her name killing for all the top crime syndicates- including the Hutts. If you go after her, you won't make it past sunrise.- Mando
39. Looks like you're stuck with me now, partner! – Toro
40. Tuskens think they're the locals. Everyone else is just trespassing. – Mando
41. Those were brand new!- Toro
Yup, they were. – Mando
42. Hit me in the beskar- and at that range, the beskar held up. – Mando
Wait, I don't wear any beskar. – Toro
Nope. – Mando
43. Suns are down, time to ride, Mando! – Toro
44. You done? – Mando
45. Not so fast, Fennec. – Toro
46. Nice distraction. – Mando
47. A Mandalorian. It's been a long time since I've seen your kind. -Fennec
48. Uh oh- looks like one of us has to walk. -Fennec
Or we could drag you. -Mando
50. She's no good to us dead. -Mando
51. Then think what it would do for your reputation. Your name would be legendary. -Fennec
52. You want to be a bounty hunter? Make the best deal for yourself and survive. -Fennec
53. Who wouldn't want to be a legend? Thanks for the tip. – Toro
54. You're a Guild traitor, Mando. -Toro
55. You're smarter than you look.- Peli
The Prisoner Chapter 6: Quotes From The Mandalorian
56. Is that you under that bucket?- Ran
57. Well, you know the policy. No questions. – Ran
58. What's the look? Is that gratitude? Uh-huh… I think it is. – Ran
58. What did he get out of it? – Mayfield
I asked him that one time- remember what you said, Mando? Target practice. – Ran
60. He's one of the best triggermen I've ever seen. Former Imperial sharpshooter.- Ran
That's not saying much. – Mando
I wasn't a stormtrooper, wiseass!- Mayfield
61. So this is a Mandalorian. I thought they'd be bigger. – Burg
62. Tiny. – Burg
63. The ship is manned by droids. Still hate the machines, Mando?- Xi'an
64. Will you both just. shut. up. – Xi'an
65. Funny, the man who left me behind is now my savior. – Qin
66. What about your sister?- Mayfield
What about her?- Qin
Nice family. – Mayfield
67. Where are the others? -Ran
No questions asked, that is the policy, right? – Mando
68. I told you that was a bad idea. – Mando
Chapter 7 Quotes From The Mandalorian
69. Return to Navarro. Bring the child as bait- Greef Karga
70. I'm already free of worry- and I'm not in the mood to play soldier anymore. -Cara Dune
71. Do you trust the contact? -Cara Dune
Not particularly. -Mando
72. Please lower your blasters, he will not harm you. It will protect. -Kuiil
73.Droids are not good or bad, they are neutral reflections of those who imprint them. -Kuiil
74. None will be free until the old ways are gone forever. – Kuiil
75. So this little bogwing is what all the fuss was all about? -Greef Karga
76. I guess the little bugger's a carnivore. – Greef Karga
77. He's trying to eat me! -Greef Karga
78. As long as the Imp lives, he'll send hunters after the child. -Mando
79. I'll give you 20 credits for the helmet.- Stormtrooper
80. Kuiil, are you back to the ship yet? – Mando
Chapter 8 The Mandalorian Quotes
81. Maybe Moff wants to eat it, I don't ask questions. – Trooper
82. Do you get the point? – Trooper
83. He just killed an officer for interrupting him, so this might take a while. – Trooper on coms
84. That was unpleasant, I'm sorry you had to see that. – IG 11
85. Sewers are good! – Cara Dune
86. If you're asking if you can trust me, you cannot. – Moff
87. Mandalorian isn't a race- Cara Dune
88. It's a creed. – Mandalorian
89. I love IG units. – Greef
90. I won't leave you. – Cara Dune
This is the way. – Mando
91. I am not a living thing. – IG 11
92. You mean my brain. – Mando
That was a joke it was meant to put you at ease. – IG 11
93. Its kind were enemies, this one is not. – Armorer
94. You are a clan of two. – Armorer
95. Watch your feet, it's molten lava. – IG 11
96. Let's make the baby do the magic hand thing. Baby, do the magic hand thing!- Greef
97. Some of my favorite people are bounty hunter. – Greef
98. I didn't think I'd see that again- why don't you hold on to that? – Mando
99. DARK SABER!!!
Star Wars Fans Need To runDisney's Rival Run
It's never been a better time to runDisney and head to Walt Disney World than now! Especially as a Star Wars fan.
With Galaxy's Edge opening and some fun runDisney Character stops on the Rival Run course, trust me, it's time to make this travel happen. And I mean, the Star Wars medals are pretty sweet every year!
Want to know more? I'm a travel agent that runs Disney and I'd love to get you quoted for the 5th anniversary Rival Run.
Fill out this form and I'll be in touch with details.
May the Course Be With You!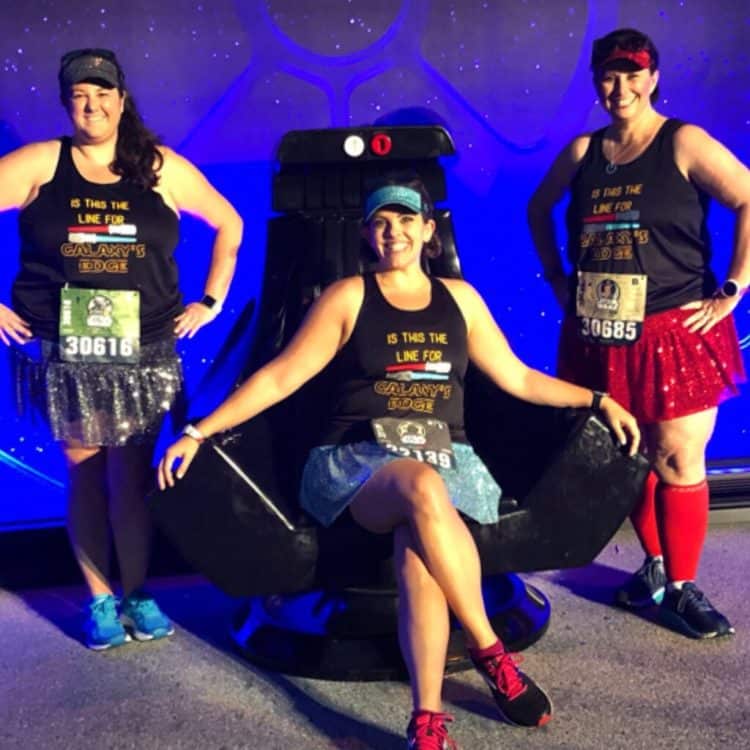 Love the Mandalorian Quotes? Here Are More Movie Quotes
Christmas Songs and Puns from Noelle
Spies in Disguise Movie Quotes Your Kids Will Be Repeating
The Most Bad-A Black Widow Movie Quotes
Frozen 2 Movie Quotes From Olaf
Sharpest Knives Out Movie Quotes
Best Mulan Live Action Movie Quotes