Don't call it a dreadmill! Because you have Disney+ on your side during this training cycle. Here are 10 Disney+ shows to watch on the treadmill while your training for your next runDisney race.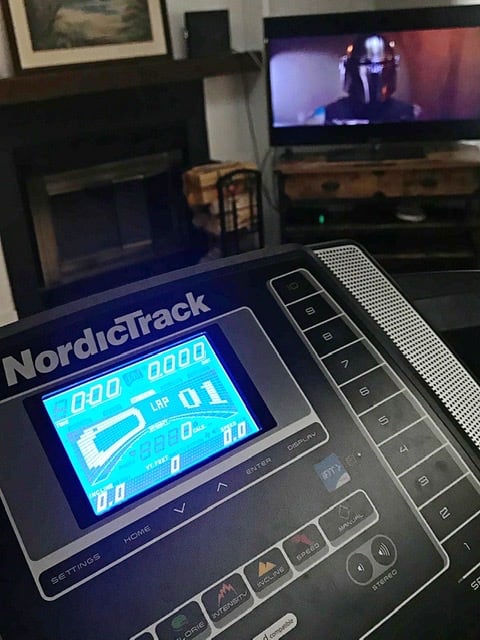 Disney+ Shows To Watch On The Treadmill
I've been spending a lot of time inside this fall. Between the rain and the chill and a lack of extra time, the treadmill and I have become BFFs once again.
I'm not complaining, because I'm the weirdo that actually loves the treadmill for my runDisney training runs!
But I was getting low on shows to watch and Disney+ came just in time.
If you're training for the Walt Disney World Marathon, you have a few long runs left. And in case you end up indoors due to weather or preference, here are a few of the best Disney+ shows to watch while running on the treadmill and getting those miles in.
Disney+ Originals Perfect For The Treadmill
I'm a huge fan of what I've seen so far with the Disney+ original programming. And if you're looking for a few recommendations, here you go:
Disney Channel Originals On Disney+ That Are Treadmill Worthy
I'm a fan of the Disney Channel Original shows mostly because the signing distracts me from the pain of running on a treadmill.
If there's a song to be sung, I'm going to do it. Maybe add some choreography as well.
High School Musical movies. I'm suggesting all of them. Each one has a power song that will get you moving a little faster and bumping up that incline just a smidge.
The Descendants movies. I absolutely love this series as well- because the songs are catchy and my kids roll their eyes at me when I try the moves. Gotta keep them a little bit embarrassed, amirite?
Lizzie McGuire. I never watched this one- just missed the age window here when it was on TV back in the day. So I'm thankful that Disney+ is bringing it back so I can watch Lizzie while running on the treadmill.
Hannah Montana. Speaking of singing… MILEY. I'm down for a rewatch of this series.
Run While Watching Disney Classics Out of the Vault and Onto Disney+
There are so many classics that are out and ready to make your treadmill time fly by!
Too many to list because picking a favorite isn't something I think I can do.
Think Lion King, Aladdin, Pinnochio, Aristocats, Alice in Wonderland, Mary Poppins and more.
These might be the most fun since they can get you thinking about costumes and characters to run into on the course.
What's on your treadmill Disney+ watch list?