Ant-man is known for its witty dialogue. And the third movie definitely has some great lines! Here are the best quotes from Ant-Man and The Wasp: Quantumania.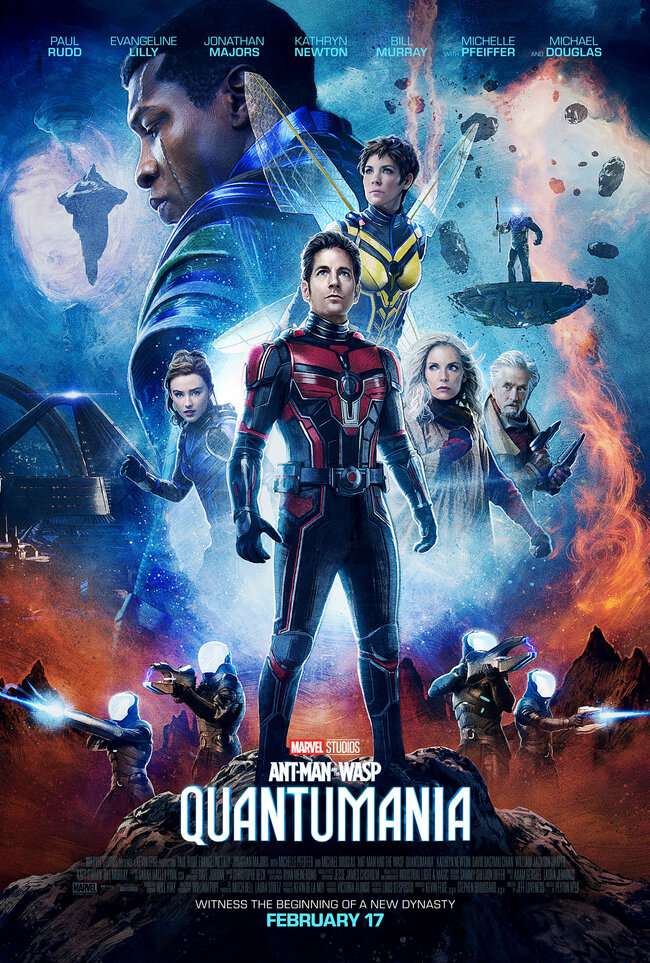 About Ant-Man And The Wasp Quantumania
Super Heroes Scott Lang (Paul Rudd) and Hope Van Dyne (Evangeline Lilly) return to continue their adventures as Ant-Man and The Wasp.
Together, with Hope's parents Janet Van Dyne (Michelle Pfeiffer) and Hank Pym (Michael Douglas), and Scott's daughter Cassie Lang (Kathryn Newton), the family finds themselves exploring the Quantum Realm, interacting with strange new creatures and embarking on an adventure that will push them beyond the limits of what they thought possible.
Watch the Ant-Man and The Wasp: Quantumania trailer.
Watch the Ant-Man movies in order.
Read the best Scott Lang quotes.
Read the Best Kang Quotes From Ant-Man Quantumania.
Read the parents guide for Quantumania.
Best Quotes From Ant-Man and The Wasp: Quantumania
What is this place? – Kang
My life really doesn't make sense. -Scott
Everywhere I go, people ask me the same thing: Can you take a picture with my dog? – Scott
It's been a crazy few years. For everyone. -Scott
Thank you, Spiderman. – Rueben
I'm just a guy that got fired from Baskin Robbins. -Scott
Sometimes you just get lucky. -Scott
None of this should have happened. But it did. -Scott
It's a pretty good world. I'm glad we saved it. -Scott
Look out for the little guy. -Scott
If there's one thing life has taught me, it's that there's always room to grow. -Scott
Oh, you know. Jail stuff. – Cassie
You shrank a cop car? What were you thinking? – Scott
Telling me exactly what to do. -Cassie
You have a suit? -Scott
Dad. A guy dressed like a bee tried to kill me in my room when I was six. I've never had a normal life. -Cassie
Am I The Hulk's baby? -Scott
I was just happy to meet a raccoon who could talk. -Scott
God, I admire you.- Scott
Cassie, did you make any new friends in the slammer this time? -Hank
At least I'm still trying to do something with mine. -Cassie
I literally saved the world. -Scott
Oh did you? The first time you mentioned it. -Hank
I wouldn't fight Captain America. I'm not insane.-Scott
Science. With ants. Ant science. – Hank
I can't help that people are inspired by me. -Hank
Shut it down now. -Janet
There's something I should've told you. -Janet
We should be dead. -Hank
It's like we're camping. We love camping. – Scott
We've never been camping. – Cassie
But we've talked about it. – Scott
There are quantum people in the quantum realm? -Cassie
Yeah, I didn't know that either. – Scott
19 min after Scott and Cassie are saved
Drink the ooze. – Cassie
I'll handle this. -Janet
Was that a good stab? – Hank
I got us a ride. -Janet
Quite a ride. -Hank
Says the man that invented riding on the back of an ant.- Janet
Saddle up, Ant-man. – Janet
How many holes do you have? I'm sorry is that a personal question? -Veb
Everyone is really disgusting. – Quaz
You come above like him. So he is hunting you. He will burn the world to find you. – Jentorra
Holy sh!t- That guy looks like broccoli. -Hank
I assume you have a beverage that can get me drunk. -Hank
I thought you were dead. -Krylar
What are ants anyway? Do we have them down here? -Krylar
Wild stuff. -Krylar
How wild? -Hank
Very wild Henry. -Krylar
Is that building alive? -Scott
Yours are dead?- Veb
At least you still have a home.- Jentorra
Dad, you're an Avenger. They need help. – Cassie
Just because it's not happening to you doesn't mean it's not happening. – Cassie
Human! That's the word. Totally forgot that's what you call yourselves up there. -Krylar
Did you say anything about what you did here? How many people died because of you? -Krylar
Does your family even know who you are? -Krylar
I lie a lot, not about this. -Krylar
He sent the hunter. -Krylar
This all could have been avoided, Janet. Just give him what he wants. -Krylar
Cover me? -Janet
Always. -Hank
Ok, I have a suit. – Cassie
I noticed. -Scott
I jumped and tapped. -Scott
Welcome back to the Quantum Realm, Scott. – Darren
Surprised to see me? -Darren
I know his mercy. -Jantorra
I've been waiting a long time for this.- Darren
Our fates have always been forged together. – Darren
I became the ultimate weapon. – Darren
Darren is dead. There is only Modok. – Modok
3rd time in jail? 4. – Scott
Face to face. -Modock
That's a face. A big face. -Scott
Just now noticing the baby legs. -Scott
He says he was a traveler. A scientist who crashed off course. – Janet
Can this take us home? -Janet
It can take you anywhere. -Kang
It was nice to have a friend. -Janet
I can give that to you. Time. -Kang
It's not what you think it is. It's a cage. -Kang
We're going to get out of here. She's going to open a door and you'll be there. -Kang
Entire worlds, entire timelines gone. -Janet
Janet. We can leave. Right now. -Kang
Who is Kang? – Janet
Who I need to be. -Kang
Exiled. By who? -Hank
You saved my life. I made a promise. -Kang
Just let me take you home. – Kang
And then what are you going to do? -Janet
Win. -Kang
I told you, time isn't what you think.-Kang
Don't you want to see your daughter again? -Kang
Why do you think you can stop me? -Kang
Give it to me Janet. Give it to me. -Kang
He took his prison and made it his empire. -Janet
I unleashed a monster on this place and then ran away.-Janet
I just wanted to forget. I just wanted to be your mom again. -Janet
You're an interesting man Scott Lang. -Kang
You're an Avenger? Have I killed you before? -Kang
That's Thor. We get confused a lot. Similar body types. – Scott
Do not speak when I am in the room. -Kang
I don't live in a straight line, and with time, I can skip to the end. -Kang
Janet stole something from me. My ticket out of here. And you're the only one that can steal it back. -Kang
I know how it ends-kang
How what ends? -Cassie
All of it. -Kang
What's coming?-Cassie
Me. A lot of me. -Kang
If you want to stop what's coming. And trust me. You do. I'm the only shot you have. – Kang
They exiled me down here. They're afraid of me, but I'm the man who can get you home. -Kang
So. Do we have a deal? -Kang
I'll kill your daughter in front of you and then make you relive that moment over and over again until you beg me to kill you. -Kang
Do you want her to live or do you want her to die? -Kang
Do I look like a liar? -Kang
You're out of your league, Ant-Man. -Kang
Just be glad that I need you.-Kang
Don't touch her again. -Scott
Then give me what I need. -Kang
The more you're in there, the more your mind will become undone. -Modok
I messed up. -Cassie
My whole life happened because I messed up. The only thing I didn't mess up is you. -Scott
I love you Peanut. -Scott
What's the plan? -Scott
Don't die? -Modok
Why am I looking at another me? -Scott
You're in a probability storm. -Modok
You're inside Schrödinger's box and you're the cat. -Modok
This is my uniform. -Scott
Oh, we're all going to die.-Scott
Just come back. Don't give up. -Cassie
Hope are you real? -Scott
I'm real. -Hope
Then let's do this. -Scott
I wouldn't trust her. -Kang
Janet has a way of changing her mind. -Kang
Hello, Jellybean.-Kang
I am the ultimate weapon. -Modok
She'll be fine without you. -Kang
You left me right here to die. -Kang
What did you see? -Kang
A monster who thinks he's a god. -Janet
And who broke it?- Janet
I did. Every version of me. My variants. – Kang
I saw how it ends. I saw their chaos. – Kang
I saw the multiverse, and it was dying, all because of them. -Kang
So I took control. -Kang
I have lost. You have no idea what I lost.- Kang
I didn't find them. They found me. -Hank
They are my ants, and ants don't give up.-Hank
You read my book? -Scott
Every g-d d*mn word. -Hank
Jentorra, I'm sorry I got your people hurt. How can I help? -Cassie
D@mn, you're cool. -Cassie
I've built an empire, Janet, and I'm taking it with me.-Kang
Today we conquer eternity.-Kang
History is not written. It is forged.-Kang
We need to look out for the little guy. My dad taught me that. -Cassie
Find langs daughter. And kill her. -Kang
Your dad's not here, Cassie, but I guess that's no big surprise.- Modok
KANG. We had a deal.-Scott
They came.-Scott
Way to go, Cassie.-Scott
It's never too late to stop being a d!ck.-Cassie
Ready? -Hope
Probably not. -Scott
I feel like I'm hugging Godzilla.-Scott
You still can't see it. It's never over.-Kang
You think this is new to me? Do you know how many rebellions I've put down?-Kang
How many avengers I've killed? And you think you can beat me? I'm Kang! -Kang
You talk to ants.-Kang
Sorry, I'm late. A lot of ants. -Hank
Hi, Hope. You changed your hair. -Modok
My name is Darren and I am not a d!ck! -Modok
Thanks, Scott. You always were a brother to me. -Darren
And at least I died an Avenger.-Modok
Yeah, no… you're in. -Scott
He was right behind me.-Cassie
I want you to remember, you could've gone home.-Kang
But you thought you could win. -Kang
I don't have to win. We both just have to lose.-Scott
Don't let go. Don't ever let go.-Scott
You came back. I love you, Hope. -Scott
Let's go home.-Scott
My life doesn't make sense. -Scott
Who says life has to make sense?-Scott
You the bug man!- Rueben
It's probably fine.-Scott
One day you're fired from Baskin Robbins and the next you're beating a space king. – Scott
Everything's probably fine. -Scott
More TV and Movie Quotes You'll Love
Patty Holliday has been running Disney since 2011. She knows just about every tip, trick, and hack there is to cover the runDisney Magical Miles at Disney World and Disneyland. She knows every mile isn't *always* magical- but with training, tips, and a little bit of pixie dust, they can be a lot of fun! You can also find her at noguiltlife.com and noguiltfangirl.com