We've got some bad news for those who were looking forward to sailing away on the Disney Wish after the 2024 Walt Disney World Marathon Weekend. Earning that coveted Castaway Cay Challenge medal will have to wait. Here's what we know about this unique runDisney event.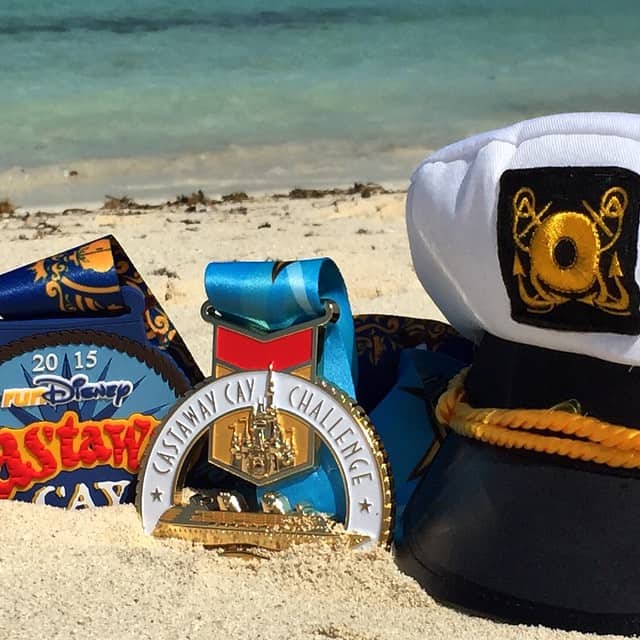 What is the Castaway Cay Challenge?
The Castaway Cay Challenge is a special race event offered by runDisney.
We like to call it the most expensive 5K you'll ever run.
Participants in the challenge run at least one of the Disney races during the Walt Disney World Marathon Weekend. This year the races are held January 3-7, 2024.
Check out these posts for runDisney registration dates for those events and be sure to check out the runDisney registration tips.
Be sure to follow the No-Guilt Disney YouTube channel as well!
After the race weekend at Walt Disney World, guests take a four-night Disney cruise that stops at Castaway Cay, Disney's private island in the Bahamas.
On the island, participants run a 5K race, which is the final leg of the challenge.
A separate registration is needed for this event, which means, yes, you pay more money.
When Did the Castaway Cay Challenge Start?
The Castaway Cay Challenge began in 2015 as a way to celebrate the 20th anniversary of Disney's private island, Castaway Cay.
It has been held every year since, except for 2020 and 2021 due to the COVID-19 pandemic.
And maybe not in 2024… more on that in a minute.
Which Events Qualify For the Special Medal?
To be eligible for the Castaway Cay Challenge medal, participants must register and complete one of the following events:
Walt Disney World Marathon
Walt Disney World Half Marathon
Walt Disney World 10K
Walt Disney World 5K
In 2015, the Princess Half Marathon Weekend also held a Castaway Cay Challenge. But that race weekend has not seen a repeat of this special event.
How To Register For The Castaway Cay Challenge?
Registration for the Castaway Cay Challenge typically opens several months before the race weekend. You can add it to your Marathon Weekend race registration order.
But there is a catch:
Participants must first register and pay for the qualifying cruise before they can add the CCC race.
In 2023, this challenge race sold out quickly and some cruisers did not get into the 5K race on the island due to limited availability for the Castaway Cay Challenge.
Sounds Great! Will The runDisney Castaway Cay Challenge Be Run In 2024?
As of this writing, runDisney has been very quiet about the possibility of the race happening.
The website does not show the Castaway Cay Challenge listed for the Marathon Weekend and it hasn't been mentioned in any early notices.
With the race going on sale soon, we wanted to verify our suspicions that it was not happening in 2024.
We reached out to runDisney and were told that, no, unfortunately, the Castaway Cay Challenge will not be offered in 2024 for Marathon Weekend.
Rumors confirmed.
With the addition of the Disneyland Half Marathon Weekend in January at Disneyland, it may have been a matter of not enough cast members to go around in this post-pandemic runDisney world.
It was always a tight turnaround for those that did all three events in previous years; if the runDisney staffing isn't quite back to pre-2020 levels, it might make putting on three events impossible.
But we're kinda holding out hope that maybe it will make a comeback for Princess Half Marathon Weekend or as part of the Springtime Surprise in 2024.
We'll keep you posted if anything should change!
More Disney Tips Posts You'll Love
Patty Holliday has been running Disney since 2011. She knows just about every tip, trick, and hack there is to cover the runDisney Magical Miles at Disney World and Disneyland. She knows every mile isn't *always* magical- but with training, tips, and a little bit of pixie dust, they can be a lot of fun! You can also find her at noguiltlife.com and noguiltfangirl.com