If you're new to the world of Disney travel, you might be confused by all the shorthand, abbreviations, and acronyms thrown around on social media. Blogs & influencers sometimes throw things out there like, "Don't forget to book your G+ LLL and ILL around your ADRs!" assume you just "know what we mean!" Here's our big list of Disney abbreviations and acronyms that will have you speaking like a Disney pro in no time! ps- if you're taking a toddler to Disney World, here are 6 tips you need!
The Big List of Disney Abbreviations and Acronyms
If you're here, you want to learn to speak Disney!
Friends, you came to the right place for your lesson in Disney lingo.
While these Disney abbreviations and acronyms can change from time to time, this is the basic shorthand that is used on social media, message boards, and sometimes with your travel advisor.
We'll share some of the most commonly used shorthand for Disney nomenclature that will help you decipher your way through your next Disney planning process.
Please note: we're including some abbreviations that are no longer used, but may be referenced by old-timers.
If you're dipping your toes into the wonderful world of Disney travel, you are bound to run into some of these phrases and programs of Yesteryear.
Glossary Of Disney Terms
There are certain phrases used at Disney that you need to know.
This is a short glossary of Disney terminology.
GUESTS: That's YOU! You aren't a client or a visitor or a tourist at Disney, you are a Guest.
CAST MEMBERS: The wonderful employees at Disney are called Cast Members. They are vital to the "show" experience you'll have at the theme parks, resorts, and cruises.
MOUSEKEEPING: This is the Disney term for housekeeping at your resort. The Mousekeeping Cast Members are some of the hardest working folks at Disney. ps- tips are never expected but always appreciated!
ON PROPERTY: This means you are staying "inside the Disney Bubble"- ie, as a Guest at an official Disney Resort. Guests staying on property receive extra perks and benefits.
QUICK SERVICE: This is what a walk up dining location is called at Disney. You'll pick your food up from a counter service window and find a nearby location to sit and eat.
TABLE SERVICE: This is what a sit-down full-service resturant is called. Most Table Service locations need reservations, or Advanced Dining Reservations (ADRs) in Disney lingo.
MOBILE ORDERING: Your cell phone is not only your communication device, but your "skip the line" pass for meal time! You can look at menus and place your order to be picked up at most quick service locations. Learn about the not-so-secret Quick Service Dining Tip of Mobile Ordering.
ROPE DROP: This is for you early risers! Rope Drop is a Disney term for the time when a theme park opens. If you plan to make it to Rope Drop, please consider leaving your hotel 1 hour before the posted time.
MEMORY MAKER: This is the product you buy that will provide unlimited downloads of the photos taken while at the Disney parks. If you purchase in advance, you will save money!
PHOTOPASS PHOTOGRAPHERS: or PhotoPass are the Cast Members who will take those precious pictures! You can find them at various locations around the theme parks and they will happily snap your next family photo.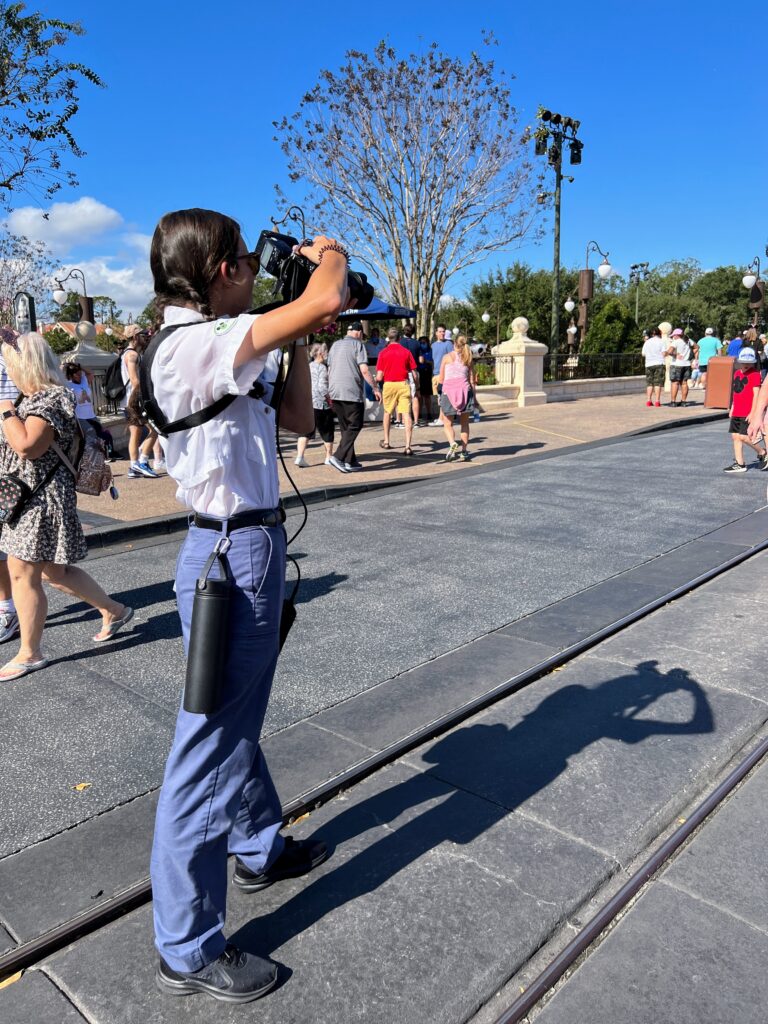 MAGIC SHOTS: PhotoPass Photographers might have Magic Shots they can add to your photos. Just ask and they will direct you on how to pose. Later, you might find a special friend showing up in your pictures!
PARK HOPPING/PARK HOPPERS: If you plan to visit more than one Disney theme park a day, you are going to hop from park to park! And you'll need a special ticket to do that: it's a Park Hopper ticket.
HIDDEN MICKEY: All of the Disney properties and parks love to hide Mickey head silhouette in their decor. Some are pretty obvious, but some can be cleverly hidden in attractions or wallpaper or even the carpet. This can be a fun game to find all the places this Disney touch has been added!
The Shorthand: Disney Abbreviations and Acronyms
Disney lingo is often shortened to a few letters.
Why?
Because Disney's nomenclature is incredibly long and complex at times.
Instead of repeating "Rock 'n' Roller Coaster Starring Aerosmith," try typing in RnRC.
Disney people know what you mean and you saved your fingers a few extra keystrokes!
ADR- Advance Dining Reservations
AK – Animal Kingdom
AKL – Animal Kingdom Lodge
AKV – Animal Kingdom Villas
AoA – Art of Animation
AP – Annual Pass
ASs – All-Star Sports
ASMu – All-Star Music
ASMo– All-Star Movie's
B&C – Beaches & Cream
BB – Blizzard Beach
BCR – Beach Club Resort
BCV – Beach Club Villas
BG – Boarding Group
BLT– Bay Lake Towers at the Contemporary Resort
BOG – Be Our Guest
BTMRR – Big Thunder Mountain Railroad
More Abbreviations For Disney Terminology
BS – Barnstormer
BW – Disney's BoardWalk Resort
BWV – Disney's BoardWalk Villas
CBJ – Country Bear Jamboree
CBR – Caribbean Beach Resort
CG – California Grill
CM – Cast Member
CoP – Walt Disney's Carousel of Progress
CP – Candlelight Processional
CP – Crystal Palace
CRT- Cinderella's Royal Table resturaunt
CSR – Coronado Springs Resort
DAS – DisAbility Services
DCL- Disney Cruise Line
DLH- Disneyland Hotel
DS – Disney Springs (Walt Disney World Resort)
DTD- Downtown Disney (Disneyland Resort)
DVC – Disney Vacation Club
DDP- Disney Dining Plan
DLR- Disneyland Resort
DME- Disney's Magical Express
EEH – Extended Evening Hours
EE or EMM – Early Morning Magic Hours
EWP – Electrical Water Pagent
EE – Expedition Everest
F&G – Flower and Garden Festival
F&W – Food & Wine Festival
FF – Flying Fish
FoP – Flight of Passage
FoTLK – Festival of the Lion King
FP – Fast Pass
FP+ – Fast Pass Plus
FW – Fort Wilderness Campground
FW – Future World
G+ – Genie Plus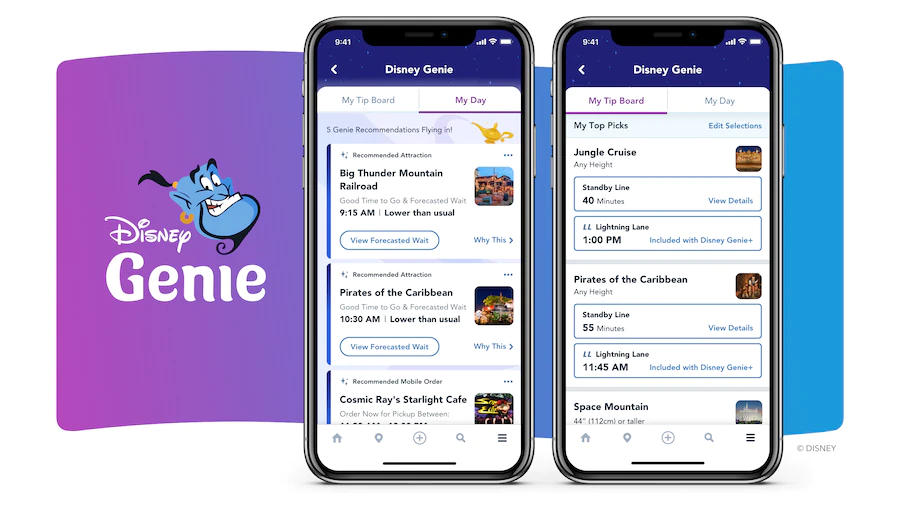 GCH- Grand Californian Hotel
GF – Grand Floridian
GG – Garden Grill
GS – Guest Services
HM – Haunted Mansion
HoP – The Hall of Presidents
HS – Hollywood Studios
IASW – "it's a small world"
ITTBAB – It's Tough To Be A Bug
JC – Jungle Cruise
JIYI – Journey Into Your Imagination
KRR – Kali River Rapids
Even MORE Disney Acronyms & Terminology
KS – Kilimanjaro Safari
KV – Kidani Village
LL – Lightening Lane
LTT – Liberty Tree Tavern
LWTL – Living With the Land
MDE – My Disney Experience
MFSR- Millennium Falcon Smugglers Run
MK – Magic Kingdom
MM – Memory Maker
MMRR – Mickey & Minnie's Runaway Railway
MS – Mission: SPACE
MV3D – Muppet Vision
MNSSHP – Mickey's Not So Scary Halloween Party
MVMCP – Mickey's Very Merry Christmas Party
OKW – Old Key West
PH – Park Hopper
PH – Planet Hollywood
POFQ – Port Orleans French Quarter
Poly – Polynesian Village Resort
POP – Pop Century Resort
POR – Port Orleans Riverside
PotC – Pirates of the Caribbean
PPH- Paradise Pier Hotel (Disneyland Resort)
QS – Quick Service
ROTR – Rise of the Resistance
RnRC – Rock 'n' Roller Coaster
RS – Rider Swap
SDD – Slinky Dog Dash
SDMT – Seven Dwarfs Mine Train
SSE – Spaceship Earth
SM – Space Mountain
SoG – Shades of Green
SSR – Saratoga Springs Resort
ST – Star Tours
SWGE – Star Wars Galaxy's Edge
TL – Typhoon Lagoon
ToT– Tower of Terror
TS – Table Service
TSMM – Toy Story Midway Mania
TT – Test Track
TTA – Tomorrowland Transit Authority
TTC – Transportation and Ticket Center
VotLM – Voyage of the Little Mermaid
WDW – Walt Disney World Resort
WL – Wilderness Lodge Resort
WoD – World of Disney
WS – World Showcase
Y&B – Yacht & Beach Club
YC – Yacht Club
Did we miss something? We probably did.
There are a lot of shortcuts in Disney lingo!
If you have any questions or run across some Disney abbreviations or Disney acronyms you need help with, please leave them in the comments!
More Disney Tips You'll Love