Have your kids dreamed of flying through the clouds with a birds-eye view of the world? Then they will probably love Soarin' Over the World at Epcot. But if they have any concerns with heights, small jump scares or lound fireworks, this may not be the attaction for them. This parents ride guide will help you decide if Soarin' at Disney is too scary for kids in your household. This guide can be referenced for the attraction at Disneyland as well as Walt Disney World.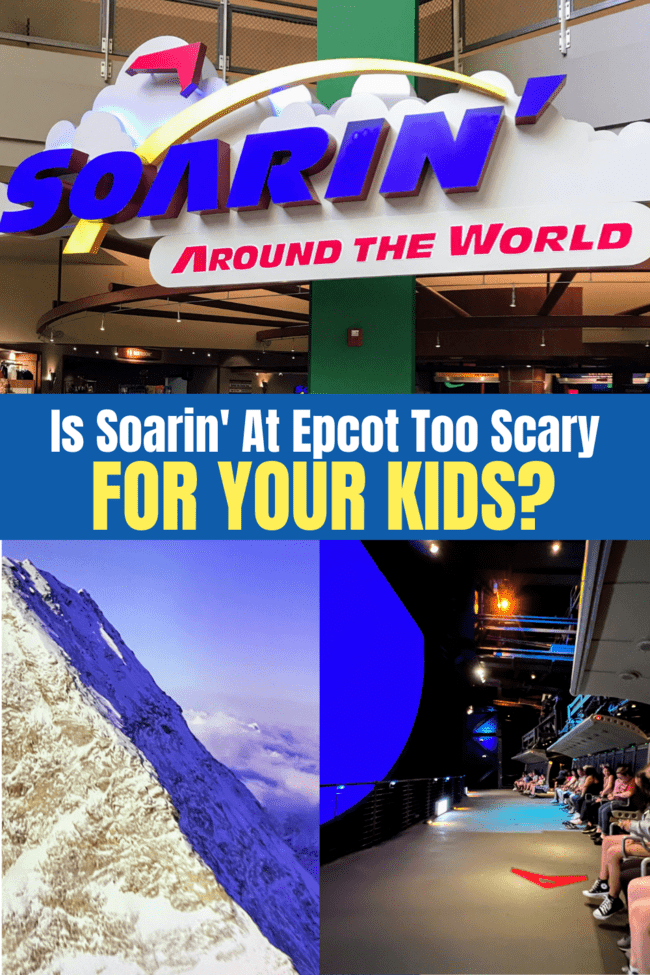 This Parents Ride Guide is part of a series focusing on the elements of Disney World and Disneyland attractions that might be unexpectedly scary for your kids. This post will mention details that could be considered spoilers, so please read with caution.
About Soarin' Over The World At Disney World and Disneyland
From the Walt Disney World Website:
Take flight on a breezy, airborne adventure as you hang glide above the breathtaking wonders of the world.
This attraction is located at Disney California Adventure in Disneyland as well as Epcot in Disney World.
There are two films for Soarin': one is 'Over California' and one is 'Over The World.' Over The World is the current film but from time to time Over California has been shown in the California park.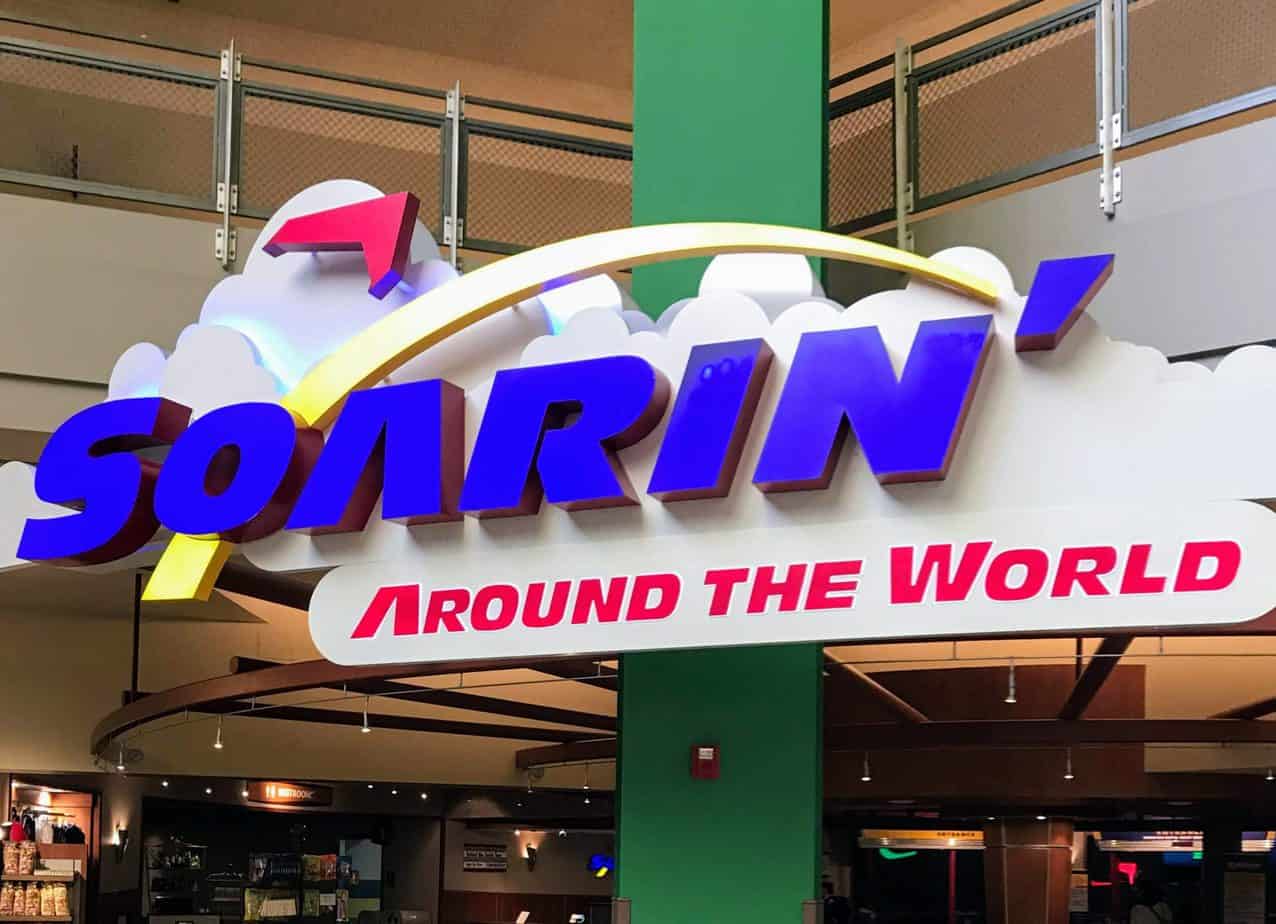 Is Soarin' Around The World At Disney Too Scary For Kids? Parents Ride Guide
As always, you know your child best.
Disney doesn't try to make rides that are too scary for kids, but some children may have unexpected reactions to certain experiences at Disney World or Disneyland.
This parent ride guide to Soarin' Around The World will let you know about elements that kids may find concerning or scary before you get in line.
In this series, we'll run down the ride basics to include if there are flashing lights, loud noises, spins, drops, jump scare elements, dark moments, scary themes, and overall general speed or intensity.
What Does The Ride Vehicle Look Like For Soarin'?
You'll be grouped into sections and rows for this ride.
If you want the best experience, ask for section B row 1 for your group. You may have to wait a bit to be accommodated, but it gives the clearest and most immersive experience.
The vehicle is meant to feel like a hang glider. There are three rows that fit around 10 people in each row.
It's a high back bench seat with a safety strap that crosses the body. There is also a strap that can be used between a small child's legs for additional security.
Darkness and Heights May Make Soarin' Too Scary For Some Kids
The attraction is essentially a movie on a large IMAX size curved screen.
There are periods of darkness that might make a child anxious while waiting for the attraction to start.
Soarin's ride vehicles gently rise into the air to center the viewing on the screen. Your feet (and your children's) will dangle in the air.
You will be raised about 40 feet into the air for this attraction. Soarin may be too scary for kids who do not like heights.
Most Toddlers are not at the 40-inch height requirement. If they are, however, this is one of those cases where being tall enough doesn't always mean "ready enough."
While the rise into the air is gentle and accompanied by a light breeze, it can still be concerning for children who are scared of heights.
Is Soarin' Too Scary: Jump Scares, Loud Noises And Bright Lights
We'll admit it: the first time we rode the attraction, a whale jumping out of the water caused us to jump a bit! We're calling that one a small jump scare moment that might take your child by surprise.
There are a few moments where you are brought close to the action in this film. While it's not 3D, it's still a massive projection that surrounds your senses.
And the sense of hearing gets a lot of work!
A small engine plane comes towards you rapidly, which not only gives a little jump scare but is also very loud.
The transitions between locations are fairly abrupt. The lighting of the scene changes as well and can be off-putting to sensory-sensitive children.
As you fly by the Eiffel Tower, you will be blasted with bright light from the top of the tower.
Soarin's big finale is a fireworks show.
In Epcot, you will see fireworks exploding around Spaceship Earth. In the Disney California Adventure version, you will see fireworks exploding around Sleeping Beauty Castle.
Soarin is too scary in this sense for children who do not like loud noises or fireworks in general.
Are There Drops?
Not exactly, but there are some changes in elevation during the ride.
Soarin is mimicking a hang-gliding adventure around the world. While you don't make any rapid descents, there are some gentle ups and downs throughout the movie.
Tummy tickling can happen at certain moments (when going over the peak in the Alps or when going over the Great Wall of China are two examples).
The ride vehicle does not stay stationary and can swing a bit.
Scary Themes and Smells
This ride is completely joyful! Nothing purposefully scary happens on Soarin'.
Please note: there are some smells you will experience at this attraction. The most "ewww" inducing one is the smell of dirt in Tanzania. The others are generally pleasant (roses, tropical scents).
On your journey, you'll visit:
Matterhorn in Italy and Switzerland
Isfjord, Greenland
Sydney Harbor in Australia
Neuschwanstein Castle in Germany
Kilimanjaro National Park in Tanzania
The Great Wall of China
The Great Pyramids of Egypt
The Taj Mahal in India
Monument Valley in Arizona, USA
Lau Islands in Fiji
Iguazu Falls in Argentina
Eiffel Tower in Paris, France
Spaceship Earth at Epcot OR Main Street, USA at Disneyland
Is Soarin' Too Scary For Toddlers: Speed
You'll have some sensations of speed without actually moving fast due to the immersion of the big screen.
This isn't something we put high on the speed scale.
If a child finds themselves worried, we'd suggest closing their eyes for a bit.
Motion Sickness On Soarin' at Epcot
There are some dips that can cause a little tummy tickle, but nothing too fast or scary to be concerned about on Soarin'.
However, if your child is prone to motion sickness, please know that they could feel queasy at the end of this attraction.
We don't think this attraction has a high concern for motion sickness, but if your child has a low tolerance for movement in front of a screen, this might be something to watch for.
Age Rating: Can Toddlers Ride Soarin'?
We recommend this attraction for kids of all ages if they meet the height requirement of 40 inches and do not have any major issues with heights.
If your toddler is tall enough and doesn't mind going up high, they should be fine.
Watch The Full Soarin' Ride Through
To prepare yourself or your child, we always suggest YouTube videos of attractions.
Here is one for Soarin' Over The World at Epcot you may enjoy.
Parents Ride Guide Tip Sheet
Parents Ride Guide: Soarin' Over The World
An immersive movie that brings you physically up and into the action as you fly around the world. Located in The Land Pavillion at Epcot or at Disney California Adventure in California.
---
Dark Ride

Adventurous theme

Heights
Mild jump scares

Loud noises and bright lights

Slow & gentle moving but has some dips that can cause motion sickness
40-Inch height requirement
Seats 10 people in one row of the vehicle, 3 rows per vehicle
There are some gentle drops and movement from the vehicle, but nothing jarring or steep
More Disney Tips You'll Love
Is Remy's Ratatouille Adventure Too Scary For Kids? Parents Ride Guide
Is The Haunted Mansion Ride Too Scary For Kids? Parents Ride Guide
Is The Gran Fiesta Tour Ride Too Scary For Kids? Parents Ride Guide
Tips For Disney World With Toddlers
Hack Your Way To A Guardians Of The Galaxy Cosmic Rewind Boarding Group At Epcot
Disney Packing List For 2022 | Printable PDF
What NOT To Take To Disney World In 2022
The Big List of Disney Abbreviations and Acronyms
Where Can You Eat Outside At Disney World?
How Do You Get To Disney World From The Orlando Airport?
5 Hacks To Max Out Genie+ At Disney World
Patty Holliday has been running Disney since 2011. She knows just about every tip, trick, and hack there is to cover the runDisney Magical Miles at Disney World and Disneyland. She knows every mile isn't *always* magical- but with training, tips, and a little bit of pixie dust, they can be a lot of fun! You can also find her at noguiltlife.com and noguiltfangirl.com