In this series, we're reviewing the top 50 park bags for your next Disney vacation. Be sure to check out the best fanny pack and crossbody options for Disney trips. But here we're talking best backpacks for Disney, with a focus on the Loungefly. The reason will be obvious! Here are the best backpacks for Disney World and Disneyland trips. Affiliate links are included in this post.
Picking the Best Bag For The Disney Parks
A lot of picking "the best" will come down to personal preference. You may be all about the fanny pack (or bum bag for you Brits!) or you might be looking for crossbody bags or backpacks.
But we think there are some aspects that make a bag more desirable than others for a Disney trip.
Why wear a Loungefly backpack to Disney? It's a great hands-free way to carry your small items around. If you're bringing kids, you know hands-free is key!
Plus they are super stylish and fashionable, we promise. AND so very Disney!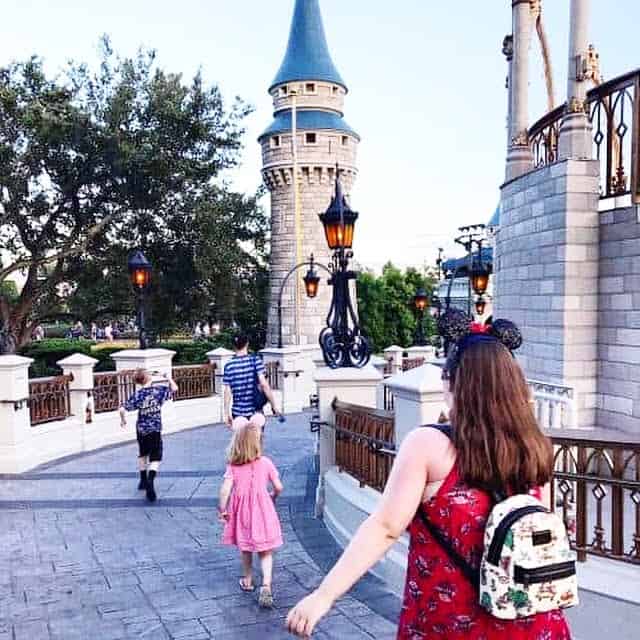 What we look for in a Disney park bag include:
Easy access to credit cards and park tickets
Not too small not too big
Fit a cell phone and extra cell battery
Zipper pocket for security
Roller coaster approved
A little more room for ponchos or other items you'll want to pack into your Disney park bag.
Finding the Best Disney Backpack
What does it take to make this list of the best backpacks for Disney?
The packs need to fit at minimum a cell phone, extra battery, chord, and credit cards with easy access.
Lipstick, lip balm, small sunscreen tube is a bonus.
Obviously, we're looking for adjustable straps so we can wear them all day long and into the night.
And our Disney backpack list includes the Loungefly as the preferred Disney backpack.
The best thing about these Disney parks bags? You can buy them all on Amazon with these affiliate links. If you have Amazon Prime, you'll score free shipping on many as well.
Let's pick our bags and go to Disney!
Best Backpacks For Disney From Loungefly
This is one cute, cute, cute bag!
We're sure you'll agree that a classic Minnie Mouse backpack is perfect for a Disney trip.
There's a ton of room inside this adorable bow, big enough to hold a phone, charger, cards, small wallet, sanitizer and/or sunscreen.
And it's social media perfect to boot!
What we love about this bag: the head cheese himself, Mickey Mouse is all over this pattern.
And it is perfect for the spooky season that's just around the corner.
As a reminder: Disneyland's Oogie Boogie Bash runs from September through October and Disney World's Mickey's Not-So-Scary Halloween Party runs August to October.
According to the reviews, this is a perfect Disney Parks bag for riding all the roller coasters! And we love the front pocket.
Muppet lovers: this is the best Disney backpack for you!
Nothing is as iconic as the Muppets.
As with all of these Loungefly bags, there are two pockets with tons of room for all your essential items.
We think you'll wocka wocka wocka the parks with this one!
Need a cute backpack?
Nothing says cute at Disney World like this Toy Story Alien Pizza Planet backpack.
The high quality will hold up long past the end of the day!
In fact, we think you'll be grabbing this one before your next trip to the Disney theme parks.
Peter Pan is a classic- do you need more?
This one will not only fit tweens to adults but give off classic Disney parks vibes as well!
It's a classic look!
You know you can't go wrong with a red and black polka dot bag.
This is one of the more stylish backpacks out there for when you want to give just a hint of Disney.
Swinging into a Disney Park: your friendly neighborhood Spiderman- and yes, you will spy Miles Morales easter eggs at Avengers Campus!
This one is great for those trips to Avengers Campus at Disneyland.
A total classic look: you cannot go wrong with this waist bag.
The zip pockets on this cute hip pack just screams "take me to an amusement park!"
We're not going to lie: we love Steve Rogers as Captain America. But Iron Man is pretty cool too.
If we have to choose, however, we'd probably go with this Marvel Iron Man backpack from Loungefly.
He was the beginning of the Avengers- and the end of Thanos- and well, we do adore this shiny red!
Star Wars fans: this one is for you!
We can't let the Marvel fandom have all the cute bags.
And no one is cuter than Grogu.
Loungefly is a favorite of the runDisney community too, and this Tangled backpack is a sweet Disney backpack option for the Princess Half Marathon weekend.
Rapunzel is going to be featured on this year's 10K medal!
Alright, runDisney fans.
With the Princess Half Marathon just around the corner, we know you're planning outfits to go with the theme.
Add this Little Mermaid-styled backpack to your Disney parks packing list.
We'll add more to this list of the Best Backpack For Disney after we test a few out!
Top 50 Park Bags Series
Be sure to check out the other posts that make up this series: Top 50 Park Bags.
More Disney Tips You'll Love
Patty Holliday has been running Disney since 2011. She knows just about every tip, trick, and hack there is to cover the runDisney Magical Miles at Disney World and Disneyland. She knows every mile isn't *always* magical- but with training, tips, and a little bit of pixie dust, they can be a lot of fun! You can also find her at noguiltlife.com and noguiltfangirl.com