Listen, don't tell the others! But if you are looking for some off-the-beaten-path places to watch fireworks at Disney World, we've got you covered. Here is a list of our (not-so) secret Magic Kingdom Fireworks Viewing spots.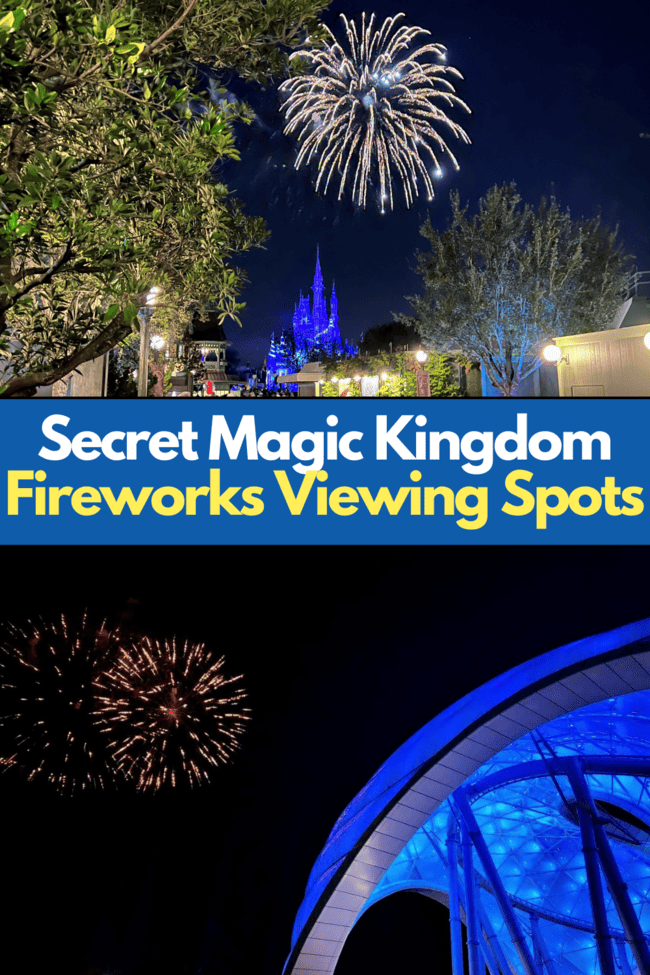 Disney World Fireworks Viewing Tips: You Want To Be Where The People AREN'T!
No offense to Ariel, but people are kinda overrated.
Especially when you are packed into the middle of Main Street, USA, after a long day to watch the Magic Kingdom Fireworks.
There is a thing as too much togetherness, friends!
So, where are the best places to watch the fireworks at the Magic Kingdom in Disney World?
Here is a list of our secret Magic Kingdom Fireworks viewing spots.
And one not-so-secret but pricey option: check out the Disney Dessert Party Fireworks Viewing option if you want a great spot but don't mind spending a bit of money to do so.
Magic Kingdom Fireworks Time: When Can You Watch The Show?
If you are heading to Walt Disney World and hope to catch an amazing display, you are in luck!
There are fireworks at Magic Kingdom every night behind the castle.
Showtimes will vary, and you may even get two chances to see them on certain nights.
Spring months and the end of summer usually have a 9:00 pm start time.
Mid-Summer months: the Magic Kingdom fireworks time has been consistent at 9:20 pm every night.
8:00 pm seems to be the go-to time for Magic Kingdom fireworks during the fall and winter.
The best place to find out when the Magic Kingdom Disney fireworks are going off will be in the My Disney Experience app, on the Disney World website, or in a daily guide map you can get when you first walk in.
Secret Magic Kingdom Fireworks Viewing Spots
Now when we say 'secret,' we mean there may be hundreds of parkgoers with you rather than thousands. Just to be clear: you won't be standing in some private enclave getting the full show.
That only happens for the likes of true Disney fan John Stamos we're guessing.
But there will be fewer people, you will be more likely to walk up 10 minutes before they start, and you'll still get a good fireworks show!
Important Caveat: We really only recommend this tactic for certain guests. If you've seen the show before and do NOT need the full immersive experience, these Disney World fireworks tips are for you! If you like fireworks but are really more into the sky experience rather than the music and projections, these secret viewing sports are also for you. You will NOT get the full show experience from most of these secret Magic Kingdom viewing spots.
Head To The Back Of The Castle Instead Of The Front
If you want to skip camping out at the Hub or lining up shoulder-to-shoulder on Main Street, head to the back of the castle for Disney fireworks.
Here you can find walls to sit on to catch the show. New Fantasyland walls and Pinnochio Village House walls are great options.
This secret Magic Kingdom Disney fireworks location also lets fireworks fly over TWO castles!
That's right: turn around in the right spot and see Disney fireworks popping over The Beast's Castle (Be Our Guest restaurant).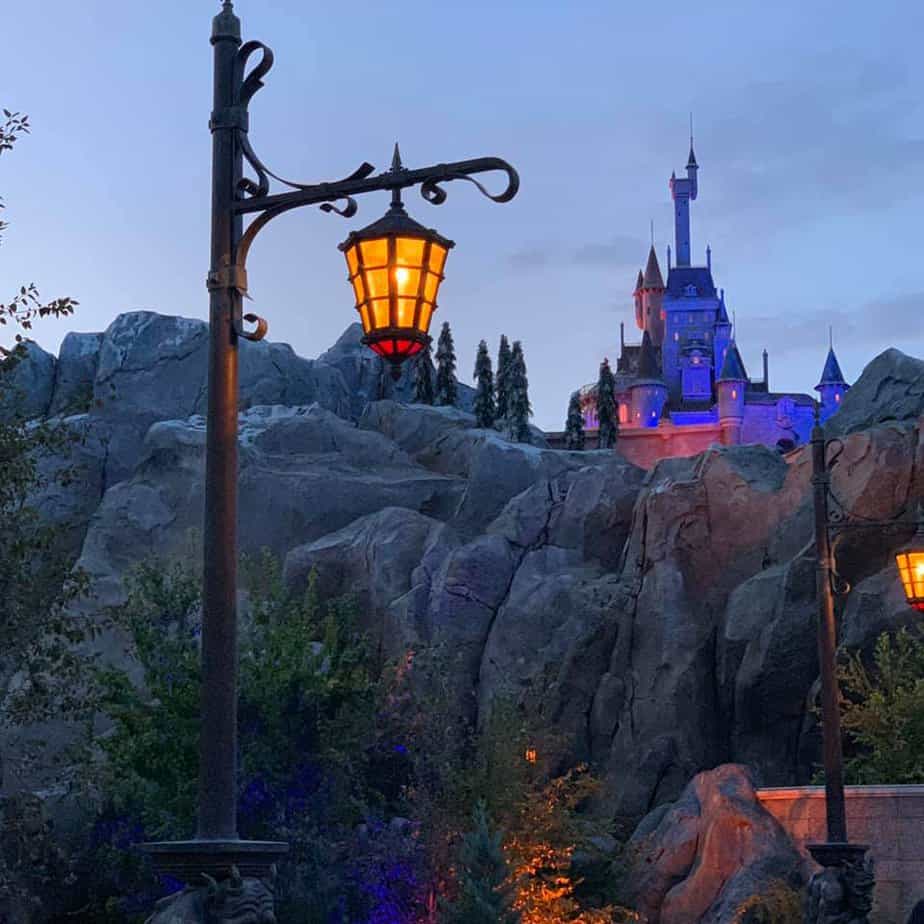 Best Magic Kingdom Rides For Disney Fireworks
There is nothing we like more than multitasking.
Jumping into a ride line when everyone else is heading toward the castle hub or Main Street is smart. But choosing the best rides in Magic Kingdom to watch fireworks from is BRILLIANT.
The current Disney fireworks show runs for 15 minutes, so plan accordingly when positioning yourself on the actual ride when they go off.
These are the best Magic Kingdom rides for Disney Fireworks:
Splash Mountain
Big Thunder Railroad
Seven Dwarfs Mine Train
Tomorrowland Transit Authority (TTA) People Mover
Astro Orbiter
If timed properly, you can get excellent crowd-free views of the fireworks AND an extraordinary Disney World experience.
You may even be lucky enough to fit in more than one ride.
We've done this due to super short lines on Big Thunder, Seven Dwarfs, and the People Mover.
Pro-Disney Tip: The People Mover will allow you to circle around at least twice during the fireworks. Just ask before you hop off!
EXITS! Don't Forget The Exits For Secret Magic Kingdom Fireworks Viewing Spots
If you like fireworks but REALLY do not like the crush of people trying to leave the Magic Kingdom at the same time, these viewing spots may work for you.
This is our favorite after a long day: watch the fireworks while (literally) on the go.
Here are the best fireworks viewing locations toward the exits or outside of the Magic Kingdom:
Overflow pathway that runs parallel to Main Street. If this is open, it's a great option. You'll enter this area (if it is open) between The Plaza restaurant and the Tomorrowland Terrace Restaurant bathrooms. You can stop and watch at your leisure!
Walt Disney World Railroad Train Station fireworks viewing spot. This one will get crowded, but it is close to the exit and a great option if you need a fast getaway. You will get an obstructed view, however, from the flagpole.
Transportation and Ticket Center Dock or on Ferry Boat.
Resorts include the Polynesian, Contemporary Resort, Grand Floridian, or Wilderness Lodge. Bonus to one of these locations: if you are near the water, you can also catch the Electrical Water Pagent (a parade with lights on boats!).
More Disney Tips You'll Love
20 Ways to Score Free Stuff at Disneyland
Time-Saving Disney Tip: Use The Single Rider Lines At Disney
9 Things To Book At Disney (Besides Dining) At The 60-Day Mark
Where Are The Rideshare Drop Off Locations At Disney World? Rideshare Guide For Disney
Disney Genie 101 | Your Guide To Disney Parks New FastPass+
Best Ways To Get From LAX to Disneyland
Disney Packing List For 2022 | Printable PDF
Patty Holliday has been running Disney since 2011. She knows just about every tip, trick, and hack there is to cover the runDisney Magical Miles at Disney World and Disneyland. She knows every mile isn't *always* magical- but with training, tips, and a little bit of pixie dust, they can be a lot of fun! You can also find her at noguiltlife.com and noguiltfangirl.com