Disney's Christmas Party at Walt Disney World is back! If you've got tickets for this season's Disney World Mickey's Very Merry Christmas Party, then you'll want to read these Disney Christmas Party Tips. Don't make these mistakes this holiday season! Here are 3 Things NOT To Do At Mickey's Very Merry Christmas Party in 2022 to make the Disney World Christmas party worth it.
Is Mickey's Very Merry Christmas Party Worth It?
This is probably the number one question everyone has when special theme park parties and after-hours events go on sale.
Mickey's Very Merry Christmas party looks cool, but truly: is the Disney World Christmas Party worth it?
After all, you can see the Christmas holiday decorations and Christmas trees during a day visit (and even get some other Christmas season merriment at Disney Springs for free!)
What makes the special events worth it during some of the busy times at Disney? It's a great time, for sure, but will it help avoid long lines and Christmas season crowds?
As always, your mileage may vary. But here's what you need to know before buying your MVMCP tickets for your Walt Disney World vacation.
How Much Does The Disney World Christmas Party Cost in 2022?
This party is a specialty-priced ticket that you need to add on top of your normal theme park tickets.
The tickets vary based on the date with the least expensive dates being $149 for adults and $139 for children under 10; the most expensive nights (including December 22) are $199 for adults and $189 for children under 10.
And yes, despite the cost, these parties DO sell out every year.
So use this Mickey's Very Merry Christmas Party tip: the best time is now. Get your tickets EARLY!
MVMCP Select Dates For 2022
November 8, 10, 11, 14, 15, 17, 18, 20, 22, 27, 29
December 1, 2, 4, 6, 8, 9, 11, 13, 15, 16, 18, 20, 22
There is no Christmas Party held on Christmas Eve or Christmas Day.
Mickey's Verry Merry Party Hack: How can I get into a sold-out MVMCP? ASK!
There may be additional tickets sold the day of- it never hurts to ask!
In the past, military members could walk up and still purchase special party tickets, even if the event was sold out.
We've had conflicting information on this policy for 2022, but we certainly think it doesn't hurt to ask Guest Services if you happen to be at the resort anyway. You may luck out!
What Makes Christmas At Disney World Worth The Price? Mickey's Very Merry Christmas Party Review
We think the party is absolutely worth the price as lovers of Christmas at Disney World.
People return year after year, despite the intense crowds, to enjoy a holiday celebration at the Most Magical Place on Earth. The cast members seem to love it too, which says a lot!
It all boils down to the theming and exclusive experiences you can take advantage of at the Christmas Party at Magic Kingdom.
The party runs on select nights from 7 pm to midnight, with early entry into Magic Kingdom starting at 4 pm for party ticket holders.
For essentially 5 to 8 hours of intense Christmas at Walt Disney World Resort, is the extra cost worth it?
If you are BIG Christmas and BIG Disney fans, this is likely a must-do event for you at least once.
If you are only so-so on the Christmas holiday, then you are better off saving your money as Mickey's Very Merry Christmas Party won't be worth it to you.
At your party you'll experience:
Lower overall crowds as tickets are limited– WORTH IT!
Special character meet and greets including the Fab 5 in their holiday costumes – WORTH IT!
Special Christmas-focused parade, fireworks, and exclusive entertainment like the Most Merriest Celebration stage show– SO, SO, SOOOO WORTH IT!
Free hot chocolate and cookies – We weren't super excited about this, but the cocoa was really good!
Lower waits for attractions, with some attractions overlayed with Christmas theming – WORTH IT!
Exclusive party-themed ornament and print inspired by Christmas at Magic Kingdom for the 50th Anniversary – your mileage may vary. If this appeals to you as a collector, then it falls in the 'worth it' category. If you really don't need more "stuff" in your house, then you probably won't see the value here.
A chance to get a fabulous holiday card photo with your entire family- WORTH IT!
Tips For Mickey's Very Merry Christmas Party: Dress In Comfortable Holiday Clothes
Please remember that you'll arrive at the party before the Florida sun goes down, and Florida don't play!
It might be tempting to dress everyone up in ugly Christmas sweaters for a great group feel, but keep in mind: it's Florida.
The parties in early November this year are still experiencing a heatwave so you're better off sticking to themed t-shirts and possibly bringing layers from your Disney resort to the park.
3 Things NOT To Do At Mickey's Very Merry | Disney World Christmas Party
You might be asking, is Mickey's Very Merry Christmas Party worth the price of the ticket? We think so if you use your time wisely in order to get the biggest Christmas bang for your buck.
It's easy to say this party is great and that we had a blast- all that is true.
But there were a few things we wish we had done a little differently and we've learned from those mistakes.
Check out these hacks and tips for Mickey's Very Merry Christmas Party at Disney World so your party experience can be even better than ours!
Our biggest MNSSHP tips are not the must-dos, but the things to SKIP at the party.
Here are our top three things to skip or avoid at Mickey's Very Merry Christmas Party 2022.
1. MVMCP Tips: Check In To The Party Anywhere Other Than the Main Entrance
This tip is primarily for folks who will be in Magic Kingdom all day long.
If you have theme park reservations for Magic Kingdom that day and are already in the park at 4 pm, do NOT swim upstream to check in at the Main Gate entrance for the party.
You do not need to leave and come back in. If you are inside the park at 4 pm, you're good to go.
If you are just coming in at 4 pm with your party ticket, and there is a backup or line at the Main Entrance, just breeze on by: you have plenty of time and other locations to get checked in.
Remember: the official party stuff doesn't start until 7 pm so you won't need a wristband until then.
Instead, look for other locations to obtain your Mickey's Very Merry Christmas Party wristbands.
In previous years you can find the wristband distribution:
In the front of the park (Main Entrance)
Inside the Chamber of Commerce building on Main Street
Near Mickey's Philharmagic in Fantasyland
Near Tortuga Tavern in Adventure Land
Near Buzz Lightyear's Space Ranger Spin in Tomorrowland
At the Guest Relations window in Liberty Square
2. Skip- YES, SKIP!- Or Limit Your Cookies And Cocoa Early On- Christmas At Disney World Tips
Listen, we know it's tempting.
But the reality is this: you are NOT there for the free cookies. You can frankly spend a lot less money literally anywhere for some hot cocoa and snickerdoodles.
You'll get there- and it will be worth it!
But early on, steer the family toward other party-specific experiences.
Once the day crowds have left and the party is officially starting, head for the attractions or characters instead.
You may get your own log on Splash Mountain or boat on Pirates due to the much shorter lines.
And those on-ride pictures are instant classics.
Mickey's Very Merry Christmas Party Pro-tip: Save the cookies and cocoa for your parade-watching experience!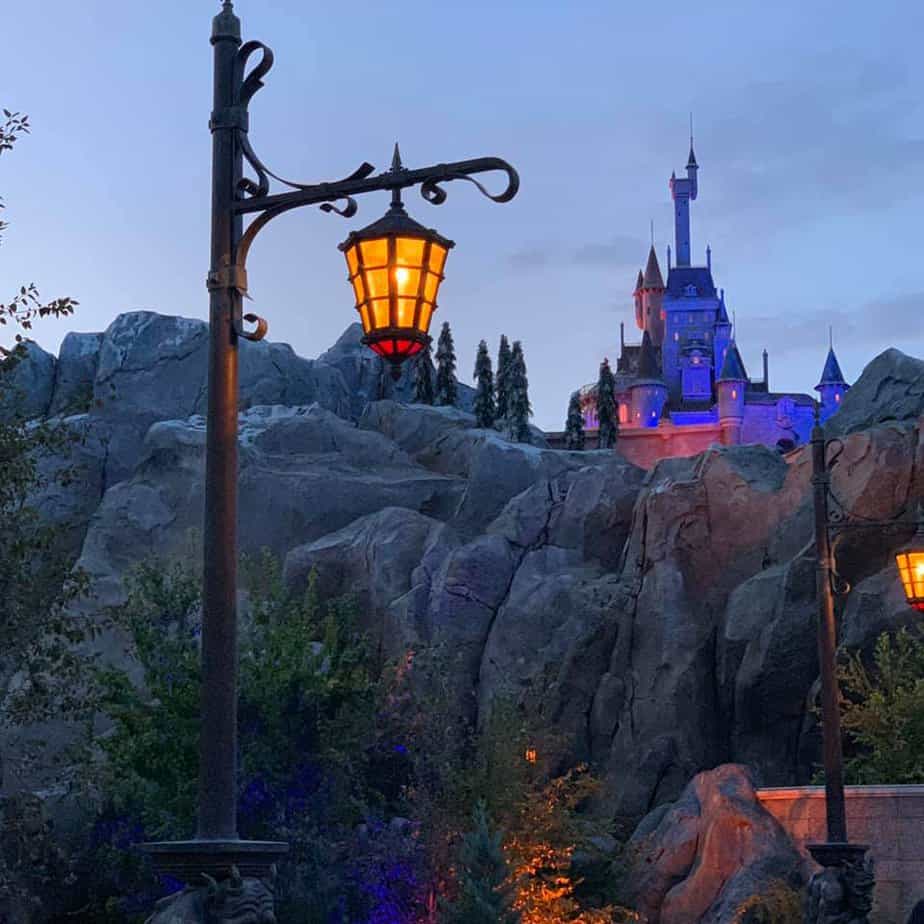 3. Skip the Table Service During Mickey's Very Merry Christmas Party
As General Ackbar says: It's a trap! In this case, it's a time trap.
You'll be inside the castles eating a meal for HOURS- and there's nothing you can't experience on a normal Magic Kingdom day happening in there.
While you can get dining reservations at both Cinderella Castle and the Beast Castle (Cinderella's Royal Table and Be Our Guest table service dining will be available) during the Magic Kingdom Christmas Party, we are screaming at you NOT to do it.
The special stuff you're paying the premium price for is happening OUTSIDE the restaurants.
If you book a dinner during the party, you'll spend 1-2 hours of your party time eating when you could be experiencing all the stuff that makes Mickey's Very Merry Christmas party worth the cost.
And you'll pay for that expensive meal on top of it.
Those meals are absolutely worth having, but not at the expense of prime party hours.
There are plenty of quick service and snack options open during the party, some with the mobile order option, which will save you a ton of time in the long run.
Grab a seat outside to eat where you can see all the Magic Kingdom Christmas decorations!
Christmas At Disney World Tip: There's One Exception To Table Service Timing
One exception to this rule: if you can book a reservation inside AC between 5:30-6 pm, it may be worth it to avoid the regular guest crowds who haven't left just yet.
This is a very busy time at Magic Kingdom where the day guests are finishing up their last rides and the party guests are coming into the park. Everyone loves Christmas time at Disney, so you know the parks will be packed, even on party days.
If you like to avoid crowds, finding someplace to eat just may be the move. But only if you can score an early but not-too-early reservation.
Nothing special to the party starts until 7 pm, so if you can sit down and eat while the turnover happens, you may be the smartest person in the park!
Ok, So What Should You NOT Miss At Mickey's Very Merry Christmas Party? Tips For A Great MVMCP
What you are paying for is a unique way to celebrate the season.
Our must-dos at MVMCP include:
Magic Shots photos (ask any photo pass photographer what they can offer and try not to miss these!)
Mickey's Once Upon A Christmastime Parade (Santa Claus makes an appearance!)
Minnie's Wonderful Christmastime Fireworks Show
Snow on Main Street USA after the fireworks
Christmas at Disney World tips: for the parade, if your littles can hang in there, catch the 2nd show!
The park tends to empty out after the fireworks show, but there will be a 2nd running of the parade.
Mickey's Very Merry Christmas Party Tips: Stay Late!
While everyone is lining up for the first parade, you can take advantage of walking on rides or grabbing some holiday treats like that FREE cocoa and cookie with lower crowd levels and shorter waits.
Holiday magic in the Disney parks is real- and TOTALLY worth it.
And once the crowds leave after the fireworks, you'll find great viewing locations for the Christmas parade and last stage show if you can stay up late for these!
More Disney Tips You'll Love
20 Ways to Score Free Stuff at Walt Disney World In 2022
How To Get Your MagicBand+ (…But Do You Really Need To?) | MagicBand Plus Guide
Secret Magic Kingdom Fireworks Viewing Spots
Time-Saving Disney Tip: Use The Single Rider Lines At Disney
9 Things To Book At Disney (Besides Dining) At The 60-Day Mark
Where Are The Rideshare Drop Off Locations At Disney World? Rideshare Guide For Disney
Movies To Watch Before Going To Disney World
Easy Hocus Pocus Charcuterie Board Snack