Your team just got into the Super Bowl: What Are you Going to Do Next? If your answer is that you're going to Disney World, this is the post you're looking for. The big game cannot be missed by any real fan- even when you're vacationing at the Most Magical Place on Earth. So where are the best places to watch the 2020 Super Bowl at Disney World? I've got a list of options to make sure you can cheer on your 49ers or Chiefs in Super Bowl LIV.
I don't have a team in this year's fight (man, it hurts being a Cowboy fan, y'all!) but I do know how much the 49er and Chiefs fans are looking forward to the big game.
I even had someone book a last-minute trip to Walt Disney World, just in case the Chiefs won, so they could be there to celebrate the MVP on Main Street.
Where are the best places to watch the Super Bowl at Disney World?
I've got a list of options for you, sports fans!
Reminder: the Big Game is being played in Miami at the Hard Rock Stadium on February 2, 2020.
Are you a 49er or Chiefs fan?
Best Places To Watch The 2020 Super Bowl At Disney World
ESPN Club on the Boardwalk. Think about all. those. TVs! You'll find a perfect viewing location, no matter where you are sitting.
ESPN Wide World of Sports Grill at the ESPN Wide World of Sports Complex. runDisney folks: that's where you pick up bibs. Food, drinks, TVs, and sports vibes.
Shula's Lounge at the Dolphin Resort. I mean… really. I'm not sure you can get any more NFL football-y than this! Shula's honors the only undefeated NFL team EVER. So it's kinda a cool place to visit if you are an NFL lover.
In your resort room. Boring- I know… but hear me out! Have you seen the size of those TVs lately? But really: it's not a bad move to chill in your room if you think you might get too intense for public places. Remember: Disney is still a family-friendly environment! 😉
Your resort pool bar or lounge. Both will have TVs. Both will offer food and drink. And both will give you some major rah-rah vibes but keep you close to "home" if you need to head back.
Splitsville at Disney Springs. Super fun energy here and I think it would be an awesome option for Super Bowl viewing at Disney World. But you need an Advanced Dining Reservation: so hop on over to My Disney Experience and grab one now!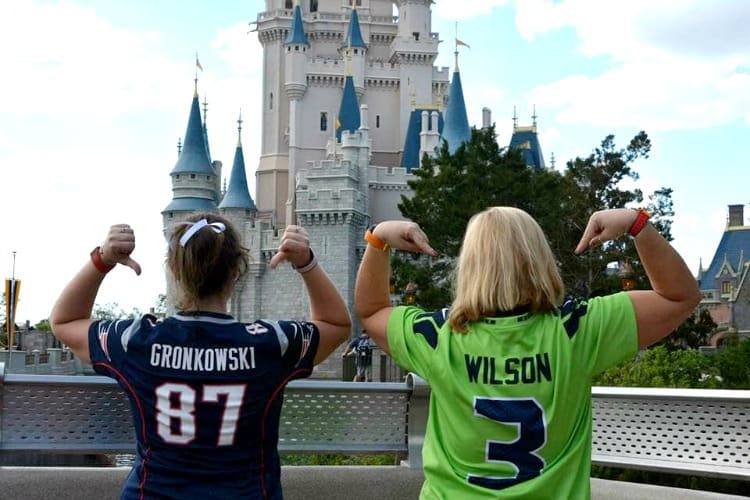 List of Walt Disney World Resort Lounges To Watch The NFL
I'm positive that these lounges found at the Disney World Resorts will all have their TVs tuned to the 2020 Super Bowl.
And if they don't have it on, just ask and I'll bet they make that magic happen!
Super Bowl Watching Disney World Lounges:
Rix Sports Bar & Grill (Coronado Springs Resort)
Crockett's Tavern (Fort Wilderness)
Turf Club Lounge (Saratoga Springs Resort)
Martha's Vineyard Lounge (Beach Club Resort)
Territory Lounge (Wilderness Lodge)
Is Disney World Crowded During the Super Bowl?
It's not the craziest time of year, but you can bet Magic Kingdom will be packed the day after the Super Bowl.
That's when the famous MVP Parade makes its way down Main Street, USA with characters and football players on board.
And the crowds absolutely love it!
More Disney Tips Posts You'll Love
The Beginner's Guide to runDisney Race Weekends
Do It For the 'Gram! Tips for Running Pictures at Disney World
ChEARs to you! How to Cheer the Walt Disney World Marathon
How to Ride the Rise Of the Resistance at Disney World
The Language of Batuu at Galaxy's Edge