The news runDisney fans have been waiting for dropped at D23 Expo 2022: runDisney is coming back to Disneyland. We have to wait until January 2024, but it's coming! If you're new to runDisney or missed out on running the West Coast races, you likely have questions. Here's everything you need to know about runDisney at Disneyland before 2024.
This is Disneyland runDisney 101: everything you need to know before 2024.
Is runDisney Coming Back To Disneyland?
YES.
Based on the newly released runDisney race calendar for 2023-2024, there will be one runDisney event at Disneyland in 2024.
The runDisney Disneyland Half Marathon Weekend will be held January 11-14, 2024.
Registration begins February 7, 2023, for Club runDisney members, February 14, 2023, for general guests, and February 17th for virtual runners.
If you want to be there, this is the place to be to start your Disneyland runcation planning.
Disneyland runDisney 101: Everything You Need To Know Before 2024
It's been a few years since runDisney gave us the news: the runDisney events were being put on hiatus at Disneyland.
And it was a bummer to hear, especially for those that loved the challenge of running coast to coast.
We're going to give you all the details you need to know about the Disneyland runDisney events including some history, travel tips, and hotel options.
We'll also share some old Disneyland race course maps so you can get an idea of what to expect when the races return.
runDisney At Disneyland: The History
The first running event held at Disneyland was actually a marathon. It was held in 1995.
There has not been a full marathon at Disneyland since.
It apparently wasn't mapped out too well, and there was some confusion on the course, leading it to run a bit short. So an extra mile was added to the end.
The route had runners making two loops around and through Disneyland Park to complete the marathon with a finish on Main Street, U.S.A.
A lot changed over time, and the runDisney events grew into a local and then international favorite.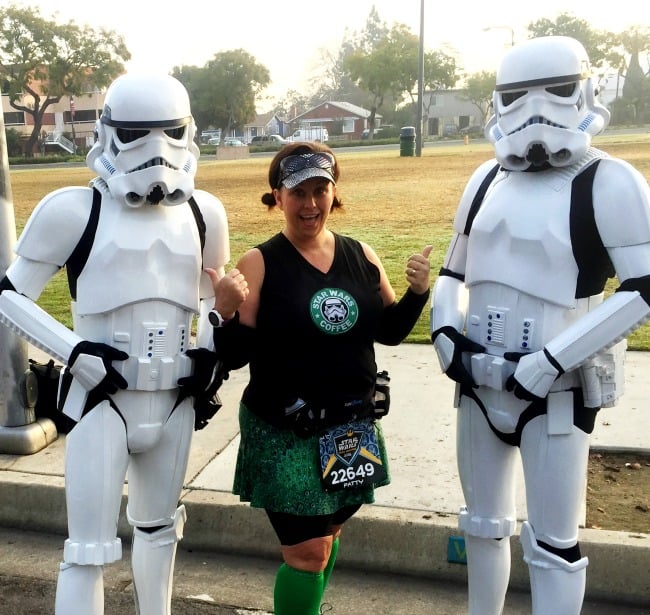 What Races Were Held At Disneyland?
runDisney at Disneyland grew to 4 races per year.
The last year, the races were held:
Star Wars Light Side Weekend (January MLK weekend dates)
Tinker Bell Half Marathon Weekend (Mother's Day weekend dates)
Disneyland Half Marathon Weekend (Labor Day weekend dates)
Super Heroes Half Marathon Weekend (Veterans Day weekend dates)
Each race weekend had a 5K, a 10K and a half marathon (and challenge medals for those running the 10K and half).
Special Medal For Coast To Coast Runners: runDisney at Disneyland
There was also a special runDisney coast to coast medal offered for runners who completed a half marathon or higher distance at each coast in a calendar year.
runDisney has confirmed that a Coast to Coast medal will be offered again.
Here's everything you need to know about runDisney Coast To Coast medals.
Is Disneyland Busy in January?
It can be- depending on the dates and what is happening in the parks.
Check out this post to answer the question about the best dates to book for a Disneyland vacation in January.
The race will bring in a lot of runners, but arriving early or staying later might get you some great, low-crowd park time.
Where Should You Stay At Disneyland For a runDisney Race?
Disneyland has many options- but they look very different from a Walt Disney World vacation.
You have 3 on-site resorts to choose from, but they will sell out quickly due to proximity and Disneyland on-site hotel perks.
The great news is that you can find more affordable and just as accommodating hotels and resorts in walking distance of Disneyland.
Check out the Anaheim hotels on S Harbor across the street from Disneyland!
Many of these will also end up on the race routes which means your family can pop out and see you go by.
Here's a great list of the best Good Neighbor resorts for runDisney at Disneyland that includes a map for you.
Where Will the Disneyland runDisney Races Start and Finish?
NEW! This information just dropped on us for the 2024 race happening in January.
Disneyland 5K
Start: Disneyland®Park (This is exciting! The Neverland 5K for Tinker Bell Half Weekend used to start in the park)
Disneyland 10K
Start/Finish: Disney Way
runDisney® Kids Races
Start/Finish: near Disney Way
Disneyland Half Marathon
Start/Finish: Disney Way
What Time Do The Disneyland runDisney Races Start?
5 am PT is the official start for all runDisney races, except for the kids races.
Those will start at 10 am PT.
Should You Get Park Tickets During a runDisney Weekend?
We always vote yes to this question!
Disneyland is smaller land-wise, but it packs in a ton of unique attractions (and spins on attractions you may see at Disney World).
We think many of the attractions at Disneyland are superior to Walt Disney World (yep, we said it!) and encourage you to go ahead and check them out before or after your races.
What Makes runDisney At Disneyland Different?
The biggest things we loved about the races are the lack of transportation drama (you can just walk to the start line from almost all local hotels- so easy!) and the HUGE community support.
From car clubs to cosplayers to dance teams to bands to the Red Hat Lady society, you could count on Anaheim to support the runners.
We always said runDisney at Disneyland was the perfect Mullet race: party in the front (with all the characters and park time) and business in the back (where you could really pick up the pace with the city mileage).
Here's some more detailed information on what makes Disneyland races different from Disney World races.
What Do The Race Courses Look Like At Disneyland For runDisney?
We don't know what courses will look like for runDisney at Disneyland in January 2024, but here are some links to previous courses you can check out.
If you have more questions, please come join the No-Guilt Disney Facebook group and ask away!
Registration Dates and Times For Disneyland 2024 Race Weekend
Disneyland Half Marathon Weekend at Disneyland Resort
Club runDisney Gold & Platinum Member Registration | February 7, 2023 at 7 AM PT / 10 AM ET
General Registration | February 14, 2023 at 7 AM PT / 10 AM ET
Be sure to check out this post for ALL the runDisney registration tips you need!
runDisney at Disneyland: Race Themes Announced for 2024
Themes have been announced for the 2024 races.
You can also check out the runDisney Disneyland medals for 2024.
Goofy | Disneyland Yoga
Pluto | Disneyland 5K
Donald & Daisy | Disneyland 10K
Mickey Mouse & Minnie Mouse | Disneyland Half Marathon
Dumbo | Dumbo Double Dare
Chip 'n' Dale | runDisney Kids Races
Not only is Disneyland adding Yoga this year, they are also bringing back the kids races. Which are absolutely adorable.
How Much Does runDisney Cost At Disneyland?
The million-dollar question, friends!
Well, not quite a million dollars, but it certainly can add up.
To register for each race, you will shell out quite a bit of money. As a reminder, these are non-transferable and non-refundable, so be sure you are ok losing out on some coins in the case of an event you can't control… 11 months down the road.
Yes, we know. It's nuts.
But it's the runDisney policy and doesn't look to be changing any time soon.
Goofy | Disneyland Yoga- 108.99
Pluto | Disneyland 5K- 108.99
Donald & Daisy | Disneyland 10K- 148.99
Mickey Mouse & Minnie Mouse | Disneyland Half Marathon- 234.99
Dumbo | Dumbo Double Dare- $389.00
Chip 'n' Dale | runDisney Kids Races- $35
More runDisney Posts You'll Love
Patty Holliday has been running Disney since 2011. She knows just about every tip, trick, and hack there is to cover the runDisney Magical Miles at Disney World and Disneyland. She knows every mile isn't *always* magical- but with training, tips, and a little bit of pixie dust, they can be a lot of fun! You can also find her at noguiltlife.com and noguiltfangirl.com