Disney's Hollywood Studios has a variety of attractions and shows, but your kids may not be ready for all of them. Is the Fantasmic! show kid-friendly and ok for your children? This parents ride guide will help you decide if Fantasmic at Disney World is too scary for kids in your household.
This Parents Ride Guide is part of a series focusing on the elements of Disney World and Disneyland attractions that might be unexpectedly scary for your kids. This post will mention details that could be considered spoilers, so please read with caution.
About Fantasmic! At Disney World
From the Walt Disney World Website:
Featuring stunning effects, thrilling stunts, dazzling pyrotechnics and rousing music, this larger-than-life show is painted on a grand canvas of dancing water and light. Overflowing with silly and suspenseful surprises, it will leave your entire family smiling from ear-to-ear!
With an all-new sequence added to the show, the return date has been announced as November 3, 2022.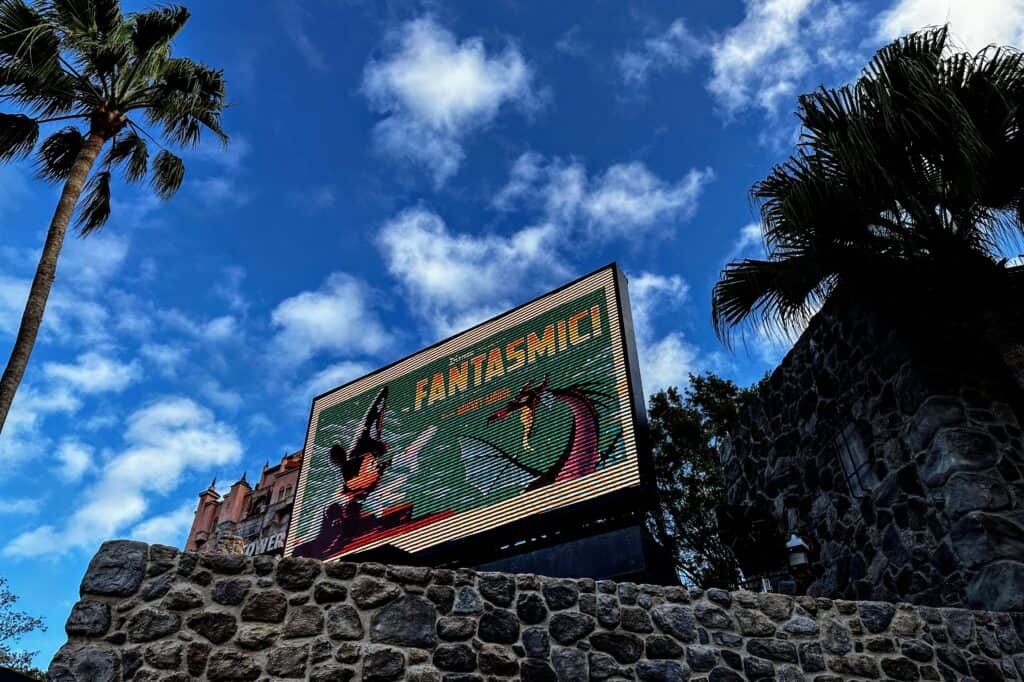 Is Fantasmic! Too Scary For Kids? Parents Guide To Rides At Disney
As always, you know your child best.
Disney doesn't try to make attractions that are too scary for kids, but some children may have unexpected reactions to certain experiences at Disney World or Disneyland.
This Fantasmic! parent guide will let you know about elements that kids may find concerning or scary before you get in line. This report is about the Disney World Fantasmic at Disney's Hollywood Studios, not the Disneyland version (though they are fairly similar).
And there will be very long lines for 2022 and into 2023 for Fantasmic! It's been closed since 2020, so the return of Fantasmic has been much anticipated by many.
In this series, we'll run down the ride basics to include if there are flashing lights, loud noises, jump scare elements, dark moments, scary themes, and overall general intensity.
What Does Seating Look Like For Fantasmic?
You'll be seated in an open-air amphitheater for the show.
You'll be seated in an open-air amphitheater for the show, evoking the golden age of Hollywood.
This area is in the backlot of Disney, someplace that isn't available to the public except during showtimes.
Disney World Fantasmic has actual seats where the Disneyland show does not (you have roped-off areas to stand or sit, but no actual seats).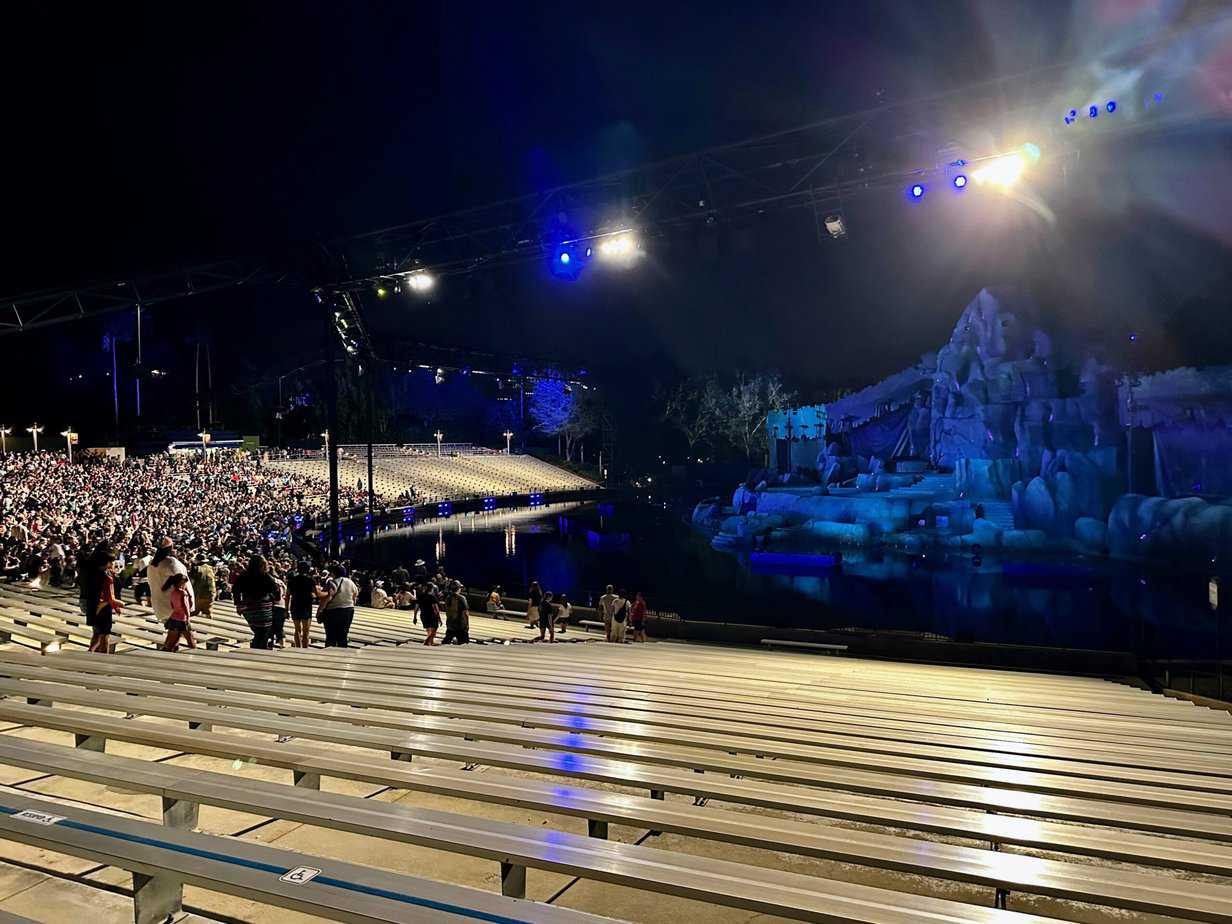 Do You Need Tickets For Fantasmic Disney World?
You do not need additional tickets for Fantasmic.
You do need theme park admission and reservations (or the ability to park hop between the Disney park).
You do need a little bit of patience and time to line up for the show, especially if you are going in the next couple of months after opening (November 2022).
You can avoid some of the lineups, however, by purchasing a Fantasmic Dining Package at select restaurants in Hollywood Studios.
Check Disney Genie in the My Disney Experience app for showtimes.
Fantasmic Dining Package: Disney World (2022)
The return of Fantasmic Dining packages has been announced: November 30th is the first day you can book one of these reserved section meals.
There are 5 full-service restaurants participating in the Fantasmic Dining Package at Disney World.
50's Prime Time Cafe (classic American comfort food!)
Hollywood & Vine
Mama Melrose's Ristorante Italiano
Sci-Fi Dine-In Theater Resturaunt
The Hollywood Brown Derby
You can book this dining experience 60 days in advance of your visit.
The listed package prices are $49 to $73 per adult ($22 to $29 for children 3-9 years old). A credit card is required to book.
The Fantasmic Dining Package is available on all Fantasmic show days.
Meals include
An entrée and appetizer or dessert at select full-service restaurants or one (1) full buffet (where applicable), along with a non-alcoholic beverage
One voucher for a reserved seating area at Fantasmic! in a reserved area
When you go to your meal, a cast member will give you seating vouchers to turn in later.
You'll check in to your reserved seating and viewing area next to the Beauty & The Beast Live show located on Sunset Boulevard.
Seating will begin 90 minutes prior to the Fantasmic! show, but as long as you arrive at least 25 minutes prior to show time you won't have a problem getting great seats.
Seats are first come, first serve in this area but there's really not a bad view in this area!
Darkness May Make Fantasmic Too Scary For Some Kids
The overall theme of Fantasmic is uplifting, there are some dark and scary elements to the story.
We go into Mickey's imagination while he's having a dream and this dream is an intense one!
The show takes place after dark in a darkened amphitheater. If your child doesn't do well in a theater-type environment, the show may ultimately be too scary for their comfort.
Scary Themes In Fantasmic!
Mickey's imagination takes us on a wild ride including into some villainous and scary territory.
While there are some lovely points in the show and the end is an uplifting showstopper, the villains do have their moments.
The Evil Queen, Maleficent, Jafar, Scar, Hades, Cruella, Ursula, and Frollo all make appearances in the show.
The Evil Queen transforms herself into the Evil Hag, Maleficent becomes her dragon, and Jafar shows us just how snakelike he can be by turning into a giant snake who chases Mickey Mouse.
Is Fantasmic At Disney World Too Scary For Kids: Lights, Flashes, Loud Noises, Water Elements
The show is full of pyrotechnics and flashing lights.
Thunder booms, fireworks go off, and the entire lake is set on fire at one point.
If anyone in your family has photosensitivity, be aware this could impact their enjoyment.
While nothing lingers or lasts too long, be aware that the show is fairly intense at times.
If you happen to sit in the first few rows, you will get wet from the water elements.
Should this concern you or your children, asking a cast member for help with seating farther back is appropriate.
Sitting towards the back could be beneficial if you are worried about any elements your child may not be able to handle.
How Long Is Fantasmic At Disney World (2022)?
It runs for about 29 minutes, which could be a long period of time late in the evening for some children.
Age Rating: What Ages of Kids Can Watch Fantasmic?
As always, you know your kids best.
We think most kids ages 6 and up will be totally fine, and kids as young as 3 should be ok if they aren't scared easily by loud noises.
There are some intense and scary moments happening on stage, but prepare them with "It's just a dream!" we think that could go far in relieving some concerns.
Again, ask for seating in the back if you have any worries for your family.
Watch The Full Fantasmic! Show
Sometimes it helps to watch the full attraction experience to decide if a theme park ride or show is kid-friendly for your family.
Is Fantasmic At Disney World Too Scary For Your Kids?
Here is the full show of Fantasmic! Disney World to help you decide for sure.
Parents Guide Tip Sheet: Is Fantasmic At Disney World Too Scary
Be there as the forces of good and evil battle it out in Mickey's dream during this extravagant open-air nighttime musical.
---
Dark

Adventurous theme

Loud noises and bright, flashing lights

Fire and water elements could be scary for some children
Patty Holliday has been running Disney since 2011. She knows just about every tip, trick, and hack there is to cover the runDisney Magical Miles at Disney World and Disneyland. She knows every mile isn't *always* magical- but with training, tips, and a little bit of pixie dust, they can be a lot of fun! You can also find her at noguiltlife.com and noguiltfangirl.com