Taking young children to Disney World can cause concerns if they are not used to theme park rides and attractions. This parents ride guide will help you decide if the Gran Fiesta Tour ride at Disney is too scary for kids in your household.
This Parents Ride Guide is part of a series focusing on the elements of Disney World and Disneyland attractions that might be unexpectedly scary for your kids. This post will mention details that could be considered spoilers, so please read with caution.
About The Gran Fiesta Tour At Disney World
From the Disney World Website:
Take in the sights of Mexico and the antics of 3 feathered amigos on this gentle boat ride through the Mexico Pavilion.
This attraction was part of opening day at Epcot in 1982.
You'll find the Gran Fiesta Tour ride entrance in the back left corner of the Mexico Pavillion building.
Is The Gran Fiesta Tour Ride At Disney Too Scary For Kids? Parents Ride Guide
As always, you know your child best.
Disney doesn't try to make rides that are too scary for kids, but some children may have unexpected reactions to certain experiences at Disney World or Disneyland.
This parent ride guide to the Gran Fiesta Tour Ride will let you know about elements that kids may find concerning or scary before you get in line.
In this series, we'll run down the ride basics to include if there are flashing lights, loud noises, spins, drops, jump scare elements, dark moments, scary themes, and overall general speed or intensity.
What Does The Ride Vehicle Look Like For The Gran Fiesta Tour?
You'll be seated in a boat for this ride with 5 rows of people.
Each boat can seat 16 people in total.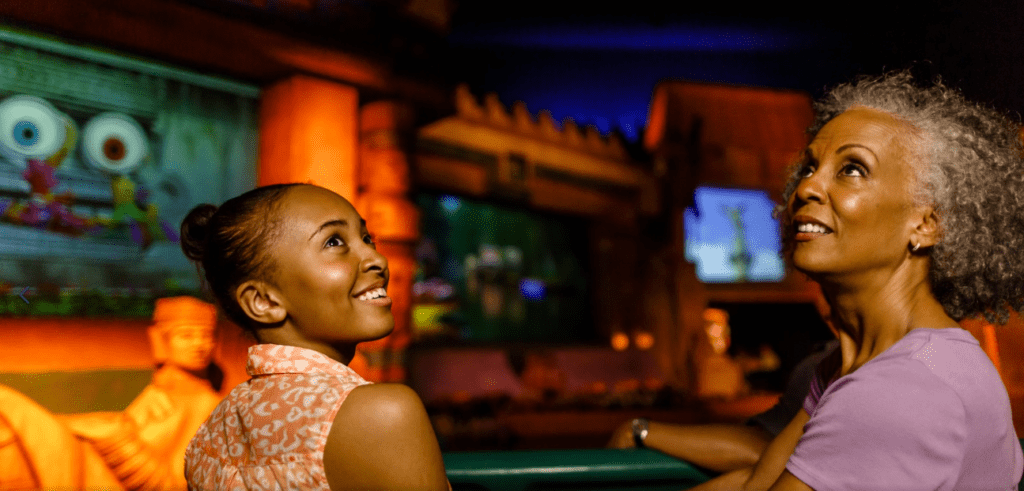 The Grand Fiesta Tour Is Dark With Some Fireworks
This ride is a dark ride, meaning that you go through a darkened show building for the attraction.
Once you are inside the show, the rooms are well lit.
But there is a bit of darkness leading up to the main storyline where the Three Caballeros make their appearance.
From a sensory standpoint, there are no flashing scenes but there are some loud booms as fireworks are projected on screen towards the end of the attraction.
Is The Gran Fiesta Tour Too Scary: Jump Scares
There are not any jump scares to be worried about at this attraction.
Enjoy a pleasant cruise through Mexico while watching animatronic characters dance around you.
Are There Drops?
The Gran Fiesta Tour ride does not have any drops.
Scary Themes
This ride is completely joyful!
There are only fun adventures as Panchito and Jose chase Donald through various scenes of cities in Mexico.
There is nothing scary in this ride as a whole.
One scene could raise questions for an inquisitive toddler. The 2 birds ask a waiter if he's seen a duck and the waiter opens his platter lid to show a cooked duck.
You will see some mild cartoon violence on the screens.
Is The Gran Fiesta Tour Too Scary For Toddlers: Speed
This is a slow-moving ride that gently makes its way through the show building.
It will go at a continuous speed unless unforeseen issues cause it to momentarily pause operation. You could bump into boats in front of you or be bumped by boats behind you, though this is not part of the planned experience.
This is a simple boat ride through Mexico.
Age Rating: Can Toddlers Ride Gran Fiesta Tour?
We recommend this attraction for kids of all ages as long as fireworks are not a trigger for them.
The fireworks are heard and seen via screens at the end of the ride.
Watch The Full Gran Fiesta Tour Ride Through
To prepare yourself or your child, we always suggest YouTube videos of attractions.
Here is one for the Gran Fiesta Tour you may enjoy.
Parents Ride Guide Tip Sheet
Parents Ride Guide: Gran Fiesta Tour
Slow-moving boat adventure with Donald, Panchito, and Jose! Located in The Mexico Pavillion in Epcot.
---
Dark Ride

Adventurous theme

Mild cartoon violence on screens

Loud noises with fireworks

Slow-moving

No height requirement
Seats 3-4 people in one row of the vehicle, 5 rows per vehicle
No drops
More Disney Tips You'll Love
Is Remy's Ratatouille Adventure Too Scary For Kids? Parents Ride Guide
Is The Haunted Mansion Ride Too Scary For Kids? Parents Ride Guide
Tips For Disney World With Toddlers
Hack Your Way To A Guardians Of The Galaxy Cosmic Rewind Boarding Group At Epcot
Disney Packing List For 2022 | Printable PDF
Best Ways To Get From LAX to Disneyland
What NOT To Take To Disney World In 2022
The Big List of Disney Abbreviations and Acronyms
Where Can You Eat Outside At Disney World?
How Do You Get To Disney World From The Orlando Airport?