The Disney Dining Plan is coming back for 2024. Want to know where you can use your Quick Service and Table Service credits? We've got the full list of Disney Dining plan restaurants for 2024.
Why Buy The Disney Dining Plan?
Does it actually save you money?
It can in some strategic cases, but the real "savings" comes in the form of convenience.
Picture this: you sit with your family at your favorite Disney World restaurant and your kiddos want to know what they can get.
Your answer: anything you want, pals!
You get to be the "Yes" Mom or Dad because the cost is no longer factored into the equation.
Your Disney Dining Plan will cover an entree on the menu, so if your teens are looking at the steak: let 'em indulge!
No reason to persuade them toward the cheaper pasta dish if you have the Disney Dining Plan.
Read more about all the details of the Disney Dining Plan for 2024 and the Snack Credit Options.
When Will The Disney Dining Plan Be Available?
The plans go on sale on May 31st for all packages that start on or after January 9, 2024.
Full List Of Disney Dining Plan Restaurants (2024)
The great news is that you will have tons of options for where you can use your quick service and table service credits.
There are almost 220 locations across the Walt Disney World Resort that will accept the Disney Dining Plan as payment. Check this list before you book your next Disney Dining Reservation at 60 days out.
We've got the full list of locations that take the Disney Dining Plan in 2024 for you.
List Of 2024 Disney Dining Plan Restaurants: Quick Service Options
4 Rivers Cantina Barbacoa Food Truck
ABC Commissary
Amorette's Patisserie
The Artist's Palette
Avalunch
B.B. Wolf's Sausage Co.
Backlot Express
Backstretch Pool Bar
Barcelona Lounge
Beach Club Marketplace
Beaches Pool Bar & Grill
Blaze Fast-Fire'd Pizza
BoardWalk Deli
Cafe Rix
Capt. Cook's
Casey's Corner
Catalina Eddie's
Centertown Market Grab & Go
Chicken Guy!
The Chuck Wagon
Columbia Harbour House
Connections Café
Connections Eatery
Contempo Café
Cookes of Dublin
Cooling Hut
Cosmic Ray's Starlight Café
Courtyard Pool Bar
Cove Bar
Creature Comforts
D-Luxe Burger
The Daily Poutine
Docking Bay 7 Food and Cargo
Dockside Diner
The Drop-Off Pool Bar
Earl of Sandwich
El Mercado de Coronado
End Zone Food Court
ESPN Wide World of Sports Grill
Everything POP Shopping & Dining
Fairfax Fare
Fife & Drum Tavern
Flame Tree Barbecue
The Friar's Nook
Gasparilla Island Grill
Gaston's Tavern
Golden Oak Outpost
Good's Food to Go
Grandstand Spirits
Harambe Market
Hurricane Hanna's Waterside Bar and Grill
Intermission Food Court
Katsura Grill
Kringla Bakeri Og Kafe
La Cantina de San Angel
Landscape of Flavors
Leaning Palms
Leaping Horse Libations
Liberty Square Market
Local Green Orlando Food Truck
Lottawatta Lodge
Lotus Blossom Café
Lowtide Lou's
The Lunching Pad
Main Street Bakery
Maji Pool Bar
The Mara
Mardi Grogs
The Market at Ale & Compass
Marketplace Snacks
Meadow Snack Bar
Morimoto Asia Street Food
Muddy Rivers
Oasis Bar & Grill
The Paddock Grill
Pecos Bill Tall Tale Inn and Cafe
Pepe by José Andrés
Petals Pool Bar
Pinocchio Village Haus
Pizza Ponte
Pizza Window
Pizzafari
PizzeRizzo
The Polite Pig
Refreshment Outpost
Refreshment Port
Regal Eagle Smokehouse: Craft Drafts & Barbecue
Restaurantosaurus
Riverside Mill Food Court
Roaring Fork
Ronto Roasters
Rose's All-American Café
Sanaa Lounge
The Sand Bar
Sassagoula Floatworks and Food Factory
Satu'li Canteen
Siestas Cantina
Silver Screen Spirits Pool Bar
Singing Spirits Pool Bar
Sleepy Hollow
The Smokehouse at House of Blues
Snack Shack
Sommerfest
Spyglass Grill
Sunshine Seasons
Surf Doggies
Swirls on the Water
Tangierine Café: Flavors of the Medina
Tortuga Tavern
Trail's End Restaurant
The Trolley Car Café
Turtle Shack Poolside Snacks
Typhoon Tilly's
Warming Hut
Woody's Lunch Box
World Premiere Food Court
Yak & Yeti Local Food Cafes
YeSake Kiosk
Yorkshire County Fish Shop
List Of 2024 Disney Dining Plan Restaurants: Table Service Options
Disney says get ready to Be Our Guest at these Disney Dining Plan Restaurants.
4 Rivers Cantina Barbacoa Food Truck
50s Prime Time Café
Akershus Royal Banquet Hall
Ale & Compass Lounge
Ale & Compass Restaurant
Amorette's Patisserie
Banana Cabana
Bar River
Be Our Guest Restaurant
Beaches & Cream Soda Shop
Biergarten Restaurant
Big River Grille & Brewing Works
The Boathouse
Boatwright's Dining Hall
Boma – Flavors of Africa
Cape Town Lounge and Wine Bar
Chef Art Smith's Homecomin'
Cinderella's Royal Table
Cítricos
Cítricos Lounge
City Works Eatery & Pour House
Coral Reef Restaurant
Crew Cup's Lounge
Crockett's Tavern
The Crystal Palace
Dahlia Lounge
The Diamond Horseshoe
The Drop-Off Pool Lounge
The Edison
Enchanted Rose
Enzo's Hideaway
ESPN Wide World of Sports Grill
Fife & Drum Tavern
Flying Fish
Grand Floridian Cafe
Gurgling Suitcase
The Hollywood Brown Derby
The Hollywood Brown Derby Lounge
House of Blues Restaurant & Bar
Jaleo by José Andrés
Jiko – The Cooking Place
Jock Lindsey's Hangar Bar
Jungle Navigation Co. LTD Skipper Canteen
Kona Cafe
La Hacienda de San Angel
Le Cellier Steakhouse
Liberty Tree Tavern
Mama Melrose's Ristorante Italiano
Maria & Enzo's Ristorante
Martha's Vineyard
Maya Grill
Morimoto Asia
Morimoto Asia Street Food
Narcoossee's
Nine Dragons Restaurant
Nomad Lounge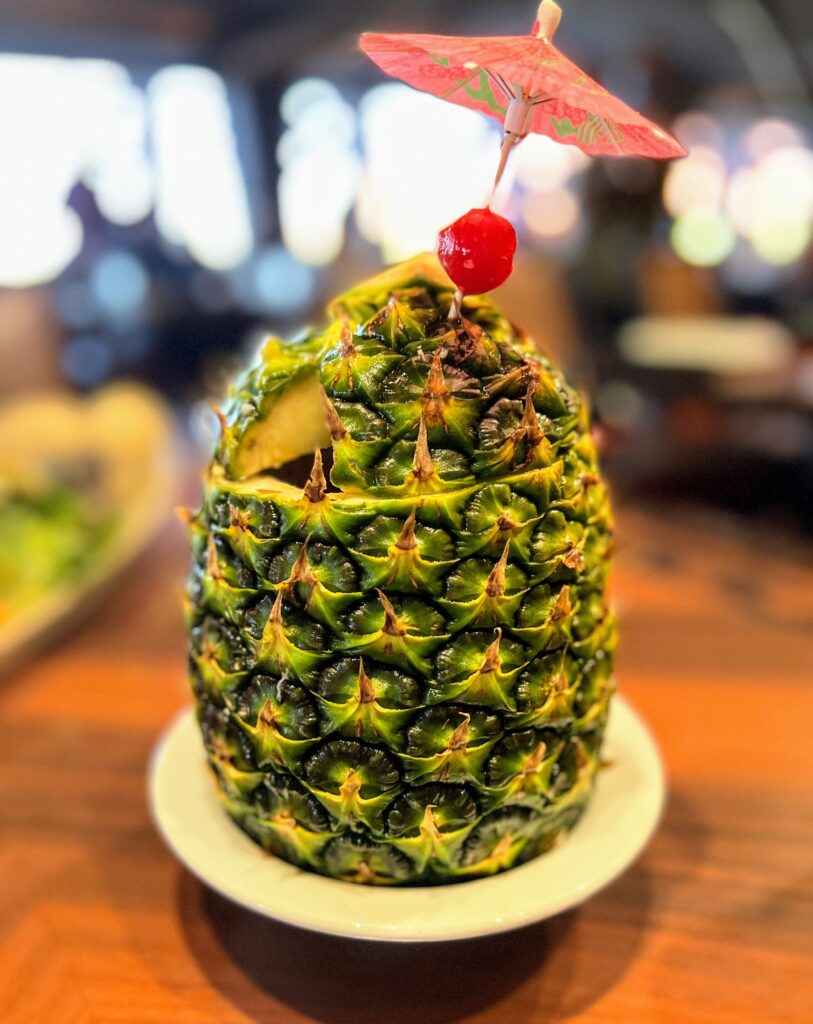 'Ohana
Olivia's Cafe
Paddlefish
Paradiso 37, Taste of the Americas
Pizza Ponte
Planet Hollywood
The Plaza Restaurant
The Polite Pig
Raglan Road Irish Pub and Restaurant
Rainforest Cafe at Disney Springs Marketplace
Rainforest Cafe at Disney's Animal Kingdom
River Roost
Rix Sports Bar & Grill
Rose & Crown Dining Room
San Angel Inn Restaurante
Sanaa
Sanaa Lounge
Scat Cat's Club – Lounge
Sci-Fi Dine-In Theater Restaurant
Sebastian's Bistro
Spice Ride Table
Splitsville Dining Room
Steakhouse 71
Steakhouse 71 Lounge
Story Book Dining at Artist Point with Snow White
T-REX
Tambu Lounge
Teppan Edo
Terralina Crafted Italian
Territory Lounge
Three Bridges Bar and Grill at Villa del Lago
Tiffins Restaurant
Tokyo Dining
Toledo – Tapas, Steak & Seafood
Tony's Town Square Restaurant
Topolino's Terrace – Flavors of the Riviera
Trail's End Restaurant
Trattoria al Forno
The Turf Club Bar and Grill
The Turf Club Lounge
Tutto Gusto Wine Cellar
Tutto Italia Ristorante
Via Napoli Ristorante e Pizzeria
Victoria Falls Lounge
Whispering Canyon Cafe
Yachtsman Steakhouse
Yak & Yeti Restaurant
With this list, you can see that you really can't go wrong eating at any of these Disney Dining Plan Restaurants.
More Disney Tips You'll Love
Patty Holliday has been running Disney since 2011. She knows just about every tip, trick, and hack there is to cover the runDisney Magical Miles at Disney World and Disneyland. She knows every mile isn't *always* magical- but with training, tips, and a little bit of pixie dust, they can be a lot of fun! You can also find her at noguiltlife.com and noguiltfangirl.com