Taking your kiddos to Disneyland is practically a rite of passage in America. And many parents want to take their children when they are "young enough to experience the magic." Spoiler alert: You are NEVER too old or too young to experience magic at Disney! However, taking young children can cause concerns if they are not used to theme park rides and attractions. This parents ride guide will help you decide if the Haunted Mansion Holiday ride at Disneyland is too scary for kids in your household.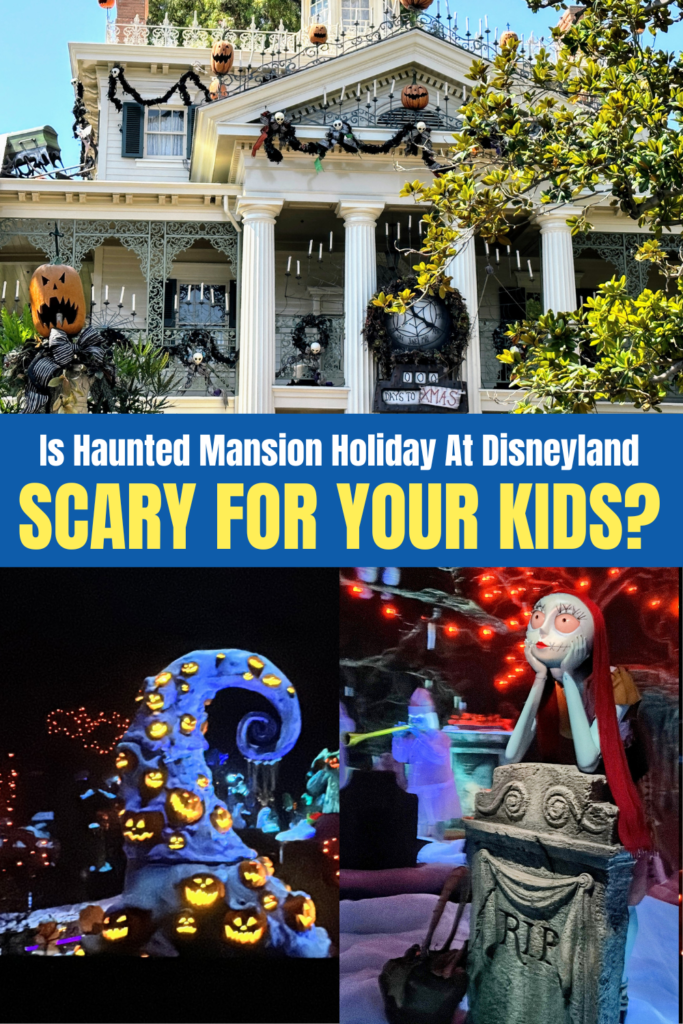 This Parents Ride Guide is part of a series focusing on the elements of Disney World and Disneyland attractions that might be unexpectedly scary for your kids. This post will mention details that could be considered spoilers, so please read cautiously.
About Haunted Mansion Holiday At Disneyland
Disneyland's Haunted Mansion opened its doors and Doom Buggies to guests in 1969.
Disney World's version followed in 1971 as an original opening day attraction.
Both rides follow a similar storyline with some differences. A big different is that Disneyland's version gets a Nightmare Before Christmas overlay every year.
Starting in September and ending in January, you can experience the Jack, Sally, and Oogie Boogie in the Haunted Mansion Holiday.
This parents guide will help you decide if it's too scary for your kids.
Is The Haunted Mansion Holiday Ride At Disneyland Too Scary For Kids? Parents Ride Guide
As always, you know your child best. But as a gentle reminder: just because a child is tall enough for an attraction, that doesn't mean they are always ready for one.
Disney doesn't try to make rides that are too scary for kids, but some children may react unexpectedly to certain experiences at Disneyland.
This parent ride guide to the Haunted Mansion Holiday will inform you about elements that kids may find concerning or scary before you get in line.
In this series, we'll run down the ride basics to include if there are flashing lights, loud noises, spins, drops, jump scare elements, dark moments, scary themes, and overall general speed or intensity.
What Does The Ride Vehicle Look Like For The Haunted Mansion?
You'll be seated in a "Doom Buggy" for the entire ride, a vehicle system that swivels around as you move through the attraction.
A moving sidewalk will help you align next to your ride vehicle and you will step in.
The Doom Buggys seat 2 or 3 people each and a safety lap bar will close down on its own.
This ride vehicle and entry is similar to what you will experience on Under The Sea: Journey of the Little Mermaid.
The Haunted Mansion Holiday Ride Is Dark With Some Flashing Elements & Loud Thunderous Booms
This attraction is a lot brighter and flashier than the traditional Haunted Mansion ride. But it's still a dark ride that can be scary for some kids.
The first part of the attraction is the most intense from a scare factor.
There is a thunderstorm, and lightning flashes can be seen through some windows.
If your children fear the dark, they may find the Haunted Mansion Holiday ride too scary.
Stretching Room Pre-Show Can Be Terrifying
When you enter the stretching room (the first enclosed room of the ride), you will hear a foreboding tale accompanied by flashing lights and thunderous sounds.
This sets the stage for the ride you will encounter through the next set of doors.
Jack Skellington makes an appearance and he certainly gives some smaller kids a scare!
This initial room is the most frightening part of The Haunted Mansion Holiday ride for most children.
If this sounds too intense for your child, you can ask to skip this part of the ride. Simply ask a Cast Member for assistance.
Children not caring for dark and spooky haunted house experiences may have initial concerns with this attraction.
Is The Haunted Mansion Ride Too Scary: Jump Scares
Haunted Mansion can be scary for some toddlers and kids regarding minor jump scares. This doesn't happen until the end of the ride and nothing gets close to your face or your ride vehicle.
The graveyard scene is one big party, but the ghosts occasionally pop up from behind headstones.
This could make Haunted Mansion scary for kids.
Are There Drops?
This ride does not have any drops.
Scary Themes
As your narrator- aka Ghost Host- likes to say, there are 999 happy haunts inside, but there's always room for 1000!
The scary theme is, obviously, ghosts.
Objects will move inside the Mansion, and ghosts will be seen throughout the ride. There is also a seance in one of the rooms with a floating head in a glass ball speaking to you (Madame Leota).
Most of it is meant to be spooky and silly, not strictly scary. But some kids may still have some concerns.
There are no gory moments or blood.
Is The Haunted Mansion Holiday Ride Too Scary For Toddlers: Speed
This slow-moving ride gently makes its way through the show building.
It will go at a continuous speed unless unforeseen issues cause it to pause operation momentarily.
The Doom Buggy will rotate at various times, including one backward descent.
Age Rating: Can Toddlers Ride Haunted Mansion?
It will truly depend on how well your child handles mild scares.
Overall, Disney ranks this as family-friendly and does not have a height requirement.
But with loud noises, flashes, and a creepy vibe and storyline, it may be a bit much for some kids.
This ride is fine for young infants to toddlers (up to age 3). This is typically when toddlers start to become a bit more aware of scary things.
From 3-7 may be the key age where children are most scared by the content of this attraction.
At the end of the attraction, there is a photo op with the joke that a hitchhiking ghost may follow you home. This can be highly suggestive for impressionable young kids, so be prepared to explain the magic of Disney photos when it's all over.
Watch The Full Haunted Mansion Ride Through
We always suggest YouTube videos of attractions to prepare yourself or your child.
Here is one for Haunted Mansion Holiday you may enjoy.
Parents Ride Guide Tip Sheet
Parents Ride Guide: Haunted Mansion
Grim Grinning Ghosts with a bit of a scare factor for young children.
---
Dark Ride

Spooky but silly fun theme

Mild jump scares in the graveyard scene
Slow-moving but the vehicle will rotate backward for a decent
No height requirement
Seats 2-3 people in each vehicle
No drops
More Disney Tips You'll Love
Is Cosmic Rewind Too Scary For Kids? Parents Ride Guide
Is Remy's Ratatouille Adventure Too Scary For Kids? Parents Ride Guide
Is The Gran Fiesta Tour Ride Too Scary For Kids? Parents Ride Guide
Tips For Disney World With Toddlers
Hack Your Way To A Guardians Of The Galaxy Cosmic Rewind Boarding Group At Epcot
Disney Packing List For 2022 | Printable PDF
Best Ways To Get From LAX to Disneyland
What NOT To Take To Disney World In 2022
The Big List of Disney Abbreviations and Acronyms
Where Can You Eat Outside At Disney World?
How Do You Get To Disney World From The Orlando Airport?
5 Hacks To Max Out Genie+ At Disney World
Patty Holliday has been running Disney since 2011. She knows just about every tip, trick, and hack there is to cover the runDisney Magical Miles at Disney World and Disneyland. She knows every mile isn't *always* magical- but with training, tips, and a little bit of pixie dust, they can be a lot of fun! You can also find her at noguiltlife.com and noguiltfangirl.com