The much anticipated Disney favorite is back: Fantasmic! is now playing at the Hollywood Hills Amphitheater at Disney's Hollywood Studios. Also back: the Fantasmic Dining Package at Disney World. Here's what you need to know to skip the long lines at Fantasmic! at Walt Disney World Resort.
About Fantasmic! At Disney World
From the Walt Disney World Website:
Featuring stunning effects, thrilling stunts, dazzling pyrotechnics, and rousing music, this larger-than-life show is painted on a grand canvas of dancing water and light. Overflowing with silly and suspenseful surprises, it will leave your entire family smiling from ear to ear!
With an all-new sequence of Disney characters added to the show, the return date has been announced as November 3, 2022.
The Fantasmic! dining package goes on sale beginning October 26 for shows November 30 and beyond.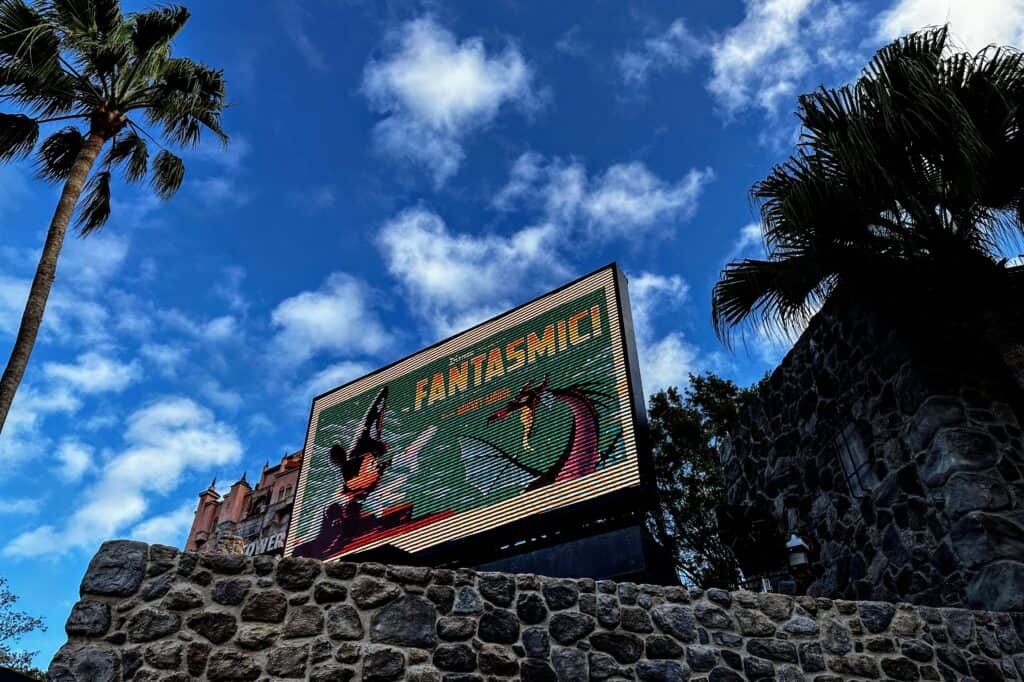 What Does Seating Look Like For Fantasmic?
You'll be seated in an open-air amphitheater for the show, evoking the golden age of Hollywood.
This area is in the backlot of Disney, someplace that isn't available to the public except during showtimes.
Disney World Fantasmic has actual seats where the Disneyland show does not (you have roped-off areas to stand or sit, but no actual seats).
Where Do You Sit With The Fantasmic! Dining Package At Disney World?
The section of seats reserved for Fantasmic! Dining Package holders are in the center of the theater.
They'll begin filling in first come, first serve with the Mickey Mickey section.
The Scar section of seats will be used if necessary.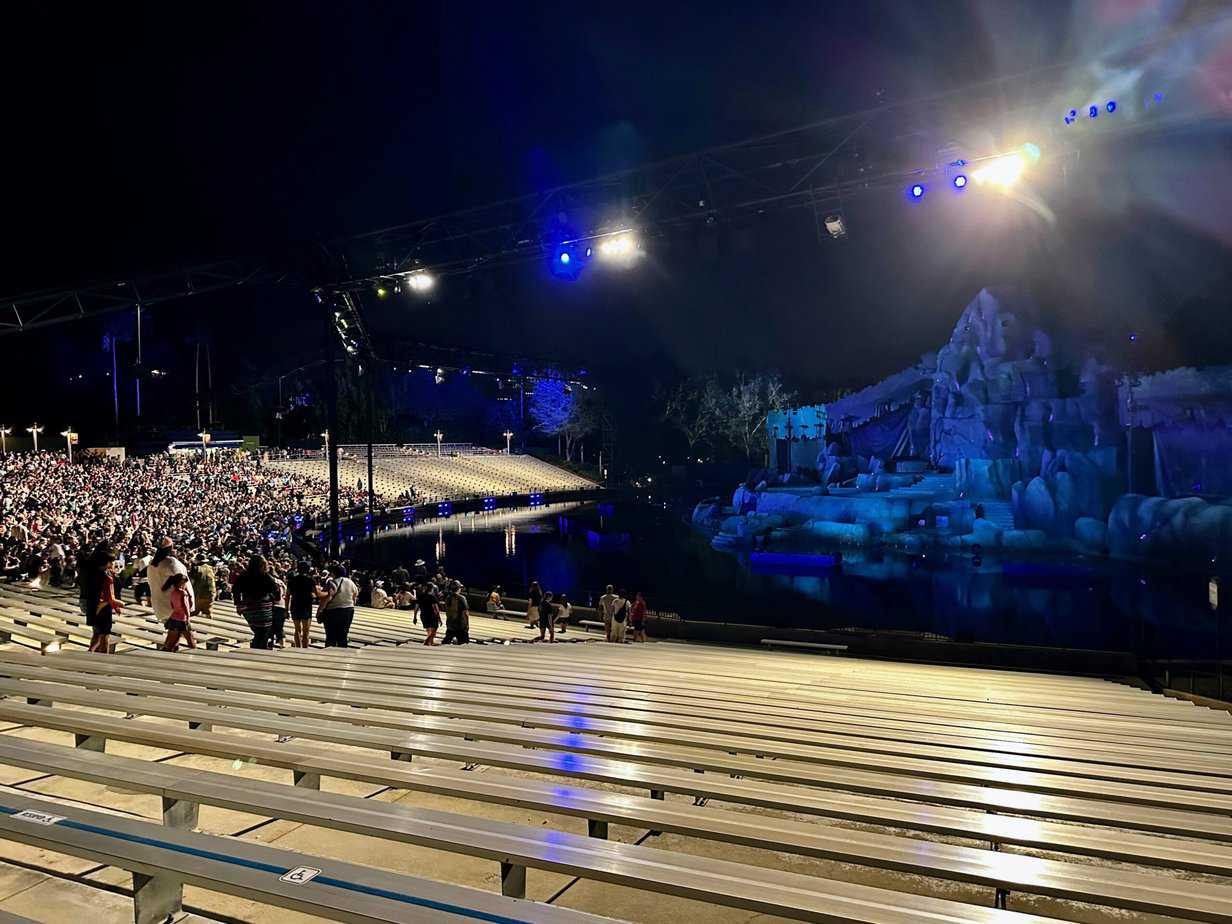 Do You Need Tickets For Fantasmic Disney World?
You do not need additional tickets for Fantasmic. You do need theme park admission and reservations (or ability to park hop between the Disney park).
You also do need a little bit of patience and time to line up for the show, especially if you are going in the next couple of months after opening (November 2022).
The line to get into the theater is LONG and starts to form about 90 minutes in advance.
But you can avoid this lineup, however, by purchasing a Fantasmic Dining Package at select restaurants in Disney's Hollywood Studios.
Save yourself some time in line and book one of these dining options in advance.
Check Disney Genie in the My Disney Experience app for showtimes.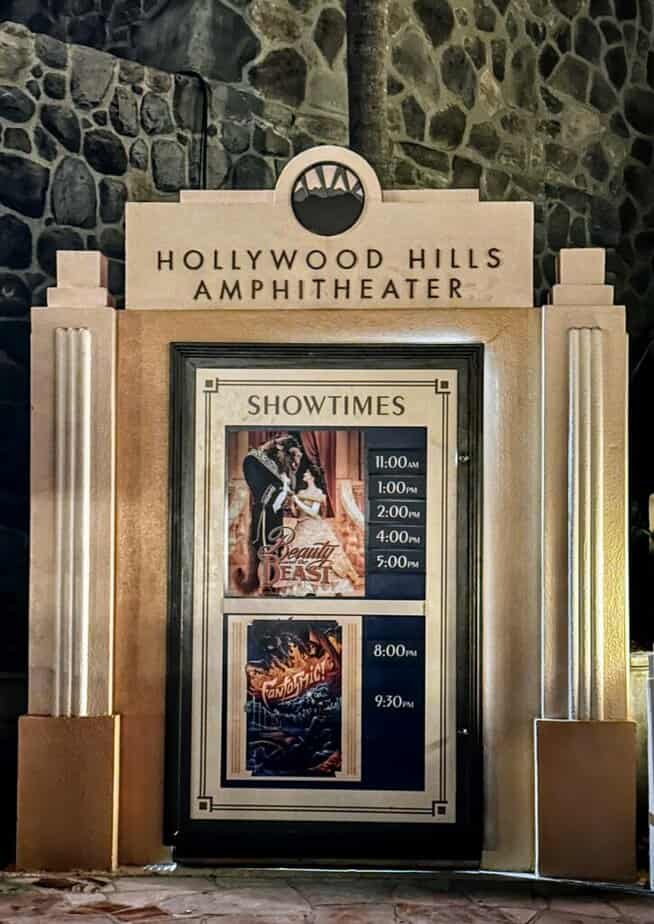 Dinner & A Show! Fantasmic Dining Package: Disney World (2023)
The return of Fantasmic Dining packages has been announced: November 30th is the first day you can book one of these reserved section meals.
There are 5 full-service restaurants participating in the Fantasmic Dining Package at Disney World.
50's Prime Time Cafe (classic American comfort food!)
Hollywood & Vine
Mama Melrose's Ristorante Italiano
Sci-Fi Dine-In Theater Resturaunt
The Hollywood Brown Derby
You can book this dining experience 60 days in advance of your visit.
First, you'll enjoy a meal at one of the above dining venues, then you'll get a fabulous high-energy show to close out your Hollywood Studios night.
How Much Does The Fantasmic Dining Package Cost At Disney World?
The listed package prices are $49 to $73 per adult ($22 to $29 for children 3-9 years old).
A credit card is required to book.
The Fantasmic Dining Package is available on all Fantasmic show days, but will only provide seating for the first show of Fantasmic! each night.
What Do The Dining Package Meals include?
An entrée and appetizer or dessert at select full-service restaurants or one (1) full buffet (where applicable), along with a non-alcoholic beverage
One voucher for reserved seating area at Fantasmic! in a reserved area
When you go to your meal, a cast member will give you seating vouchers to turn in later. Don't lose those!
You'll check in to your reserved seating and viewing area next to the Beauty & The Beast Live show located on Sunset Boulevard.
Seating will begin 90 minutes prior to the Fantasmic! show, but as long as you arrive at least 25 minutes prior to show time you won't have a problem getting great seats.
Seats are first come, first serve in this area (center stage, Mickey section) but there's really not a bad view with the Fantasmic dining package.
Disney World Fantasmic! Dining Package Recommendation
Before you see Mickey Mouse and his imagination on stage, you'll choose where to enjoy your meal with your dining reservation.
Which Disney's Hollywood Studios restaurant is the best place for your family?
As always: it might depend on what you're looking for. The participating restaurants give you a variety of great options when it comes to price, menu, and experiences.
You truly can't go wrong.
From dinner in a colorful Italian eatery (Mama Melrose's Ristorante Italiano) to '50s kitsch (50s Prime Time Cafe) to buffet restaurants, you really can't go wrong with this priority seating dinner.
But we do have a personal favorite: Hollywood & Vine.
Splurge a little on a character meal and enjoy a casual breakfast, lunch or dinner with some of your favorite Disney characters.
If you want a great buffet meal, look no further. This food is GOOD.
Out of all the options on the list of venues, we put Hollywood & Vine as the best bang for your Fantasmic Dining at Disney World buck!
For breakfast, you'll meet Disney Junior stars like Doc McStuffins at this character buffet.
For lunch and dinner, Minnie Mouse hosts seasonal dining parties. Characters will dress up to the theme depending on the time of year.
It's adorable!
This is one of the best buffets that Walt Disney World dining offers. Read our Minnie's Holiday Dine review to see why we love it.
Whatever option you end up booking, we highly recommend the Fantasmic! Dinner package at Disney World.
It's the best way to skip the long line that forms before the show and ensures great seats!
Want More Disney Tips?