Disneyland and Walt Disney World are truly magical places, but let's be real – walking around miles of Disney theme parks can be exhausting and take a toll on your feet. After a day in the parks, you may be regretting your life choices. But there is hope- if you are willing to do a little prep work in advance. Disney tip number 1: selecting the right footwear is crucial. We've got a list of our picks for the best shoes for Disney that won't have you regretting those life choices the next day! Affiliate links are included in this post.
Prepping for Happy Feet: Get Moving In Your Best Shoes For Disney
On your to-do list before any Disney trip: add some extra walking to your everyday activity.
Getting ready for a big trip where there will be plenty of walking means your feet need to be prepped for the challenge.
It's advisable to make sure you have a comfortable pair of walking shoes with good arch support and cushioning, as well as a few extra pairs of socks that are sweat-wicking and offer plenty of cushioning on your trip.
In addition, if you have high-maintenance tootsies (mine fall under this category!), make sure you bring along some foot care products such as foot powder, foot spray, and a good moisturizer to keep your feet feeling fresh during those long days of walking.
Start Walking Early
To avoid common issues with so much walking, even the most in-shape guests will want to make sure they're properly prepared by taking a few short walks before the trip.
Starting your walking routine two weeks in advance of your trip is an excellent idea, as this will help to build up muscle memory and lessen any chances of uncomfortable and painful scenarios when it comes time to walk long distances through the amusement parks.
And you WILL walk a ton of miles at Disney.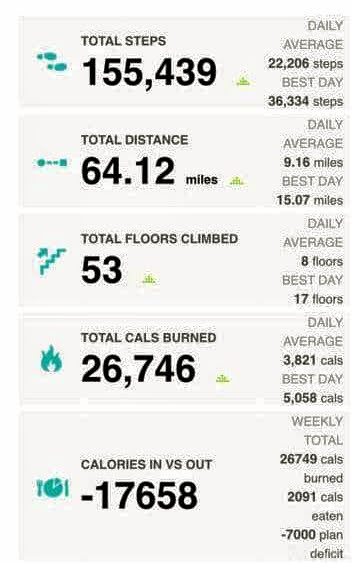 A full week at Disneyland: 64 miles!
Find the Perfect Shoes For Your Disney Trip
When it comes to choosing the best footwear for Disney World or Disneyland, you want shoes that are comfortable and supportive enough to handle miles of walking without causing any discomfort.
First and foremost, let's talk about comfort.
You'll want shoes that can provide ample cushioning to support your feet throughout the day.
Sneakers are the go-to choice for many visitors, as they offer excellent arch support and help absorb shock with each step.
However, not all sneakers are created equal. Look for shoes with memory foam or gel insoles, which can provide additional cushioning and comfort.
Running shoes are also a great idea, but we wouldn't wear the same shoes to the park where we plan to run a runDisney event that same weekend.
Your feet really will appreciate switching things up, so bring a 2nd pair if you have a race weekend scheduled.
While sneakers are undoubtedly a solid option, they may not be the most practical for certain weather conditions.
If you're visiting Disney World during the hot and humid summer months, sandals may be a better choice.
Look for sandals with durable soles and comfortable straps that won't rub or irritate your feet. Avoid some flip-flops, especially if they don't offer much support.
If rain is in the forecast, you'll want to opt for waterproof shoes or boots.
Wet feet can lead to chafing and blisters, which can quickly put a damper on your day.
Consider bringing a pair of lightweight waterproof shoes or sandals that you can easily stash in a backpack for rainy days.
How Do You Pick the Best Shoes For Disney?
Of course, a lot of this comes down to personal preference.
But I've put together a solid list of options for you to consider when choosing the best shoes for Disney.
Let's talk about shoe brands and what to look for in your perfect pair of footwear.
Choosing the wrong shoes can make or break your Walt Disney World or Disneyland vacation.
I mentioned comfort and the humidity issues already but here are some of my favorite brands of shoes to wear to Disneyland or Disney World.
Our Top Picks Of Shoes For Disney
Skechers come in high and they have a ton of options for you. Sandals or tennis shoes, you can't go wrong with Skechers!
Skechers Go Walk tennis shoes are an excellent choice for comfort and breathability.
They're also lightweight tennis shoes that have great support for your arches which is a great choice for anyone dealing with plantar fasciitis.
Buy these Skechers here on Amazon.
Our top choice for sandals is the Birkenstock Arizona Soft Footbed.
With a durable sole and comfortable strap, these sandals can handle all-day walking while providing plenty of arch support and cushioning for your feet.
If you're looking for a waterproof shoe, we recommend the Keen Newport H2 Waterproof Sandal.
It has great footbed cushioning and an adjustable fit for your feet.
If you're looking for a more supportive sneaker with plenty of cushioning, check out the Adidas Cloudfoam Walking Shoes.
They are lightweight yet provide great support and ample cushioning to keep your feet comfortable throughout the day.
While I don't normally advocate for flip-flops in the Disney Parks, Oofos are a different story.
I love them and wear them almost exclusively- like walking on pillows!
They're great recovery flip-flops for runners, too.
With these tips, you'll be sure to find the perfect pair of shoes to wear and walk in for long periods of time.
Tips for Happy Feet in the Florida and California Heat
When it comes to having an enjoyable trip to Walt Disney World and Disneyland, happy feet are essential. Following these tips and tricks will help ensure you make the most of your trip without any discomfort:
Wear light, breathable shoes. Choose lightweight fabrics that won't overheat your feet and cause excessive sweating. Avoid synthetic materials if possible as they can trap in heat.
Bring extra socks. You may end up needing to change them throughout the day so bring a few extra pairs just in case.
Wear moisture-wicking socks. Sweaty, wet feet can lead to pain and discomfort so opt for a pair of moisture-wicking socks when visiting Disney World in the hot Florida summer months.
Never wear a new pair of shoes. Wearing a brand-new pair of shoes can cause blisters and soreness, so opt for something that is broken in and comfortable.
Take breaks when needed. If your feet are feeling tired or sore, take a break and rest them for a while. You could also go back to your hotel room or take a dip in the pool during these breaks.
Pack a second pair of shoes. Rotating your shoes or even just putting on a pair of sandals or flip-flops in the hotel room can feel like heaven after a long, hot day.
When visiting Disney World, it's crucial to select the right shoes to ensure a comfortable and enjoyable experience. Look for shoes with ample cushioning and support, consider weather conditions, and take steps to prevent blisters and other common foot problems.
With the right footwear and a little bit of preparation, you'll be able to make magical memories at Disney World and Disneyland without any discomfort getting in the way.
If you've got favorites that didn't make the list, let us know in the Facebook group!
More Disney Tips You'll Love
Patty Holliday has been running Disney since 2011. She knows just about every tip, trick, and hack there is to cover the runDisney Magical Miles at Disney World and Disneyland. She knows every mile isn't *always* magical- but with training, tips, and a little bit of pixie dust, they can be a lot of fun! You can also find her at noguiltlife.com and noguiltfangirl.com