I have a special gift: I know where all the bathrooms can be found at Walt Disney World. Any park, any land, any potty. And nowhere will this skill come in to better use than on the runDisney racecourses. Here's where you can find all the REAL bathrooms on the 2020 runDisney Marathon Course.
Running with a full bladder sucks- there's no other way to put it.
But so do portapotties.
Luckily, runDisney racecourses have generous miles through all four theme parks. And this year through Blizzard Beach as well!
I don't like to give Marathoning advice myself, but in this case, I do feel I'm an expert. Ahem.
Here's a list of all the real bathrooms you can find on the runDisney Walt Disney World Marathon Course for 2020.
Real Bathrooms On The 2020 runDisney Marathon Course
Bathrooms in EPCOT
1. Outside Imagination pavilion before Mile 3
2. Norway is an option. It's off course, though, so I doubt CMs will let you hit it up, but… maybe?
Ticket and Transportation Center Bathrooms
1. Just before Mile 9
runDisney Real Bathrooms in The Magic Kingdom
1. A secret potty that people miss: between The Plaza Restaurant and Tomorrowland Terrace
2. The Tomorrowland bathrooms on the left basically way across from Space Mountain about mile 10.5. There are some by Space Mountain, but I was told no by CMs when I tried to go that far off course before.
3. In New Fantasyland, back behind Barnstormer. This is off course a bit to your right
4. Gaston's Bathrooms on your right
5. The bathrooms by Pinocchio's Restaurant. Before you head through the castle, look to the far right for real bathrooms in the runDisney course.
6. Big set of bathrooms as you head out of Magic Kingdom. They are between Frontierland and Adventureland on the left around mile 11.
Animal Kingdom runDisney Bathroom Stops
1. Next to Tamu Tamu (if they let us get to it- not sure on that).
2. On Yout Left! Scream it like Cap- when you see Mr. Kamals around mile 16.5
3. Back behind Yak & Yeti quick-serve which will be on the left as well.
4. On-course bathrooms on the left- this is right before you get to Everest
5. Behind Nemo, but this one is off the course a bit so I wouldn't use it! Too far, but hey, it's there.
6. Across from Primeval Whirl on the right in Dinoland after Mile 17
Blizzard Beach Bathrooms
1. On the right- Lottawatta Lodge around Mile 21.5
Disney's Hollywood Studios Restrooms During runDisney Marathon
1. The Tower of Terror restrooms around Mile 23.5
2. By the Skyliner after exiting DHS- I love that these exist!
EPCOT World Showcase Bathrooms
1. As you enter the United Kingdom look for the phone booths. Bathrooms on the right
2. My favorite runDisney course bathrooms: Morocco.
3. America has great bathrooms, but this always feels way off course and tucked into the back
4. Germany is another popular and easy bathroom pop-in
5. China- these bathrooms are kinda hidden between the restaurants
6. Norway if you just can't hold it! But you'd have to go back to get to it, so, I don't know if this is worth it.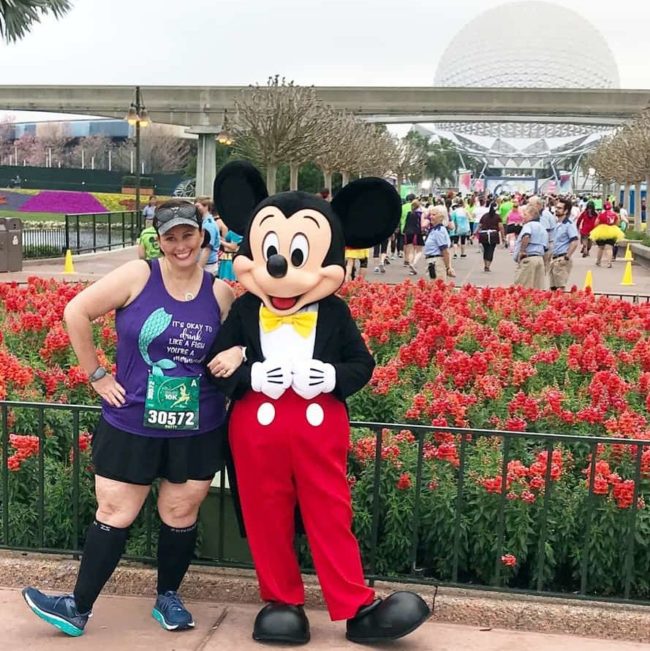 Can you run 26.2 without stopping to pee? If you do- you are legit my hero!
But for the rest of us, this list of real bathrooms on the runDisney racecourse just might be a lifesaver.
Share with a friend, plot your stops, and GOOD LUCK, runners!
ps- if you want to get in on the runDisney action next year, we're booking now. Quote request form for the 2020-2021 race season is open!
More runDisney Posts You'll Love
Real Bathrooms on the runDisney Half Marathon Course
How to Score runDisney Merchandise Outside the Parks