I'm on my way back home from Batuu just in time to hear this news. The 5th anniversary Star Wars runDisney race weekend themes have been announced! And the 2020 Star Wars Rival Run is a race you don't want to miss. ps- the 2020 Star Wars Rival Run medals are on Instagram…!
2020 Star Wars Rival Run Themes Announced
I love a good Star Wars race & medal and I pretty much squealed on my flight when I read this.
The 2020 Rival Run at Walt Disney World has its themes!
Star Wars Rival Run 5K — Darth Maul & Ahsoka Tano
Star Wars Rival Run 10K — Princess Leia & Stormtroopers
Star Wars Rival Run Half Marathon — Darth Vader & Yoda
Star Wars Rival Run Challenge — TIE fighter & X-wing
runDisney Kids Races — R2-D2 & Jawas
I think the kid's race medal will be absolutely adorable.
Need To Register For the Race Far, Far Away At Walt Disney World? No-Guilt Travel is a runDisney Travel Provider
And I'd love to get you and your family to the runDisney event of the year. As the owner of No-Guilt Travel, I've been to every runDisney Star Wars race weekend and can promise you: they are out of this world!
Please fill out this quote form and I'll get back to you with some details and numbers right away!
CLICK TO RECEIVE A QUOTE FROM A RUNDISNEY TRAVEL AGENT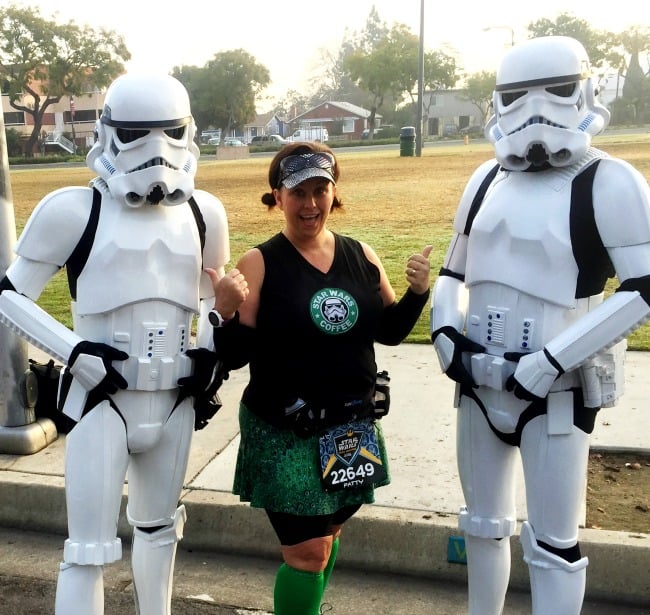 2020 Rival Run Artwork
Some of the artwork for the weekend has been released as well, and yup, adorable.
Who's ready to run through a galaxy far, far away?
More Star Wars Posts You'll Love
runDisney Star Wars Half Marathon 2019 Course Maps, Event Guide, and Corrals
Characters on the Course: Star Wars Rival Run Weekend
What's Free in Star Wars: Galaxy's Edge
The Language of Batuu: How to Speak Galaxy's Edge
Patty Holliday has been running Disney since 2011. She knows just about every tip, trick, and hack there is to cover the runDisney Magical Miles at Disney World and Disneyland. She knows every mile isn't *always* magical- but with training, tips, and a little bit of pixie dust, they can be a lot of fun! You can also find her at noguilttravel.com and noguiltfangirl.com