Some of the hottest runDisney merchandise were the runDisney New Balance running shoes. While the traditional themed shoes are no longer being made, there are still New Balance Disney themed options out there! (affiliate links included)
Once upon a time at a race expo far, far away…
The runDisney New Balance shoes were the must-have items on runner's lists. The lines were long, the prices high, and the shoes ADORABLE.
All that changed in 2018 when the relationship between runDisney and New Balance shifted. Shifted isn't accurate: the relationship ended and the contract was not renewed.
WhompWhomp
But…
This isn't altogether terrible news for the Disney fan. You can still get Disney New Balance shoes- and you don't have to attend a race expo to get them.

runDisney New Balance Shoes VS Disney New Balance Shoes
So here's the deal: you can now find walking shoes and cross trainers made by New Balance for Disney.
They are online on Amazon (links below) as well as in the ShopDisney app, and even in running stores!
Which is kinda cool that they made the once inaccessible accessory totally available for all.
I'm not a Disney snob: I say share the runDisney New Balance shoe love with all who come to this happy place!
New Balance FuelCore NERGIZE Disney cross trainers
These are the women's FuelCore NERGIZE Disney cross trainers. And I think they are pretty dang adorable.
I love the little bow on the front laces and the white dots on the heels.
I'm quite sure Minnie would agree these are just too cute!
New Balance Fresh Foam Cruz Disney
And there's another version for women as well- the Fresh Foam Cruz Disney shoe looks like they would be perfect for a long day in the parks!
Not a ton of color on them, but hey, basic black is always in.
While I don't think I'd run in either pair for a runDisney race, I love spotting them on true Disney fans feet in the parks.
While the runDisney New Balance shoes have crossed the finish line, I think we can all agree that they were a fun novelty while they lasted.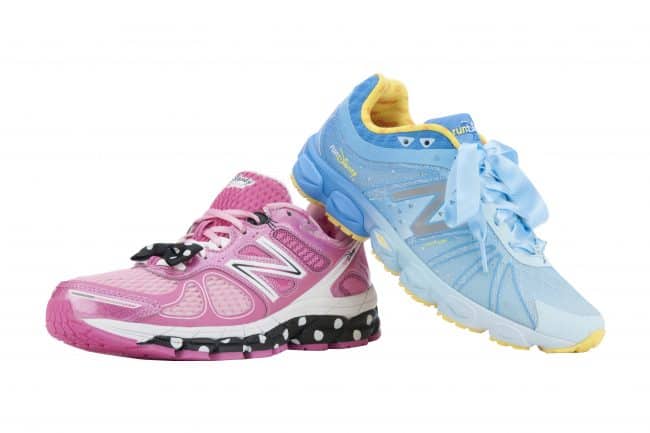 Want to runDisney? No-Guilt Travel Can Help
If you're looking to put these new shoes to good use, let me know.
I'm a travel agent that specializes in runDisney races and I'd love to help you run your first (or 50th!) race.
Contact me for a quote using this form and let's run the (Walt Disney) World together!
More runDisney Posts You'll Love
Patty Holliday has been running Disney since 2011. She knows just about every tip, trick, and hack there is to cover the runDisney Magical Miles at Disney World and Disneyland. She knows every mile isn't *always* magical- but with training, tips, and a little bit of pixie dust, they can be a lot of fun! You can also find her at noguiltlife.com and noguiltfangirl.com