We can't eat in a Disney resturant or the parks, but lets play a game. Curbside Delivery: Disney Style! Here's what most Disney fans want from the Disney Resorts delivered at home.
Curbside Delivery: Disney Style!
If you had a dream of having food from the Disney Parks or Disney Cruise Line then this is the show for you.
We put the question out to the No-Guilt Disney Facebook group (hey- come join us!): what Disney food would YOU want to be delivered to your home during social distancing?
The answers are amazing- and will make you hungry!
Patty just wants one thing- ONE THING, DISNEY.
Hook a girl up when Walt Disney World reopens, umkay?
Find the No-Guilt Disney Podcast Team
by email at [email protected]
Patty
@noguiltlife on all socials
Theresa
@gertiethedino on Twitter
@in.sight.full.life on Instagram
Jane
@realmousewifewdw on Instagram
@realmousewifeFL on Twitter
Music from https://filmmusic.io
"Vivacity" by Kevin MacLeod (https://incompetech.com)
License: CC BY (http://creativecommons.org/licenses/by/4.0/)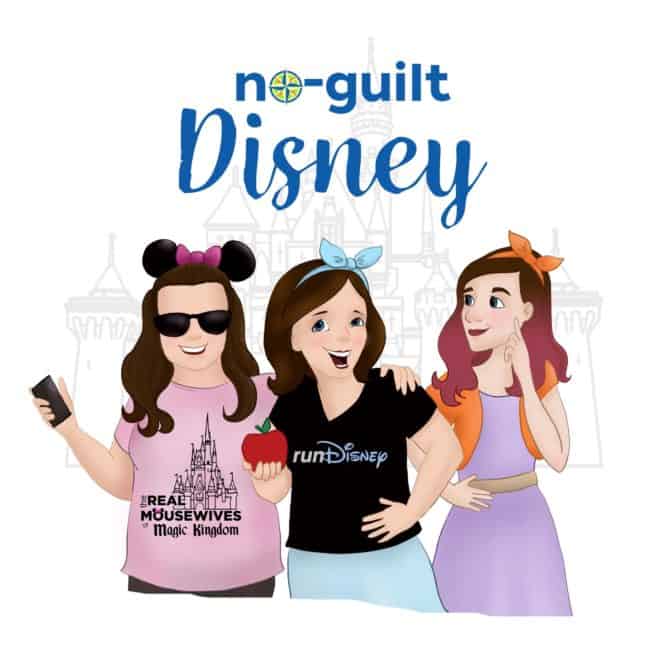 Transcript Curbside Delivery: Disney Style!
Patty 0:08
To all who come to our happy place, welcome to the No-Guilt Disney Podcast – where we have no guilt about our love for all things Disney.
Jane 0:15
We are three Disney fan girls who probably know more about Disney Parks than most grown women should – and we are perfectly okay with that.
Patty 0:24
You know it
Theresa 0:26
Hello everyone, my name is Theresa and you can find me on Twitter at @GertieTheDino and on Instagram at @InSightFullLife.
Jane 0:35
I'm Jane and you can find me on Instagram at @RealMousewifeWDW and on Twitter at @RealMousewifeFL.
Patty 0:44
Hey y'all, I'm Patty Holliday from NoGuiltDisney.com and No-Guilt Travel. We are a travel agency that specializes in Disney, runDisney, and Universal vacations – which I know nobody is doing at current time.
Theresa 1:01
But we are all thinking about it!
Patty 1:04
Keep us in mind for your next vacation, because I'd love to help with that. You can find me on all socials at @NoGuiltLife. All right y'all look. Real talk here: I am hungry. This whole lockdown thing, it has me all the time thinking about food. Now, here's the crazy thing: my day to day really didn't change all that much. I've always been a work from home person. The only difference is that I have more people in my house milling around. So I don't know why all of a sudden, I'm eating #AllTheThings, but I am eating #AllTheThings and it's getting ugly. It's getting really ugly here.
Theresa 1:44
I have some really bad news for you.
Patty 1:46
Uh oh, what's that?
Theresa 1:48
This episode is not going to help your hunger pangs very much. <laughter> It might get a little bit worse.
Jane 1:56
Why do we do this to ourselves?
Patty 2:00
I know, it's like torture, right? Something like that. Look, I'm gonna blame Theresa for this. This is this is all on you, Theresa, because this was your big idea.
Theresa 2:09
And I'm gonna pass that blame on to Twitter, because why not? So a few days ago, I saw my friend Carrie, who has the blog A Princess and her Pirates. She put out a question to people and I thought it sounded like a really fun discussion for us to have on the podcast to bring a little Disney into all of our lives.
Jane 2:29
So we threw this question into our Facebook group, which if you're not in there, go join No-Guilt Disney. And we asked them "What Disney food would you like delivered if you could have it delivered today?"
Theresa 2:44
Any restaurant, snack, drink, everything was up for grabs. And this is not Walt Disney World specific. We had options – I noticed some people gave things for Disneyland, Disney Cruise Line was brought up a little bit, and you could create a whole meal, it didn't all have to come from one place. So we we got a lot of really good suggestions, and I do want to eat all of them right now.
Patty 3:09
Yep. And as Jane likes to say, "oh boy." You're right, this is not going to help with my food issues at this time. But anyway, we're gonna get started. The first one that we have here came from Amy, and Amy says that she wants the entire breakfast buffet with extra pecan butter for the sweet potato pancakes from The Wave and then she also wants a site of Pog juice. Now, I love The Wave. I love The Wave breakfast, lunch and dinner. The Wave is one of those – I don't want to call it a hidden gem – but it's not really on a lot of people's popular lists.
Theresa 3:49
It's really doesn't get talked about as much as it should. I'm always surprised how under the radar it does seem to be.
Patty 3:56
It does, right? But it is awesome and I fully support Amy's suggestion here. I had to laugh, I was like, "You want the entire buffet?" And she's like, "Well, that might be a little bit much, but a little bit of everything would would be alright!"
Theresa 4:10
Yeah, go big. We were no restrictions on this.
Jane 4:14
I appreciated that right out of the gate. She was like nope, I want it all.
Patty 4:19
Oh, and Pog juice? What's in Pog juice, do you know offhand?
Jane 4:25
I believe there's confusion whether it's pineapple or passionfruit for the P. O is orange and then G is guava. I frequently mix Pog juice with champagne for mimosas. It's the best. Minute Maid has a guava-passionfruit juice, and I can't lie – that was on my list for quarantine shopping.
Patty 4:52
I actually just made a mental note that that's going on my list for quarantine shopping!
Jane 4:58
I'll send you a picture of it, because sometimes people are like, "I can't find it!" and I'm like, "No, you have to look for it. This is what it looks like."
Patty 5:07
Because that sounds a really heavenly right about now.
Theresa 5:10
So Amy, you also need to bug Jane about this if you're missing your Pog juice.
Patty 5:15
That's right. That's right.
Theresa 5:17
I also want to shout out Heather, because she wrote she wanted Tonga Toast, but she also specified pretty much the entire line of Boma's breakfast buffet. So we do have another person who's really missing their breakfast buffet, but this one is for Boma.
Jane 5:34
Heather is one of my best friends and we frequently eat at Boma, and I'm glad that she brought it up because I wanted to add to the list Boma's tots – because if you haven't had the tots at Bome, you haven't lived. I swear, they sprinkle them with crack.
Theresa 5:53
My favorite thing at Bama is the spicy mustard that they have. It's over at one of the carving stations. I can't tell you why it's so good, but I remember as soon as I got home after I ate there for the first time I went online, looking for somebody who has a recipe for how to make this mustard. So that's how you know it's good, it's the very first Disney recipe I ever had to look up.
Patty 6:14
That's funny. Let's see, Rebecca says that she wants a Mickey pretzel with the cheese. Well, you know, she's a runner, too. So, you know, you got to have that cheese in there. And then as a meal she wants cheddar soup with pretzel bread from Le Cellier and a giant beer. All so good. So good. What else? Jane? What do you have?
Jane 6:34
Christina focused on Disneyland, which I absolutely loved. And she said she wants a banyan beef skewer and a pretzel with a side of banyan sauce from Bengal BBQ at Disneyland, which I've never eaten at.
Patty 6:50
Oh, it's the best it is. That's another one of those, I don't want to call it a hidden gem, because all the Disneyland regulars are like, "Girl, please. We eat there all the time." Look, I know you do. But when people just talk about food, it doesn't always come up this Bengal BBQ is not always mentioned in like the best of lists. And that's a mistake, because it is awesome. And they have mobile ordering.
Theresa 7:13
That's why I skip it a lot, because the line can get long. But now then there is the mobile ordering. Yes. I'm a big fan that they added that.
Patty 7:24
Yeah, no, it's it's awesome. Yep.
Jane 7:26
She also suggested the chicken fucili pasta from Pizza Port in Tomorrowland, which I can vouch for this because I've eaten this before races as my pasta. Delicious. A Neapolitan milkshake from Flo's. I will take anything from Flo's, FYI.
Patty 7:46
Flo's, let's just put that on the list – the whole entire menu from Flo's can be delivered to my house at any time. Thank you very much.
Jane 7:52
Yes, please and thank you. Chef Oscar's potatoes from the Carnation Cafe. As long as we're bringing Carnation, I will take some fried pickles. And she wanted a mint julep from Royal Street Veranda.
Theresa 8:11
I'm curious: is it the current Mint Julep or the former, neon green one? Because I do miss the neon green and the old Mint Julep that they used to have.
Patty 8:20
I am Team Neon Green as well, but you know, you're in Disneyland, so you got to have a mint julep.
Theresa 8:27
Absolutely.
Patty 8:30
Alright, who else do you have a popping up on your list there, Theresa?
Theresa 8:34
I'm gonna go to Sally and she said, "Well, if we're going crazy and can have whatever we want," she wants the seven mile see scallops from Olivia's with bread pudding from 'Ohana for dessert. And she was one of many who put the 'Ohana bread pudding. I know my my friend Faith was another one who had that on there. And I think in at least a third of the responses something from 'Ohana was listed, which I made both of you very happy.
Jane 9:01
Because 'Ohana.
Patty 9:05
For those of you that don't know, you have to go back to one of the first – I think was our first unpopular opinions – Theresa confesses that she doesn't care for 'Ohana and Jane and I almost kicked off the podcast.
Theresa 9:21
The very first time I almost got kicked off. They're all food opinions.
Jane 9:27
You know when the show has a pilot made cast with somebody, and then by episode two, they have somebody else in the lead? That almost happened.
Theresa 9:36
I'm going to say something that might also be controversial. When I was coming up with my own list of foods, which all happened to be carbs, I had put Jer's Bread and Butter Pudding from Raglan Road, because I think that one is superior to the 'Ohana bread pudding. I do like 'Ohana's – I'm not saying their bread pudding isn't good. But the one at Raglan Road is better.
Patty 9:58
I haven't had Raglan Road, so I can't I can't weigh in on that yet. I will though.
Jane 10:03
I'm just not a bread pudding person. It's good, but I'm not like, "Oh my god, I have to have this."
Theresa 10:08
These are the only two I like.
Jane 10:11
That's what I hear.
Patty 10:13
That's funny. All right. Well Evelyn, by the way, Happy Birthday Evelyn! <cheers> Happy birthday! Evelyn said that she wants an ice cream kitchen sink from Beaches n' Cream. Alright, girlfriend: mad respect, because you're hitting this one out of the park. You're like, "I don't want just an ice cream cone; I don't want a dang Mickey bar; I want the whole kitchen sink. If I'm gonna have anything delivered, that's what I want." Fair enough. Fair enough. She also wants Mexico quick-serve nachos, and mac and cheese from the Regal Beagle. I mean, Regal Eagle.
Theresa 10:47
I was waiting for that.
Jane 10:51
That mac and cheese y'all! I went just to pick that up a couple weeks ago. It was along the way, and I was like, "Oh, well as long as I'm passing, I might as well get this mac and cheese."
Patty 11:02
Might as well, yeah. I have regrets that I haven't had that yet, like big regrets. And I want barbecue. All right.
Jane 11:12
Stephanie suggested that she wanted the Monte Cristo, pomme frites, and Mickey beignets with vanilla dipping sauce from Disneyland. All of that.
Patty 11:24
All of that. The pomme frites alone, with the dipping sauce that they have? I don't remember what's in it, but that's my, you know, keto who? I totally blew the keto diet when I was at Disneyland.
Theresa 11:41
Is that Cafe Orleans?
Patty 11:44
Mmhmm. Yes. So good.
Theresa 11:47
We also we have Tara who said, "If you extend the parks to include the cruise ships," she would pick up the chocolate souffle from Palo. "It wouldn't travel well, so I'd have to eat it in my car…or boats?" She did also toss in, "Otherwise, I'm going to go to Disney Springs, Chef Art Smith's Homecomin' fried chicken sandwich, side of roasted sweet potatoes, and chocolate pecan pie. And since I'm in Springs, some guacamole and chips and a margarita from Frontera Cocina."
Patty 12:18
Tara, when are we traveling together next?
Theresa 12:22
She is ordering enough food for a family, she's making sure everybody's getting included here.
Jane 12:27
She also has great taste!
Patty 12:30
Yeah, Tara we're gonna go and eat with you next time because that sounds perfect.
Theresa 12:35
Homecomin' is always on my list to check to see if I have a reservation anytime I'm visiting Florida.
Patty 12:43
Alicia says that she wants a cronut a la mode in Epcot, and Jennifer wants the Patriots Platter from Liberty Tree Tavern, including ooey-gooey toffee cake. That is all.
Theresa 12:57
I cannot disagree with that. But that cake is really good.
Jane 13:00
I have not even Liberty Tree in so long.
Patty 13:04
It's been a while.
Jane 13:05
I can't even remember what any of the food tastes like.
Theresa 13:09
Well, it sounds like you need to go and get yourself a Patriot Platter.
Jane 13:14
Oh, there's pictures. Y'all, join the No-Guilt Disney Facebook Group, because there's a picture of this cake and now I want it.
Patty 13:21
Oh, yes – Jennifer came through with pictures. Look at that.
Jane 13:26
She was she was here to backup her choices.
Patty 13:30
Legit.
Jane 13:32
Jillian says she wants schoolbread from Norway; a bacon cheese roulade from France, bacon-wrapped asparagus from Bengal BBQ and a Matterhorn Macaroon.
Patty 13:47
Jillian's going coast-to-coast.
Theresa 13:50
I will vouch for the schoolbread because that was – again, all my items were bread related – that was my snack that I was going to request. We have Stacey, who also would like the Mickey pretzel with cheese, the beer soup from Le Cellier, sticky wings from Kona Cafe, tots from Friar's Nook, and she's there with the 'Ohana bread pudding, "and since I'm there, may as well grab a Lapu Lapu." And my friend James who's not a Facebook person, he also put in the Lapu Lapu as his request.
Patty 14:26
Let me tell you something, Stacy. Here's my little secret. I do "poor man's 'Ohana" at Kona. I show up at Kona and first of all, they serve you the bread which is very similar. I don't think it's the same bread that you get at 'Ohana, but it's good enough, right? The butter is really what we're there for. So we get the bread, and then I get the wings and I get pot stickers at Kona, and then I bat my lashes and beg and say. "Pretty, pretty please, can somebody get me an 'Ohana bread pudding for dessert?" And depending on your server, they can do it – they just don't always want to do it. But if you ask enough, and you make it sound like, "Oh, but everybody else does it for me!" They will eventually cave and go and get you a bread pudding from 'Ohana. Of course you have to do this when 'Ohana is open, but my understanding is they they share the same kitchen, or parts of the same kitchen anyway, so it's not it's not a huge thing. It's just not on the menu. But those are my favorite parts of the 'Ohana meal, when I can't get into 'Ohana I will go to Kona and I will order things separately like this. Obviously it's best if you can share it with somebody, because the potstickers and the wings are a meal each, in my opinion. So if you have somebody to share with you, it works out really well. But yeah, I'm down with eating with Stacy too.
Jane 15:54
There's a lot of people on this list we can eat with.
Patty 15:59
Well whenever the Parks open again, maybe that's what we need to coordinate.
Theresa 16:04
Whenever we're allowed to actually see each other in person.
Patty 16:11
All right, so Roseanne gave us a big long list. She's got a lot of good stuff. I am going to throw in from her list that we haven't seen yet: Cousin Megan's Meatloaf from 50's PrimeTime Cafe. And then she also threw out something from the Disney Wonder, which is chocolate-covered Nutella Oreos.
Theresa 16:31
I didn't know that was something that existed, but I really want them now. That can get delivered to me, too.
Patty 16:41
Our list is getting long.
Theresa 16:44
We all went into this hungry, so none of us should be surprised by that.
Jane 16:49
We had another Amy who suggested she would like the entire buffet from Cape May brought to her house.
Patty 16:59
That's a lot of seafood too, right?
Jane 17:02
Dinner is; breakfast is pretty standard. But when she was asked do you mean breakfast or dinner? She said all of the above.
Patty 17:11
Awesome. Awesome.
Theresa 17:15
We have Caroline, she's really missing the Tokyo Sunset from Epcot.
Jane 17:19
I'm so proud of her. <laughter>
Patty 17:24
Clara says she wants an apple from Main Street Confectionery, and Carolyn Elizabeth says that she wants again a Mickey pretzel, but all the popcorn flavors. You guys know there's something magical and mystical something or other about the Disney popcorn. I don't know what they put in this. I don't know how they make it so special. But I have never had bad popcorn at Disney – World or Land. Either one. And so when you throw in all the different crazy flavors that they can do, mmmmm. Down with that idea.
Theresa 17:53
That's one of those small, tiny reasons I really want to go to the Asian parks because I think it's Tokyo where they go really wild with some of their flavors.
Jane 18:02
I've seen some of those on Instagram and stuff, and I'm like, "I don't like my food to touch." So you know for me I'm always like, "Oh, what does that taste like??" But it can't be really that bad.
Theresa 18:17
On a topic of popcorn Jennifer, she had a very, very specific one the freshly made warm caramel corn from Karamel Cuche in Epcot.
Patty 18:27
Yes, girl. Yes, yes.
Theresa 18:30
We know Tania is also all in on that.
Patty 18:33
Totally. Well, I don't think there's anything on this list that Tania would tell that you guys don't know about. Let's just put that out there.
Jane 18:40
I definitely saw someone on Twitter today making this caramel popcorn from scratch.
Patty 18:46
Yeah. Carlye was making it. Carlye Weisel, if you guys are following her or not, you should. She is on Instagram and on Twitter and she is obsessed with a lot of things. But one thing that she's obsessed with is caramel popcorn. She's in lockdown in LA and she figured out how to make it herself. So that's probably what you saw. Leanne also threw in on her list, something that we hadn't seen yet which was a Dole Whip float, which for everybody that loves their Dole Whip, I was really surprised. We didn't see that a whole lot, but I think people were focusing on a real meal.
Theresa 19:26
Faith also wanted something from Aloha Isle, but she wanted the pineapple upside down cake with the swirl on top.
Jane 19:36
Elizabeth put in another vote for the Mexico nachos. But she also wanted chocolate ice cream from France and beignets.
Patty 19:48
I see you, Elizabeth!
Jane 19:49
All about beignets.
Theresa 19:51
Can we also add her other comment? "I hope I don't have to eat all this at once." You know, these are our quarantine snacks, so yeah feel free to space that out a little bit, especially everybody who's going for the entire buffet.
Jane 20:07
Socially distance your food as well. <laughter>
Patty 20:13
That's acceptable. Jill: Tomato gin soup from Raglan Road. See, I've never eaten at Raglan Road, so I'm like tomato gin? I believe if you say it's good, but that don't sound good to me, girl.
Jane 20:27
No.
Patty 20:28
But she does redeem herself with bread service from Sanaa. I do like the bread service service.
Theresa 20:33
Also on my list. So good.
Patty 20:36
And my favorite, the citrus swirl from Magic Kingdom. So yes, Jill – I'm just not going to eat that soup with you. But the rest of everything on your list, I'm there for it.
Jane 20:48
She also mentioned steak from yachtsman. I'm in for that.
Theresa 20:52
I was in for the onion rolls from Yachtsmen. If you have never had these onion rolls, I eat nothing else out of that bread basket. And I always have to stop myself from eating all of the onion rolls from the bread basket because I could fill up on those. Plus the roasted garlic that you put in between it? I really want it – somebody needs to bring it to me right now. Why? Why is this just theoretical?
Patty 21:19
Again, we're torturing ourselves. Why are we doing this? Why?
Theresa 21:23
I'm gonna go out on a limb and say that Sheila Ann is just very thirsty right now. Because on her list, she has the grapefruit beer from Germany, the Citron slush from France, the avocado Margarita and tequila flight from Mexico. And she was also in for some of the caramel corn from Germany.
Jane 21:43
She's just trying to stay hydrated!
Theresa 21:44
Sheila, are you having a rough time at home? I'm just hoping that her family's not driving her to the wall. She seems like she might need a break.
Jane 21:52
Hydration is key.
Patty 21:54
Yeah, exactly, she's just concerned about keeping her fluids up. That's all. Alright, Kate. Kate is saying strawberry soup, meatballs with lingonberry from Norway, and a citrus swirl. I don't think I've had those meatballs, but I have had that strawberry soup. And while that's not as weird sounding as the tomato gin soup, eating strawberry soup still was weird. I had to like talk myself into that first taste, but then after that I was all in, because it was good. It was really good.
Jane 22:26
Really?
Patty 22:28
Yeah, I liked it.
Jane 22:33
I've never tried it, so just hearing you describe it and I was like, Oh… Because if it's strawberry, it should just be cold; it should be ice cream.
Patty 22:42
Well, it is a cold soup.
Jane 22:45
So then is it strawberry milk?
Theresa 22:47
It's like a smoothie-ish texture.
Patty 22:50
Kind of like they just, I don't know, blended up a bunch of strawberries.
Theresa 22:54
It is really good. Also not something I typically would go for. It was one of the things I had to try because everybody talks about it. And I don't know if I'm craving it to the point where that's something I would want delivered, but it was better than my brain was thinking it would be.
Patty 23:11
That's the answer.
Theresa 23:14
We also we had Krissy who she said, "OMG yes, the meatballs. Can I add the entire smorgasbord?" And she also put on her other request for the frushi, which is at the Flower and Garden Festival that we are all missing at the moment.
Patty 23:35
Yeah, the frushi's pretty good. I thought that one was pretty, pretty delicious. Abby Grace says corndog nuggets from Casey's with plastic cheese.
Theresa 23:44
You people and your cheese.
Patty 23:49
Yeah, you're fired again. Everything from 'Ohana, and then nachos from Captain Cook's.
Jane 23:56
I mean, I'm here for the 'Ohana. Elisa also wanted the corndog nuggets from Casey's. And she also said beef udon from Katsura in Japan, peanut butter and jelly milkshake from 50s PrimeTime Cafe, and a blood orange Margarita from La Cava De Tequila. Can we all just bring the whole bar to us?
Theresa 24:21
La Cava is gonna have a longer line than normal, judging by all of this.
Patty 24:28
It's gonna be insane. Janice says corn dogs Janice is my cousin, so Heck yeah, Janice. We'll go have some corn dogs together. You know the Little Red Wagon corn dogs at Disneyland?
Jane 24:41
I've never had a corn dog.
Patty 24:43
Oh girl.
Theresa 24:44
I never had one until the Little Red Wagon at Disneyland, so I will vouch for that. That is a good one to start off with.
Patty 24:52
Definitely.
Theresa 24:52
So we have Laura. She also was another one in for the beer cheese soup from Le Cellier, and she wants one of the chocolate croissants from France and she's joining me and Jill for some of the pastries at Kringla Bakery in Norway. So they better be making a lot of school bread.
Jane 25:08
Heather chimed in again for Dole Whip floats. And she also said turkey legs.
Theresa 25:16
We found the turkey leg fan.
Patty 25:17
THE turkey leg fan, because the rest of us are like, "Ew." Sorry, they're all yours. Now I was about to say you know what's missing on this list? None of the restaurants mentioned have been brought up at all that are located in Animal Kingdom, including everyone's beloved Avatar, which doesn't surprise me because it sucks and you guys just don't believe me and I can't believe that. However Evelyn had to chime in and she said that she likes the make your own bowls at Satul'i with the chicken, wild grain rice and beans, and th chimichurri sauce.
Jane 26:02
And I'll be honest, when I made my list this morning, the first thing that went on my list was Satul'i. I love Satul'i!
Theresa 26:14
I have at least one thing that did not get mentioned it yet. But did either of you have anything else on your own list that nobody brought up?
Jane 26:22
I had two. I had the totchos from Woody's Lunchbox and fried chicken from the Plaza Inn at Disneyland.
Theresa 26:32
That fried chicken is delicious.
Patty 26:33
What do you have, Theresa?
Theresa 26:34
I have the fried green tomatoes with the blue crab fennel salad and the smoked paprika oil that debuted last year at Flower and Garden, and that was high on my list, the one thing I was really excited to get again. So because I've missed out on it at this point, I'm hoping somebody will bring it to me. And then I was thinking if these kitchens can resurrect something that used to exist and no longer does, I would like to see if somebody can bring me the fried green tomato sandwich with sweet potato fries that used to be at hungry bear in Disneyland. I miss that sandwich a lot.
Jane 27:11
I've never had fried green tomatoes either.
Patty 27:13
The only thing I want and the only thing I ever want: Disney World, you broke my heart. You broke my heart. The baked potatoes from Liberty Square. <laughter>
Jane 27:28
It's like year five and we're talking about this.
Patty 27:33
They've been gone for forever now and I am still mad about it. I still just get really ragey. I want the baked potato back. And don't get me that "baked potatoes are hard to make" because come on. It's a baked potato. It was the easiest, most perfect and you could use your snack credits for it. So it was this perfect little mini meal that you could eat. And for those of us that were runners, it was ideal to eat after a race because you'd load it up with your cheese, and your bacon bits, and your sour cream, and kind of have a little bit of protein-ish with your carbs, and your salt, and it was the ideal post race item, and they took it away, those jerks. I'm still sad about that. I don't care if it's been five years.
Jane 28:26
RIP baked potato.
Patty 28:29
Alright, so on that note, I am hungry and ready to eat something. I don't know what. But we also have in the Facebook group, there's a whole list somebody started. I think Christina started a list of copycat recipes. So if you're into that, come join us. We've got a list of different things there. I'll even put my copycat Disney World baked potato recipe in there.
Jane 28:55
The obsession is real, y'all.
Patty 28:59
What, I like what I like. <laughter> But for real, runDisney needs to come back now, because my motivation to run is super, super lacking. I was running in order to get through the next Disney race, and now that there's not another one on the horizon until possibly November….Yeah, my motivation to eat is really high, just the running part is very lacking.
Jane 29:27
Same. Question for you, listeners: Are you in our Facebook group? I know I've mentioned it before. If you're not, why not? Come join us on Facebook in No-Guilt Disney. That's where we got all these awesome responses from and we have some day to day fun. We just finished a March Madness thing today we're actually kicking off a Marvel watch along where we watch one movie a week from now until the end of time. <laughter>
Patty 29:57
Hey, you know what, it may come out where the timing could be right that we could have time this correctly if we watch one a week until Black Widow is released in theaters Who knows? We didn't plan it that way. But because of this pushback of all the movies and stuff, it could end up that way. Wouldn't that be fun?
Jane 30:16
So Disney, if you hear us, please plan your Black Widow release to line up with the No-Guilt Disney Facebook group.
Theresa 30:23
Yeah. And Disney you can email us at [email protected] if you want to coordinate this, we can let you know what our timeline is.
Patty 30:35
Or feel free to join us in the Facebook group or follow us on Twitter. I know you're not doing anything right now. We've got all kinds of good content for you.
Theresa 30:49
And you can also find that great content right here on the No-Guilt Disney Podcast. So make sure you keep joining us each week, because Patty likes to say:
Patty 30:59
It's no fun to fangirl Disney alone. Bye!
Patty Holliday has been running Disney since 2011. She knows just about every tip, trick, and hack there is to cover the runDisney Magical Miles at Disney World and Disneyland. She knows every mile isn't *always* magical- but with training, tips, and a little bit of pixie dust, they can be a lot of fun! You can also find her at noguilttravel.com and noguiltfangirl.com