If you've got a little downtime right now- Avengers: it's time to Assemble! We're kicking off a Marvel Movie Marthon this month. Download this list of how to watch every Marvel movie in order. ps- if you're a fan of Dom & the Familia, here's how you can watch the Fast and Furious movies before F9.
How To Watch Every Marvel Movie In Order Before Black Widow
There are all kinds of debates on the best way to watch the Marvel movies.
Seriously- this is a thing.
But we're going to make it super easy here and just say this: if you haven't seen all the Marvel movies yet, you'll want to watch it in this perfect order.
And that's the order the MCU movies were released in.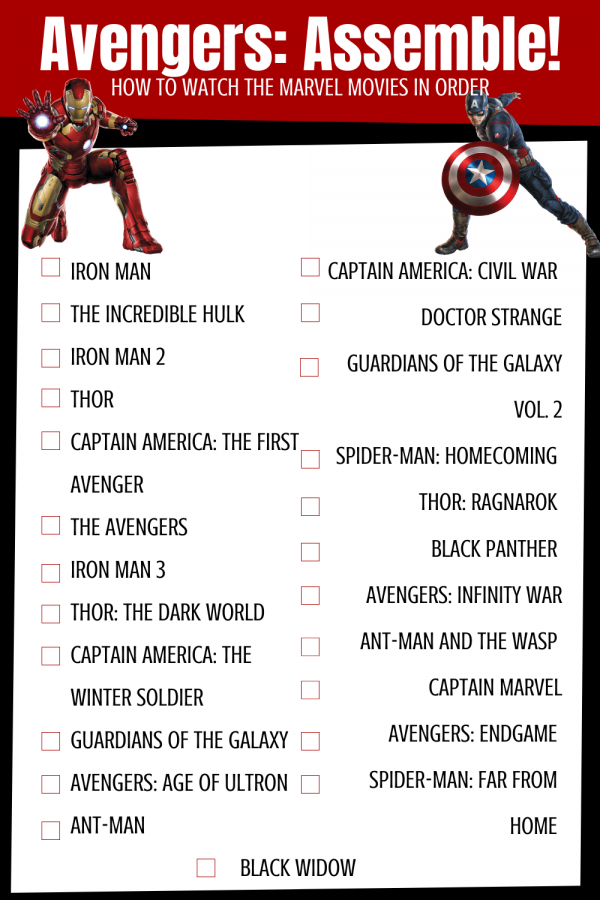 Watch the Marvel Movies in Release Order
Why?
Because in Kevin Feige we trust.
He's the wizard behind the curtain who made the 25 Marvel movies so far.
And he kinda knows what he's doing.
So if he says this is the order to watch the MCU? This is the best order to watch Marvel movies.
If you need to know if your kids can watch the Marvel movies, check out this list of parent movie reviews.
Marvel Movies on Disney Plus
And even better? Most of these movies are on Disney+.
So put your Mandalorian quotes and Baby Yoda memes to the side for a bit and dive into the Marvel Cinematic Universe.
List of Marvel Movies in Order: The Release Watch
Iron Man (2008)
The Incredible Hulk (2008)
Iron Man 2 (2010)
Thor (2011)
Captain America: The First Avenger (2011)
The Avengers (2012)
Iron Man 3 (2013)
Thor: The Dark World (2013)
Captain America: The Winter Soldier (2014)
Guardians of the Galaxy (2014)
Avengers: Age of Ultron (2015)
Ant-Man (2015)
Captain America: Civil War (2016)
Doctor Strange (2016)
Guardians of the Galaxy Vol. 2 (2017)
Spider-Man: Homecoming (2017)
Thor: Ragnarok (2017)
Black Panther (2018)
Avengers: Infinity War (2018)
Ant-Man and the Wasp (2018)
Captain Marvel (2019)
Avengers: Endgame (2019)
Spider-Man: Far From Home (2019)
Black Widow (2021)
Shang-Chi and The Legend of the Ten Rings (2021)
Eternals (2021)
Spider-Man: No Way Home (December 2021)
Other Ways To Watch The Marvel Movies in Order
If you need more options, I've pulled together those for you as well.
You can watch the Marvel Movies in Chronological Order over here.
More Posts You'll Love
The Best Marvel Dads from the MCU
Marvel Movie Lineup– the movies coming in 2020/2021/2022
Patty Holliday has been running Disney since 2011. She knows just about every tip, trick, and hack there is to cover the runDisney Magical Miles at Disney World and Disneyland. She knows every mile isn't *always* magical- but with training, tips, and a little bit of pixie dust, they can be a lot of fun! You can also find her at noguiltlife.com and noguiltfangirl.com