Hey hey, runDisney race fans! The runDisney registration season is about to kick off. What happens if you get bad news- and you miss out on a runDisney race opportunity? You do have options and we covered it on this runDisney podcast. Here's how to register for a sold-out runDisney race.

EDITED 6.30.2021 THE INFORMATION BELOW WAS ACCURATE FOR ALL RACES IN 2020 AND BEFORE. WE'VE UPDATED WITH NOTES AS TO HOW THINGS HAVE CHANGED FOR 2021-2022, BUT ARE LEAVING THE OLD INFORMATION FOR HISTORICAL PURPOSES.
I repeat:
EDITED 6.30.2021 THIS INFORMATION WAS ACCURATE FOR ALL RACES IN 2020. PLEASE NOTE THE ANNOUNCEMENTS IN EACH SECTION WITH CHANGES.
We don't want to see it happen, but… it happens.
Sometimes the races sell faster than expected and your running squad is left wondering what they can do next.
First: don't panic. You've found the right post to give you your options.
We've got you!
Here's how to register for a sold-out runDisney race.
runDisney Podcast Episodes You'll Love
Let us "guide" you through the runDisney registration process.
How Fast Does runDisney Sell Out?
Rumors of smaller field size (especially for the first race, the Wine and Dine), as well as pent-up demand for a return to in-person runDisney races, could affect the outcome.
A new race series, the Spring Time Surprise, could also sell quickly due to being an inaugural. runDisney fans tend to support the first races in a strong way.
EDITED 6.30.2021 THE FOLLOWING INFORMATION WAS ACCURATE FOR ALL RACES IN 2020. THIS IS NOT ACCURATE FOR THE 2021-2022 RACE SEASON.
For most races, not nearly as fast as it used to! That's good news.
Once upon a 2013, we had mere minutes to register for races. And I'll be honest, all the drama made for some of the best runDisney memes out there.
That's right: you had to be online and fast on the draw to make sure you got into just about any runDisney race you wanted.
But those days are few and far between; with the running craze on a downslide, getting into races has become a little less stress-inducing.
The bad news is: we really don't know until we know.
runDisney does not give us a countdown or estimate on how long we have until the race sells out.
They *used* to- and it was glorious.
Now, you just work your way through the runDisney registration process and hope you get to the final payment screen without issues.
But I repeat: don't panic; just because the rundisney.com races are sold out- that doesn't mean you don't still have runDisney race options.
Do Spots Ever Open Up For Sold-Out runDisney Races?
They do!
But I wouldn't count on this option if it's a race you really *need* to run.
In recent years we've seen the unsold challenge bibs "broken up" into 10K races and half marathon races only. We've seen Dopey and Goofy go this route as well.
Register For a Sold Out runDisney Race at the Race Expo
We've also seen people walk up to runDisney guest services at the expo and manage to purchase a bib.
It happens sparingly, and you really need to be there as soon as the expo opens on the first day. But… it does seem to happen here and there for most race weekends.
ps- you will be in the last corral unless your last name is Galloway or Keflezighi, though, so keep that in mind.
But this is a race-by-race situation and you just don't want to rely on that as your only hope!
How To Avoid a runDisney Sell Out?
EDITED 6.30.2021 THIS INFORMATION WAS ACCURATE FOR ALL RACES IN 2020. THIS IS NOT ACCURATE FOR THE 2021-2022 RACE SEASON. WHOMPWHOMP.
Cool, cool… so how do we avoid all this -ish?
My favorite way is for you to sign up in advance through a travel provider who knows runDisney. And yes, that IS ME!
No waiting! No stress! No worry!
How do you find a travel agent that can book runDisney races?
Hint: if you're here, you found one! I can get you a quote today if you fill out this form. Please note: Wine and Dine 2020 has sold out completely as of March 11, 2020. We do not have bibs for that race.
As a travel agent specializing in runDisney– I not only sell the races but I run them as well.
I have been running Disney since 2011 and selling since 2015. I know the ins and outs and would love to help you and your running crew run Disney this year.
And every year- cause I know it's an addiction.
If you don't want to work with a travel agent (I won't take it personally!) you can also sign up in advance with a charity that has runDisney race bibs available (the 2021-2022 accuracy of this information is TBD)
They are also able to get your bibs well in advance.
What runDisney Races Tend To Sell Out First?
While we can't predict when things will sell out, we can predict which runDisney race will sell out first.
5Ks and 10Ks: those will be gone fast!
If you want in on one of those distances, prioritize them in your purchasing.
How To Register For a Sold Out runDisney Race
Okay, so… here we are. The worst happened and you got shut out of a race you really wanted.
I'm so, so soooo sorry! I've been there- and it stung.
But: we have options!
Errr- basically the same options mentioned above.
One note: travel agents and charities do not have access to runDisney Runner's Square or the Wine and Dine after-party tickets.
Once those sell out: they are out!
Register For a Sold Out runDisney Race With a Travel Agent
EDITED 6.30.2021 THIS INFORMATION WAS ACCURATE FOR ALL RACES IN 2020. THIS IS NOT ACCURATE FOR THE 2021-2022 RACE SEASON.
Even if runDisney is sold out, the travel agent you love will possibly still have access to a bib package for you.
The bib packages only require a 2-night resort stay (no dining needed, no tickets needed, no week at the Poly needed… but doesn't that sound delightful?)
You can book a package with a travel agent even when runDisney is sold out because our bib allotment is from a different pool than the general runDisney bib allotment.
This means we'll still have access— until our allotment runs out!
We work with a live inventory, so there's no guessing when those bibs might sell out for us as well.
Try to decide earlier rather than later if you need to book a runDisney race with a travel agent.
Register for a Sold Out runDisney Race With a Charity
Charities will also have bibs, but you'll need to follow their guidance on fundraising.
I've been a runDisney charity runner myself with the Children's Miracle Network and it was a great charity to run for.
And remember: here's what you need to register for a sold-out runDisney race.
Faith, trust, pixie dust, and some runDisney registration tips!
Find the No-Guilt Disney Podcast Team
Join the No-Guilt DisneyFacebook Group!
by email at [email protected]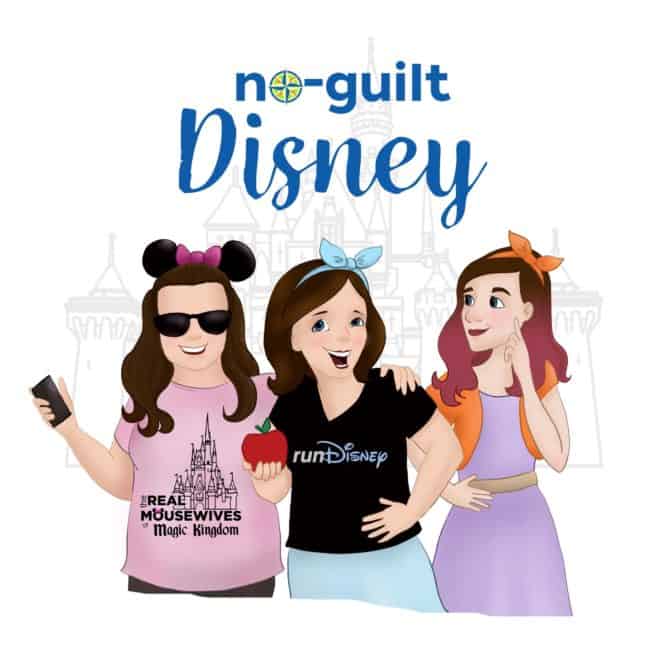 Patty
Theresa
Jane
Music from https://filmmusic.io
"Vivacity" by Kevin MacLeod (https://incompetech.com)
License: CC BY (http://creativecommons.org/licenses/by/4.0/)
How To Register For a Sold Out runDisney Race Podcast Transcript
Patty 0:06
To all who come to our happy place, welcome to the No-Guilt Disney Podcast, where we have no guilt about our love for all things Disney.
Jane 0:14
We are three Disney fan girls who probably know more about Disney Parks than most grown women should – and we are perfectly okay with that.
Theresa 0:22
Yeah, absolutely.
Patty 0:23
100% okay with that.
Theresa 0:27
Hello everyone I am Theresa and you can find me on Twitter at @GertieTheDino and Instagram at @in.sight.full.life.
Jane 0:34
I'm Jane and you can find me on Instagram at @RealMousewifeWDW.
Patty 0:40
I'm Patty Holliday from it NoGuiltDisney.com and No-Guilt Travel, a travel agency that specializes in runDisney and Disney vacations. You can find me on all socials at @NoGuiltLife. And we just want to say thank you once again. We know that you guys have a choice when you are listening to your Disney podcasts, and we're glad that you chose this one.
Jane 1:03
So please, if you can go subscribe so you don't miss any episodes.
Theresa 1:08
And if you're on a platform that has it, make sure you go and leave a five star review.
Jane 1:13
That's super important here, especially for newer podcasts like ourselves, if you're listening on Apple, or anywhere that allows it, throwing up those awesome reviews really helps.
Theresa 1:23
Yeah, it lets the algorithm and the powers that be tell everybody else that people are enjoying the show and they should start giving a heads up to other people. So where you see, "You may also enjoy this podcast," if you give us a rating, we'll show up there more often.
Patty 1:40
Now this week, we're going to talk about the thing that's been consuming my entire life lately, which is why I voted that this would be our topic. <laughter> I'm already talking about it all the time anyway, you guys just need to join in with me, okay? Get on my level. And that is going to be…dun dun dunnnn…running Disney, of course. Why? It's because on Tuesday morning, which is March the 10th, the Wine and Dine race for 2020 goes on sale officially to the public.
Theresa 2:13
And is this the the villains race that I've been seeing everyone talking about and freaking out about?
Jane 2:19
100% Yayyy!
Theresa 2:24
Are you excited about villains, Jane?
Jane 2:26
I mean, I do love me some villains. I hate running, but you put a nasty villain out there and I'm game. <laughter>
Patty 2:40
Yeah, I had to laugh when you told me you signed up for all three races. I was like, Okay. You're going from couch to what? 19 point – what is it? 19.3? Okay, Jane, that sounds about right. Because it's villains. And this is – runDisney, are you listening? This is how you get us.
Jane 2:57
I think what happened was they probably looked back and we're like, "Hey, she used to run all the races." And truthfully, if they look the reason I stopped was because I was injured, but it happened to line up with Disneyland stopping their races. But I loved the villains races. I did all the Tower of Terror, I did the Disneyland one when that was villains. So you had me at villains.
Theresa 3:21
And fun fact, I was actually planning to do the Tower of Terror 10-miler. I was gonna sign up for it the year that they decided to get rid of that race. So thanks, runDisney, you lost me.
Patty 3:36
Yeah, yeah. Tower of Terror, that that was the one. That was the villains race that they had – and what, I think they only did it for three years when they really pulled that plug? Yeah. And ever since then, that has been number one on everyone's wish list was villains. And like Jane mentioned, we did get that for a hot second. over at on of the Disneyland races; we did have villains as the theme. Whatever I ran…I maybe only ran one race that weekend, but it was a magic mirror medal?
Jane 4:07
Yeah, it was only the 10K that was villains themed.
Patty 4:11
Ahhhh, okay, then that's what I'm remembering. So I was like, this is the best medal ever.
Jane 4:15
It is! And the t-shirt. Everything.
Patty 4:19
Yes, yes. And the shirt Yeah, the shirt was marvelous. So needless to say, we have all been hoping, wishing, praying, asking probably in all the Facebook groups constantly for the villains race. And it's coming back. It's coming back. And like we said, Jane's already signed up for her three. We'll explain why here in a minute and how she got into all three races in advance, because technically the race doesn't go on sale until tomorrow, but she had a way.
Theresa 4:49
Why have you been so busy, Patty?
Patty 4:52
I'm glad you asked. As a travel agent, we actually have a program, runDisney has, basically, a travel agent bib program, which gives us a pool of bibs that we can pull from and create packages for our clients. It's the rooms plus the bibs as a package. And it's one of the ways to get early registration to these races, just like being an Annual Passholder or a DVC member, like Jane is, and that's the other way of getting early registration to these races. So I had folks who wanted to avoid the registration drama that's coming on Tuesday. And they went ahead and booked their travel packages and bibs through me. They've been doing this for months, we've actually had access to these bibs since the last Wine and Dine race in 2019. In November of 2019, when that race was happening, is when they opened up our bib allocation. And I actually had some of my clients who were standing at the Expo picking up their race shirts, sending me their credit card number and going, "Go ahead and sign me up because I know I'm going to do it next year." So that's those are the ways that you can get early registration: Annual Passholders, DVC members, they got to sign up on Thursday through the website. And you can also go through a travel agent, like we did, and especially once those races for the Annual Passholders and the DVC members sold out, essentially, that's when I started getting crazy busy, which is always fun.
Theresa 6:26
With registration opening tomorrow, but you said things are sold out – how does that work?
Jane 6:33
Last Thursday was open registration, or early registration they call it, for DVC and Annual Passholders. So what they do is they give a small allotment of bibs so that we can register a little bit ahead of time. It's just one of the perks of being a member or a passholder. Because it's such a small number of the total number of bibs that they have for the weekend, it sells out really quickly. And it did.
Patty 7:00
It did, yeah. I think, last I heard, the half marathon still had some bibs available through the Annual Passholder site. And if I remember correctly, that stays open through Monday. And then they go ahead and turn it off on Tuesday when it opens up for the rest of the public.
Theresa 7:20
Are there any ways to figure out how quickly it'll sell out on Tuesday? Is it gonna be like Rise of the Resistance boarding group fast? Or is there a little more flexibility?
Patty 7:31
<laughs> That's actually a really good analogy. I was watching and monitoring what was happening with the Annual Pass sales, waiting to see what was going on. And sure enough, the 5K – I think that one sold out within 30 minutes of going on sale. Now again, like Jane mentioned, it was a very small number of bibs. So there weren't a ton of bibs out there. But 5K sold out first; by 45 minutes in, the 10K sold out; and right after that, the challenge sold out. So those went within 45 minutes. That's a pretty quick sell out. That's like 2013. I kept going, "Whoa, what year is this?" That's how runDisney used to be, all the races were like that back in the day. We sold out that fast.
Jane 8:20
Yeah. And I think it's actually taking a little bit longer almost now than it used to. But I think part of that is because people can't register as quickly on Disney's website versus the old registration process. So I just tell everybody, be patient. Don't freak out. If you're registering and in like a spinny little window for 25 minutes or so, just be patient.
Patty 8:45
Well, not only be patient, but here's another trick that I discovered the last time I did registration with runDisney. Well, actually, I didn't discover anything, but it's kind of a known-unknown thing in the travel agent sphere. Our website that we go through is crap half the time. Love you Disney do not love your IT. And the secret is: if you go through an incognito browser or go through a private browser, almost every time you'll get right in versus a spinny wheel. So try that as well. If you go in like you normally do and you see a spinny wheel, go ahead and open up a second browser that's incognito, and try to go through that. I would almost guarantee that one will come through faster than then your traditional one. It's the secret of Disney IT. Go that way.
Theresa 9:35
Is it pretty consistent for which of the runDisney races sells out first?
Jane 9:42
Yes. For all the weekends that offer a 5K, 10K, a half, and then a challenge, which is the 10K plus a half, you'll want to register for the 5K and the 10K first if you're just going to do those races. Or if you're doing the 5K in addition to the challenge, and then go back and register for the half and the challenge, because most people are able to do a 5K that are registering. That's the most popular, it's the the distance that most people will want to start with. So the number of bibs there aren't as large as the half marathon is and more people will want to do it. So when I registered the other day, I started with the 5K and then I knew to go back in and to do my challenge the second go around.
Patty 10:27
Yeah, but you did it wrong. You could have stayed in at the same time,
Jane 10:30
Right. Also, I did it wrong, because I didn't have this podcast. <laughter>
Patty 10:35
And what we're talking about is when you go in and you register – yes, snag the 5K, put it into your cart. At the bottom of your cart, you have two options: on the lefthand side it says, "Click here to pay." And on the righthand side, the button right next to it, Jane, right next to it –
Jane 10:52
Y'all. Mornings are hard.
Patty 10:55
– says "Do you want to add another race?" If you click on that, you can go back in and add another race. And here's where Disney is also helpful. You don't have to add another race for you. It will say, "Is this race for you or for someone else?" So say you're trying to register you for the 5K, and your friend for the 5K. You register yourself, you put your 5K in the cart, you click at the bottom where it says, "Do you want to add another race?" You click on that, and then you go in and you can add a second 5K for your friend, your kid, your whatever. But you have to do that for each person that you that you want to do. And this is where you can get tripped up. If you spend too much time in that cart, those bibs can get sold out underneath you. So what Jane did was smart, in a way, if she grabbed her 5K, she went through the whole process, she paid for it, she checked out, she left. Then she went back into the queue to get her challenge bib. That ensured that the 5K didn't disappear on her, and she's right on the money when she's talking about the 5Ks have maybe 7000-8000 runners, max. And that's a big 5K, where the half marathons and the challenges tend to have…I think the half marathon has closer to 13-15,000 runners at Wine and Dine, doesn't that sound right?
Jane 12:19
I want to say it's 15. It might actually have gone up a little bit, but yeah.
Patty 12:26
They definitely have more. And like she said, less people are willing to train and run for a half marathon than they are for 5K. Hello, me right here.
Theresa 12:35
Yup, right here.
And the 5Ks are also seen as family races. So if you have a child that's five years old or up, you can register them for the 5K, but you can't register them for the half marathon. So you know, obviously supply and demand right? Just do the math. So if you're if you're concerned or worried about it, do your 5Ks first, get out, go back in, get your 10K, get out, go back in. But in theory, you don't have to do all of that; you can just add it all into one cart and check out. It just depends on how you work it through your head on what's an easier way for you to mentally get through it, because I think that's also important. This is an intense experience, Theresa. People freak out about it, they block hours from their schedules at work, they take the day off. It's crazy pants.
Jane 13:27
I definitely skipped a marketing meeting. And they were like, "Are you coming to this meeting?" And I was like, "Nah, Bro, I gotta do something. I have all faith in you that you'll figure out how that works." <laughter>
Patty 13:43
Jane, you're gonna get fired. <laughter>
Jane 13:48
They understand my my capabilities.
Theresa 13:52
And it's not with registering for races.
Jane 13:54
Right. Also, because I'm stubborn and I refuse to accept that I did it wrong, I just went on my phone to check out and do it and to clarify a couple of things. You can register from your phone, and I know a ton of people ask that question all the time – is it possible? It is. I actually wound up registering the second go 'round on my phone. But that little button for "I want to add another registration" is on that very first page. I was looking for it on the checkout page. So that's why I kept missing it. And on that first page on my phone, it's purple and says "next step" and right under it is gray and says "I want to add another registration." Naturally, I went with a pretty purple button.
Patty 14:37
Naturally, of course you did.
Jane 14:40
And yes, half's are still open for now.
Theresa 14:42
I can make some of my own assumptions, but I will let the experts give me all the info. What makes Wine and Dine so popular?
Patty 14:50
I don't like Wine and Dine personally, so I'm not the girl to ask.
Theresa 14:54
This is not Unpopular Opinions, Patty.
Jane 14:56
If you're wondering about that, listen to one of our "Unpopular Opinions about runDisney" episodes. So what makes it so popular is the time of year. It's November, which is starting to "cool off" here in Florida. Which, of course, it's Florida so it's still hot for everybody else. For us, sometimes it's cooler. The second thing is it's obviously during the Food and Wine Festival, which is a great time to visit. Everyone loves that festival, you can come down and also sometimes hit a Halloween party around the same time and then depending upon when the trip falls, occasionally you can put a Christmas party on to it. So there's a lot going on at Disney World at that same time. Plus with this way, when you register – although I did notice that I think they took the price up this year – they also give you a $15 gift card. And there's an after party just for runners at Epcot to celebrate Food and Wine Festival. No other race weekend does this. So as much as I am with Patty and Team "I don't really love this weekend" except it's villains, so now I'm a big fan. You do get a lot of value out of this particular weekend.
Patty 16:10
Yeah, you do. You do. And people really do love the whole ability to hit Halloween and Christmas, and Food and Wine, all mashed together. You can get a lot of Disney bucket list items kicked off with this one race weekend. And on top of that the obvious answer is that it's Theresa's birthday.
Theresa 16:32
Thank you! I was waiting for someone to get that! <laughter> Yes, this is my race weekend. I'm not going to run, but I show up because everybody comes in town and I like to pretend it's a big party for me. So thanks runDisney for your scheduling.
Patty 16:50
They do that for you.
Theresa 16:52
All right. And so we've obviously talked about how hard it can be to register for the races, how quickly they go, and I feel like we're going with the assumption that these races will sell out. So how does somebody get into a sold out race?
Patty 17:06
Yeah, I definitely think that these races will sell out. And my prediction is going to be that it's going to sell out this week. I mean, more boldly, there's gonna be races that sell out the first day. I don't want to be like, I guarantee it. But I feel like that 5K and 10K – if you don't register on Tuesday, yes, you have missed the boat from runDisney.com. It's going to be gone.
Jane 17:29
I agree. But the great thing is you do have options if races do sell out and you need to wait a little bit longer. We got an email from a listener a few weeks ago talking about charity options, and she hoped that we would share that with you. Her name is Meg L. Hi, Meg! Thank you for listening. Meg says, "First off, I really love listening to the podcast. It's so great to hear different opinions about one of my favorite places. Ironically, I started listening during my last training run for the Glass Slipper Challenge. I loved hearing about the tips and tricks to runDisney events. I know you covered the basics of buying through a travel agent, or doing normal registration, but I didn't hear anything about running for a charity, specifically the celebrity charity for the events. The last few Princess weekend races I ran as a Miracle Maker for Children's Miracle Network. The charity route can be challenging, fun, and the most rewarding experience. You get some perks too. I really recommend it to anyone that is interested in trying something different. You can also register to get your spot 10 months in advance. Doing the charity route has been the best experience for me. Thanks for all the advice and spreading the Disney love."
Patty 18:39
Aw, thanks, Meg.
Jane 18:41
Thanks, Meg.
Patty 18:43
I actually ran for Children's a couple of years, too. My oldest son Jacob passed away and we spent a lot of time…he was he was sick from the day he was born, and he was four years old when that happened. We spent a lot of time in children's hospitals that were supported by Children's Miracle Network. And so that was something that was really important to me, to give back in his name. I want to say I did three or four years of fundraising for Children's for Princess, and yes, they're a fantastic charity and a fantastic program. If you've got a heart for wanting to give back, that's what I can personally tell you, because I have the experience with them, but they're pretty outstanding. runDisney just does a really great job at partnering with some important charities. The list is not out right now. In recent years, what they've been doing is putting that charity list out the same day official registration goes on sale. I do have 2019's list, and I'll link that in show notes for you if you want to go check it out. And I will get it updated to the 2020 list as soon as we see the official notice, But for the most part, they're probably going to be the same charities to be honest. But you can always reach out to these charities, or a charity that you has worked with runDisney in the past, to see if they're going to be coming to these races. But that's a great option. If the runDisney.com sells out, and you need to figure out how to get into this race, always look for their charities. Absolutely.
Jane 20:15
Yes. And to further your point about reaching out to them, I ran for St. Jude in 2015. And I reached out to them, because I knew that I wanted to run for them that year. I reached out before it was even announced and they put me on a list. They were like, "We know we're going to get bibs. We're just not ready yet." But I was able to get ahead and start fundraising before it was really open, which was really helpful to hitting my fundraising goal.
Patty 20:41
Ah, perfect.There's also a celebrated charity for this race weekend, for Wine and Dine, since we're talking about Wine and Dine specifically. And for the 2020 race, it's Second Harvest Food Bank.
Jane 20:53
Oh, that's neat. That's smart, it ties into the race weekend.
Patty 20:59
It completely does. I didn't remember there being a charity tied to Wine and Dine, so I had to go look for it. But yeah, Second Harvest. And I think you have that option when you check out to give a donation when you're buying your bibs, so look out for that.
Jane 21:15
Look, we all know I did not see anything. <laughter>
Patty 21:18
Yep, we do know that, because you're Jane. If the race sells out before you get your chance to get in, definitely consider that. And like I said, I'll add that link over there for you guys. And you can talk to some of these awesome charity providers.
Jane 21:31
So the best charity advice I can give to anybody is to pick something that is really important to you. And that will speak to you as you're trying to fundraise. That will help you when you're asking for family and friends for support. Like Patty gave the story about Jake, and every time she tells that story, it's hard for people to say, "no, I'm not gonna go help you." Because we have that connection with you, and now we're all part of that story with Jake. So that's why they are saying it's very easy to just pick a random charity. But if you can find one that you can connect with, then that's going to be the best way for you to hit the fundraising minimums.
Theresa 22:13
Yeah, I can echo that. If you do any kind of advocacy work, you know that you're speaking more passionately about it when it's something that's a connection for you. And I think it's also that helps the people you're speaking to, it helps make a connection for them. So like you said, it's not just some random charity, it's something that there's a specific reason behind why you're asking versus just trying to get into a sold out race.
Patty 22:40
Yep, exactly. Exactly. And, you know, just as a personal side note here, I can tell you as a mom that lost a kid, one of the biggest fears that I had immediately was that nobody would remember him, nobody would know about him. Like, how would this be years down the road? Here we are, years down the road, and people still know Jake, and they still talk about him. And part of that is because I did something in his name and his honor, and it just happened to tie to the runDisney experience. So it's find your "why," right? And then embrace that, and the charity is going to be so thankful that you did that for them as well, because they need the funds. It's hard to be a charity these days, man.
Jane 23:27
Absolutely.
Theresa 23:28
Do spots ever open up for any of the sold out races? Or is it once it's done, it's done?
Jane 23:34
They have opened from time to time, especially closer to the race actually happening. What we speculate, because none of us actually know what's going on around runDisney. But hey runDisney, if you want to tell Patty and I, we're here for you. We think they break up the challenges that didn't sell. So for example, if there was suddenly more half marathon and marathon bibs available in January, it could be because they broke up the Goofy challenge, which may have still been open. On a weekend such as Wine and Dine, if they're suddenly open with 10K bibs and extra half bibs, it could be because they broke up some challenges. And that's not necessarily because their bibs haven't sold, it could be that there was extra allotment in the travel agent section, or sometimes charities turn their bibs back into Disney.
Patty 24:32
Yeah, there's all kinds of different reasons and ways and whys that they all of a sudden find bibs and they put them back out on sale. The thing is, they don't send you an email, they don't announce it. If you are hunting and looking for those kinds of bibs sales to come out over the next couple of months, look yourself on runDisney.com. Spot check it here and there and see what's available. But I also would say join a Facebook group or get involved in some kind of a runDisney community. Which, by the way – we have a Facebook group! It's No-Guilt Disney on Facebook, so come and join us if you want to. But those are the places where I tend to see people say, "oh, heads up, I just registered for this sold out race through runDisney.com. But as soon as somebody says that online, it goes immediately. So that's the other thing, is that runDisney might have put 15 bibs on, right? And so when somebody drops that in a group of 30,000 runners, it's gonna be gone fast.
Theresa 25:30
And if there's anybody who wants to just avoid all the drama, and has decided – who still wants to run, so not avoid the drama like me and just kind of sit home – are there any other options if they just want to remove that stress?
Patty 25:47
Why yes, yes you can. I'm so glad you asked. <laughter>
Theresa 25:51
How did I know?
Patty 25:53
As we mentioned before, travel agents and bib packages.
Jane 25:58
This is the way, folks.
Patty 25:59
I have spoken. Look, I get that not everyone wants to work with a travel agent. And I'm not even saying that you have to work with me. There's tons of awesome, awesome travel agents out there. There's a lot of them. I will say this: if you're going to work with a travel agent for a runDisney bib, please find one that has experience selling the runDisney project. It's a little quirky, it's a little weird. There's a lot of details that go into this that you're gonna want to ask all the questions about. And that's the only caveat I'd say. The truth is any travel agent that works with Disney can sell you the bib package. So if you have a favorite one out there, but "they don't sell runDisney," but you still want to work with them? You can reach out to them and talk to them about you options. They can do it. There's nothing that's going to stop them from doing it. They just need to know how to do it right, but they can do it. However, for your best runDisney experience. I will beg of you to please go and find and ask for recommendation of somebody who has worked with travel agents before that either primarily sell runDisney, or at least have some experience in it, because it makes a big difference. These packages are just a little quirky and a little weird the way things are set up. And especially if you've never either used a travel agent before, or you've never runDisney before, if you're in either one of those camps: find you one that has done this before. And obviously, full disclosure: I am a travel agent, and I do specialize in runDisney races. I've been selling these races for a couple of years now and I've been running them since 2011. My agency is basically 80 to 90% of the runDisney product; that's that's what we do. So keep that in mind as you are going forward or are looking for your options once this race sells out, which, like we said, pretty sure it's gonna sell out. It's gonna sell fast.
Theresa 27:54
All right, so since you've made the clear distinction, that there's some added things that go in with a runDisney registration, especially with a travel agent. What makes that different than just booking a regular Disney vacation?
Patty 28:08
Our packages are set up that you can book a package with a travel agent and our bib allocation is separate from runDisney.com. So when runDisney.com sells out, there's usually still a pool of bibs for travel agents to pull from. It's just a separate setup. They have specifically drawn lines in the sand between the two allocations. So that travel agent pool? In the past, it's been plentiful, and we have been able to book people for days, sometimes weeks, sometimes months after races sellout online. For example, the 5K for Star Wars Rival Run, which is happening next month, has been sold out for months on runDisney.com. But travel agents still have some allocation in their pocket. The kicker though, is in order to get that bib, we can't do a bib only sale. If you have any travel agent that's like I can sell you just the bib, they cannot. It doesn't work that way. Once upon a time, things like that were options. But currently, that is not the way it works.
Jane 29:24
Which is why I still don't have a 5K bib.
Patty 29:28
Correct. Because Jane doesn't want to book two nights.
Jane 29:32
No.
Patty 29:33
Which I get. I mean, you live two seconds outside of Disney. Why would you, right?
Jane 29:37
Right. How I justify it is I'd rather take that money and give it to a charity.
Patty 29:42
Yeah, well, honestly, that's just something that you have to decide. If you desperately need in, and the races are sold out, then you're going to need to commit to a two night stay on Disney property. And that's how the bib package is set up. It's just two nights plus the bib. You can add all the bells and whistles; you can add tickets, you can add dining, it can look just like a regular Disney World package but also have bibs on it. The biggest differences also is how that bib is treated. It takes a little while for runDisney to send you the link that you use to actually do the steps of registering, but you are in control of that once the link comes to you. You sign in, you put in your own proof of time, you pick your race shirt size, you do all of those things. So it looks just like you're registering for runDisney but the quirk is that we wait for runDisney to send that link to you, and it can take between a week to three weeks for that link to come. But once you've paid your money, once runDisney has processed your credit card, you are guaranteed a bib, you are definitely running this race. The other thing you have to know about booking these packages is if you have to cancel your room, you will lose the bib. It's part of the package. So if you decide to go stay at Jane's house instead of staying your two nights at Pop Century…Well, I can tell you Jane's house is lovely. However, when you cancel those two nights with me, that also means runDisney's going to cancel your bib. Alright? So keep that in mind. You can't play the game that way. You got to do one or the other.
Theresa 30:35
So we're not having a big sleep over at Jane's house?
Patty 31:34
Well, we are. <laughter> The good part is is that when you guys see SOLD OUT on runDisney.com, and you want to know what your options are, you do have options. There's going to be charities. There's also going to be travel agents until our bib allocation runs out, and we have no idea how fast that's gonna happen. I can tell you for pre-sales this week, it did happen for three of the four races. However, that being said, we will get a bigger allocation, just like how the general registration is a bigger allocation. The travel agents will get their bigger allocation starting on Tuesday. So we should have that, and we should still continue to be able to book until those run out. And it's a live inventory. So there's no guesses on how quickly that could happen either. But my suggestion is, if you are interested and you want to run these races, find a travel agent that you love. Find someone that you want to work with, go ahead and get that process started, because time is of the essence. If it's that important to you. If you're more like, "If I get in, I get in and if I don't, I don't know, that's cool too" then don't sweat it. You don't need to go to all these extremes.
Theresa 32:51
Although if that's how you feel, I'm really impressed that you got this far into the podcast. <laughs>
Patty 32:59
And there are people that are like that. But I can tell you this week has been a lot of fun, because there's been a lot of, "Hi, is there any way you can help me get into this race?" And I'm like, "Yes, yes, I can. No problem." So that's your other option. If you are looking for sold out races, reach out and find a travel agent that you can work with.
Jane 33:20
If you still have questions or concerns or just want to talk through processes or travel agent or charity or direct registration, whatever it is. Head on over to our Facebook group, No-Guilt Disney. And we are probably going to be talking about it for the next eight months. <laughter>
Theresa 33:39
You guys will. I'll be talking about Epcot, let's be real.
Jane 33:44
Join us if you'd like to help us convince Theresa to run a race around Epcot.
Patty 33:52
Theresa, they do go through Epcot! Almost every single race ends in Epcot.
Theresa 33:55
Honestly part of the thing I'm waiting for too is I know there are races that go through Hollywood Studios, but none of them go by Gertie for some reason. If there is a race where Gertie is on the course, I'm absolutely signing up for that.
Patty 34:10
You're on it. All right. All right. Well, that's our new goal is to somehow get that race course to go by Gertie so that we could make that happen for Theresa, because that would be a lot of fun. But yeah, come join us in the Facebook group and ask all the questions. There's a wealth of knowledge in there and there are runDisney folks and non-runDisney folks as well. We talk about all things. I mean, we talked about Crocs this week, y'all.
Theresa 34:33
We did. If you really wanted to see from our Dapper Day episode the picture of Patty's high heel Crocs, I can't believe that's a thing. That picture is in the Facebook group now.
Jane 34:45
As well as my judgment.
Theresa 34:47
I mean, that's everywhere. <laughter> Not exclusive.
Patty 34:53
You don't have to join the Facebook group for that. However. Any more questions? Come and let us know or send us an email. Jane, what's our email address? Pop quiz, hotshot.
Jane 35:05
You can email us at [email protected]
Patty 35:10
Yeah, you can send any questions that you guys might have or comments about these races and we're happy to help you any way we can.
Theresa 35:17
And make sure you keep joining us each week on the No-Guilt Disney Podcast, because as we all know, Patty likes to say
Patty 35:24
It's no fun to fangirl Disney alone. Bye!
More runDisney Posts You'll Love
Patty Holliday has been running Disney since 2011. She knows just about every tip, trick, and hack there is to cover the runDisney Magical Miles at Disney World and Disneyland. She knows every mile isn't *always* magical- but with training, tips, and a little bit of pixie dust, they can be a lot of fun! You can also find her at noguilttravel.com and noguiltfangirl.com