Hey hey, runDisney race fans! The runDisney registration season is about to kick off. What happens if you get bad news- and you miss out on a runDisney race opportunity? You may have options and we covered it on this runDisney podcast. Here's how to register for a sold-out runDisney race.
EDITED April 19, 2022: If a race sells out, there are very limited options.

SOME OF THE INFORMATION BELOW WAS ACCURATE FOR ALL RACES IN 2020 AND BEFORE.

WE'VE UPDATED EACH SECTION WITH NOTES AS TO HOW THINGS HAVE CHANGED FOR 2023-2024, BUT HAVE LEFT SOME OF THE OLD INFORMATION FOR HISTORICAL PURPOSES.
I repeat:
EDITED April 19, 2022 THIS INFORMATION WAS ACCURATE FOR ALL RACES IN 2020. PLEASE NOTE THE ANNOUNCEMENTS IN EACH SECTION WITH CHANGES.
We don't want to see it happen, but… it happens.
Sometimes the races sell faster than expected and your running squad is left wondering what they can do next.
First: don't panic. You've found the right post to give you your options.
We've got you!
Here's how to register for a sold-out runDisney race.
runDisney Podcast Episodes You'll Love
Let us "guide" you through the runDisney registration process.
How Fast Does runDisney Sell Out?
2023-2024: We expect fast sellouts for all races this year.
If you want historical times to get an idea of how fast runDisney races sell out, check this post.
EDITED April 19, 2022 THE FOLLOWING INFORMATION WAS ACCURATE FOR ALL RACES IN 2020. THIS IS NOT ACCURATE FOR THE 2022-2023 RACE SEASON.
For most races, not nearly as fast as it used to! That's good news.
Once upon a 2013, we had mere minutes to register for races. And I'll be honest, all the drama made for some of the best runDisney memes out there.
That's right: you had to be online and fast on the draw to make sure you got into just about any runDisney race you wanted.
But those days are few and far between; with the running craze on a downslide, getting into races has become a little less stress-inducing.
The bad news is: we really don't know until we know.
runDisney does not give us a countdown or estimate on how long we have until the race sells out.
They *used* to- and it was glorious.
Now, you just work your way through the runDisney registration process and hope you get to the final payment screen without issues.
But I repeat: don't panic; just because the rundisney.com races are sold out- that doesn't mean you don't still have runDisney race options.
Do Spots Ever Open Up For Sold-Out runDisney Races?
2023-2024: YES. We saw races open and close multiple times on the runDisney.com website. So keep checking!
They do!
But I wouldn't count on this option if it's a race you really *need* to run.
In recent years we've seen the unsold challenge bibs "broken up" into 10K races and half marathon races only. We've seen Dopey and Goofy go this route as well.
Register For a Sold Out runDisney Race at the Race Expo
2023-2024: Still *possibly* accurate. Runners were not able to buy bibs at some expos in 2022-2023 Expo, but that doesn't mean there won't be options for other races. Always check!
We've also seen people walk up to runDisney guest services at the expo and manage to purchase a bib.
It happens sparingly, and you really need to be there as soon as the expo opens on the first day. But… it does seem to happen here and there for most race weekends.
ps- you will be in the last corral unless your last name is Galloway or Keflezighi, though, so keep that in mind.
But this is a race-by-race situation and you just don't want to rely on that as your only hope!
How To Avoid a runDisney Sell Out?
2023-2024: Early registration with Club runDisney membership (not currently on sale) or through a participating charity partner are the two ways to escape a sell-out. Travel Agents no longer have access to bib packages.
As a travel agent specializing in runDisney– I run them as well.
I have been running Disney since 2011 and selling since 2015. I know the ins and outs and would love to help you and your running crew run Disney this year.
And every year- cause I know it's an addiction.
If you don't want to work with a travel agent (I won't take it personally!) you can sign up in advance with a charity that has runDisney race bibs available.
Here's a list of each race weekend and the charities that might have bibs:
They are able to get your bibs well in advance.
What runDisney Races Tend To Sell Out First?
2023-2024: This information should still hold true.
While we can't predict when things will sell out, we can predict which runDisney race will sell out first.
5Ks and 10Ks: those will be gone fast!
If you want in on one of those distances, prioritize them in your purchasing.
How To Register For a Sold Out runDisney Race
Okay, so… here we are. The worst happened and you got shut out of a race you really wanted.
I'm so, so soooo sorry! I've been there- and it stung.
But: we have options!
Errr- basically the same options mentioned above.
One note: travel agents and charities do not have access to runDisney Runner's Square or the Wine and Dine after-party tickets.
Once those sell out: they are out!
You Can No Longer Register For a Sold Out runDisney Race With a Travel Agent
Starting in 2021: Travel Agents are not an option for race bib packages. If you'd like that to change for future races, please contact runDisney and let them know.
Register for a Sold Out runDisney Race With a Charity
Charities will also have bibs, but you'll need to follow their guidance on fundraising.
I've been a runDisney charity runner myself with the Children's Miracle Network and it was a great charity to run for.
And remember: here's what you need to register for a sold-out runDisney race.
Faith, trust, pixie dust, and some runDisney registration tips!
Find the No-Guilt Disney Podcast Team
Join the No-Guilt DisneyFacebook Group!
by email at [email protected]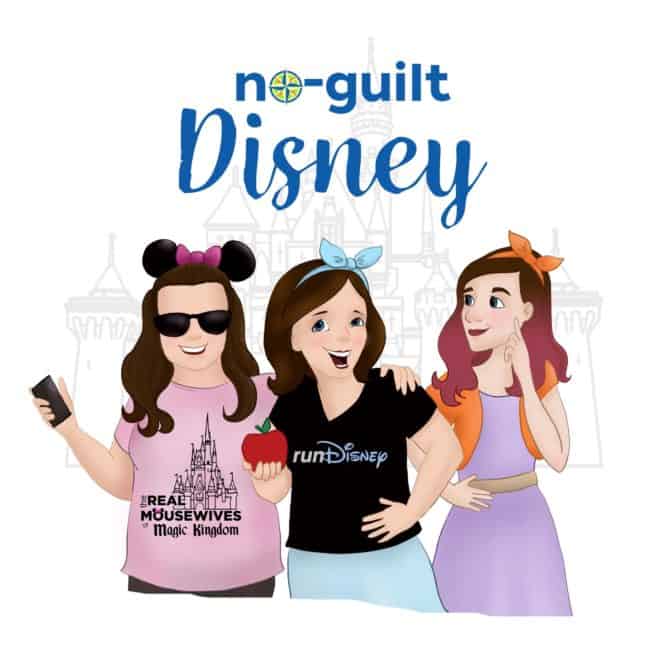 Patty
Theresa
Jane
Music from https://filmmusic.io
"Vivacity" by Kevin MacLeod (https://incompetech.com)
License: CC BY (http://creativecommons.org/licenses/by/4.0/)
More runDisney Posts You'll Love
Patty Holliday has been running Disney since 2011. She knows just about every tip, trick, and hack there is to cover the runDisney Magical Miles at Disney World and Disneyland. She knows every mile isn't *always* magical- but with training, tips, and a little bit of pixie dust, they can be a lot of fun! You can also find her at noguiltlife.com and noguiltfangirl.com