Hey there, fellow Disney enthusiasts! Ready for a game-changer to keep your magical moments powered up at the most magical and happiest places on earth? Let's discuss Fuel Rods, the cleverest Disney hack for families draining their smartphones. Here's everything you need to know about Fuel Rods at Disney for 2024. Affiliate links are included in this post.
What's the Buzz About Fuel Rods?
Picture this: you're in the heart of Disney World, capturing every magical moment on your phone, and suddenly, the dreaded low battery warning pops up.
Fear not, my friends!
Enter the superhero of portable charging—Fuel Rods.
These little powerhouses are your ticket to endless selfies, ride photos, and keeping your Insta game strong throughout the day.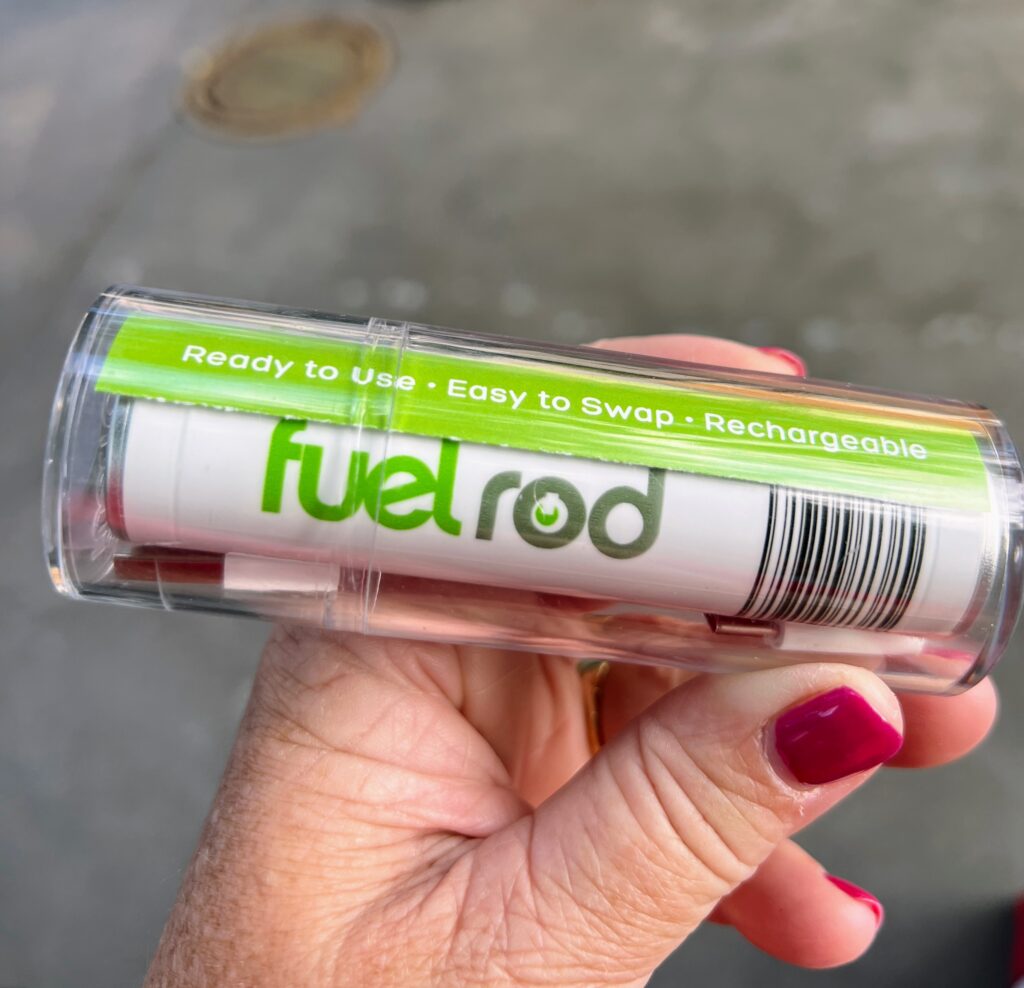 What Is A Fuel Rod?
So, what exactly are Fuel Rods?
They're like the fairy godmothers of technology, providing up to 8 hours of voice calling time or 4 hours of tablet use straight out of the package.
And guess what? They're rechargeable! We love an environmentally conscious option.
Compatible with almost any Apple or Android device, these magical tools come in kits that are like Mary Poppins' bag—packed with everything you need:
A fully charged battery (because who has time to remember to charge it themselves?)
A micro USB to USB cable for the Android crew
A 30-pin USB cable for those rocking vintage iPhones and iPads
A Lightning to USB cable for the cool kids with the latest Apple devices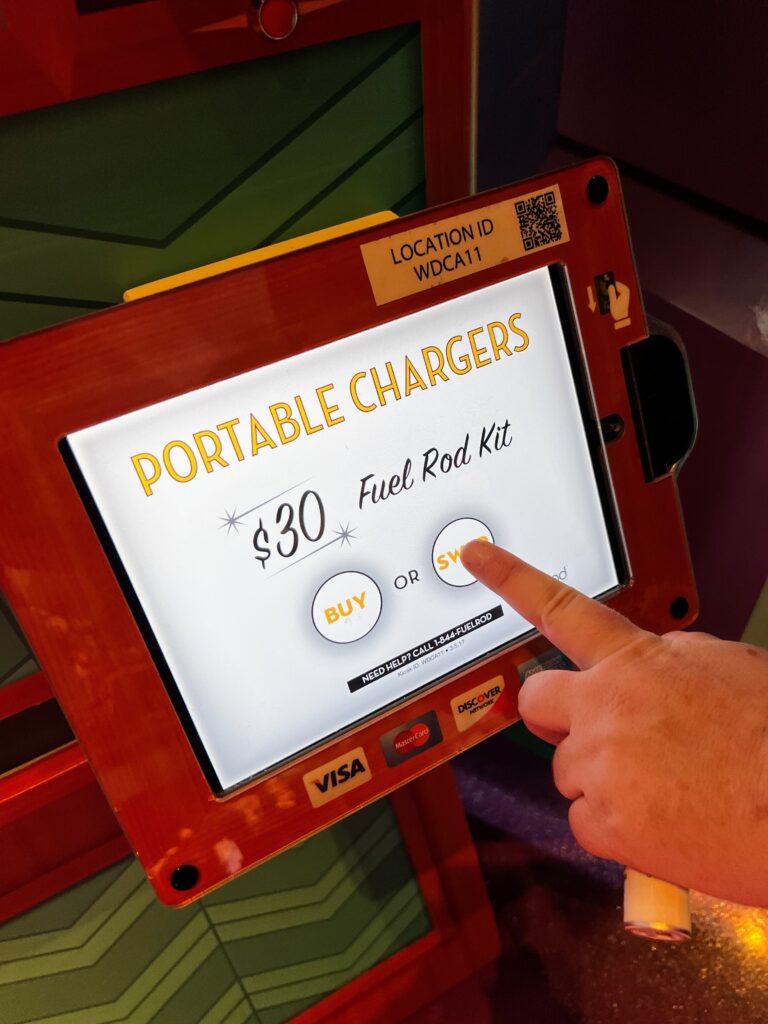 Let's Talk Moolah: How Much do Fuel Rods Cost?
Now, I know what you're thinking: magic usually comes at a price.
At Disney World, Fuel Rods are your tech savior, and they only cost $30 at the various kiosks scattered around the parks.
You can also order them on Amazon with this link before your trip.
With Black Friday and the holidays just around the corner, we're spying some sweet deals on Amazon for Fuel Rods right now.
But here's the real enchanting twist: once you've joined the Fuel Rod family, you've got a golden ticket to endless power.
Yup, you heard it right!
You can keep exchanging used batteries for fresh ones at any kiosk if you're not into the whole recharging thing.
It's like having unlimited magic spells for your phone.
And here's the bonus round: it's not just Disney World!
Fuel Rod kiosks are like hidden Mickeys—they're everywhere! Disneyland Resort, other Disney parks worldwide, and countless locations across the globe have your back.
So, whether you're at the heart of the magic or exploring the world, a Fuel Rod kiosk is probably closer than you think.
Fuel Rod Locations at Walt Disney World
Most Disney Resorts will have them located in the lobby or in the arcade area. If you don't spy one, ask a Cast Member to point you to the closest location to replace your fuel rod.
Saratoga Springs
Pop Century
Caribbean Beach
Old Key West
Riviera Resort
Port Orleans Riverside- arcade
Port Orleans French Quarter
Ft. Wilderness Resort
Art of Animation
Boardwalk Resort
Contemporary Resort
Yacht Club
Wilderness Lodge
Coronado Springs Resort
Grand Floridian
Polynesian Resort
All-Star Sports
All-Star Movies
All-Star Music
Animal Kingdom Lodge
Animal Kingdom Lodge- Kidani
Where Can I Find A Fuel Rod At The Disney World Theme Parks?
Hollywood Studios- Tower of Terror
Hollywood Studios- Celebrity 5 and 10
Hollywood Studios- Vacation Fun
Hollywood Studios- Pizzarizo
Hollywood Studios- Rock Around the Shop
Epcot- Mission Space
Epcot- Disney Traders
Epcot- Gateway Gifts
Epcot- Imagination
Epcot- Living Sea
Epcot- Test Track
Epcot- The Land
Epcot- International Gateway
Magic Kingdom- Big Top Souvenirs
Magic Kingdom- Cosmic Ray's Starlight Cafe
Magic Kingdom- Curtain Call Collectibles
Magic Kingdom- Pecos Bill Tall Tale Inn and Cafe
Magic Kingdom- Tomorrowland Light & Power Company
Magic Kingdom- Casey's Corner
Magic Kingdom- Merchant of Venus
Magic Kingdom– Train Depot
Magic Kingdom- Island Supply
Animal Kingdom- Conservation Station
Animal Kingdom- Discovery Trading Post
Animal Kingdom- Dino Institute
Animal Kingdom- Island Mercantile
Animal Kingdom- Serka Hindi
Other Disney World Fuel Rod Locations
Disney Springs Bus Stop
Disney Springs Marketplace Photo
Typhoon Lagoon- Singapore Sal's
Blizzard Beach- Beach Haus
ESPN Wide World of Sports- Clubhouse and Grill
ESPN Wide World of Sports- Fieldhouse
Fuel Rod Locations at Disneyland
Don't worry if you find yourself on the West Coast with a dead Fuel Rod!
Disneyland also has plenty of places to swap yours out or buy a new one.
Here's where you can find all the Fuel Rods at Disneyland in California.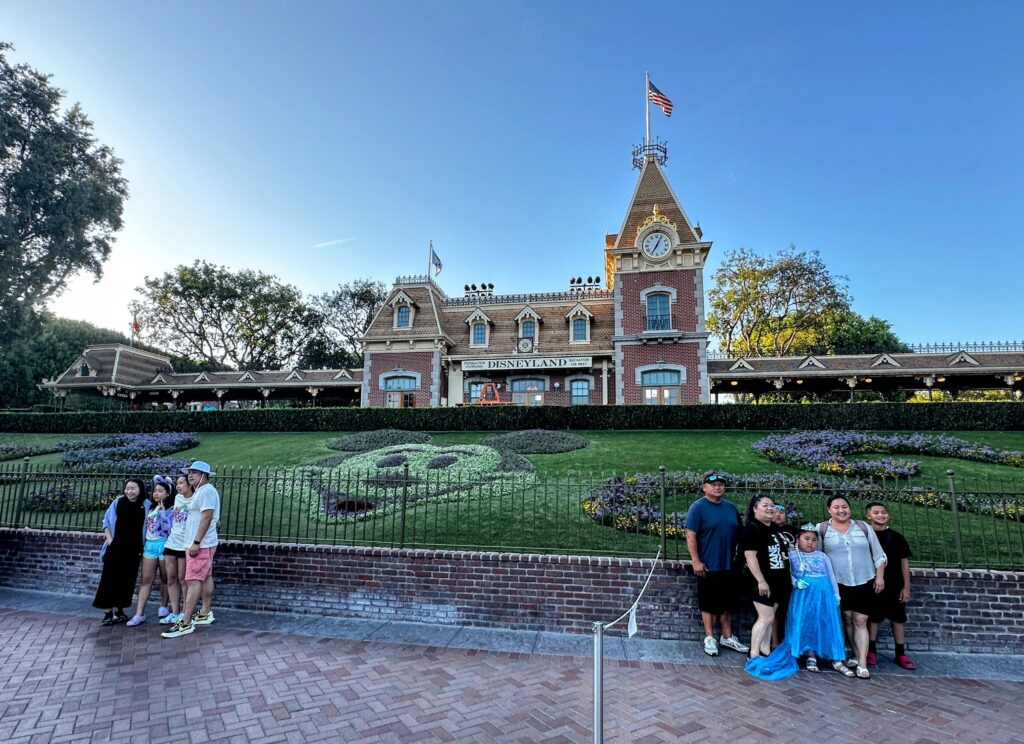 Disneyland and Disney California Adventure Theme Parks
Disneyland Park- Tomorrowland – Near the Galactic Grill
Disneyland Park- Main Street, U.S.A. – Near the lockers
Disneyland Park- Fantasyland – Near the Matterhorn Bobsleds
Disneyland Park- Frontierland – Near the Mark Twain Riverboat
Disneyland Park- Adventureland – Near the Tiki Room
Disney California Adventure- Buena Vista Street – Near the lockers
Disney California Adventure- Hollywood Land – Near the Disney Junior Dance Party
Disney California Adventure- Grizzly Peak – Near Soarin' Around the World
Disney California Adventure- Pixar Pier – Near the Incredicoaster
Fuel Rods In Downtown Disney
Downtown Disney- Near World of Disney
Downtown Disney- Near the Disney Dress Shop
Downtown Disney- Near the Monorail Station
Disneyland Hotels and Resorts: Fuel Rod Locations
Disneyland Hotels- Disneyland Hotel – Near the Fantasy Tower entrance
Disneyland Hotels- Disney's Grand Californian Hotel & Spa near the Convention Center
Disneyland Hotels- Disney's Paradise Pier Hotel – off the lobby in the meeting space area
Happy charging, Disney pals! This is one tip for Disney that I swear by: get your Fuel Rods for Disney and you'll never look back.
More Disney Tips
Patty Holliday has been running Disney since 2011. She knows just about every tip, trick, and hack there is to cover the runDisney Magical Miles at Disney World and Disneyland. She knows every mile isn't *always* magical- but with training, tips, and a little bit of pixie dust, they can be a lot of fun! You can also find her at noguiltlife.com and noguiltfangirl.com