If you love the backside of water as we do, you know Jungle Cruise is high on your list of summer movie must-sees. Based loosely on the Disneyland original attraction by the same name, families are going to be interested in watching Jungle Cruise together. But is Jungle Cruise movie too scary for kids? This parent movie guide will help you decide what ages can watch Jungle Cruise. ps- there are some great Jungle Cruise movie quotes and puns!
Is Jungle Cruise Too Scary For Kids? Parent Movie Guide
As always: you know your kids best.
This parent movie guide and review is to help you know what to expect before taking your children to the movies. In a Jungle Cruise spoiler-free way!
We'll talk about violence, PG-13 rating, language, adult situations, and overall tone so you can decide what ages are best to watch Jungle Cruise.
Is Jungle Cruise ok for kids? Read on to find out.
Adult Content In Jungle Cruise
There is a mild romance with some kissing (kinda) in this movie.
An openly gay main character is also revealed (about time!) in a Disney movie.
There is no nudity or sex, however.
So the good news here: nothing too scary for kids (or their parents ha!) on this level in Jungle Cruise.
Is Jungle Cruise Too Scary For Kids? Violence and Weapons
This is absolutely a movie full of action and adventure, which means lots of violence, peril, and weapons.
Think along the lines of Pirates of the Caribbean to give a comparison. If that one is too scary for your kids, then Jungle Cruise will be too scary for them as well.
If your family is sensitive to weaponry violence (swords, knives, guns, torpedoes) then this one may be over the top. If there's a torpedo mention on a river cruise, you can probably figure that part out!
There are many instances of death, killing, and dying that happens on screen that could be a little too much for smaller children.
It's pretty intense with high use of CGI to create creepy moments and monster-like creatures.
Language In Jungle Cruise Parent Movie Guide
This one doesn't have too much salty language for parents to be worried about. This is surprising considering the backstory of the main character, Skipper Frank.
You will hear a few low-level swears like h#ll and an incomplete "sh–" in the movie. Oh my G-d is also used a few times.
From a language standpoint, Jungle Cruise is fairly kid-friendly.
What Ages Can Watch Jungle Cruise?
Jungle Cruise is rated PG-13 and it seems to line up well with that rating.
Children younger than 13 may be fine, depending on their previous exposure to movies similar to Jungle Cruise.
Comparable movies include Indiana Jones, The Mummy, Pirates of the Caribbean, with a splash of Dora The Explorer.
Kids ages 10 and up should likely be able to handle the intensity of the action and violence in the movie.
Is Jungle Cruise too scary for kids under 10? Possibly. But back to point #1: you know your kiddo best!
The movie is long at 2 hours and 8 minutes but packed with action, so younger kids are not likely to nod off on any slow parts (there really aren't any!).
And if you have concerns, this is a good date-night movie to watch on the biggest screen possible before you rent the movie on Disney+ for the family.
Is Jungle Cruise too scary for kids? It might be- especially if they are sensitive to jump scares and loud fight scenes.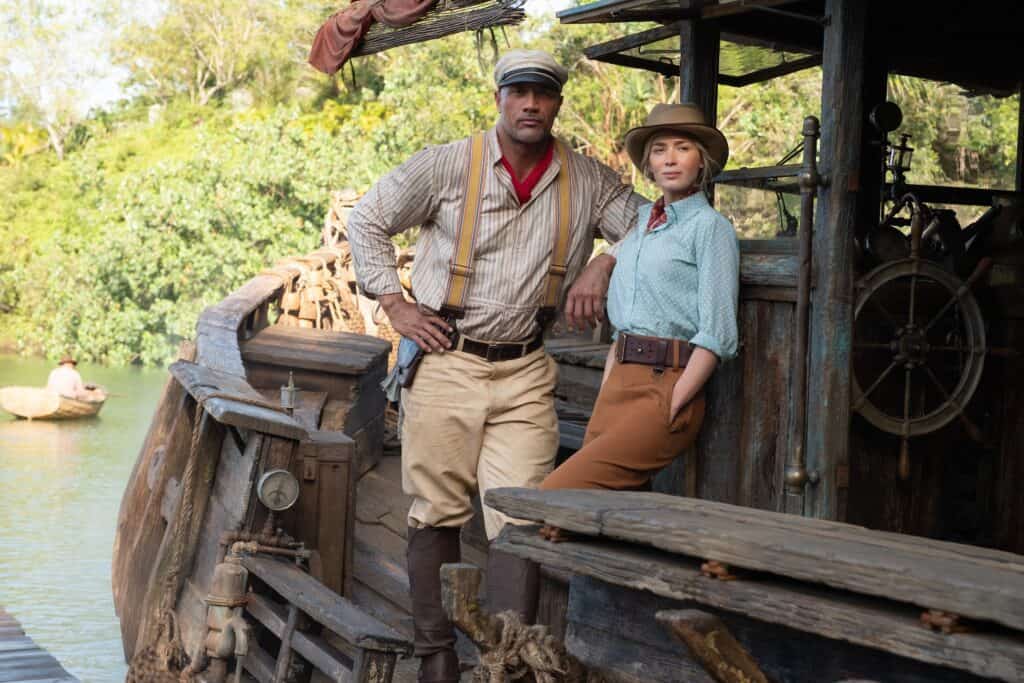 About Disney's Jungle Cruise
Join fan favorites Dwayne Johnson and Emily Blunt for the adventure of a lifetime on Disney's "Jungle Cruise," a rollicking thrill-ride down the Amazon with wisecracking skipper Frank Wolff and intrepid researcher Dr. Lily Houghton.
Lily travels from London, England to the Amazon jungle and enlists Frank's questionable services to guide her downriver on La Quila—his ramshackle-but-charming boat.
Lily is determined to uncover an ancient tree with unparalleled healing abilities—possessing the power to change the future of medicine. Thrust on this epic quest together, the unlikely duo encounters innumerable dangers and supernatural forces, all lurking in the deceptive beauty of the lush rainforest.
But as the secrets of the lost tree unfold, the stakes reach even higher for Lily and Frank and their fate—and mankind's—hangs in the balance.
Disney's "Jungle Cruise" releases in theaters and on Disney+ with Premier Access on July 30, 2021.
You can watch the trailer here.
Other Movie Posts You'll Love
Is Cruella Too Scary For Kids?
Disney Attractions That Inspired Movies