A lot of parents are asking: is Disney's Cruella too scary for kids? This Disney film is a touch darker than parents might be thinking: Cruella is rated PG-13. Here's a parent movie review for Cruella that will help you decide if this 101 Dalmations inspired movie about Cruella is too scary for kids in your family. Ps here's the parent review is Jungle Cruise safe for kids.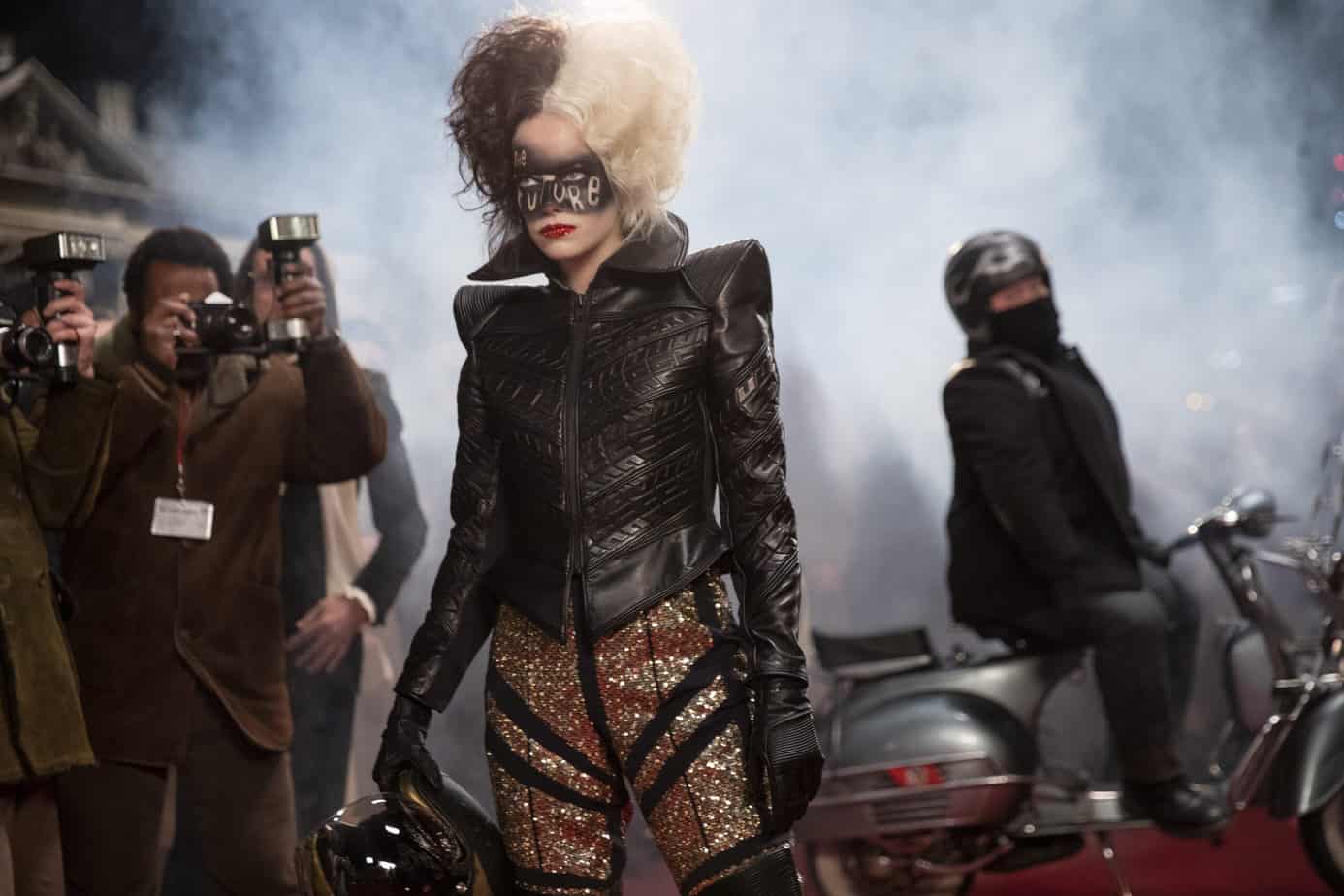 Is Cruella Too Scary For Kids? Parent Movie Review and Guide
As a PG-13 rated movie, Cruella isn't the worst option you could think of for young kids, but there are some issues you should be aware of before buying into the movie.
It's darker than previous Disney-live actions and definitely might be too scary for some young kids.
Here's a rundown of what you need to know to decide if Cruella is safe for kids to watch.
And of course, you know your family best! But we like to give any heads up to those that might be on the fence.
Animal Cruelty in Cruella
Dog lovers: breathe easy!
Cruella actually isn't after those dalmation puppy coats just yet, though she half jokes about it in one scene.
No anumals are tryly in peril in this movie, so Cruella is safe for kids on this level.
Is Cruella Too Scary: Violence Level
There's a bit here to unpack.
A character falls to their death after being attacked by a pack of dogs, which could certainly be an issue for small children to watch.
There's murder, arson, and chase scenes that could all affect your decision when deciding if Cruella is ok or too scary for kids.
The movie is about revenge so you can't expect things to be completely kid-friendly!
Language In Cruella
Huzzah! There's really no traditional cuss words (even British ones) to worry about for families in Cruella.
You do hear things like imbecille and psycho spoken in unkind ways, however. But no actual swears are spoken.
Deaths In Cruella
Its Disney, so you know what that means: a parent has to die.
Look, we don't make the rules!
This is something that could affect kids, so keep that in mind. Estella watches it go down (literally) and that may have a traumatizing effect on some kiddos.
What Ages Should Watch Disney's Cruella?
Is Cruella too scary for kids?
The two main characters (Estella/Cruella and the Baroness) are both big bullies with lines that cut and hurt others. This could be a problem for sensitive or bullied children to watch as entertainment.
We think Cruella is ok for kids ages 9 and up who aren't too sensitive and who can appreciate dark humor.
If that's your kid, you know they can handle this one.
The PG-13 rating is actually pretty spot on, however, for most kids.
One note: the movie is over 2 hours long with long stretches between the action. Children with short attention spans may struggle to make it through this one.
If you can take the kids to see this one in the theater, do so! Big screen is where it's at.
More Parent Movie Reviews
Is The Falcon and The Winter Soldier Safe For Kids?
Is Bridgerton On Netflix Safe For Kids?
Is Quiet Place 2 Safe For Kids?