Flying to Disneyland is an adventure in itself! When heading to the Los Angeles area, you will find quite a few options show up on your travel search. Which are the closest Disneyland airports? I've got your list of airports near Disneyland for you.
Today I was contacted by no less than four Walt Disney World "vets" who are planning their first trips to Walt's original park, Disneyland.
To say I'm excited for them is an understatement!
I mean, they get to see these guys and ride Guardians of the Galaxy: Mission Breakout!
AND be some of the first guests inside the newest Disney California Adventure land: Avenger's Campus.
My opinion: any Disney fan who loves Walt Disney World with all their pixie-dusted hearts should try to take a trip to the homeland.
The gates are opening to all guests on June 15th, and Avenger's Campus will already be open.
And of course… Halloween Time at Disneyland is pretty amazing as well. Oh wait- and Disneyland at Christmas too!
Alright- so there's pretty much no bad time to go to Disneyland.
You caught me. So let's get you there!
Closest Disneyland Airports
One of the first questions people ask is what is the best airport to fly into when planning our trip.
By my count, you have five decent airport choices when you travel to Southern California to visit Disneyland:
LAX, SNA, LBG, BUR, and ONT.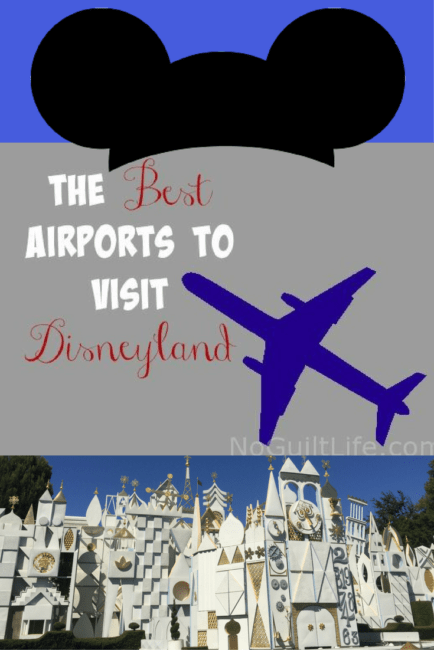 Airports Near Disneyland
You have choices! I have my favorites and have noted those as well for your travels.
Closest Disneyland Airports: Los Angeles International Airport (LAX)
This is going to get complicated.
This option is 33 miles away from Disneyland. While not your farthest choice, it is straight through Orange County traffic, mind you.
So that is a big negative to me.
But
It can offer the most direct flight options from folks flying in from the East coast. And a direct flight across the country may be worth the extra traffic time in the end.
I've also had friends fly from North Carolina to LAX for about $210 ROUND TRIP. That's a bargain these days, and I'd have a hard time passing over that kind of savings.

Closest Disneyland Airports: Orange County/John Wayne Airport (SNA)
This one is my preferred airport. The Orange County/John Wayne Airport is only about 14 miles from Disneyland, and Southwest gets me safely in and out on time.
Even better than the smooth flights: I've had great luck in getting from the plane to park in 30 minutes or less. True story- give or take 5 minutes.
It's a much smaller airport than LAX, and that's a plus in my opinion. Fewer people, less traffic.
There's one thing to know about SNA: it has a noise abatement procedure in place. It's super complicated, but the gist of it is that flights will cut back on power during take-off (yes- during! It's perfectly safe, though). And flights cannot take off after 10 p.m.
Closest Disneyland Airports: Long Beach Aiport (LGB)
This one is home to Jet Blue, which is my 2nd favorite airline to fly.
It's about 23 miles to Disneyland and isn't a bad second option, in my opinion.
But if SNA is small, this airport is tiny. A total throwback or vintage terminal you might say. Ever enter a plane from the steps that are rolled out to the aircraft? Yup. That's how things roll in LGB.
These three airports are your most likely bets when you look for fares to Disneyland.
Closest Disneyland Airports: Bob Hope and LA/Ontario Airports
Your other options include flying into the Bob Hope Airport in Burbank (BUR) which is about 41 miles away or the LA/Ontario International Airport (ONT) which is about 35 miles away.
These are the two farthest options.
I went from Disneyland to Bob Hope and it took me just over an hour and 20 minutes. I think I got lucky with traffic!
If the right combination of cost and timing worked out, they would certainly be in the mix! I know plenty of travelers to the LA/Disneyland area fly through these airports.
And now that you have flights, lets check out the best Disneyland Good Neighbor hotels.
If you need help planning your Disneyland vacation, let me know.
I'm a travel agent that specializes in runDisney and Disney vacations (and Disney addict!) and can help your trip be one you'll never forget! Shoot me an email at [email protected]
Which airport near Disneyland is your preferred option?