Want to have the best time at Disneyland Resort this October? Between fall break days and the Halloween Time special events, you might want to know if Disneyland is busy in October. And, well, yeah. It is! But you can still have a great time at Disneyland Park and Disney's California Adventure if you know a bit about the crowd levels you can expect. And even better: if you know the best days to visit. While Disneyland is busy in October, there are some days that might be better than others! Here are the holiday season tips you need.
Disneyland In October: The Best Month?
We say YES! Or at least, one of the best months.
As Disneyland Park lovers, we can't really say there's a bad time to go. But October is truly one of our favorites.
September is a close second. Especially if you are looking to experience the sunny days and Halloween season but still need to fit in a trip at the end of your summer vacation.
Disneyland in October has a lot going for it, including the specially priced Oogie Boogie Bash event. You'll need a party ticket for this one.
If you want to skip the long lines at attractions, this event is the way to go!
The temperature is usually mild in October and the large crowds from summer, spring break, and grad nites, are gone.
And the ones looking to spend time at Disneyland's Christmas season are patiently waiting their turn!
If you know when to visit Disneyland in October, it can be a good time of year to plan a trip.
And you'll never forget your October Disneyland vacation!
What Factors Impact Disneyland's Wait Times In October?
Trying to figure out the Disneyland crowd calendar for October may feel like a challenge, but we're breaking it down for you.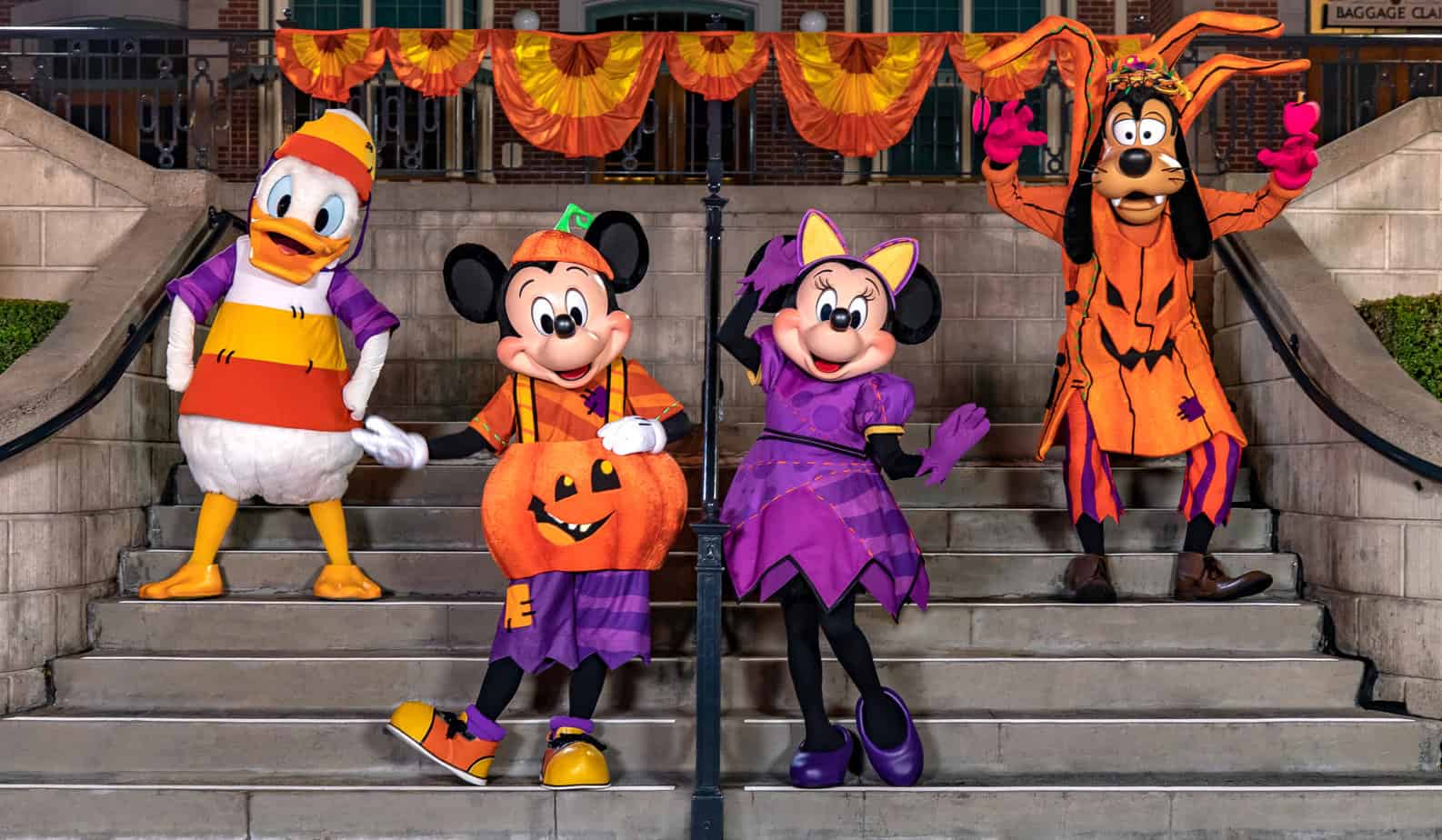 Disneyland Halloween Time: How Long Is Disneyland Decorated For Halloween?
Halloween is definitely a draw for people visiting Disneyland in October. Ask any Cast Member and they'll tell you!
Seeing Jack Skellington, Haunted Mansion Holiday, and the Fab 5 dressed in their Halloween costumes is top on many people's lists!
Disneyland's Halloween Time starts September 1 and runs through October 31 in 2023.
Disneyland begins to get decorated for Halloween starting in late August (last week or so). It is completely decorated for Halloween by the official kickoff date of September 1.
Don't forget to ride Mater's Graveyard Jambooree, and the Guardians of the Galaxy: Mission Breakout after 3 pm!
Can You See Halloween Decorations At Disneyland on November 1?
Don't blink at midnight on October 31 or you'll miss it!
Disneyland's Halloween decorations are swiftly removed- essentially overnight- on November 1.
Disneyland is Decorated For Halloween until the opening of the park on November 1, 2023, with the exception of the Day of the Dead decorations.
Know Before You Go: What Dates Are the Oogie Boogie Bash Happening in 2023?
Is the Disney Halloween Party worth it? Absolutely.
The Oogie Boogie Bash is a specially priced party ticket special event that has replaced Mickey's Halloween Party in recent years.
When the party is happening, you will feel bigger crowds at both parks, especially Disney California Adventure Park.
It takes place on select nights. This year it's happening every Tuesday, Thursday, and Sunday night in October, plus some Saturday nights.
Are The Kids Out Of School?
Two things to consider for any trip to the Happiest Place On Earth:
Is it a major US holiday weekend when you plan to visit?
Are local kids off school for any reason?
Both of those issues drive wait times and the feeling of Disneyland being busy in October.
And to answer the questions above: YES to both.
Columbus Day happens on October 9, 2023. Kids and locals are out of work on that Monday for the long weekend.
Many school districts in Arizona, New Mexico, and Utah has Fall Breaks during the first 2 weeks of October. It's a small world after all when your whole school ends up vacationing at Disneyland the same week! School holidays always make Disneyland feel busy.
The Disneyland Annual Passholder Effect
While Walt Disney World has a lot of Annual Passholders, they don't have anywhere near the levels Disneyland does.
Annual Passholders (called Magic Key passholders) make up a large percentage of daily Disneyland visitors- hey, locals need to get away today, too!
But please note: Disneyland truly has a bigger percentage of locals visiting than Disney World does. Recognizing this will help you figure out the best day to visit.
Magic Key passholders at Disneyland tend to pop in and out of the parks for a few hours, which can make Disneyland busy in October in weird ways.
It may feel busy in the mornings at Disneyland but empty out a bit just before lunch. This is a Magic Keyholder effect as many locals pop in for a few hours but head out early in the day.
Conversely, Disneyland may also feel busy in the evenings once the locals get off work. They'll visit Main Street USA for a parade or fireworks, and then head home soon after, especially on Friday nights.
How Do You Find The Lower Crowds In October At Disneyland? Check The Magic Key Blackout Calendar
All magic comes with a price, as they say.
And beating those ticket prices with an annual pass comes with a cost: blackout days.
If you're looking for the best time of the year for your first time at Disneyland, be sure to take a peek at the Magic Key Blackout Calendars.
Some locals are blocked out on Saturdays only in October, some for the whole weekend, and some for weeks at a time. Knowing when they cannot be in the parks will make Disneyland feel less crowded for you.
Disneyland Best Days To Visit (2023)
We did some looking and have come up with some of the best days to visit Disneyland in 2023.
Avoid October 1-15, 2023 if you can. Fall breaks from neighboring states make this a busy month to visit. We have personal experience with this from our time in Arizona. EVERYONE went to Disneyland (it was practically recess in the parks!).
Within that time frame, October 5 could also be a busy day at Disneyland. The Los Angeles Unified School District has the day off and most local Magic Keyholders will be eligible to visit.
In addition to the first two weeks of October, avoid the parks on Oogie Boogie Bash nights (specifically DCA where the party takes place) on the following dates: October TBD
What does that leave us with? There's not a lot of wiggle room in the month of October.
Here's some good news. There are some low-crowd days projected for the end of October.
Magic Keys are blocked out on the following days in 2023:
Imagine Blockout days 1, 5-15, 19-22, 26-29
Enchant Blockout days 1, 7, 8, 14, 15, 21, 22, 28, 29
Believe Blockout days 1, 7, 8, 14, 21, 28
Using this information, we think the best days to visit Disneyland in October 2023 will be October 20-30.
Early November may be another good time to visit (and you just might catch the Disneyland Christmas trees going up!).
And please don't forget to make those theme park reservations ASAP!
More Disney Tips And Hacks