Hamilton the Musical is now streaming on Disney+ and I am not exaggerating to say it is everything! You know the songs, you think you know the story: but nothing compares to seeing it performed. Here's a list of the best quotes from Hamilton on Disney Plus, and be sure to check this Hamilton parent guide to see if Hamilton is ok for kids to watch. ps- check out the Hamilton memes to make you laugh! And the best quotes from WandaVision if you're in the mood for something weird!
We all know the songs and have been obsessed with the soundtrack for years.
But how do the lyrics stand out when you actually see them sung and acted?
CLICK! BOOM!
Here are a few of the standout moments and best quotes from Hamilton the movie, now on Disney+.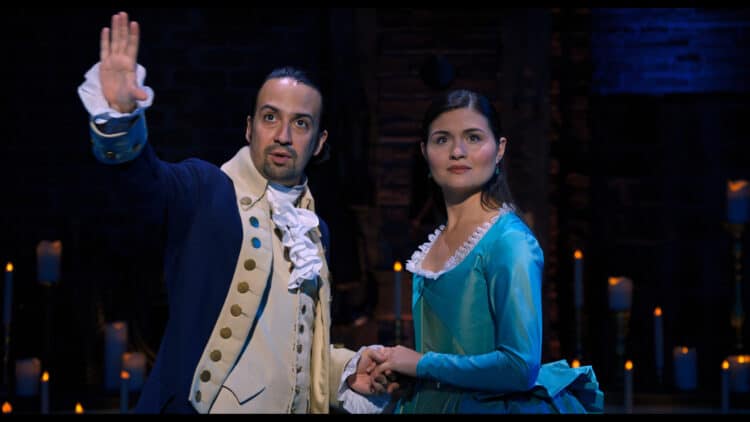 Best Quotes From Hamilton the Movie On Disney Plus
My name is Alexander Hamilton
And there's a million things I haven't done
But just you wait, just you wait– Alexander Hamilton
If you stand for nothing, Burr, what'll you fall for?
Hey yo, I'm just like my country
I'm young, scrappy, and hungry
And I'm not throwing away my shot – Alexander Hamilton
Cause when push comes to shove
I will kill your friends and family to remind you of my love – King George
Dying is easy, young man. Living is harder- George Washington
How does a ragtag volunteer army in need of a shower
Somehow defeat a global superpower? – Aaron Burr
You have no control:Who lives, who dies, who tells your story – George Washington
You say our love is draining and you can't go on
You'll be the one complaining when I am gone. – King George
Life, liberty and the pursuit of happiness.
We fought for these ideals; we shouldn't settle for less
These are wise words, enterprising men quote 'em
Don't act surprised, you guys, cuz I wrote 'em – Thomas Jefferson
How you say, no sweat
We're finally on the field. We've had quite a run. Immigrant: We get the job done. – Hamilton and Lafayette
Try not to crack under the stress, we're breaking down like fractions.
We smack each other in the press, and we don't print retractions. – Thomas Jefferson
I wrote my way out of hell
I wrote my way to revolution
I was louder than the crack in the bell – Hamilton
Talk less!
Smile more!
Don't let them know what you're against or what you're for! – Aaron Burr
I wasn't aware that was something a person could do? – King George
There's nobody else in their "country" that looms quite as large. – King George
I hope that you burn – Eliza
I'm a General. Whee! – General Lee
In the end, they wrote 85 essays, in the span of six months. John Jay got sick after writing 5. James Madison wrote 29. Hamilton wrote the other 51. – Aaron Burr
Legacy. What is a Legacy? It's planting seeds in a garden you never get to see – Hamilton
The ten-dollar Founding Father without a father,
Got a lot farther by working a lot harder,
By being a lot smarter,
By being a self-starter. – Aaron Burr
You see that was my wife you decided to Fuuuuhhh— Arron Burr
Whaaaaa…!!! – Thomas Jefferson
My God. – Thomas Jefferson
I will send a fully armed battalion to remind you of my love! Da da da da da da da da ya da. – King George
Those are some of the best quotes from Hamilton on Disney+!
More Movie Quotes
Most Bad A Quotes From The Mandalorian