Disney fans are known to take their favorite meme and add some pixie dust. And they did not disappoint when it came to the Disney Bernie Sanders Inauguration memes. You love to see it. From his puffer jacket to his striped mittens and the manilla folder in between: Bernie Sanders was a whole mood at the Biden Inauguration. Here are some of the best Disney Bernie Sanders Inauguration Memes to come out of this historic day. (ps- the Obama Biden memes from 2016 are still great fun!)
Biden/Harris Inauguration January 20, 2021
It was a very big morning as Joe Biden and Kamala Harris was sworn into office.
We had coats, we had flags, we had Gaga, J-Lo and Garth Brooks.
Michelle Obama did not play with her stunning maroon cashmere and curls.
And we had the amazing Amanda Gorman stealing all the air from the entire ceremony with her poem, The Hill We Climb.
But most of all: we had Senator Bernie Sanders sitting in his puffer jacket, watching the whole thing go down off by himself, and waiting until he could get back to the business of running the country.
So clearly we had memes.
And Disney fans did not disappoint with their own touches.
And he's a whole mood, y'all.
The best Disney Bernie Sanders Inauguration memes, yall!
The Best Disney Bernie Sanders Inauguration Memes
I laughed way too hard at these, y'all.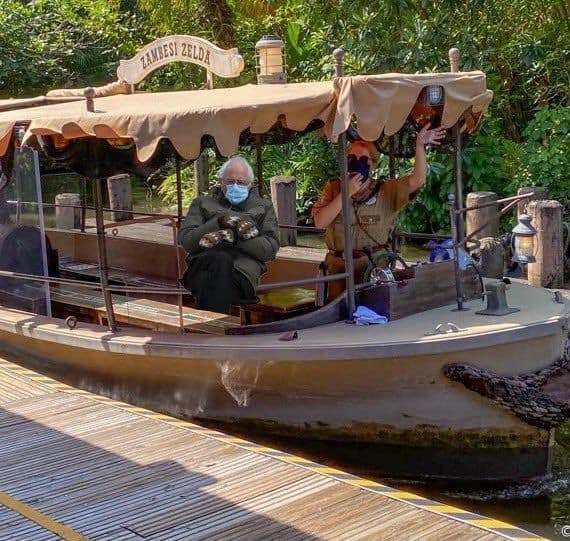 I howled way too long at some of these Disney Bernie Sanders inauguration memes.
Disney peeps are SO good at the meme game and remain undefeated.
More Disney Memes You'll Love
Frozen 2 Spoilers Without Context Memes
Dolly Parton Challenge Disney Memes
Patty Holliday has been running Disney since 2011. She knows just about every tip, trick, and hack there is to cover the runDisney Magical Miles at Disney World and Disneyland. She knows every mile isn't *always* magical- but with training, tips, and a little bit of pixie dust, they can be a lot of fun! You can also find her at noguilttravel.com and noguiltfangirl.com