Big news has come from Running Universal: the Orlando parks are getting a race weekend! Here's what you need to know about the differences between runDisney at Walt Disney World vs Running Universal. Most of the details are about the Universal Hollywood races, but we will update with info when the Universal Orlando race details come out.
runDisney vs runUniversal
Okaaaay so I know it's not technically "runUniversal" but go with me here.
Today, Universal Studios Orlando announced that they will be hosting an Epic Running Universal Orlando Character Race Weekend this February… and I could not be more excited.
It got me thinking, though, about how different it is actually going to be! So here's my quick list of differences between runDisney Races and Universal Running races.
runDisney vs Running Universal: The Race Themes
This one is pretty obvious – runDisney has four main race weekends: Wine & Dine Half Marathon, Walt Disney World Marathon Weekend, Disney Princess Half Marathon, and Star Wars Rival Run Half Marathon.
If you count Paris (which I kind of do and kind of don't…) you have the Disneyland Paris Half Marathon and the TBD Disneyland Paris Princess race weekend.
Universal has had one successful race weekend, the Minion 5K in Hollywood last May.
They have one coming up this November – Jurassic World Run – and that's it so far. The jury is still out on if these themes will be recurring or changing year-to-year.
The "theme" for Orlando's races is simply "Epic Character". I am not sure if that is a placeholder title with the actual theme to be announced at a later date, or if it's really just a race celebrating all of the Epic Characters under the Universal umbrella.
With The Epic Universe Themepark coming to Universal Orlando, maybe it is just all things Epic?
Or hey, they have the rights to Marvel on the East coast. So- Avengers assemble, anyone? Cause that would be EPIC.
The Race Distances at runDisney vs Running Universal
So runDisney race weekends typically have a 5K, 10K, and Half Marathon with some kids races as well.
January's Marathon week has a full marathon on top of the others and all have a combination of challenges you can complete by participating in more than one race distance.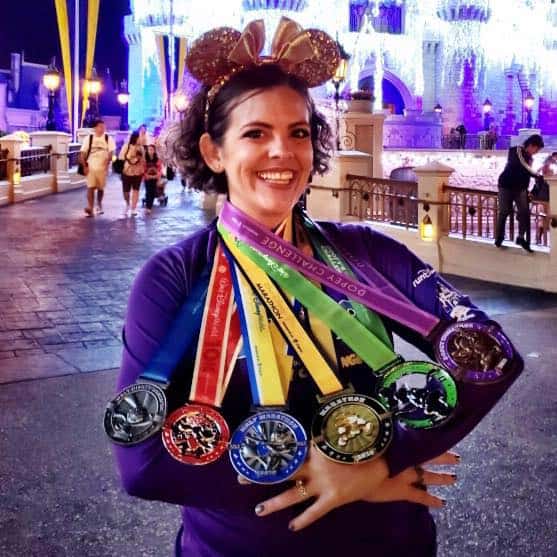 Universal is doing things a little differently.
So far, they have only offered 5K and 10K races. This November they are also offering a 1K Kid's "Raptor Run" and a Challenge which includes the 5K and the 10K.
Another big difference between runDisney and Universal Running was that in May when the popularity of the Minion Race was SO great they added another one. Meaning, they added the 2nd race to the weekend.
So there was a 5K on Saturday AND Sunday you could participate in. There wasn't a challenge offered for doing both 5Ks, but nobody was stopping you from running it twice.
Another really interesting difference – The Minion 5K was a chip-timed event that had been certified by the USA Track & Field (USATF) national running organization.
runDisney 5K's are considered "fun runs" and are not timed.
The Price Difference
We have said it before and will say it again – all magic comes with a price!
runDisney races will cost you anywhere from $20 for the Diaper Dash, all the way up to $590 for the Dopey Challenge (5K + 10K + Half + Full during January's race weekend!) – I don't care who you are… that's a lot of money for a race. ($12.14 per mile to be exact!)
Universal prices seem to be close to the runDisney pricing… about $10-$20 less per bib. Obviously we don't have pricing information for Orlando quite yet – but the current open prices for the Jurrasic World Race this November are:
Kids' 1K Raptor Run: $30
5K $75
10K $109
Challenge $199
Another main difference is that Universal is offering a "VIP Package" and a "Play All Day" Package to go along with race registrations, for an additional cost.
The Swag Difference Between runDisney and Running Universal
Over the years, the swag associated with runDisney races has gone down. Back in the day, they had some decent bonuses you'd get with your race registration but now, not so much. I do miss my little sample Clif bar.
Typically, you'll get your race medals and a shirt for each race you participate in and they'll usually have a list of small discounts you can get around Walt Disney World Resort- but that's about it, folks!
Personalized Race Bib with Timing Tag
Virtual Goody Bag
Finisher Medals
Participant Shirts
On-Course and Post-Race Refreshments
Downloadable Finisher Certificates
So, in this instance, Universal wins. Just looking at the swag that comes in a Standard Package. I'm going to break it down for the Challenge race registration:
Collectible Jurassic World 5K and 10K finisher medals
Collectible Jurassic World Challenge finisher medal
Jurassic World Challenge bib with 2 timing chips
Running Universal 5K and 10K T-shirts
Jurassic World drawstring backpack
Collectible Jurassic World pin
Post-Race beverages & refreshments
Complimentary General Parking
Digital finisher certificates
Opportunity to purchase entry to Universal Studios Hollywood™ Theme Park at a special Running Universal price
The VIP Package is an additional $130, and includes:
Complimentary Preferred Parking on race day
Exclusive VIP check-in
Running Universal water bottle
Post-Race VIP breakfast with Photo Op on both days
The "Play All Day" Package starts at an additional $40, and includes:
Standard or VIP Challenge race registration
One (1) General Admission Theme
Park ticket valid November 16 or November 17, 2019
Opportunity to purchase entry to Universal Studios Hollywood™ Theme Park at a special Running Universal price
More runDisney Posts You'll Love
The Beginner's Guide to runDisney Race Weekends
Answers to Your runDisney FAQs
Patty Holliday has been running Disney since 2011. She knows just about every tip, trick, and hack there is to cover the runDisney Magical Miles at Disney World and Disneyland. She knows every mile isn't *always* magical- but with training, tips, and a little bit of pixie dust, they can be a lot of fun! You can also find her at noguiltlife.com and noguiltfangirl.com