Calling all agents! It's time to suit up and head to the Disneyland resort for your assignment to Avengers Campus. One of our favorite agents (and Black Widow cosplayers) visited on day one. She's giving you a detailed Avengers Campus trip report with all the details you'll need for your first visit. Want to know the hacks of visiting Avengers Campus? Nicole runs it down with this mission report. Podcast Avengers Campus trip report included. ps- check out this list of Marvel movies to watch before visiting Avengers Campus.
Avengers Campus: Mission Report Part 1
Nicole went to the first day of Avengers Campus at Disneyland and is here to tell us all about it.
We've got the details about how she got into the park, how she scored the WEBSlingers Boarding Passes, and more.
This is a 2-part episode, so come back to learn more about her awesome day next time.
Avengers Campus Trip Report
by Nicole Buompensiero
MISSION REPORT
NB 05062021
04 JUNE, 2021
CLASSIFIED: LEVEL 1
MISSION REPORT FOR AGENT HOLLIDAY
SUBJECT: AVENGERS CAMPUS DCA OPENING DAY

1) MISSION SUMMARY: Do whatever it takes to obtain entry into Avengers Campus (AC) in DCA on opening day.
We had four areas of opportunity for entry: 1) Arrive early enough at security to walk into park and campus, 2) secure a boarding pass at 7am that would guarantee entry at boarding pass group time, 3) if 7am boarding pass failed, obtain a boarding pass at noon, 4) if all else failed, wait in line inside the park for entry to the campus.
Agent K. Buompensiero is recovering from a stress fracture, so securing seating throughout the day was a
mission priority as well, and some events and Avengers were missed due to the need to secure a spot among the limited seating, especially in the shade, which was away from the main area of the campus and located in the queue area of the Hyperion Theater.

2) SECURING ENTRY TO THE PARK
After parking at the Anaheim Hotel, Agent K. and I secured a spot in line for security
on the Harbor side of Disneyland/DCA at 4:30 a.m. PST.
Hard to tell how many people in front of us due to social distancing, but 100-200 perhaps, but easily could have
been more.
I thought the line wrapped around at first, but it turns out they created 6 lines that would each go through
temp checks and I was in the 3 line.
The time felt like a very good call, though we could have arrived perhaps 30-60 minutes earlier to secure a better place in line, since hotel guests get first entry.
We found an ally in the line buddy ahead of us, Bethany, who was decked out in Captain America (Rogers AND
Wilson) ears, Wilson's Captain America shirt, AC jacket, Cap's shield earrings, and shield phone ring, and at 4:30 a.m. as
well. We knew she was our people.

Field Agent Tip: The Anaheim Hotel is a fantastic place to park for close park access, low rates (I paid $20 for the whole
day), well lit and safe, access to nice bathrooms, and friendly desk agents. Get there early, though, as parking does fill up.

3) MINOR IMPEDIMENT: Looking Too Much Like Scar Jo
Cast Members regularly patrolled the lines, scoping out guests to mitigate any possible rule
issues that would impede guests entries into the parks. Just before 5:30 a.m. a CM came by to talk to us.
Agent K. had a cane chair that she was sitting on and was told she would NOT be able to use as seat once inside the park, only as a cane/mobility device.
The CM had seen it earlier, but wanted to double-check with superiors before letting Agent K. know, just in case it wasn't allowed at all, and that extra mile was appreciated.

Also, while the CMs loved my Black Widow inspired ensemble, I was told I looked far too much like Black Widow with my red wig and was asked to remove it for better access to the park, which I immediately did, and ran it back to the car which was only about a block or so away.
Another reason to park at the Anaheim hotel. Also, did I mention the nice bathrooms?

Field Agent Tip: Never pass up a bathroom opportunity.

Notes: Absolutely ALL the cast members all day long, but in particular, those working the super early morning lines, couldn't have been lovelier or friendlier or more helpful. Absolutely awesome all around.
4) SECURING A WEB SLINGER BOARDING PASS
Hack Your Way Onto WEB Slingers with these boarding groups tips!
After a week of thorough research and training (see other agent reports for mission specs on boarding pass protocol and acquisition), Agent K. and I secured a boarding pass group 35 for WEB Slingers: A Spider-Man Adventure.
We shared our intel with Bethany, who proved to have natural skills and secured boarding pass group 24.

5) ENTERING THE PARK AND CAMPUS
Security opened sometime after 7 and we went through sometime after 7:35 a.m., got in line at the gate for DCA at 7:50 a.m with perhaps 30-50 people ahead of us in our line.
By 8:02 we were inside the park following the rest of the people towards the Avengers Campus entry queue
which looped just at the entry to the Pier/Little Mermaid (at our time, later intel said it looped even further back.) We
walked through the entire thing, only stopping at a break in the line for foot traffic.
Merchandise carts were set up outside the entrance to the campus so recruits who didn't make it in could still shop. We secured entry to Avengers Campus at 8:10 a.m.

6) INSIDE THE MAIN ENTRANCE TO AVENGERS CAMPUS
Several CMs and Disney higher-ups were at the entrance welcoming everyone, clapping, cheering, and generally setting the tone.
The entrance is marked by an ARC reactor on the ground and an Avengers campus logo and sign on the right.
We stopped there to take photos and one of the higher-ups took photos of my Quinjet Division California jacket.
It's a large space and recruits were patiently waiting in line to take photos with the logo.
Various orchestral music from MCU films and more can be heard here and throughout the campus.

Notes: No photopass CMs were present in this location in the morning, but one was there later that evening when
I returned about 11 hours later. Worth taking your own photos AND getting photo pass ones, as our photographer Lisa took some really great shots, even while battling the setting sun. Definitely come back when it starts to get dark out/the lights turn on, for more photo opportunities.

7) WEB WALL (SPIDER-MAN MEET/GREET/SHOW)
Directly ahead and to the left is the WEB building, formerly the Stark Motors building (you'll see an ad for it on the raw brick on the very left of the building.
Further along there's a massive WEB mural and the colorfully painted brick walls make for fantastic photo ops.

Spider-Man can be found here for meet and greets, after chatting with the crowd and performing amazing
webslinging stunts and acrobatics, he'll slide down a web to meet with recruits.
It's here you'll also see your first rogue Spider-Bot that Spider-man has secured to the wall. It's still active and lights up and makes sounds.

Notes: Times are NOT listed anywhere for when the Avenger will make appearances so be sure to check with
Cast Members and keep an eye out and notice when a crowd starts to form.
That's usually a sign that the friendly neighborhood Spider-Man will be showing up soon. Our first view of Spider-Man was at 10 a.m. It's just a few minutes long before he makes his way down for a meet and greet. Ideally is to be opposite the colorful WEB wall for best viewing as he's on the catwalk above it for his performance.

8) MOBILE ORDERING AT AVENGERS CAMPUS
It was roughly 8:15 a.m. when Bethany looked at the mobile ordering menu since we wanted to get
breakfast at Pym's, and noticed that the times for any of the foodservice locations were already booked up well into the afternoon.
I was able to secure an order from the Shawarma Palace at 1:40 p.m., and another for Pym's Test Kitchen at 5:15 p.m.
I was unable to secure an order from Pym's Tasting Lab.
Later intel revealed that all mobile orders were booked by 9:15 a.m. and walk-up service was supposedly not
available.
One guest I interviewed later said that he and his wife were able to walk up to Pym's kitchen and order but it
took them 2 hours of waiting to do so.
Apparently, the kitchens were not stocked enough and ran out of food. I know, due to the effects of the pandemic, supplies are limited globally thanks to factories and distribution having issues fulfilling orders, so hopefully, this will be a temporary problem.

Notes: There are NO walk up food carts in the main part of Avengers Campus. We fortunately had brought some
nuts with us, and there are water fountains, but after having been in line since 4:30, we were worried about what to do
between then and our first mobile order window.

We finally found a few snack (popcorn, chips, and movie candy) and ice cream carts near Guardians of the Galaxy,
Mission: Breakout. Tivan Treats is near here and WAS available for walk up service and we were able to get a churro,
cheesecake orb, and cold drinks. At some point the second shawarma palace cart, aptly named Shawarma Place Too,
located near the Hyperion Theater queue, allowed walk ups for drinks and the Iron Man Infinity Gauntlet, but not for food that wasn't previously mobile ordered.

Field Agent Tip: Always bring a snack and water just in case.

9) WEB SUPPLIES AT AVENGERS CAMPUS
To the left of the colorful WEB walls a line will form to achieve entry into the WEB SUPPLIES store. We
opted to do more recon of the campus before heading here, and when we did late in the afteroon we were told they were using text messages to queue up guests.
We didn't have one, but the line was so short they let us in anyway.
It's a small shop with all sorts of Marvel easter eggs in Avengers Campus and experiments lining the walls and top shelves of the store. Here you can purchase all things Spider-Man, including Spider-Bots, upgrades, and WEB power bands and upgrades for use on the WEB Slingers attraction.
You can also see WEB Slinger attraction best of scores on screens along one wall. Outside there is a table and
cast member with Spider-Bots where you can see them in action. I do not know if you can bring your own bot and battle one of theirs.

I haven't begun to decipher all the easter eggs in WEB Supplies but apparently there are quite a few.
I did notice Harley's potato gun.
Also, you can see a logo for ACCUTECH on the brick along the outside wall.

Notes: We opted to not purchase anything here so we didn't have to carry it around the campus, as the campus
isn't terribly large and can get congested with people. Also, EVERYTHING having to do with Avengers Campus and more is available to purchase is at Stage 17. Stage 17 is a one stop shop and open to anyone at DCA, but if you are at Avengers Campus and wish to shop at Stage 17, you WILL have to leave the campus, and if there's a queue to get back in, you will have to wait in that.

10) A LOOK AT THE PAST AND A GLIMPSE OF THE FUTURE
As you move along the WEB building before you get to WEB Slingers, there's a brick wall where old parking signs can be found for both E. Jarvis and H. Stark.
There is a massive green tree flanked by two small ones.
Near the bottom of the building if you look close, on either side of the giant tree are spigots marked "Caution: Gamma Radiation."

As you near the end of the wall, to your right by WEB Supplies, there is a kiosk that explains just what Avengers
Campus is and what CAMPUS stands for, as well as has plaque explaining the history of this location, along with a map of what the original Stark Industries site looked like before it was repurposed.

It's also between this building and WEB Supplies that you get your first glimpse of the Quinjet atop Avengers HQ
with Tivan's Fortress behind it.

11) WEB BUILDING AND TRIBUTE TO PEGGY CARTER
As you continue into Avengers Campus, on your left the WEB building turns and you can see the exit of WEB Slingers as well as a Spider-Man easter egg about a certain pizza joint.
To your right, at the exit of WEB Suppliers, there is a brick alcove for stroller parking.
It's here you can find an old parking sign for Agent Carter, as well as an SSR logo on the wall.
When it's not busy, it's a great place for some photos and there's a plain freestanding brick wall that makes a great photo background. It's also here you get your first taste of the ancient Sanctum.
12) THE SANCTUM
The ancient Sanctum is beautiful both during the day and night (though VERY crowded at night) and is
filled with strange sounds and chimes throughout the day.
The area is separated into roughly three parts.

The main sanctum with golden doors and gates where Doctor Strange makes appearances and has a show. We got here very early and the area was open to recruits for photos and such.
A little while later it was then cordoned off for Doctor Strange and the show, so if you want some empty Sanctum photos, get there early.

The second area centers around The Orb of Cagliostro, which is a sort of easter egg: in Doctor Strange, the
Doctor is reading a book and notices pages missing.
Wong explains it's the Book of Cagliostro, a study of time. The Orb is multifaceted and has various reflective surfaces which makes for some great mirror selfies.
There are strange markings around it and it makes all sorts of sounds, and at night the orb lights up with moving lines of lights inside.

The third area is tucked away in back of the Orb. It's a strange warped checkboard floor with golden gates and
chained up books of magic behind it.
The floor is an optical illusion, and there is a small metal disc near a fence with strange markings on it. This is the spot photographers will want to stand in to take the optimal shot.

Field Agent Tip: I highly recommend finding the speed/action setting on your camera that allows you to take a lot
of photos in the span of a few seconds. On my Moto Z3, when taking a photo I just need to hold the camera trigger button down and it automatically takes several shots until I release it. It allowed me to take some great jumping shots in this location.

Notes. It was my understanding that the Sanctum area was supposed to be interactive, but either I didn't see
how to interact with the area, unless they meant the warped floor, this feature is either turned off (Covid?) or it was
eliminated.

Again, encounters with Doctor Strange and/or his show do not have any times listed.
Apparently the show is about 20-25 minutes long and is a Marvel themed magic show. Unfortunately I wasn't able to see Doctor Strange or view the show this trip. There are drinking fountains to be found on the outside of the Sanctum.

13) SHAWARMA PALACE
The main Shawarma Palace cart is located in front of the Sanctum and it's here you can see all
sorts of nods to various Avengers and events in the MCU via memorabilia, stickers, newspapers, etc. plastered on and
around the cart.
The shawarma and dipping sauce was absolutely delicious and incredibly filling. It's got a kick but the yogurt-tahini sauce tempers it perfectly.
Agent K. and I split New York's Tastiest and were stuffed by the time we finished.

Agent K.'s has a sensitive palate and it was her first taste of shawarma, and she's hooked. She and I can't recommend it
enough.

Mobile order pick up was pretty quick and easy. The Disney app alerted me my window was open, I told them to
prepare my food, and less than 10 minutes later I had it.
You can order shawarma from both carts so be mindful when ordering which cart you're ordering from. A cast member was there checking people's orders to make sure they were at the correct cart for their pick up.

Notes: The Shawarma Palace carts are also the locations for getting an Iron Man sipper gauntlet and these can
be ordered with mobile ordering. Late afternoon I noticed the snack and ice cream carts near Guardians started selling
these, but once word got out a long line quickly formed.

14) LEGACY(S) AND MAGIC SHOTS
Moving past the Sanctum and heading toward Avengers Headquarters, you find another entrance/exit to Avengers Campus.
Here along the crumbling walls of the original compound, you'll see an SSR (Strategic Scientific Reserve) logo on both a brick wall and etched into the ground just at the entry/exit point.
Among this nod to the past, you see a bit of the present with a door marked "Quinjet Maintenance Bay."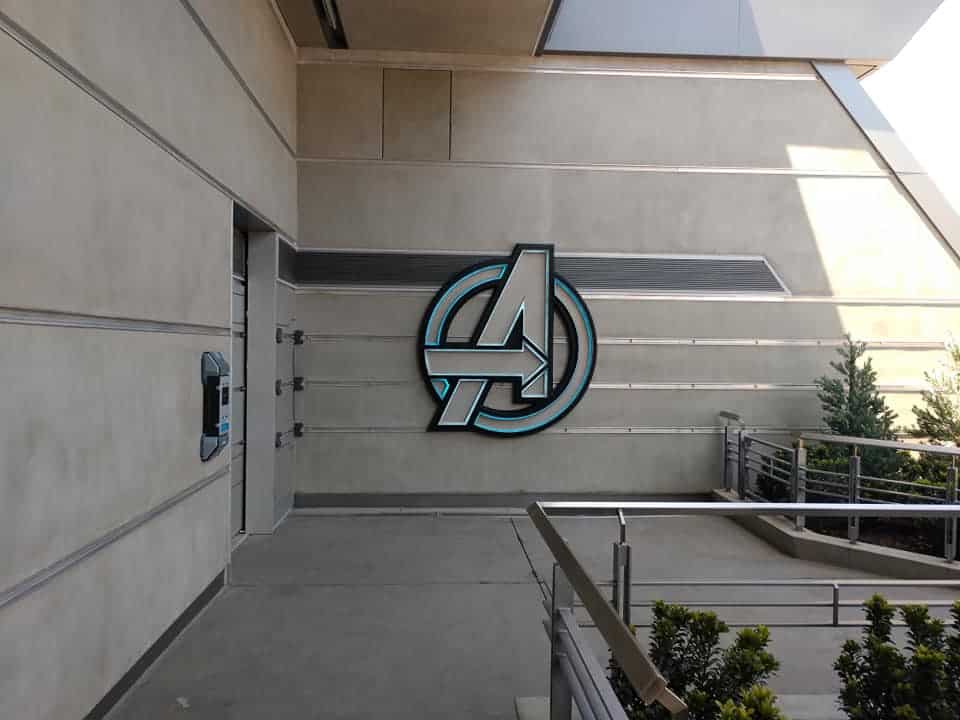 This area was a photo spot specifically for Disneyland Legacy Passholders.
You must show proof of being a Disneyland Legacy Passholder to have your photos taken here.
Also, aside from the photopass CM at the main entrance,this was the only other photopass cm I encountered. I think there may have been one near the HQ taking photos of recruits with the Quinjet but I can't be sure it was an official one and not just media (there were lots of official media people present and roaming around taking notes and photos of the day.)

This was the only place I found that had a magic shot.
The photographer instructed me to hold my arm up near my body, palm flat (much like a Tinkerbell magic shot) and told me to look at my hand. Later I discovered in my photos it's an Ant-Man magic shot, where he is tiny and jumps off your hand only to get larger as he makes his way toward the ground.

15) CAMPUS SUPPLY POD
Located between WEB Slingers and Pym's Test Kitchen, and directly in front of the restrooms, was an Avengers Campus shopping location.
Here you could buy things with the Avengers Campus logo on it like shirts, mugs, and the very popular backpack/duffle bag.
Bethany got in line here at around 9 a.m. and had a lengthy wait to peruse and purchase. Another reason to wait and do all the shopping at Stage 17 later in the day.

16) RESTROOMS AT AVENGERS CAMPUS
Located between WEB Slingers and Pym's Test Kitchen, and behind Campus Supply Pod, these can be
tricky to find due to all the lines of people around them.
The building is an old Geffen-Meyers chemical plant and you can still see the old logo on the building as well as maintenance doors.
You can also spot another rogue Spider-bot secured to the pipes on the left side of the building.
There are drinking fountains here, and this is a nice spot to sit in the relative shade and take a quick break. The seating is limited due to Covid restrictions at the moment but we still managed to find a spot.

17) GENERAL OKOYE AND THE DORA MILAJE
Around 9:30 a.m. a crowd began to form in front of Avengers HQ and a few minutes later General Okoye and two members of the Dora Milaje walked past the building and settled on and around a planter/seating/stage located between the Avengers HQ and the Sanctum.
This location is a popular spot for not just the Dora Milaje but various Avengers to show up and interact with the crowd and take photos.
The General and the Dora introduced themselves, told recruits they were looking for warriors, told recruits about the Dora Milaje and their values, taught a warrior chant and fight routine, and show cased both their warrior skills and dance moves.
They made appearances throughout the day and were a joy to watch.

Notes: Again, no times are listed but I saw them at least three times in the time I was in the main campus.

18) HACKS FOR WEB SLINGERS: A SPIDER-MAN ADVENTURE
With our boarding passes being within ten numbers of each other Bethany waited until both hers and ours were called so we could ride the attraction together.
So glad we did as the ride is far more fun with a full vehicle and you're able to rack up a bigger score and possibly make it onto the leader boards (we did not) which are displayed at both WEB Slingers and WEB Supplies.
Agent K. and I had boarding group 35 and as soon as we were called we immediately entered the queue which was at 10:15.
Because of social distancing, you cannot queue up inside the attraction so we were social distanced in the outside area as well as a back stage area set up for what I imagine will be queue overflow on busier days.

There is so much info about WEB and science loving Marvel characters packed in the queue!
You can see experiments, spider logos, and posters for Harley Keener (Iron Man 3), Peter Parker, and 3 others in the queue.
We found out that each attraction vehicle has a bar code inside that represents various characters and that bar code is on the posters.
Outside in the queue, they had umbrellas and fans and the queue moved quickly so we weren't in the sun for very
long.
At one point we saw Spider-Man himself walking along the outside of the building going to a stairwell that presumably
takes him to the area where he has his performance, so a bit of serendipity seeing Spider-Man AT WEB Slingers!

Once we were inside the building we waited in an entry room for a door to open before going inside for the
attraction show. While we waited we noticed a lovely red-haired lady in the room with us who kept taking photos with several people and cast members and it turns out she was the actress who portrays Doreen Green, aka Squirrel Girl in the attraction!
The cast members held us all up in that entryway room so that the ride could cycle through and she could get
the vehicle with the Doreen Green barcode (vehicle 7, btw). I didn't get a photo with her (I'm really shy around celebrities), but I did get a photo of her and it was fun to see her reaction to it all.

Note: We ended up in the very front of the room which is actually a corner, and some kind recruit offered to take
our photo. We weren't sure why but said yes, and I'm glad we did as there's a banner above the area that says "Open
House Test the New Web Slinger" and made for a fantastic photo op. So if you get a chance to stand there, grab that photo op!

The attraction show is in a lab chock full of so many easter eggs I just took photos so I wouldn't miss the actual
show.
We meet Peter Parker who has invited us to open house at the WEB, and shows us his new invention Spider-bots,
which in short time malfunction and the open house turns into a mission to save Avengers Campus from destruction.
We quickly flew through the rest of the queue into our ride vehicles and off we went. Each vehicle seats 8 people, 4 on one side, 4 on the other. There's a screen that runs the length of the vehicle in front of you that shows each person's score, how many bots of each color they've hit, as well as the group vehicle score.
The ride is very much like Toy Story Mania and Harry Potter in that there are screens where you're shooting, but also some real elements as you move from room to room.

It was short, but a lot of fun and it's quite the arm workout! Forget trying to aim, we found flailing your arms in a
Spider-man flinging webs motion as fast as you can racked up the most points.
Once it's over, as you exit you can see screens with scores on them and there's a rogue spider-bot hiding in a vent that is friendly and waves at recruits as they leave.

Notes: This was a really fun ride and just breaking down all the easter eggs hidden would be a fun experience
alone. It seemed to go by fast so it's definitely one I'd want to ride over and over just so I could take in more things that I know I missed this first round.

19) AVENGERS HQ AND SHOW
This is the place where most of the Avengers assemble.
At any point in time you can see various Avengers on the ground level around the building or in the Avengers vehicle located between HQ and the SSR entrance/exit meeting recruits and taking photos, walking the second story balcony waving at recruits and chatting with them, or even up top with the Quinjet assessing the campus and just looking around.
Avengers Campus is meant to be very organic in your interactions with the characters and it is, which is fantastic. The down side is that with no posted schedule it's easy to miss characters if you're not in the right place in the right time.
Because of that, we saw every Avenger to be seen other than Iron Man. He was out, other friends got photos, but we just missed him because we happened to be sitting or eating.

At some point a crowd will start to gather in front of the HQ and you'll see people wearing strange masks
wandering about.
Sit tight, you're about to see Black Widow and Black Panther battle Taskmaster, the villain of the upcoming Black Widow movie, in a great stunt show.
It's a fun show but I highly recommend NOT being in the front, close to the HQ.
If you're short like me, part of the second story balcony is walled in and you can't see much action from down
below.
Agent K. sat on one of the planters diagonal from it and had a fantastic view.
Black Widow does her signature spin move, Black Panther climbs the walls and it's a fun reminder that this isn't just Marvel-land, it's an interactive and ever changing location.

Notes: Originally I heard there was planned a Thor's hammer photo op, but if it made it into the final plans I never
saw it. Also, while the Hulk will not be present, there was supposed to be a Hulk dented wall. Again, either I missed it, or it
didn't make it.
20) PYM SEATING AND TERRAN TREATS
After the show, around 11:30, I did recon of the rest of the HQ building and Agent K. and I made our way to the additional seating area for Pym's test kitchen, filled with both tables and benches.
The queue area for the Hyperion Theater has been completely re-themed for Ant-Man and the Wasp with posters, banners, hexagon/honeycomb wallpaper, and tables covered with funny oversized graphics that have QR codes for the menus for Pym's Test Kitchen and Tasting Lab.
Outside of the Kitchen and Lab themselves, it's the only place in Avengers Campus to sit at a table.
With all the trees, it's also a mostly shady spot, depending on the day, and seating was very hard to come by,
particularly during natural dining hours, so once we found a spot to sit, we were reluctant to give it up.
Because of this and its location, you miss what's going on in the rest of the campus, which can be a respite if you need a break, but a downside if you still want to be part of the action.

Since we had to wait another 2 hours for my shawarma mobile order, Agent K. and I made use of the snack carts
near Guardians, and I took the time to try out Terran Treats.
This is located right across from The Collector's Warehouse and right next to a giant gate with a Stark Aeronautics logo on it. Terran Treats serves 1 pineapple flavored green churro spiral and a raspberry cheesecake orb.
Both were fantastic and I would get them again in future trips. We stayed here eating and resting in the shade until my mobile order was ready since we didn't want to take the chance of losing out on a shady seat.

Notes: Originally, there was supposed to be 6 different colors of churros with different flavors, but at this time
only one churro, green and pinepple was offered.

21)PYM'S TEST KITCHEN
After snacks and shawarma I wandered around a bit taking photos and checking out the scene
while Agent K. rested her leg.
Eventually it was time for our mobile order pick up at Pym's Test Kitchen. Finding the right line to wait in was tricky, but eventually I found the right spot and was inside the kitchen once my order was ready.
Again, I didn't have to wait long for my food to arrive. We ordered the not so little chicken sandwich, the Caesar salad + colossal crouton, bacon candy, and celestial sized candy bar: Choco Smash Candy Bar, as well as several novelties.
One of the major things I was looking forward to trying was Pingo Doce.
You fill your drinks at dispensers like they have at movie theaters where it's one machine with a touch screen that has multiple options of drinks. I almost missed getting Pingo Doce as it was a small circle at the bottom right of the screen and looked like an advertisement rather than an option.

Once I found it, you have a regular or sugar free option for the new Hulk inspired soda. It's here you'll also see enlarged soda cans, as well as condiment bottles, and fun moving poster on the walls, and can watch pretzels growing and shrinking as they're hit with Pym particles.
Since all the seating was full at the Kitchen location, I carefully navigated the crowd and made my way back to the Hyperion seating area.
The walk wasn't bad, but if a HQ show is going on, this would have been very hard to get around and through people with a loaded tray.

Agent K. and I agreed all the food was really great except the salad. It wasn't bad but not something she'd order
again. I'm not a friend chicken fan but the sandwich was really tasty. It's a little misleading though, the chicken is normal sized, pounded flat. It's the bun that's been shrunken.
The candy bar is amazing and ticks every box being at once, savory, sweet, salty, chewy, crunchy, and rich. It's a foot long and two inches high! Bring a ziplock back because it's a lot and very rich.
If you're not sharing it, you'll want to bring it back home.
Pingo Doce was really great! The consensus is that it tastes just like a vanilla Mountain Dew. It's definitely something fun I'd like to get every time I go back.

The glowing capsules and discs are fun glow cubes that light up red or blue depending on which option you
choose to purchase (you must make a selection for either red or blue for both the capsules and discs when ordering.)
The Giant Pingo Doce can is a great souvenir and empty it makes for a great holder for all those new glow cube particles.

Notes: Hank and Hope's giant cell phones are positioned at the entrance to Pym's Test Kitchen and Pym's Tasting
Lab. Every so often you'll here a chime and at the top of the screens you'll see some fun texts from various Avengers and MCU alums! I will never tire of Sam Wilson calling Scott Pym tic-tac, lol.

22) THE CAMPUS AT NIGHT
Once we were finished with food, we hung out a little longer and waited until it started to get
dark so I could take photos of the Campus all lit up.
Agent K. and I made our way back to the main entrance and took photos on the now lit up ARC reactor and Avengers Campus sign.
The Sanctum was lit up, but VERY crowded so I took a few photos of what I could before we moved on.
After a few photos of the Quinjet all lit up, we noticed signs on the walls near the Legacy Passholder area were also lit up.
There are scanners on walls located throughout Avengers Campus and all of these light up and make for some fun photos, too.
Spotted Loki on the Avengers vehicle near the HQ chatting with recruits and it's fun to see all these interactions happening with people.

Snuck into Pym's Tasting Lab to take some photos of the bar.
The center of the bar is a giant can that says Silver Age in giant letters and has all sorts of hero nods and easter eggs all over it, like "Be a hero. Reduce waste to Zero," "Warning: the following drink was brewed in tanks made from repurposed Chitaurian Technology and has not been fully approved by Damage Control for suitable use," and more that I couldn't get photos of because of people.
Definitely something I'd love to come back for just to see all the eggs on it.

There are so many lovely nooks and crannies lit up throughout the campus that I lost track. One entire wall of
Pym's Test Kitchen is lit up and it makes for a gorgeous photo.
Don't forget the gate near Guardians. It's lit up and makes for a gorgeous photo with the tower all lit up behind it.

23) STAGE 17 SHOPPING AND SOME LAST PHOTO OPS
Agent K. and I finally said goodbye to Avengers Campus and left the barrier at the Hollywood land side. We made our way to Stage 17 for some finally shopping.
The park closed at 9 and we got in line at 8:30 p.m.
Once we finally got in, all things Avengers Campus were available.
I ended up getting opening day pins, reusable Avengers Campus bags, the Black Widow tactical upgrade for my Spider-bot, and some quinjet things.
They have a new Avengers Campus themed gift card available for purchase

There are three photo ops available inside. One is a giant lit up A logo, the second is the concept art map of
Avengers Campus California, and the third is from D23 and is a giant pretzel and Pingo Doce soda can.
There are also Avengers Campus quarter machines here, too.

Outside, I discovered they set up the WandaVision photo op near the stage and took some last photos. Then it
was time to call it a night and head home.

24) FINALLY SUMMARY Of AVENGERS CAMPUS TRIP REPORT
While there are definitely bugs to work out (I'm looking at you mobile ordering) there's a lot to love about this new Marvel themed land.
I think they really took notes from Galaxy's Edge and understood that guests want to be part of the environment, not just visit it.

I can see people being upset trying to find their favorite character when there aren't scheduled meet and greets, but the seeming spontaneity is partly what makes this new land fun.
It is very much like Galaxy's Edge in that it's not necessarily an all day experience.
There isn't a LOT to do or see here, but it will take time to do and see all the things that ARE available right now. I'm curious to see how things will be once Covid social distancing restrictions are lifted.
Having more places to sit and lines not having to be so distanced between guests I think will cut down on a lot of congestion that happened.

Unlike GE, however, it's so open to new adventures. Even though Hawkeye has been present at DCA before, he's
not here at the campus, but I have a feeling we might see him and another Marvel archer making an appearance once a certain show on Disney+ airs, and I can see that happening with other properties as the MCU expands.
Stage shows are easily changed and/or added as the MCU gets bigger and I'm so excited to see how this places grows in the future.
We also still have an E ticket that's in the works to look forward to, too.

It's one of those places where you could spend your entire time just character hunting, or show watching, or
trying all the foods. It feels like a really great start to something that's going to be incredible in the future and I can't wait.

It was a long day, but totally worth it and I can't wait until I get to go back again!
MISC NOTES:
The custodial cast members who keep the campus looking gorgeous all sport uniforms that have the DODC
(Department of Damage Control) logo on them, which I thought was a fantastic easter egg and totally keeping in the MCU universe.

Because Avengers Campus is a closed unit at the moment, there are no Fuelrod stations inside the campus, the
nearest is located in Carsland. By 11:30 I was already on my second charger because I had been taking so many photos and videos, not to mention using the ap for mobile ordering and boarding group checking. I brought 3 chargers and it was just barely enough for the entire day (keeping in mind my day started at 4:30 a.m. and I left the park at 9 p.m.)

Field Agent Tip: Always bring at least one, or better, two phone chargers with you.

Dress up!!!! Don't be afraid to let your love of Marvel show in your clothes and accessories! You'll find you're in
great company and I met some wonderful people who gave me all sorts of tips and info just by chatting.
Find the No-Guilt Disney Podcast Team
by email at [email protected]
Patty
Theresa
@gertiethedino on Twitter
@accessibleinfluence on Instagram
Jane
@realmousewifewdw on Instagram
@realmousewifeFL on Twitter
Music from https://filmmusic.io
"Vivacity" by Kevin MacLeod (https://incompetech.com)
License: CC BY (http://creativecommons.org/licenses/by/4.0/)
Patty Holliday has been running Disney since 2011. She knows just about every tip, trick, and hack there is to cover the runDisney Magical Miles at Disney World and Disneyland. She knows every mile isn't *always* magical- but with training, tips, and a little bit of pixie dust, they can be a lot of fun! You can also find her at noguilttravel.com and noguiltfangirl.com