Everyone will be talking about Disney's Pixar Soul in just a few more days- including your kiddos! Here are some Pixar Soul activity sheets for them to work on Christmas Day while the holiday meal is cooking. You can also read the Pixar Soul parent movie review here as well as check out some of the best quotes from Pixar's Soul!
About Pixar's Soul
What is it that makes you…YOU?
Pixar Animation Studios' all-new feature film "Soul" introduces Joe Gardner (voice of Jamie Foxx) – a middle-school band teacher who gets the chance of a lifetime to play at the best jazz club in town. But one small misstep takes him from the streets of New York City to The Great Before – a fantastical place where new souls get their personalities, quirks and interests before they go to Earth.
Determined to return to his life, Joe teams up with a precocious soul, 22 (voice of Tina Fey), who has never understood the appeal of the human experience.
As Joe desperately tries to show 22 what's great about living, he may just discover the answers to some of life's most important questions. He acts as one of the many mentors for 22 that tries to help her learn about the meaning of life.
Pixar's Soul Trailer can be watched here.
Disney Pixar Soul Activity Sheets For Kids- FREE!
You can download all of these fun activity sheets from the movie Soul for free- right here!
Click To Download Printable PDF of Soul Activity Sheets
In this activity pack, you'll have:
A Maze: Help Joe find his way through a piano maze
Spot The Difference: 11 differences
Door Hanger: Soul Joe and 22
Drawing Activity: Draw your favorite type of pizza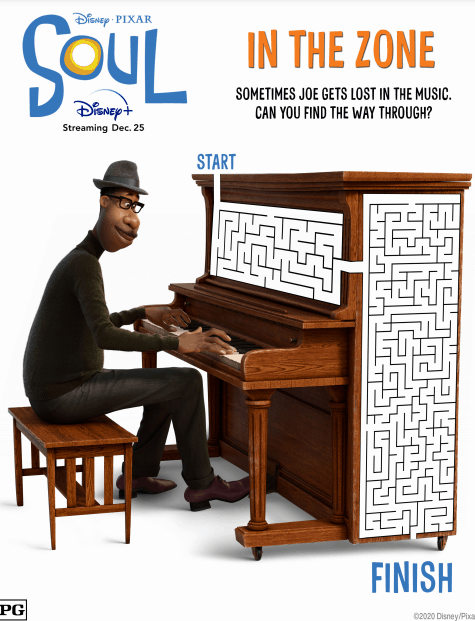 Patty Holliday has been running Disney since 2011. She knows just about every tip, trick, and hack there is to cover the runDisney Magical Miles at Disney World and Disneyland. She knows every mile isn't *always* magical- but with training, tips, and a little bit of pixie dust, they can be a lot of fun! You can also find her at noguilttravel.com and noguiltfangirl.com