It's Fall Y'all! Ok so maybe not officially but Starbucks and Disney say it is, so who am I to argue. I needed a distraction from life this weekend and went down the rabbit hole of TikTok to find some great cheap DIY Halloween crafts. I loved how easy this wreath sounded, so I hopped into the car and headed out to create this $10 DIY Mickey Ears Wreath From Dollar Tree.
Dollar Tree Halloween Craft Ideas
$10 DIY Mickey Ears Wreath From Dollar Tree.
I'm not a dollar store shopper.
I live firmly for Target pickup but I masked up and braved the store #fortheblog. (As Patty and I like to blame all of our best Disney ideas).
There are a ton of Halloween decorations, costumes, and accessories.
Thanksgiving and Christmas are also starting to appear.
I'd say go now to get the best pick of what they have, as I know they will sell out fast.
Do You Need To Be Crafty To Make This Mickey Ears Wreath From Dollar Tree?
You don't have to be crafty at all to pull this one off.
On a scale of 1-10, you can totally be a 1.
This is such an easy craft for the DIY-challenged.
It is so easy to do with kids and relatively easy to clean up (NO GLUE OR GLITTER!)
All the mommas said, Amen!
How Long Does Making the Dollar Tree Disney Wreath Take?
From start to finish this took me about a half-hour – AND I was stopping to take pictures and video for the blog.
This project is big on fun but not on time.
I turned on my favorite podcast (I highly recommend choosing one of the best Disney Podcasts including ours) and the time flew by.
What To Buy Dollar Tree For Your Mickey Ears Wreath
14" Wreath Wire Wreath Frame. This was in an aisle that is the regular floral section.
(2) 7-8" Mini Wreath frames for Ears – there is a wire set that has 2 for $1. My store was out, so I got 2 foam ones that were $1 each.
(1) Package of Zip Ties found in the hardware section
5-6 strands of 9' themed Halloween Garland – In the Halloween Decoration section. There were a few different kinds. I chose black tinsel with purple bats, but maybe you love pumpkins or ghosts. Make it all one color, or mix them up. Use your creativity.
1 Accessory – I chose the "Boo" Witches Hat because it reminds me of my Witch Minnie ears I wear and Boo to You all in one.
Optional: Glue Gun
Total Price: $9-11
DIY Your Mickey Ears Wreath From Dollar Tree
Step 1 – Create Your Mickey Head.
Lay your large wreath wring and your smaller rings out to resemble a Mickey head.
Make sure you get the ears where you want them.
I also laid my hat out just to check to make sure I liked how everything was spaced.
Step 2 – Zip Tie The "Ears" To The Large Center Ring.
If you zip tie to the inner wires of the large ring, you will find that the ears are more stable.
If you accidentally zip tie to the wrong place, just cut it off with a scissor and place them again.
Step 3 – Start Wrapping That Garland.
Take out your first strand of garland and start wrapping around the large ring.
You can start wherever you want. I started just below one ear and worked my way around.
The looser you wrap around, the fluffier the wreath will appear, but the more garland you will need.
I played around with how tight I wanted to wind it and I moved the garland around the ring to fill up space.
When you finish one strand of garland, just start another one.
Step 4 – Stabilize The Ears.
When you hit the ears, I wrapped it from the main wreath ring and just went up and around the ears and back down onto the main ring.
This added some stability to the ears and covered the zip ties.
Step 5 – Add Your Accessories.
The hat I chose was easy to find a wire and zip tie it right onto the wreath.
I wrapped it around the ears and through the main wireframe so it's stable.
If you don't have accessories that are able to be zip-tied, then feel free to use a hot glue gun to glue a bow or whatever other items you want on this wreath.
Step 6 – Hang On The Door Or Wall.
Pat yourself on the back and admire your amazing creation.
This was one of the easiest and most inexpensive little decorations I've ever done.
The best part is, that I can throw it out, or more likely, I will unwrap it and create a new one when I want to transition to the next holiday.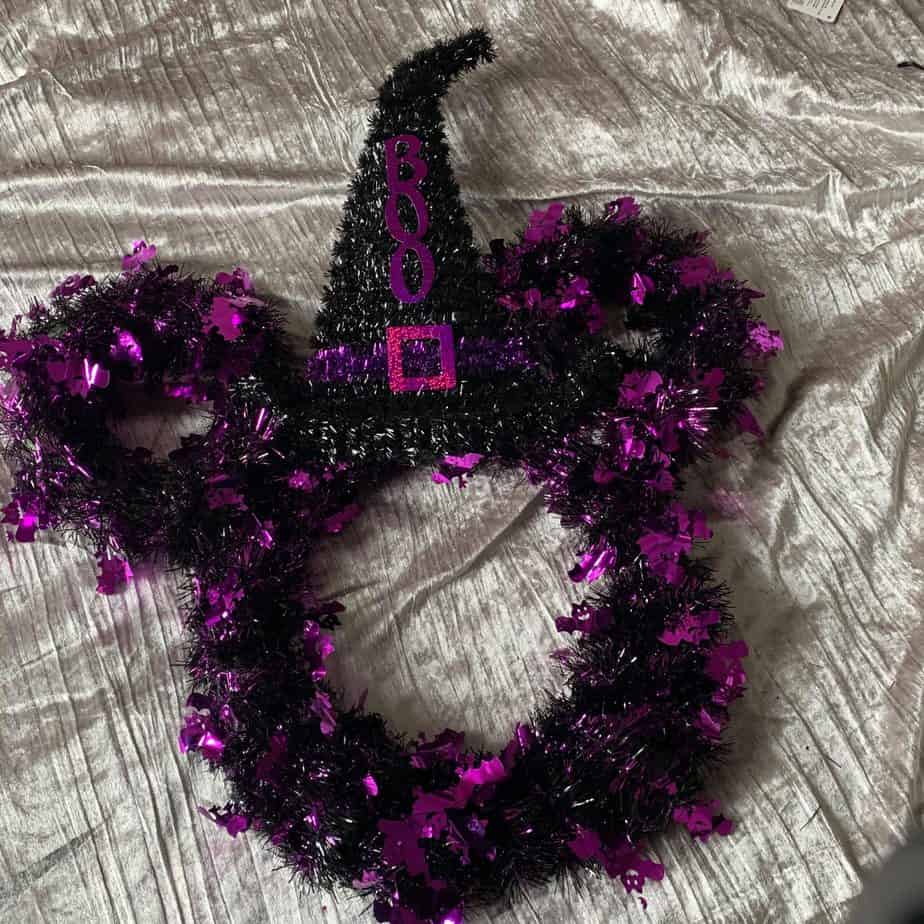 Mickey and Minnie are always in season in my house, so I'll probably dress this up for Christmas, Valentine's Day, and any other holiday or season I can find accessories for.
The possibilities are endless.
Are you going to make one of these? I want to see your creations.
Tag me on Instagram @realmousewifewdw so I can see what you've made with yours.
More Posts You'll Love
All the Disney Halloween Movies
Disney Halloween Party Ideas: Witch Minnie Mouse Cookies
Characters at Mickey's Not-So-Scary Halloween Party
Jane can be found living at Walt Disney World. Okay, so not quite inside the magic but just outside the gates in Celebration. Follow her magical adventures on Instagram @realmousewifewdw