The runDisney Princess Half Marathon weekend is one of the most exciting events out there! If running through Cinderella Castle – as Cinderella!- is on your running bucket list, this is the post for you. 18 of your top runDisney questions answered to get you running the Disney Princess Half Marathon in 2023. Here's everything you need to know about the runDisney Princess Half Marathon.
This race weekend is one of the most fun- and also most controversial- weekends that runDisney hosts.
It was our first runDisney event in 2011 where we became half marathoners and we haven't missed traveling to this race since.
runDisney Princess Half Marathon: Everything You Need To Know For 2023
Registration for the 2023 runDisney Princess Half Marathon weekend is open to the general public and if you want to run, we want to make sure you don't miss out on a thing.
Here's the Everything runDisney Princess Half Marathon Weekend post that YOU need.
Plus- we're going to ask you to check out this post to make sure you're really ready for the Princess Half Marathon.
This race isn't for everyone!
1. What is the Disney Princess Half?
It's a 13.1-mile course that runs through the Walt Disney World resort.
Highlights include running through the Magic Kingdom and Cinderella Castle and ending your journey passing Spaceship Earth in Epcot.
You can also run a 5K or a 10K.
But if you want the full Princess treatment, you can also run the Fairy Tale Challenge (10K plus Half Marathon on the same weekend).
And yes, you get a special medal if you complete that challenge!
2. When is the runDisney Princess Half Marathon Weekend Held?
You can run the Princess Half weekend every February.
It is typically held the weekend following President's Day.
It has been run in March in the past, but since 2011 it has been that last weekend in February.
The 2023 runDisney Princess Half Marathon Weekend will be run from February 23 to February 26.
The 2024 runDisney Princess Half Marathon Weekend will be held February 22-25, 2024.
Registration dates are still TBD but you can follow this link for more info.
3. What Is The Theme of the Princess Half Weekend?
Well, Princesses!
But each year the race weekend as a whole can represent different princesses.
For example, in 2019, the races were themed around Elana of Avalor, Mulan, Sleeping Beauty, and the Challenge medal honored Princess Jasmine.
The 2023 race themes are Jasmine (5K), Bell (10K), Moana (Half Marathon) and the Challenge medal will honor Cinderella.
4. How Do You Register For the Princess Half?
You have a few options.
5. Is There Early Registration For runDisney Races?
Early registration is available only for Club runDisney members at this time.
There are no Annual Passholder or DVC Member early registration dates.
6. How Much Does it Cost to Run the Disney Princess Half Marathon?
We'll be honest with you: the runDisney races are not cheap.
You can see just how much it costs to runDisney right here.
Specifically, the races are priced as follows for the 2023 Princess Half Weekend.
Disney Princess 5K – $103
Disney Princess Enchanted 10K – $146
The Disney Princess Half Marathon – $229
Disney Fairy Tale Challenge (run the 10K on Saturday and the half marathon on Sunday) – $389
7. Do I Need Proof of Time For the Half Marathon?
You will need to submit proof of time (completion of a race) if you plan to finish under 2 hours for the half marathon.
This allows runDisney and their race partner, TrackShack, to corral you according to your estimated time of finish.
If you don't have it during registration, you can turn it in later but there will be a cut-off for submitting your Proof of Time.
This is usually at the end of October, early November for the Princess Half race.
8. Are There Discounts for the runDisney Races?
There are no discounts for the runDisney race bibs at this time. And that includes Annual Passholders. WhompWhomp.
In the past, Disney Visa holders were privy to $10 off the cost of race bibs but that ended many years ago.
Resort rooms may have a discount available and those discounts are announced a few months in advance.
Typically one can see an Annual Passholder, Florida Resident, or general discount available during most race weekends.
However, these discounts are very limited and are snapped up quickly.
Be sure to let your Travel Agent know what you might qualify for so they can try to apply the discounts for you when they are announced.
Please note: in our experience as a travel agency, these rooms are extremely limited and we advise runners not to count on getting a discount during race weekend. If one comes available for your dates, consider that an awesome helping of pixie dust!
9. Do Disney Runs Include Park Admission?
Great question! But no.
Outside of the racecourses that may enter the Disney Parks, the race bib does not provide Walt Disney World admission.
If you wish to visit one of the 4 theme parks, you will need to purchase Walt Disney World tickets separately.
10. How Many People Run the Princess Half Marathon Every Year?
Short answer: a lot!
Longer answer: the 2020 Princess Half had over 20,000 finishers with just over 17,000 of them women.
You go, girls!
11. Can Guys Run the Disney Princess Half?
Men you are absolutely invited to the Princess party.
And please do come run with us. You'll be welcome to join the approximately 3,000 other men who ran in 2020.
The race is themed for women, however, so be aware the shirts tend to be pink and purple.
There are men's cut shirts offered, but the colors and decoration will be the same for everyone.
If you want to have a little fun with it, you can always consider running like the Princess Men do – dressed as their favorite princesses.
12. What Time Does the Disney Princess Half Marathon Start?
Stupid early, y'all.
All of the runDisney races start at 5:00 am, which means a 2:30 am wake-up call.
Yes, you read that correctly.
In this case, the price is sleep!
13. How Long Do You Have To Run The Princess Half Marathon?
Like most racecourses, Walt Disney World does put a time limit on the runDisney Princess Half Marathon.
Runners must complete their race by averaging a 16-Minute Mile, which equates to a 3-hour and 30-minute half marathon.
However, this 16-minute mile actually starts when the runDisney Balloon Ladies start the race. You'll want to know more about them.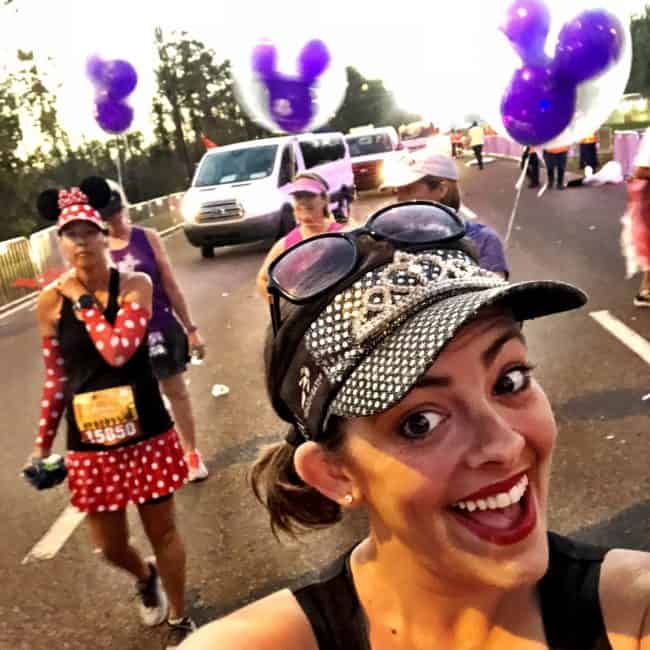 14. Can You Walk the Princess Half Race?
You can!
As long as you can maintain the 16-minute mile, which for some is a brisk walking pace, you absolutely can walk the Princess Half Marathon.
My friend Kimberly gives some tips on walking the runDisney races for you.
15. Where Do You Pick Up Your Bib For the Princess Half Weekend?
All bibs for the runDisney Princess races (5k, 10k, and half marathon) will be picked up at the runDisney Expo.
The Expo is held at the Wide World of Sports complex and there is race event transportation available from your Disney resort hotel.
You can also drive to the Expo and park for free.
This post explains how to pick your bibs up from the runDisney Expo.
16. Princess Half Marathon Course Questions
This is a popular question for new runners: what does the Princess Half Marathon course look like?
The good news is that it's predictable; while many runDisney racecourses have changed over the years, the basic Princess Half course has remained the same. It's all about getting you to and through the castle.
And there are really no major hills on the Princess Half course.
There are some overpasses and onramps that you have to head up (and down!) but even this hill-averse runner will admit that the course is essentially flat.
And there ARE real bathrooms on the Princess Half course.
Where Does the Disney Half Marathon Start?
This race starts near Epcot.
You will arrive at the Epcot parking lot, be routed through security, and wait for the Start Groups (corrals) to open in the family reunion area.
Once the Start Groups are open, you will walk approximately a mile to the start group staging area.
Where Does the Princess Half Finish?
Also near Epcot!
And here's what you need to know about the finish line of a runDisney race.
Once you go through the finisher chute, you will be routed to the family reunion area.
Here's the Princess Half Marathon Course Map for 2020.
Where Does The Princess 5K Start and Finish?
The 5K starts and finishes in the Epcot parking lot.
Runners will take resort race transportation, drive a private vehicle, or Uber/Lyft to and from the racecourse start line.
You will be routed through the security lines.
The start line is in the parking lot vs out on the open roads like the half marathon.
Where Does The Princess Enchanted 10K Start and Finish?
The 10K also starts and finishes in the Epcot parking lot.
The 10K has the same start and finish line as the 5K.
17. How Long Does It Take To Train For the Princess Half Marathon?
runDisney partners with Jeff Galloway, an Olympian, and marathoner, for all their training plans.
He suggests a 19-week training plan for a half marathon for beginners as well as experienced runners.
Can you train for a half marathon in less time?
Probably- a lot of that depends on your current fitness levels and your race goals.
If you are looking to just finish and not die, then sure, you can get away with a shorter time commitment.
But trust us: that's not a good feeling at the end of the race!
Put in the training, respect the distance, and you'll finish with a big ol' smile on your face.
18. What Characters Stops Are on the Princess Courses?
It really can change from year to year.
runDisney does not announce the character stops in advance as they don't want to spoil the magic.
But you can check out this post about character stops at the Princess Half to get an idea of who you might see.
More Helpful Advice For the Disney Princess Weekend
You can never have too much advice when it comes to runDisney!
Here's the Essential Guide to the Princess Half Marathon that helps you navigate the race weekend like a pro.
The runDisney Ultimate Guide to Magical Miles is a round-up of all things runDisney: from running costumes to registration to where to eat before the races to a great printable full of Princess packing tips.
And if there are any other questions not answered in this post about the runDisney races or the Princess Half, go ahead and visit the Answers to Your runDisney FAQs post.
Bonus tip: know what happens every year during Princess Half weekend? National Margarita Day, friends! Here's where you can find the best margaritas at Disney World to celebrate National Margarita Day.
Want More Disney Tips?