We love a good Disney animated movie that drops during Thanksgiving week. Frozen and Moana are favorites and we're adding Encanto to the list as well! Here are the movie quotes from Encanto that will have you believing in magic this holiday season.
About Encanto
In the film, the magic of the Encanto has blessed every child in the family with a unique gift from super strength to the power to heal—every child except one, Mirabel.
But when she discovers that the magic surrounding the Encanto is in danger, Mirabel decides that she, the only ordinary Madrigal, might just be her exceptional family's last hope.
You can watch the Encanto trailer here.
When Can You Pee During Encanto?
Is Encanto Ok For Kids? Parent Movie Review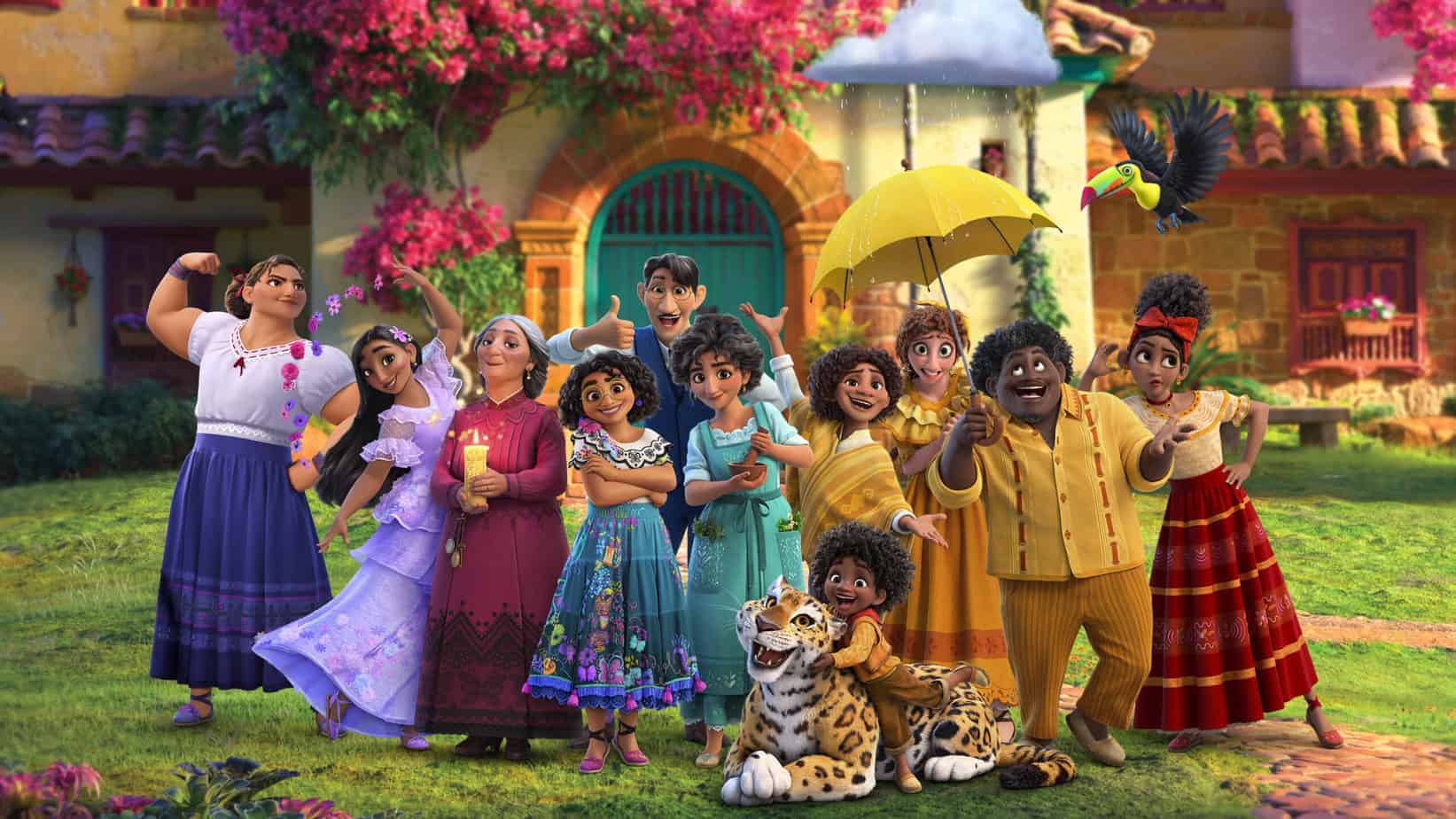 Movie Quotes From Encanto That Will Have You Believing In Magic!
In our darkest moment we were given a miracle. – Abuela
Many years ago, this candle blessed our family with a miracle. – Abuela
Our house, our casita, came to life with magic! – Abuela
Hola, Casita! -Mirabel
Casita, help me out! Drawers, Floors, Doors! – Mirabel
Whew- make your family proud! – Mirabel
I used to say my real gift is "acting"! – Bruno
In time, every member of our family was given their own magical gift. – Abuela
Uh huh, uh huh. I understand you! – Antonio, Encanto Movie Quotes
The donkeys got out again. – Man
On it! – Luisa
But Mama, why am I the only one that didn't get a gift? – Mirabel
You're just as special as anyone else in this family. – Julieta
The magic is in danger. We got to get out of here. – Felix quotes from Encanto
We must protect our home. We must protect our family. – Abuela
I feel like I missed something… – Bruo
Mirabel, the fate of the family is gonna come down to you. – Bruno
Let me help you. The rats told me everything. Don't eat those. – Antonio
Sometimes family weirdos get a bad rap. – Mirabel
Even in our darkest moments, there's light where you least expect it. – Mirabel
Whoa- a lot of stairs, but at least I'll have a friend. No, he flew away immediately. – Mirabel
This is my chance. I will save the miracle. Wait. How do I save the miracle? – Mirabel
I'm losing my gift! – Luisa
JUST TELL US WHAT EVERYONE CAN DO! – Boy
Annndd… that's why coffee is for grownups! – Mirabel quotes from Encanto
What's your gift? – girl
Oh, Mirabel didn't get one. – Dolores
Quitter! – Mirabel
Gift or no gift, I'm just as special as the rest of my family. – Mirabel
Maybe your gift is being in denial. – Cecilia
I gave you the special since you're the only Madrigal kid with no gift. I call it the 'not special' special. Since, uh, you have no gift. – Donkey delivery man
Uh, thanks? – Mirabel
Last gift ceremony was a bummer- last one being yours. – Donkey Man
Did someone say flowers? Please… don't clap. – Isabella
I can't. – Mirabel
I need you! – Antonio
The Magic is strong- and so are the drinks! – Abuela
Open my eyes. If the magic is here, help me save the miracle.- Abuela
And Luisa- I heard her eye twitching all night. – Dolores
Bruno, your room is the WORST! – Mirabel
My gift wasn't helping the family, but I love my family. – Bruno
We hope you love these movie quotes from Encanto as much as you love the music and the movie!
More Movie Quotes You'll Love
Quotes From Hawkeye Series on Disney+
Shang Chi QuotesFreeze the Frame… Read These Movie Quotes From tick, tick… BOOM!
Movie Quotes From King Richard That Are ACES
BEST Movie Quotes From Ghostbusters: Afterlife that Came, Saw and Kicked A!
Kate Bishop Quotes From The Hawkeye Series That Land True
I'm Vengeance- Best Quotes From The Batman (2022)
Thrilling Quotes From Last Night In SoHo