runDisney fans were treated to a new race weekend in 2022: the Springtime Surprise. Runners enjoyed throwback races for the inagurual event. What are the themes for the 2023 runDisney Springtime Surprise? When will it be held? And when does registration open for this runDisney race? Here's everything we know about the runDisney Springtime Surprise for 2023.
Everything We Know About The runDisney Springtime Surprise
Joining a ton of exciting new Disney experiences in 2022, runDisney changed up the theme of the spring race.
Once known for its Star Wars races, Disney World decided to shake things up a bit with this new, revolving theme race weekend.
Does that mean we could see Star Wars-themed races return? Sure could!
But we won't know each year until Disney makes the announcement.
Here's what we do know about the runDisney Springtime Surprise race weekend.
When Is The Next runDisney Race Being Held?
The next runDisney Springtime Surprise is being held on April 13-16, 2023.
Mark your calendars and reserve your Disney World Resort rooms and theme park reservations now!
Here is the current runDisney race calendar.
What Is The Springtime Surprise?
This race weekend date and theme will change yearly.
It is currently scheduled to run in April of every year, but the date will fluctuate annually based on Easter and Spring Break Disney traffic.
This is a relatively new race weekend, so the history of events is not very deep.
See below for previous Springtime Surprise themes.
When Can You Register For The Springtime Surprise Weekend?
The runDisney 2023 Springtime Surprise registration dates are:
Club runDisney Early Registration: August 16, 2022
General Registration: August 23, 2022
Virtual Experience Registration: August 26, 2022
Do You Have Any runDisney Registration Tips For The Springtime Surprise?
You know we do!
The races sold out super fast last year, and with a new fun theme annually, we expect to keep seeing that happen.
Check out these runDisney race registration tips to help prepare you for registration day.
Who Is The Sponsoring Charity For 2023?
Make-A-Wish® Central & Northern Florida is the sponsoring charity for this year's Springtime Surprise.
There are other charities that will have bibs for this race weekend, however.
Please watch this post for updated information as it develops.
What Were The Past Themes For The runDisney Springtime Surprise Weekend?
We've only had one race weekend under the Springtime Surprise heading so far.
runDisney Springtime Surprise Weekend Celebrates Yestermorrow (2022). This race weekend celebrated old runDisney races, bringing them out for one more run! Expedition Everest 5K, Race for the Taste 10K, and The Tower of Terror 10-Miler were all run on March 31-April 3, 2022.
What Is the runDisney Springtime Surprise Theme For 2023?
Just announced 8.11.2022:
It's PIXAR!
Stay on track as you run along courses inspired by some of your favorite Pixar Pals, including Disney Pixar Cars 5K, Disney Pixar Monsters 10K and the Disney Pixar Toy Story 10-Miler.

– runDisney.com
We previously guessed some possible/hoped-for themes for future Springtime Surprise races, and for 2023, we were right!
Return to runDisney at Disneyland (Disneyland Half Marathon Weekend)
Pixar Themed Races
Return of Star Wars-themed races (Baby Yoda)
Marvel-themed races (caveat: only certain characters can be used at Disney World due to licensing agreements)
More 10-Milers
Heroes vs. Villains Races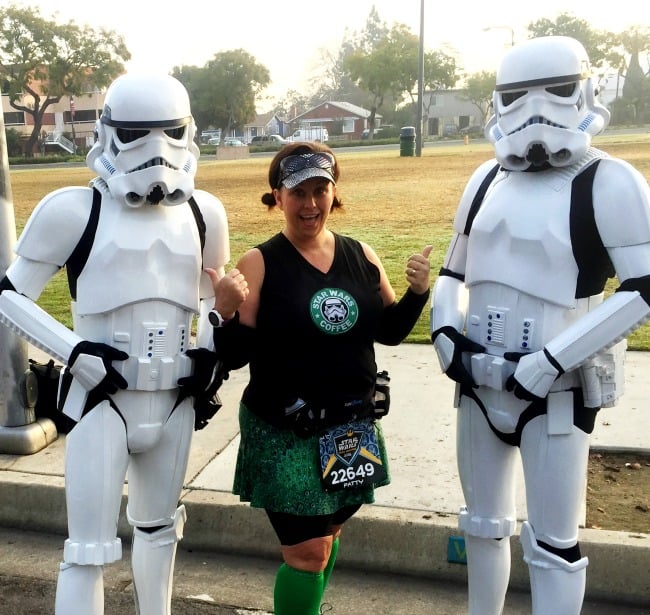 What Distances Will Be Run At The Springtime Surprise In 2023?
Disney Pixar Cars 5K
Disney Pixar Monsters 10K
Disney Pixar Toy Story 10-Miler
Springtime Surprise Challenge (run all three races above and earn an additiona medal)
Springtime Surprise Yoga
More runDisney Posts You'll Love
runDisney Spectator Guide: How To Cheer At Disney World Race Weekends
Best runDisney Restaurants To Fuel Up Before Races!