See you real soon! We can finally put a date to some of the "when will Disney re-open it's parks?" questions. Breaking news of the Disney Parks variety: Shangai Disneyland Resort announced that Shanghai Disneyland will re-open this month. Here are all the details and what the new parks experience will entail for guests.
Y'all, a Disney Park is FINALLY RE-OPENING!
No, it's not one of our domestic parks, but we needed this glimmer of hope.
Shanghai Disney Resort announced today that Shanghai Disneyland will re-open to the public on May 11, 2020.
This means that starting May 11th, "it's a small world" will finally be playing somewhere in the world (and not just in my own house).
What Does Shanghai Opening Mean For Walt Disney World and Disneyland?
What does this mean for Walt Disney World and Disneyland?
Well, nothing exactly, yet.
But taking a look at their approach to re-opening Shanghai Disney Resort will give us some idea of things that might happen when our parks are ready to welcome us.
Shanghai Disneyland Reopens with Controlled Capacity on May 11
From Disney Parks News:
During this initial re-opening phase, Shanghai Disney Resort instituted enhanced measures and procedures that comply with government directives and focus on the needs of guests and cast members. The initial park re-opening will demonstrate a deliberate approach, drawing on the experience from the successful re-opening of Disneytown, Wishing Star Park and Shanghai Disneyland Hotel in early March, and implement enhanced health and safety measures.
At opening, these measures and procedures include:
Limited and pulsed attendance with an advanced reservation and entry system: Guests are required to purchase admission tickets valid on a selected date only and Annual Pass holders must make a reservation prior to arrival.
Controlled guest density: Capacity will be recommended and managed in queues, restaurants, ride vehicles and other facilities. Queues will be structured and ride vehicles will be loaded to promote social distancing.
Implementing required government health and prevention procedures: This includes temperature screening and the use of the government-issued Shanghai Health QR code, a contact tracing and early detection system used in China. Additionally, guests must wear a mask during their visit, except when dining.
Increased sanitization and disinfection measures: Hand sanitizers will be available at queue entries and attraction exits. High-touch locations, such as ride vehicles, handlebars, queue railings and turnstiles will have increased sanitization.
Training for cast members: Cast members will receive training on procedures with an emphasis on contactless guest interaction, cleaning and social distancing and will receive additional protective equipment including masks.
Shanghai Disney Resort plans to recognize and celebrate the contributions of medical professionals, with additional details announced soon.
More details from Disney Parks Chief Medical Officer, Pam Hymel
I'm curious to see how this opening goes.
First priority is always the safety of every cast member and guest.
But I know we are all wishing to get back to our new version of our magical lives.
No-Guilt Disney Podcast Discusses Shanghai Disneyland Reopening Plans
Find the No-Guilt Disney Podcast Team
by email at [email protected]
Patty
@noguiltlife on all socials
Theresa
@gertiethedino on Twitter
@in.sight.full.life on Instagram
Jane
@realmousewifewdw on Instagram
@realmousewifeFL on Twitter
Music from https://filmmusic.io
"Vivacity" by Kevin MacLeod (https://incompetech.com)
License: CC BY (http://creativecommons.org/licenses/by/4.0/)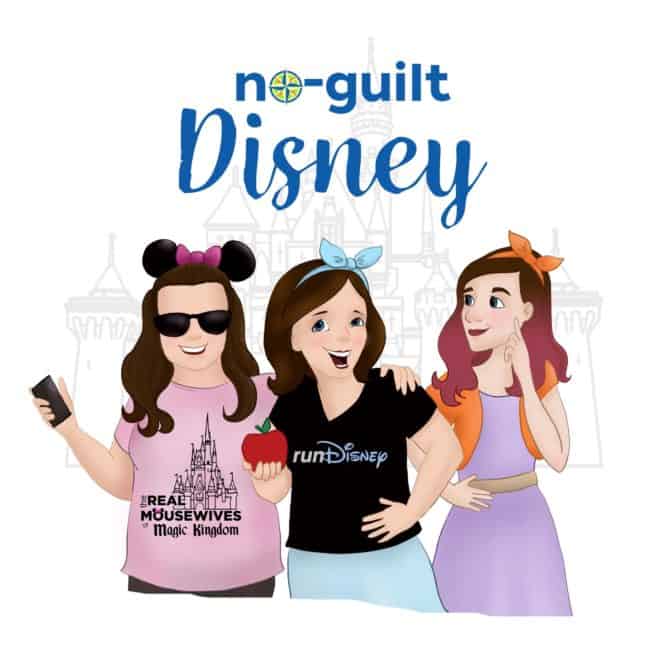 Transcripts From No-Guilt Disney Podcast Episode
Patty 0:06
To all who come to our happy place, welcome to the No-Guilt Disney Podcast – where we have no guilt about our love for all things Disney.
Jane 0:13
We are three Disney fangirls who probably know more about the Disney Parks than most grown women should – and we're perfectly okay with that.
Theresa 0:21
That sounds accurate.
Patty 0:22
Yes, totally okay with that.
Theresa 0:25
Hello everyone. My name is Theresa and you can find me on Twitter at @GertieTheDino.
Jane 0:29
I'm Jane and you can find me on Instagram at @RealMousewifeWDW.
Patty 0:34
Hey, y'all, I'm Patty Holliday from NoGuiltDisney.com and No-Guilt Travel, a travel agency that specializes in Disney and Universal vacations. You can find me on all socials at @NoGuiltLife. And now we've got some huge news. Huge, huge, huge massive news to talk about, which plays nicely into what our topic was already picked out for the for the week. So I kind of like how Disney hooked us up this way.
Theresa 1:00
We're just that good.
Jane 1:02
They're obviously listening.
Patty 1:04
Oh, by the way, thank you so much for listening Disney, we do appreciate your support. All right. So the news that we have is that Shanghai Disneyland is opening on May the 11th. And as Jane said, her line made me laugh. "Finally, it's a small world will be playing somewhere in the world again, and not just in my living room." Alright, so before we get into details of what the opening looks like, and that sort of thing, I just want to ask you guys, tell me: how did the news make you feel? Like initially, your first gut reaction when you saw it?
Jane 1:46
I mean, I kinda almost cried. I am so excited. Even though it's, you know, all the way around the world. I've never been there. I have zero connection to Shanghai. But I was so hopeful for what it means for our Parks. So I was excited. Other than that, I mean, my other first reaction was, hey, Patty, I'm gonna throw this blog together.
Patty 2:16
Thank you for doing so. By the way, guys, I do have a blog that has a little bit more details about what's happening. And if you're interested in reading that, I will link it in show notes for you as well. What about you, Theresa, what do you think? You were listening to the to the call, weren't you?
Theresa 2:33
Yeah, the shareholders call. I've been kind of paying attention to what Shanghai had been doing recently. So I was anticipating they were going to announce the day today during the call, because we've seen pictures that they've been testing out procedures with fake guests at the entry points. And they've been placing some distancing markers in makeshift queue areas. So I had a feeling was coming. I didn't expect it to be May 11, just around the corner, I thought it would be later in the month. So that was that was exciting, they were closer along than I thought. I feel…I'm excited about it. I feel neutral-ish, only because like Jane said, I want to go to Shanghai at some point, but I have never been there. I think it's going to be really fascinating to see how it goes. And if any of the things that they're putting in place now, how that is reflected back in the US Parks and what they'll be able to do, what they'll have to change. So I'm interested just from a planning perspective how everything goes there, and what will eventually come out our way.
Patty 3:42
Yeah, I felt – I think my first response was relief, like, we've just been waiting for a date for something to happen, and for something to move forward, to show some progress of some sort, right? And so it was a relief. And then it was also some hope. And then when I saw some of the details of what they were doing, I was also shaking my head going, you know, it's not a bad plan. Now, we'll get into some of what those details are and what it all means in here in just a second. I'm not 100% sold, that it's going to work. I'm not 100% sold that going to any Disney Park with the amount of people that will be there is a smart idea for a lot of people. But at the same time, the things that they're putting into place, I kind of feel like it's a step forward in – I know everybody says "the new normal." But we're not…it's not going to be Disney that it was on March 12, before they closed, right? That's gone. We're not going to have that for a long time. So we are just going to have to shake off those expectations, and look at what we can do and how we can do it. And what they have laid out. I think could work with some tweaks. It's gonna be bumpy. I expect it to be bumpy at first. I just hope being that it's bumpy from a logistic standpoint, not from a, "Oh my gosh, everybody got sick from this massive outbreak at Shanghai Disney." I'm sure Disney hopes that as well. So I'm hopeful and, and also had a little bit of relief going on with this. So that's kind of where I stood with it. Theresa, tell us what you learned. Like I said, I know you were following along a little more in detail. So tell us basically what we know as far as what they're going to do with this opening.
Theresa 5:43
Shanghai had been slowly reopening some things along the way. So it's not like everything is finally opening all at once. They had opened…I think it's called Disneytown, which is their version of Downtown Disney or Disney Springs. I know people have been able to go eat in one of the restaurants in one of their resort hotels. So they've been gradually easing back into it. And when their Park opens next week, it's going to be opening as much as they can. But it's still not going to be full Park operations, which nobody should have anticipated they'd be, full on going as soon as they're back. They are going to be doing very, very limited attendance, where guests will have to purchase admission ahead of time for selected dates and Annual Passholders have to make a reservation prior to they arrive. One of the really interesting things that came out on the call is Disney tends to be quiet about what Park capacity is. We found out today that Shanghai Disneyland has an 80,000 guest total capacity. In Shanghai, regulations say that places can open up to with 30% capacity, and Shanghai Disney said they're going to be opening below that.
Patty 6:56
I caught that too. I think Shanghai said 24,000 people could be allowed that we're going to do a lot less and ramp up.
Theresa 7:06
Right, because they also have all of the Cast Members that have to be added into that number as well. So guest number will be lower. They are going to be spacing out on ride vehicles and queues and restaurants, how close people are able to get to each other. They're gonna be doing, in terms of the health checks: temperature screenings, they are requiring masks for both Cast Members and for guests, except for when they're eating. General increased sanitization, which we I think we all anticipated; that's one that's not surprising. There's gonna be additional training for Cast Members. The other, I think, notable things specifically Disney-related is they're not going to be having any fireworks, parades, or meet and greets. They said characters will be making appearances in a new way and face characters won't be wearing masks. So I think in whatever "new way" they'll be appearing, it will be from a very far distance, right? You'll be able to see characters in the Parks, but you won't be able to go up and like, take a picture with them or get their autographs. I trust that they're going to do everything they can to make it feel as Disney as possible. But it is going to be a very different experience for people who have gone there in the past and who plan on going next week.
Patty 8:19
Yeah, I know one of the big things that people were saying online, is it the queues – how can we have people stand in line, even if you tell them they have to be six feet apart? That lines will reach you know, using a US Park, the line for Big Thunder Mountain is going to reach all the way back to Space Mountain, right? And I did note that in the call it said something along the lines of Disney is going to use technology to help with social distancing through things like Play Disney Parks and virtual queues.
Theresa 8:53
Yeah, I think we'll see more virtual queues. It's good that they've already started testing that and how that works. I think what's also going to be interesting is how they handle…Big Thunder Mountain is a great example, because there are so many interactive elements in there that they have to find a way to keep people from playing with them. I think that's something Disney has gradually tried to put into so many of their new rides as ways to keep people entertained while in line. And now they have to go back and be like, "Well, now we have to figure out a way to cover all of that and take it away, because we don't want people constantly touching everything." And especially for little kids. They see it they're gonna want to touch it. So I can't blame them for that.
Patty 9:32
I wonder if, to segue this to how it would look at a U.S. Park, if it's a virtual queue, and then you go through the Fastpass lines instead, Right?
Theresa 9:46
That's what I would imagine.
Patty 9:48
Because then it takes away that special touches and all those things. It's a shorter, enclosed line to go through. But also then, do all Fast Passes get, I don't know, Fastpass/Virtual Queue, same thing? It will be fascinating to see how it all works out. I don't know.
Theresa 10:09
Well, essentially, right now – or I should say months ago – that's essentially how the Rise virtual queue was working. Because there was no standby, but physically they were sending you through the standby line. There is another much shorter…I guess eventually it might become a Fastpass line. That's basically where, if you get evacuated, when you come back, they don't make you go through that queue again. So you go through the much shorter queue. And I would imagine that they would send everybody through Fast Pass. Because like you said, Fast Pass lines don't have the entertainment that regular queues do. I remember the first time I did the regular queue on Toy Story, and I was like, "Oh my gosh, there's so much to look at."
Patty 10:55
There is. But, Jane, you did stand by. What's up with that?
Jane 11:00
It was awhile back.
Patty 11:04
All right. All right, just checking, just making sure. Yeah, so it's gonna be interesting, all of these things that they're putting into play. I know also, they said the health and safety checks, they're gonna check temperatures. They're also required in Shanghai to use the government issued health QR code, and then contact tracing. And then that early detection system that they use in China is going to be implemented. All of those are things that we don't have here in the United States as far as that that tracing element yet. And the more I read about this, and some of the thoughts and some of the processes that they're putting into it, it just made me think that as we all guessed, and as we all assumed, they were being very thoughtful about how to reopen these Parks. So my assumption is that at this point in Shanghai, they feel that they can make this happen. Now you have to remember, Shanghai's been close since what, January? So it's been down a lot longer. Their rate of infection right now in general in China is, like, next to nothing at this point. I think that's kind of accurate. I don't know if you guys are paying that much attention as me, but I thought that was the case, as they had pretty much they'd slowed a lot of things. Which, obviously the US, and even France, weren't. We're not at that point yet. So, anybody that's realistically looking at a calendar and thinking June 1 as an opening for Walt Disney World…I got to say, I was hopeful that it could be in June, but I'm thinking July, August, September, maybe?
Jane 13:06
I agree. Yeah, I think we're looking more towards probably mid-to-end of July, and I think a lot rides on what happens in Shanghai and how they implement it, and then what it is that we can do here realistically. W\e have many more parts, many more Cast Members, many more teams. So what does that look like for us? And I think it's evolving every day.
Theresa 13:37
Yeah, I wouldn't blame them if they intentionally did hold back to that point, because you figure between now and then: there's Memorial Day, and there's Fourth of July, both of which are very high volume days in the Parks. And I think that we will eventually see some level of reservation system, or they're gonna lower what capacity is for people to get into the parks. So I wouldn't blame them if they decided to wait until after these two large holidays, when people will probably be trying to descend en masse to get in, the way that a lot of people typically would. I'm also interested to see…because the Fast Pass system, for people who don't know, is different in how it's approached at Walt Disney World versus Disneyland. Walt Disney World, because it's more of a family vacation spot, the emphasis is to get everything booked, 60 days, 30 days out. And at Disneyland, you can't start booking your Fast Passes until you enter the park. I'm curious to see if, because of how they're doing the reservation systems, if they will kind of go to that method. I think that way you also – because it is kind of like the virtual timing then too, it's almost a virtual queue set up, because you can kind of keep getting your Fast Passes one after another.
Patty 14:55
Oh my gosh, did, Coronavirus just give me what I've always been wanting? Is Coronavirus giving me the Disneyland version of Fast Passes? Because I love that system, and I can work that system hardcore. You just kind of stay on top of it. But it's delightful to me and I really, I really love it.
Theresa 15:18
My favorite is, especially, being able to book a Fast Pass in both Parks in one day. It makes it so much easier to do that. So that, to me, that's something I could see them trying to do. But I, again, I think because people approach those vacations to those two spots in such different ways, because they've ingrained the pre-planning so much to people who go to Florida. I think so many people, if they tentatively had trips booked for early in the summer, they already have their Fast Passes. You can't really say, "Oh, we're taking this away from you now." So I think logistically they there's a lot they need to figure out just in terms of Park Operations, much less the the health and safety of everybody going.
Jane 16:02
It'll be interesting with, you know, we have so many people coming from out-of-state. And there's so much travel involved. I'm curious how that'll work and how that will feel. Would they start maybe with just state of Florida first, like something easy? And even all the hotels, how many hotels do we have? Are they going to open them all at once? Is it just going to be a handful? How is that gonna work?
Patty 16:34
It's a lot. My vision is that – and Disney, of course, if you need to call me, and we need to talk about this, just let me know. My vision is that yes, that it will be a handful of resorts that are open initially, and that's to keep the amount of people, Cast Members, on site, as well as to watch and handle some of the tracing of, who was where and when if things happened, right? I know that they've said that before, or I've read before, that it would only be open to Florida natives or to locals or something like that. And my only issue with that is: how many Floridians are actually going to go to Disney, versus you've got people from other states who aren't nearly as affected as Florida is right now, who would happily jump on a plane and come on down? I don't know. It's just my thought process is that, yes, Floridians like Disney World, I'm not saying they don't. But I'm just wondering…I don't know. It just seems weird to me to cut off other states completely like that. And how would that work? How would they do that? You can only book a reservation at a resort if you have Florida ID? You know what I'm saying? How are they going to control that?
Theresa 18:08
Well, and putting my own situation, I'm an out-of-state Passholder. I don't think that they can necessarily restrict it to a state like that, because you also would have people maybe who live right on the other side of the state line in Georgia who are a couple hundred feet away, and there's not much difference between them and somebody inside Florida. So I think especially because there are out-of-state Passholders, I could see them extending the AP expiration date, if you're still being excluded from being able to go in. But I think it's going to be more, you have to have a resort reservation, or you have an Annual Pass, I could see them limiting it to that to try and kind of make sure that people who are already have given them money to be able to go. I think you'll see more likely that a resort reservation will be required if you're not in state.
Patty 19:05
That's a good point.
Jane 19:06
The other thing it brings up though, is for all of the locals that have Annual Passes that wouldn't necessarily be told we couldn't go, but we don't necessarily make hotel reservations. Is there only a certain amount of Annual Passholders that can go on any given day? Because I'll tell you, I will be the first person to be like, "Oh, no, I pay top top of the line for my Annual Pass. You are not going to tell me I can't go."
Patty 19:37
That may be some of the changes that are going to have to be worked out and figured outSo in Shanghai, Annual Passholders have to do a reservation. So, it would possibly be the same thing here. Will they make a difference between Annual Passholders out-of-state like Theresa, who is getting a resort? Like does your resort trump your Annual Pass. So as long as you have a resort reservation, you're good?
Jane 20:04
Or does your Annual Pass trump your resort?
Patty 20:08
Right. How does it work? So obviously, we don't know, we're just talking about what could be, or how this could look. But I do think we're all in agreement that it's not likely to happen, obviously in May it's not happening. June, hmm. Maybe end of June is a possible earliest, but it doesn't feel right. It feels to me like it's going to be July, July at the earliest.
Theresa 20:36
I could see Disney Springs, end of June, or mid-June, or even earlier, because opening a restaurant or a retail store is a little different than, you know, being concerned with the entire Disney complex. So I think it'll be similar that Shanghai did it, it'll open in stages. So you'll see Disney Springs opening first. I could even see them opening up some of the resorts and people just doing a resort stay, because I think people will do that just to be in the Disney bubble. Even if they can't do everything that they typically would do. So I think it'll be similar that: you'll start to see restaurants and retail opening first. And then that'll be somewhat of an indicator of how far along until the rest of the Parks gradually start to open.
Jane 21:24
Yeah, I mean, we're only allowed to have 25% of capacity in restaurants right now. So, you know, if Disney followed that same model, then it's the same thing. How many people can they fit anywhere? And I just think that unfortunately, while there's so much hope with a Shanghai opening, I think we have a lot more factors than Shanghai does. And I think that that complicates things.
Patty 21:54
It's definitely a bigger property and a lot more moving parts. But I do still think that it's possible. To me, it still comes down to the fact that our country and the state of Florida, even if we are just only looking at Florida, at the Cast Members that live there, at the state of Florida residents who would be the first people to come to Disney, if it should open, even just looking at that – Florida's not in the clear, right?
Jane 22:28
No.
Patty 22:29
So I think even just on that level of expectations, use that to guide your expectations as to when is this truly going to happen for us? So, I, like I said, I'm happy to see that we have some movement, that we have a date, and that they're showing us what steps could happen. Will all those steps translate and work in a US Park? We don't know yet. We'll have to see. I kind of also personally feel that, sure, two months ago, that wouldn't have worked. But going forward, we might all as a community, as a people, have to accept some differences and some changes. And I think that's possibly going to be one of the hardest things for just the general public to accept. It can also make a difference. If you aren't willing to wear a mask at Disney, because it ruins it for you: cool, come back in two years, right? I mean, that's the hope is this virus won't be around for forever, right? That there will be some end in sight. So nobody says you have to go to Disney and wear a mask. They're just saying if you go to Disney, you might have to wear a mask. Right? So we'll see.
Theresa 23:45
Yeah, that's been the…we're not gonna get into a debate about this, so if you're listening, don't feel like you have to turn it off. But it's been interesting because I've seen that that's the one that people are on both opposite ends. There's not really a middle ground for how people feel about that. I've seen people say they won't go back UNLESS Disney is requiring both Cast Members and guests to wear masks, and I've seen people on the other end saying that they will sue Disney if they're requiring them to wear a mask. So with the the US audience, I think that's gonna be one of the biggest hurdles, is figuring out what's the right approach there? Because I mean, it's ultimately…people have strong feelings about it, but it's ultimately about the health and safety of the Cast Members.
Patty 24:27
Oh, yeah.
Theresa 24:28
Hopefully, the plan is doing everything that they can to keep them safe.
Patty 24:33
Yep. Well, the big question is, what are your top three priorities for your first trip back to Disney? Whenever that might be, what three things, or what do you envision your first moments at Disney looking like?
Jane 24:51
So for me, I know my first moments. It's just going to be about Magic Kingdom and the only thing thing I really care about right now is just having Main Street open. I just want the sounds of Main Street. I want the smell from the bakery. I want some hustle and bustle, but not too much, because the truth is I don't like people. We all know that. But I want to see my castle, I want to see the hub grass. That to me, that's everything; that's really all I need. But the other thing is, attraction wise. I want to go back to Hollywood Studios. That's my favorite Park. So that's what my looks like.
Theresa 25:37
I think it's no surprise to anybody. Number one thing is going to see my dinosaur. I don't know if anybody else saw this, but they recently put out an overlay of where the Star Wars Land originally was going to go, and originally was going to go over top of Echo Lake. And I knew. I had a goodbye moment with Gertie years ago, because I knew that was the plan. I knew that initially they were getting rid of that area, or re-theming what the lake was. And so I'm very thankful that didn't end up happening. But I appreciate that I still get to have her. Over 30 years later, I still get to see her as often as I do. So I'm going to my dinosaur first. I am hopefully finally riding Rise of the Resistance, so I can finally see it – because I have still avoided videos, amazingly. And then Runaway Railway. And then just…you know, the same way that Hollywood studio is Jane's favorite Park, I just want to go take that walk from Hollywood Studios over to Epcot, and just hang out in World Showcase. I don't need to go on any rides. I don't need to go into any shops or eat anywhere. Just walking around. I'm totally content with that.
Patty 26:54
Well, this is funny. We are all three gonna end up at Hollywood Studios, and I would have never…like, three years ago would have never said Hollywood Studios. But here's my reason why: So first of all, I'm also going to Magic Kingdom and I am walking in, and I'm going to go and stand over by Roy and Minnie, and then probably just cry. Just cry. It's just going to be a thankful Thank You for letting us to be here. Then I'm going to…well, I don't even know if the train will be running. But assuming the train is running, I'm going to take my ride on the train in memory of my Jakey, and just soak all of that in. And after that, yes, I'm going to Hollywood Studios, too. And the reason I'm going to Hollywood Studios, is I miss the movies so much right now. There are things and there's elements in that Park that makes it feel like old school Hollywood that I connect with and I really enjoy. So I'm going to go to Hollywood Studios and soak a little bit of that in. I am definitely going to ride all the rides and eat some popcorn, because the smells and the popcorn – I just gotta have it, it's got to be done. So I probably will also just do a lot of sitting and soaking it all in. Sit on the bench with my popcorn, and watch people go by, and just be so glad that there's people. And I don't care if I'm…I will probably also be looking at your masks and being like, "Oh, that's cute. Oh, where'd you get that? Oh, I want one of those." Because I really liked the masks. I know that's a very bizarro thing to say for people that hate them. Thankfully, they don't bother me; I can wear them, they fit on my face. I don't have any breathing issues in them or anything like that. And I just I have probably bought 20. <laughter>
Jane 28:50
Oh my gosh.
Theresa 28:52
I did buy two of the sets that they had on shopDisney because luckily – some of them, they were just the the character mouths and nose. But a few of them I already had DisneyBounds planned for my last trip that fall in line with them. So I'm like, I'm set. I have even more of a DisneyBound with these masks now. Thank you.
Patty 29:11
Thank you, right? I think they're super cute. And they make me happy to wear to wear something Disney. I kind of went overboard, I probably have about 20 of them. I don't even leave my house unless it's to go the grocery store, like, once every 10 or 15 days. So it's not even like I have a lot of opportunity to wear them. But when I do, at least I'll have Disney with me always. So that's kind of my plans. That's what I think I'm going to do. We put this question into our Facebook group and asked folks to tell us what they would do on their first day back. What were your three big things that you wanted to do on opening day, and we're going to what some other friends have said about that. My friend Nikki said that she is going to rebook the Grand Floridian theme park view. She had to cancel the one that she had in March. And then she also just wants to walk down Main Street, hear the music, smell the Confectionery, and cry happy tears into corndog nuggets from Casey's. Yes, I think it will be that dramatic. Girl, yes.
Theresa 30:28
My friend Bobby he wrote: "Number 1: Roller coasters! My daughter should be tall enough for Space Mountain and all of the big rollercoasters on our next trip. She's very excited. Number 2 is ride Mickey and Minnie's Runaway Railway because I haven't yet." I feel you there. And then number 3: "Meet Gaston and the Stepsisters. All the trips I've made to Disney, I've never met them. I really wanted to during my last trip but we never got the timing right."
Patty 30:55
Oh yeah, you definitely need to do that. Put that on your Disney bucket list, day one.
Jane 31:01
Jessica said she wants to ride Rise and Mickey's Runaway Railway for the first time. This is going to be very popular.
Theresa 31:10
I think I see a theme developing.
Jane 31:14
Two, she wants to take the Marceline to Magic Kingdom tour, which I talked about a lot in…was it last week, the week before? All the weeks are the same. Go back to where we talk about hidden Disney gems in the Parks. I'll talk about that tour there. And she wants to explore the new Riviera resort with a ride on the Skyliner added in. I agree, Jessica, all amazing choices, including Riviera and the Skyliner. I'm in. When are we going on vacation together?
Patty 31:47
Right? Riviera is gorgeous. It really is a beautiful resort. All right, so Kirsten is a Disneylander. She's a West Coast gal. She says is going to take the full circle tour on the Disneyland Railroad. Yes! She is going to also ride Pirates of the Caribbean and eat a Dole Whip in the Tiki Room.
Theresa 32:09
Those are all fantastic choices. Especially for Disneyland. If my first trip was a Disneyland one, it would –
Patty 32:16
It would be that? Yeah. Pretty close to…well, I think I would ride the full circle tour. But then I would hop over and I would do Guardians of the Galaxy. <laughter>
Theresa 32:30
Peter who we've mentioned, you'll know exactly who he is by his first choice. He said he wants to ride the Haunted Mansion eight times. He is the one who has the Haunted Mansion bathroom that we've talked about a few times. He also wants to ride Runaway Railway, and he's another one in line for the Skyliner.
Patty 32:47
The Skyliner turned out to be a pretty popular option. I had doubts but –
Theresa 32:52
This excites me, because now if you're going to the Skyliner, you won't get put with another family. You're gonna have it all to yourself.
Patty 32:59
You know what? That's very good point. Oh my gosh. All right, well maybe that'll be the next episode, will be all the things we can be thankful to Corona for.
Jane 33:14
I think so. I think I'm gonna write this down. So Evelyn says: "Finally, I want to get to stay at the Riviera again. Get back on Rise of the Resistance." Do we keep hearing the themes here everyone? Her third thing she wants to do is have the pool boy wait on her.
Patty 33:43
Crystal says that she wants to ride Mickey's Railway. She wants to hug Chip and Dale, which you know, she could probably get away with. Don't you think you could get away with hugging?
Theresa 33:53
I don't know. It'd be fine for the Cast Member, but not for every other person who's hugging them before and after. So I doubt it.
Patty 34:02
Ohh, Probably not. Because Cambrie also said that she needs a Fairy Godmother hug, and I'm like, "Girl, it's gonna be a Fairy Godmother air hug. I don't think they're going to let you hug her." But Crystal says, "Mickey's Railway. Hug Chip and Dale. And then eat all the snacks: cupcakes, cookies, popcorn. I can't choose." Alright, fair enough, Crystal fair enough.
Jane 34:24
So Jill actually chimed in, and she has one for every Park of what she wants to do there. She said Magic Kingdom she wants to sit on or near Main Street and just soak in the atmosphere. Epcot she wants to walk around the countries and take silly Lego photos when wherever. Studios she wants to ride slinky and sip and adult lemonade and people watch an animal kingdom. She wants to ride the safari over and over again. Guys, I have to say this. I was looking at the flyover photos that Theresa was talking about earlier on. Facebook, and I was like, I just want to see the animals. Because I'm wondering, and we'll never find out because they don't talk. But like, are they like, Where are the trucks that come through where all the people up last night for an hour?
Theresa 35:20
I was thinking about that the other day though. I was like, I guess those are some of the the essential Cast Members that probably are…has to be a weird time for them, to be going in the Park when no one else is there, to care for the animals.
Jane 35:31
And I'm sure that they're backstage like in their pen area, right? But I'm sure they have to let them out everyday to go into the safari areas, because they're probably just used to that routine. But do they talk to each other? Are the elephants like, "Why haven't we seen anyone drive by in like, a year?"
Theresa 35:51
That probably is a really good idea to go into Safari as one of the first things you do, because they're gonna be so excited. They're going to be like, "Everyone's back. I'm gonna go right to the car!"
Jane 35:55
Like when you get home and they rush to the door.
Patty 35:57
The elephants are like, "Ask the giraffes if they can see anything."
Jane 36:09
You guys are tall. Can you look over that fence over there?
Theresa 36:14
<singing> The circle of liiiiiife…
Patty 36:17
Oh my word, my word. Who knows who knows?
Theresa 36:22
I'm gonna read Andrea's. She says she wants to have a Dole Whip. "Confession time, but I've never tried them before, and I think I'm way overdue." Number two, she wants to do a tour of some kind, and "with the money I've saved from not going for the last however long Disneyland is still closed, I might finally be able to do one." And then she wants a Mickey pretzel. "I'm a weakling for them. I want all the Disney food."
Patty 36:46
So we're basically gonna all go and eat Disney is what I'm hearing.
Theresa 36:50
I mean, we did an entire episode about what Disney food we want. So none of that surprises me either.
Patty 36:55
Nope, not at all.
Theresa 36:56
That's just a couple of responses we got to this question. If you want to be featured on the next podcast, or you have thoughts about what you want to do on your next trip to Disney, come and let us know over in the Facebook group: No-Guilt Disney. We chat a lot there.
Patty 37:14
We do.
Theresa 37:17
And make sure you keep joining us each week on the No-Guilt Disney Podcast because as Patty likes to say:
Patty 37:23
It's no fun to fangirl, Disney alone. See y'all real soon
More Disney Posts You'll Love
Best Disney Podcasts To Listen to in 2020
Face Mask Fashion: But Make it Disney. Where to Buy a Disney Face Mask
Jane can be found living at Walt Disney World. Okay, so not quite inside the magic but just outside the gates in Celebration. Follow her magical adventures on Instagram @realmousewifewdw