What. A. Week. Disney just had! And we're going to talk about it on the News Recap episode of The No-Guilt Disney Podcast. From our suggestions of Disney Halloween Parties 365 to some pretty strong feelings about the 2 Bobs: we've got the news you need in case you were immersed in Disney magic (or on the Jungle Cruise) last week.
Disney News Recap: The Wildest Week in the Disney Wilderness!
While we're not a breaking news kind of Disney podcast, we do follow along like everyone else.
And What. A. Week. Disney just had!
The 2 Bobs
Poor Second Bob
Park Shutdowns
The Immersive Disney Experience No One Wanted
Disney Halloween 365– Let's BOO This!
Disneyland Parades
Speaking of breaking news: there will be a quick recap of Mickey and Minnie's Runaway Railway this week since Jane has a FastPass on opening day. Keep an ear out for the bonus episode.
Stay Disney and Don't Do Standby!
Join the No-Guilt DisneyFacebook Group!
Find the No-Guilt Disney Podcast Team
by email at [email protected]
Patty
Theresa
@gertiethedino on Twitter
@in.sight.full.life on Instagram
Jane
@realmousewifewdw on Instagram
@realmousewifeFL on Twitter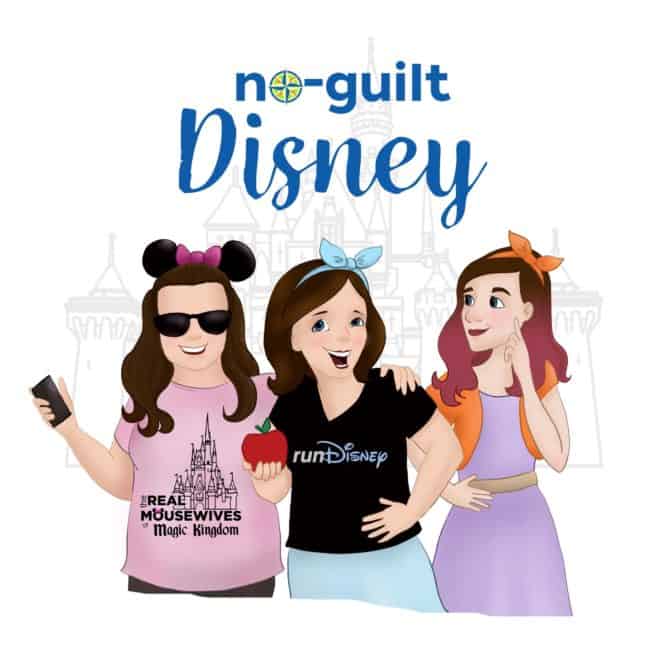 Music from https://filmmusic.io
"Vivacity" by Kevin MacLeod (https://incompetech.com)
License: CC BY (http://creativecommons.org/licenses/by/4.0/)
The Wildest Week In The Wilderness News Recap Transcripts
Patty 0:05
To all who come to our happy place, welcome to the No-Guilt Disney Podcast! Where we have no guilt about our love for all things Disney.
Jane 0:12
We're three Disney fan girls who probably know more about Disney Parks than most grown women should and we're perfectly okay with that.
Theresa 0:19
And we have really strong feelings about it too, as you might learn today.
Patty 0:24
Yeah, there might be some moments, y'all. There might be some moments.
Theresa 0:29
Hello everybody. My name is Theresa and you can find me on Twitter at @GertieTheDino or on Instagram at @in.sight.full.life.
Jane 0:37
I'm Jane and you can find me on Instagram at @RealMousewifeWDW.
Patty 0:42
Hey, I'm Patty Holliday from nNoGuiltDisney.com and on The No-Guilt Travel travel agency. That is a travel agency that specializes in Disney and Universal vacations. I know everyone's really surprised to hear that, aren't you? You can find me on all socials at @NoGuiltLife. We know that you have a choice in your Disney podcasts because there's 1000 gazillion bazillion out there. I think we were 1000 gazillion bazillion and one when we decided to sign up and do this. But we do appreciate you hanging in there with us and tuning in every week.
Jane 1:15
And please subscribe so you don't miss any episodes.
Theresa 1:19
And if you're listening on a platform that allows it, we would really appreciate if you leave a five star review and give a comment if you're feeling so inclined. The more of those reviews and comments and subscriptions that we get. It lets the podcast algorithms know that people are enjoying listening to this and it will start to suggest it to other people. So especially if you think that you've got friends or family or strangers that you can look at them and you're like "You're you're a Disney fan." The more you subscribe and leave those reviews, the more likely they'll find out about us.
Patty 1:53
You know when you're standing in line at the grocery store and you overhear someone talking about Disney and your head whips around. You can't help yourself and you jump in he start talking about everything that you love about Disney. Those are the kind of people you need to tell about the podcast. Okay?
Theresa 2:07
Yes. So if you hear someone say Disney, it'll be like, "Oh, have you heard about this podcast?"
Patty 2:12
Because I know I'm not the only one that does that, right? I mean, that's not crazy or weird or creepy.
Theresa 2:17
I mean, it's all of those things, but we also do it too. So I'm not judging. Jane might be. But…
Jane 2:24
Listen, I feel like anybody who is doing that is going to do it to people who would also do it. That's really how I feel.
Patty 2:32
Fair enough. Fair enough. All right. ]So today's episode we're doing a news episode, which is really weird for us, because we haven't done this yet. And I don't think we're gonna do it all the time, but when you've had a week like Disney had last week. I think you have to talk about it.
Theresa 2:53
Just a little bit.
Patty 2:55
Yeah. It has been just this wild crazy Disney week. There were a ton of things that happened that went down. It was kind of like these dominoes that just started falling all over the place. And yeah, we're gonna just do a quick rundown of some of the big ones. Consider this your first No-Guilt Disney news episode. We're gonna talk about all the things that we learned with deep analysis on Twitter in 270 characters or less, with all the authority that comes with that knowledge. Hmm. In other words, don't consider this hard-breaking and thoroughly researched stuff. <laughter>
Theresa 3:32
There may be some puns.
Patty 3:34
Because it ain't that We're not that kind of a show. I think you guys have figured that out already.
Jane 3:40
I don't know what y'all are talking about because I have spent hours researching this stuff on Twitter.
Theresa 3:47
Have you spent hours practicing your newscaster voice?
Jane 3:51
No. That's why I sound as awful as I do.
Patty 3:56
And the fact is that you joke about that, but you actually have because half of the things that went wrong, I learned from you Jane because you were sending me texts and you were sending me screenshots and "Oh boy. Oh boy. Oh boy."
Jane 4:08
I'm gonna let you in on a little secret. So they opened up my social media at work last week.
Patty 4:16
Oh boy.
Jane 4:16
So I have communication with the outside world again, which for a long time, it was super, super locked down. So now I'm able to break up my day, and I tend to break it up a lot, because I get super intense into something, and then I'm like, "Okay, I need a break." And that's how I take my breaks. I go on social.
Patty 4:16
This was a good week to do that.
Jane 4:43
I even tweeted multiple times, so much that I'm getting new followers.
Patty 4:48
Wait, what?
Jane 4:49
I'm not even kidding. I think I got like 15 new followers last week. I'm like, No, I'm only here like twice a year.
Patty 4:59
Well, that's awesome. Let's let's keep Jane on Twitter. All right, so we're gonna kick this off with kind of the biggie, right? At least, this was the biggest one in my world. And joking around, we're saying that once this happened, everything else just kind of fell apart. That may not be fair, but that's what we're going with
Theresa 5:19
It was a little bit of an omen.
Patty 5:22
Right. And that big breaking news was last week when we heard that Bob Iger was leaving, effective immediately. And Bob Chapek is taking over. How do we all feel about this? Because we got the Bobs, which if you're an Office Space fan, yes, that's that's a reference to the Bobs. We've got the Bobs, and they're also both very different personalities and feelings and styles. And I am definitely a big Iger fangirl, and have really liked what he's done with everything that he has been dealing with over the last years. And we got Chapek. Ain't so….ain't so excited about Chapek. There's a lot of reasons for that too. So I know how do you to feel?
Theresa 6:11
Not great, Bob.
Jane 6:13
I don't know if we should let Theresa go. <laughter>
Theresa 6:18
I think I posted on Twitter my reaction It was a gif from Mad Men where he's like, "Not great, Bob." And that's how I feel. "Not great, Bob." I have very strong feelings about this. And I don't want this to turn into an explicit episode. So I'm gonna try to reign them in as much as I can. But I just think this is a bad decision. And what I think is the most interesting, I know people were saying that this had probably been in the works for a while. That Bob Iger has been grooming him to take over. But I don't think that's entirely true, because I don't think they would have left the head of Parks and Resorts and Consumer Experiences, I think is the full title, I don't think they would have promoted him out of that position without having somebody ready to take over if this had been planned for any sort of time.
Patty 7:09
Yeah, it feels so immediate that it doesn't feel like it was planned. But again, we don't know.
Theresa 7:15
Right, yeah. This is not gonna be like a speculation thing.
Patty 7:19
Yeah, we're just saying it's weird.
Theresa 7:21
But I'm not the biggest fan of his for many reasons.
Patty 7:27
And some of his reasons include that he's one of the guys that makes these decisions about cutting a lot of the entertainment in the parks.
Theresa 7:37
Yes, so if you ever saw anything about the original plans for Galaxy's Edge, I know they recently did introduce R2-D2 into Galaxy's Edge, but the original plans from day one there was supposed to be a lot of droids roaming around. There's supposed to be a lot of additional entertainment as part of it. And yes, if you noticed, none of them was there an opening day and took a couple months to add it in. And I think that he's very much a bottom line person, which I get for the board. That's very exciting and they want somebody like that, but it shows just the lack of understanding about the guest experience and the Cast Member experience. So I am concerned to see how that plays out running the entire organization.
Jane 8:25
I have mixed feelings about it. It's not really a secret to anybody that knows me that I'm a huge Bob Iger fan. Patty and I can sit and high five about Iger all day long. But the one thing that I was trying to think positively about with Chapek is it's great to have a Parks guy in charge. And as much as he didn't do all the most amazing things for the parks while Chapek was in charge. At least he has that Parks experience and we haven't had that right. Iger was an entertainment guy. And he was great and wonderful and I will miss him dearly. But I'm hoping that even with Chapek being a bottom line, financial stocks guy, that he'll still come with a little bit of "Hey, guys, let's take care of our Parks a little bit."
Theresa 9:20
See, that's my big concern. Even though he was the head of it, I don't consider him a Parks guy. Because he also had his start in consumer products and I think that's why consumer products got tied into the Parks. Granted, there's been a lot more combined between the two. But he just…hearing him at D23 Expo speaking the two years that I've been for the big Parks panel, it just sounds like he has such disdain for the hardcore Disney fans. And I don't think…he might have been in charge of the Parks, I do not consider him a Parks guy.
Patty 9:54
Yeah, it's definitely gonna have a different feeling. It's gonna have a different vibe, and it's gonna be interesting now. Just want to point out Iger is not leaving, like, gone for forever. He is now the Chairman of the Board, so he's still around. But it's just gonna be different. So with that let the jokes roll because, poor Chapek.
Theresa 10:17
He has a lot to deal with now.
Patty 10:20
Yep, as as soon as Iger left, Chapek was dealt some big blows, right off the bat. And the first step we have to talk about is the Asian parks and how they are currently closed indefinitely due to the coronavirus. Y'all.
Jane 10:40
That's a lot.
Patty 10:40
Yeah, it's a lot, it's a lot. It was the right decision. It was the right proper thing to do for the Cast Members in the sense of their health and safety. Last I heard they were still getting paid, but Theresa, you know, a little bit more inside knowledge as to what's going on there.
Theresa 10:57
I have a friend who's working in Hong Kong and she's on one of the contracts there. And at the end of January, when Hong Kong closed, she wrote that even though the Parks were closed, she and some of her team members, they were still reporting to work every day. They were still getting paid, they still get to keep their jobs and have management staff give them options on how to handle the situation so they felt the most safe and most comfortable. And she ended with saying, "I cannot rave highly enough about this place." So Hong Kong is caring about the guests and the Cast Members, making sure that everyone is being safe. A couple weeks later, she wrote that she was upset because about 50% of the people who went there during her contract have left; they've chosen to go home. So it sounds like Disney was also giving people the option if they wanted to stay at work and wait it out, or if they wanted to go back to the United States parks, go back to Paris, depending on where they were originally coming from. They were giving them the opportunity to go back to where they felt most comfortable, where they felt safest. I'm not sure because it's been over a month now that they've been closed if they are still getting paid, because I know at one point they were having to report to the park every day, even though they weren't working. And I know that part, they don't have to go there every day now. So she's kind of hanging out in Hong Kong. But it will be interesting to see if Tokyo is approaching it the same way, since they kind of could see what was going on with the the other parks, with Shanghai and Hong Kong closing first. They have a little bit different…just more knowledge about it, and how they want to approach it.
Patty 12:37
Yeah, it's a complete and total bummer for anybody that was planning to go there. I actually have a friend from the runDisney circles who did to have this effect her. It was her her honeymoon.
Jane 12:49
Oh, that's a bummer.
Patty 12:50
She was going there for her honeymoon. Well, it's a belated honeymoon. They've been married for a couple years, but they planned this big huge trip to Japan. They always knew that Japan was where they want to have their honeymoon. She went anyway, and she was in the air when they made that decision. Which she was fine with. I mean, she honestly had the best attitude about the entire thing. I don't want to call her out because I want to embarrass her. But she had a great attitude about the entire thing, if you happen to be listening, I loved it. And I hearted you all over Instagram because I was so heartbroken for you. But they did arrive in Japan, they still spent a couple of days there. But then their flights were being canceled. And basically their airline was like, "Dudes, you're going home. We're calling it, unless you're just going to move here and live here now, you need to leave." So I guess it was supposed to be closer to a two week trip, turned into three days.
Theresa 13:46
Oh, wow.
Jane 13:47
Wow.
Patty 13:48
Yeah, so they're back home. And obviously no Tokyo Disney. They had a ton of other things that they planned to do. But that was one part of it because they're big Disney people and they lost out on that, which is, like I said, just really just bad timing. But at the same time, I feel like Disney's just trying to be as proactive as they can, because who wants to get sick from Disney? And have that be ground zero, right?
Theresa 14:18
Right, when especially just with the number of people, it's such a…you know, all of these parks. The Asian ones, I think do attract more locals similar to how Disneyland is primarily locals. But when it's such a large group, if something were to spread, it would be so difficult to track down. I think it's the best for everybody at this point.
Patty 14:39
Yeah, yeah, for sure. For sure. So on that note, anybody that's asking or curious or wants to know, what about the American parks? We don't know anything yet. Paris is still up and running, haven't heard anything there. And I would suspect that that would be the next location.
Theresa 14:55
I would think so, because they've said if it's an indoor event of more than 5000 people, those ones they're asking to be canceled. But it's, it's an outdoor venue, sort of? So it'll be interesting to see what happens in the next week or two with that.
Patty 15:13
Yeah, yeah. So we'll see but so Paris is still up and running. Nothing you know, a significantly has changed in Disneyland or at Walt Disney World. And we're not going to speculate on what could happen or what that can mean. However, we definitely are Team Cast Member and really hope whatever happens, you guys stay safe, stay healthy, and you stay paid because gonna be devastating. Oh, the rest of us, we can always come visit Disney later, at least that's my thinking, that's my plan, that's my hope. But I do have concerns about the Cast Members. I think Orlando is going to get…it could be a bad really bad thing for all of it the industry there in the town. So, anywho – what else we got?
Theresa 16:05
I can talk about a very immersive Disney experience that happened this week.
Patty 16:11
You did not. <laughter>
Theresa 16:14
So Disney has decided that they just were not promoting the Jungle Cruise movie quite enough that's coming out later this year. You may have seen it on Twitter, possibly made it around to Facebook too, a Jungle Cruise boat sank and it's just really unfortunate that everybody seemed to miss getting The Rock rescuing everybody off of these boats.
Patty 16:39
Right, they could have they could have timed that better.
Theresa 16:43
Yes, a Jungle Cruise boat partially sank. There are pictures of people who are in the boat with the water rising you know up to their ankles and people standing on like the sides of the boat trying to get out of the water. They moved people, they got them onto a second boat and then – or they got them onto land, and then they had another boat come and pick them up and take them back. But yes, one of the Jungle Cruise boats sank. And I did want to share: this got posted in the No-Guilt Disney Facebook group, which you should absolutely join if you haven't yet. I wanted to share some of the comments that people left because y'all are amazing. We had Jill who wrote "I've got a sinking feeling that the skipper took a wrong turn." And Mindy had one of my favorites. It's "Disney forgot to make the boat payment and now they're…underwater."
Patty 17:44
Yeah, that whole thread was awesome. Definitely come join and join in. Becase that was a lot of of fun. Everyone was safe. Everybody was evacuated. Thankfully, there was no major issues. And I was reading on Twitter that a Jungle Cruise Skipper came on and said it's only four feet deep. Where the elephants are or where some of the bigger animals it's deeper, but it's fairly shallow, so that's the good news too.
Theresa 18:17
Right, nobody was in serious danger aside from if any diseases they may have picked up from the water. Probably should be more concerned about that than sinking.
Jane 18:31
I have yet to meet anybody that I know that wasn't disappointed they weren't on that boat. Everyone is like, "Why didn't I get on the boat that sank?" I'm like "I know, right?" Wouldn't that have been a great experience?
Theresa 18:44
No, that makes me feel itchy.
Patty 18:48
Oh my gosh. I guess we can add that to never have I ever.
Theresa 18:52
Going back, I said I do not like water experiences. This goes on that list.
Patty 18:58
This does, this does.
Jane 19:00
So following the Jungle Cruise having a day, the PeopleMover had a car crash into another one. Oh boy. I mean, I was like, "Poor second Bob." Poor second Bob was really was having a rough week
Theresa 19:23
Or he could have put more money into maintenance of the parks. <laughs>
Patty 19:29
Shots fired, like on the Jungle Cruise. <laughter>
Theresa 19:36
I'm just pointing that out.
Patty 19:41
Yeah, so that happened. I mean, seriously second Bob. He had like, one night of happiness and then the next day, things just started happening left and right. But hey, that's why you get paid the big bucks. There was also some crazy situation happening at Boardwalk had some heavy police presence. It turned out to be nothing. But in all my years of Disney stalking and knowledge and obsessing, I've never seen anything like this before. But by all reports, it was much ado about nothing. So what a time to be alive, y'all.
Jane 20:16
What a time to be alive. But in happier news Mickey's Not So Scary Halloween party dates were announced last week.
Patty 20:24
Yes.
Theresa 20:25
How early into August is it starting this year?
Patty 20:28
Next week.
Jane 20:28
It's starting about the same time it does every year.
Patty 20:33
Theresa, do you have your costume ready? It's next week.
Theresa 20:35
I mean, I have a Disney bound for every day. So in theory I can be costume ready by just walking to my closet.
Jane 20:42
If they want to roll back Halloween to May, I'm in.
Patty 20:46
Well shoot, if they have to keep shutting down parks, they're probably thinking along those lines. How can we get more money out of all these parks around the world? I know, it's Halloween 365. Let's do this!
Jane 20:59
That sounds like the best thing ever.
Theresa 21:00
I absolutely believe they have considered that. It would not shock me to hear that has been an idea at some point in time.
Jane 21:09
If it hasn't, I'm gonna write that down. Someday when I get in front of them, I'm going to be like, "Listen. Halloween 365."
Patty 21:18
Listen second Bob. I got the answers to all your problems. Alright, so more details: what do we have? What do we know about the Halloween parties this year? I know the Tickets are on sale.
Jane 21:30
Tickets are on sale. It starts August 13. I believe when I counted it was 31 dates.
Patty 21:38
Wow.
Jane 21:40
And it goes through November 2 or November 1 is the last party. So I am a huge Halloween fan. If you don't know that, you can go back to I believe it's episode five is me talking about Halloween, how much I love it. And the actual date of Halloween does sell out the fastest. So if you're interested in going that day, I would highly recommend buying your tickets way ahead of time – even now, as crazy as it sounds. And the other thing is they did not announce an unlimited party pass, which is what they had last year.
Patty 22:21
Didn't that show up later?
Jane 22:23
It did, last year it only showed up on opening day. And it was a complete surprise. We've never seen anything like it before.
Patty 22:30
Right.
Jane 22:30
I know that there were some complaints where people said they oversold the parties and that they hadn't factored in the attendance coming from the unlimited party ticket crowd. So I don't know whether that means it'll be back, or it won't be back. What I did think was interesting was they did the unlimited Halloween party ticket but they did not do the same for the Christmas party last year. Kinda leaves me up in the air over whether I think that it'll be back. I'm hoping that it will. It was honestly one of my best Disney purchases ever. I just loved it.
Patty 23:05
Well yeah, I mean you live 10 seconds from Disney so you can go to every one and you can go in for half an hour and then leave.
Jane 23:11
And that's it. I'm so used to doing that, that for me to go to a Halloween party…and Patty and I went last year and that was a whole ball of fun.
Patty 23:21
It was fun.
Jane 23:23
I mean, we had to compromise. But I'm not used to, "Oh my gosh, I have to run around and do all the things in five short hours." And there's so much to see and do at the Halloween parties that you do need more than one night. So for me, it was absolutely the best thing. And for our friends on the best coast…
Patty 23:48
Holla Disneyland, we ain't leaving you out.
Jane 23:51
Those are my peeps out there. The Magic Happens parade debuted last week. I did not watch it, although I really wanted to. But I did scroll on Instagram and y'all. Sleeping Beauty's dress turns from blue to pink and back and I'm so in love.
Theresa 24:11
I love that. I'm, again as we know, I like to stay spoiler-free if I can, and I was actually supposed to be in Disneyland this week when it debuted and I'm slightly heartbroken that I didn't get to see it. So I didn't see that dress. I did see a picture of the Princess and the Frog float, which looks gorgeous and I am a huge fan. That's one of my favorite Disney animated movies and I think it needs to be in the Parks way more. Look at me talking about characters in the parks, y'all.
Jane 24:43
I'm so proud of you!
Patty 24:44
Not just talking about it, but advocating for it, look at you go.
Theresa 24:51
I definitely think there needs to be way more Princess and the Frog in the Parks, so them having it…like I said, I saw just one still image of the float, but it looks gorgeous. I think I might be back in California this summer, so I'm trying to trying to hold off until then to watch the parade.
Patty 25:07
Look at you. I'm super impressed that you can do that. I have no chill and no desire to wait it out at all. In fact, as we are speaking, I am scrolling through Instagram #MagicHappens. And Holy cow, these these are gorgeous. Now, I've heard a little bit of controversy with the music. I loved it. I haven't sat and watched the entire thing, but I've seen a couple little snippets. And I'm digging the music, but I've heard other people say that they hated it. Theresa, obviously you don't get to weigh in because you're –
Theresa 25:43
Well, they played a bit of it at D23. They announced – it's Todrick Hall, right? So I heard a little bit of it and I thought it sounded fun. It was like, a 30-second clip that they played of it. So it's very minimal knowledge but…is it too contemporary for people or too much of a remix of the songs?
Patty 26:05
I'm not sure what the answer is, just that either you love or you hate it was what I was picking up. But I will also say my Twitter interactions this week were a lot of scrolling while I was sitting on hold with Disney travel, so I didn't get too in depth and I definitely wasn't fighting with anybody over what was going on. But I just thought I'd put that out there is we want to hear from you. If you have either seen the parade in person or watched it on YouTube or any of your favorite social medias, come join us in the No-Guilt Disney Facebook group and also tell us your thoughts on this new parade. It's been a while since Disneyland had a new parade, so this has been something they definitely needed. And they do love a parade out there in Disneyland, I'll tell you what.
Jane 26:53
You know, we love parades here in Florida, especially night parades. But no one cares.
Patty 26:59
Here we go. I knew that was coming.
Theresa 27:03
<sings Baroque Hoedown> Shocker, I love the Main Street Electrical Parade, something old from Disney.
Patty 27:12
Now that I'm over here on the East Coast, I have become Team "Can we have Paint the Night at Disney World?" because I love that parade.
Theresa 27:22
I don't think the Mack truck float would fit.
Jane 27:25
Yeah that's the issue.
Patty 27:26
Yeah, probably not. But I do, I just love that parade so much. And I'm not a parade person. So apparently I hate Epcot – <laughter> no, I don't hate Epcot.
Jane 27:39
I'm also Team Hate Epcot. So you're fine.
Patty 27:43
I don't hate up God. But I also I'm not a big parade person, and also not a big fireworks person. I know everybody's like grasping their pearls and going "Wait, what?" I would rather be on rides while you guys are all standing around waiting to watch a parade or watch fireworks. I would rather be riding Seven Dwarfs Mine Train, getting off, getting back in line, riding it again and again, while the fireworks are going over my head. That's my version of amazing magical moments. But the one exception for me has been Paint the Night, that one I made a point to go and watch every single time I was at Disneyland when it was running. It's my favorite.
Jane 28:24
I sat at that table on that last weekend that Paint the Night was running on the original go round. And I sat at that table at Casey's holding it for that very last parade. Everybody came by being like, are you gonna get up? And no, I'm not moving. I was there like, three or four hours, everybody was there for the half marathon, right? So everyone was all off on this, ride off on that ride, but you know, stay Disney and don't do standby, so I wasn't participating in that. So I sat at the table and waited for fireworks and that last parade. Wasn't letting that pass me by.
Patty 29:01
I watched it with Julia. Julia actually tasked her husband to hold down spots for us so that we can go and do stuff. Because he's the best. So we love you, Steve, heart eye emojis. But yeah, we watched it together and finished that out that night too. So loved it.
Theresa 29:23
I think Paint the Night was fine. But my first Disney trip, one of the things I remember is Main Street Electrical Parade. So when that came back, all of the times that it's come back, it just makes me really excited. But I remember when they announced for its last run at Disney World, I remember when I knew it was gonna be my last time seeing it there, I did the same thing. In Liberty Square. There's these two rocking chairs that are kind of set off to the side, but I claimed those real early. I'm like, "I'm sitting in these rocking chairs. No one is moving me, and this is where I'm gonna have my my final moment with this." Which did not end up being my final moment because I got to see it at Disneyland during D23, which was…I cried so many times.
Patty 30:09
Oh, I'll bet. Who's not surprised?
Jane 30:12
Theresa, I know you're not going to believe this when I tell you: you and I both love the Electrical Light Parade.
Theresa 30:19
Yayyyyyyy. Wait, which is your favorite float? Because I have very strong feelings about one of them.
Jane 30:26
I was actually in the Main Street Electrical Parade years ago.
Theresa 30:29
Ooh.
Jane 30:31
But they removed the unit I was a part of.
Theresa 30:33
Which one was it?
Jane 30:34
The Dumbo unit. So I love that unit, just because it brings back old memories, but really any part of that parade is super fun.
Theresa 30:45
For me, it's the fancy hat turtle.
Jane 30:47
I'm not surprised. <laughter>
Theresa 30:50
I just get so happy. When I saw it in Disneyland, I took a video, but then I just kept hitting the photo button on my phone. So I just have like, three rows of the fancy hat turtle.
Jane 31:04
I feel like the fancy hat turtle looks like a small friend of Gertie the Dino. And that's all you need to know.
Theresa 31:10
Yeah, she really is.
Patty 31:13
Alright. Alright, so it has been this crazy wild Disney week, we have done our best to give you all the details and all the news that you could also find on Twitter, probably reported on in a more professional manner.
Theresa 31:26
<laughs> Way more professional on Twitter.
Patty 31:29
We're way more fun, right? Right. All right. And so we are going to wrap this one up and thanks for joining us, yet again, for another episode. And you know, come back and see us again next week guys.
Theresa 31:42
And make sure you join us each week on the no guilt Disney podcast, because as Patty likes to say:
Patty 31:47
It's no fun to fangirl Disney alone.
Patty Holliday has been running Disney since 2011. She knows just about every tip, trick, and hack there is to cover the runDisney Magical Miles at Disney World and Disneyland. She knows every mile isn't *always* magical- but with training, tips, and a little bit of pixie dust, they can be a lot of fun! You can also find her at noguiltlife.com and noguiltfangirl.com