Welcome to Disney Springs, the ultimate family-friendly destination in Orlando, Florida. If you're going to Walt Disney World, you'll probably make a stop here as well. And why not? With tons of things to do in Disney Springs with kids, you can easily plan a fun-filled day at the popular location. And the best part? Unlike other areas at Walt Disney World: this one is free to enter!
What is Disney Springs In Orlando?
Formerly known as Downtown Disney, this shopping, dining and entertainment complex has undergone several refurbishments over the years, transforming it into a charming waterfront district that exudes a laid-back Southern vibe.
Not to try to be confusing, but it kinda is: Disneyland still calls its shopping area Downtown Disney.
Disney Springs is an excellent destination for families with children on vacation because of the diverse array of attractions and activities available.
The atmosphere is always upbeat, and there's something for everyone, no matter their age or interests.
Taking the kids to Disney Springs? Here's our list of things to do with kids!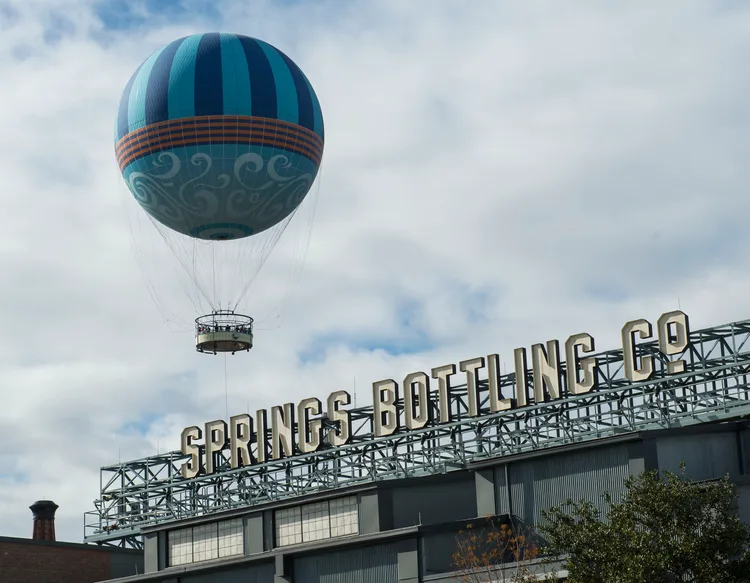 Things to Do At Disney Springs With Kids
When should you visit Disney Springs?
When you're ready to take a break from the theme parks, Disney Springs is a great place to visit and a fun way to get in some magic without a theme park ticket.
It's also a great first-day or last-day stop if you only have a partial day and don't want to waste a park ticket.
Check out this list that's filled with kid-friendly restaurants, great ideas for fun activities kids will love, and live performances.
Activities With Teens and Tweens at Disney Springs
Aerophile balloon: this ride takes you 400 feet up in the air in a hot air balloon for breathtaking views of Walt Disney World Resort. It's just one of many unique experiences for families outside the Disney parks.
Splitsville Luxury Lanes bowling alley has 20 lanes of glow-in-the-dark bowling plus a full sports bar and menu, making it a great way to spend some time together.
Pin Trading Station: Disney pin fans will want to visit the pin trading station at World of Disney has over 200 pins available for purchase. And don't forget most Disney-owned locations have pins ready to trade at the check out. Just ask the cast member to see them!
Live entertainment includes live music nightly in select locations in the downtown area. The stage near Jock Lindsey's Hangar Bar has plenty of seating and is across from the gelato shop, making it the perfect place to grab a snack and enjoy the music as a family.
House of Blues concerts. Check out the lineup and see if there's a band that will impress your teens and tweens- and then go rock out!
The waterfront area comes alive with lights as the night progresses, making it a great way to end your day of fun.
Things To Do At Disney Springs With Little Kids
Splash Pad. Younger kids LOVE this area in Disney Springs. Located on the west side, it's free to enjoy and a great place to sit still and satisfy your sweet tooth with ice cream or a rice crispy treat from Goofy's Candy Company.
The Marketplace Train Express. Another hit with toddlers and preschool kids is taking a train ride on The Marketplace Train Express. You can board a vintage train car at the station near Rainforest Cafe and take a ride around the destination and explore the gorgeous waterfront views.
The Marketplace Carousel. This classic Venetian merry-go-round is always a hit for kids (young and old!).
Amphicar ride. If you're looking for something truly unique, this boat trip will thrill the kids in your family. This is a 20-minute guided tour on the waters of Lake Buena Vista in an Amphicar—a rare amphibious vehicle that can drive on land and float on water.
Check out the murals. Disney Springs is alive with art and great photo walls. Little kids will love checking out the vibrant colors and seeing something new at each visit!
Get Everyone In The Picture At Disney Springs!
Be sure to take everyone over to the PhotoPass Studio, especially if you have already paid for Memory Maker for your trip.
This is something to do at Disney Springs that the whole family can enjoy.
There are no reservations needed and it's located in air conditioning. And its a chance for the whole family to take a few fun pictures with unique backdrops.
What more can a kid (or parent) ask for?
Dining Options For Kids At Disney Springs
When it comes to dining options, there are plenty of choices to satisfy every craving.
For a quick bite, grab a sandwich or soup at Earl of Sandwich or visit one of several fast-casual eateries with good options for picky eaters like Blaze Pizza or D-Luxe Burger.
If you're looking for something more upscale, try The Boathouse, where you can enjoy a delicious seafood meal while overlooking the beautiful lake. And then take that ride on the Amphicar that the kids will love!
And don't forget to stop for some gelato at Vivoli il Gelato!
Themed restaurants like the T-Rex Restaurant or Rainforest Cafe are always a big hit with the younger crowd.
The food is super kid-friendly and the atmosphere at the T-Rex Cafe includes animatronic dinosaurs and other exciting surprises that make dining there so much fun!
But just a warning: these dining locations are loud. If you have a child with sound sensitivities, you may want to skip these locations.
Other popular options include the House of Blues (best for older kids) and Raglan Road which is known for its Irish food and entertainment. Kids are often included in the nightly entertainment at this exciting pub.
Explore The Shopping District
Shopping in Disney Springs is a unique experience that kids and parents alike will love.
The Coca-Cola Store is always a hit with kids of all ages.
While there are plenty of unique Coke products and merchandise to buy, you can also get a photo op with the famous Coca-Cola Polar Bear. And then head to the Rooftop Beverage Bar for a flight of Coke Floats!
Visit the LEGO store, where you'll find impressive LEGO sculptures and interactive play areas, or check out the impressive life-size Lego displays built by Disney cast members.
They're a great photo opportunity for kids!
The World of Disney Store is the largest Disney store in the area.
The huge shop has something for everyone in the family and has a great selection of souvenirs for kids of all ages.
Another can't miss store at Disney Springs is the Marketplace Co-Op, where you'll find unique items from up-and-coming designers. This is a great place to grab a new leash or collar for your furry friends back home too!
Insider tip: Don't miss the nightly performances by street performers, musicians, and other talented artists that take place throughout Disney Springs. It's a great way to end the day on a high note.
How to Get To Disney Springs
Getting to Disney Springs is easy. You can take a bus from any of the Disney resorts, or drive and park your car in one of the many parking garages.
Uber and Lyft also offer drop-off locations at Disney Springs.
Admission to Disney Springs is always free, but some attractions and activities require tickets, which can be purchased on-site or online.
Reservations are also required at most dining locations, so be sure to plan ahead. To make your advanced dining reservation, download the My Disney Experience app and book your reservation. You can also view menus, check prices and even order directly from the app for some quick service locations.
These are just a few of the many activities available for families with kids at Disney Springs. Whether you're looking for an exciting ride, some live music, or something special to treat your young one, Disney Springs is a great destination for kids.
Overall, Disney Springs is the perfect destination for families with children looking for a fun-filled vacation. With its exciting attractions, delicious dining options, unique shopping experiences and scenic views, it's no wonder why it remains one of the most beloved destinations in Orlando.
Now that you know all the fun things to do at Disney Springs with kids, it's time to start planning your family vacation!
More Disney Tips You'll Love
Patty Holliday has been running Disney since 2011. She knows just about every tip, trick, and hack there is to cover the runDisney Magical Miles at Disney World and Disneyland. She knows every mile isn't *always* magical- but with training, tips, and a little bit of pixie dust, they can be a lot of fun! You can also find her at noguiltlife.com and noguiltfangirl.com