There are a lot of things that Disney does well: theme park experiences and road races are two big standouts for me personally. But next on that list: music and musicals. And I've got a list of the best Disney musical movies of all time. Sing along with me!
About Walt Disney Animation Studios
Once upon a time, there was a company that revolutionized the entertainment industry.
The Walt Disney Animation Studios started as a small animation studio in the 1920s and grew to become the world's largest entertainment conglomerate, with its brand spanning movies, TV shows, theme parks, and beyond.
One of the crucial elements of Disney's success is its ability to create compelling stories and unforgettable characters that captivate audiences of all ages.
And what better way to tell those stories than through music?
Disney musical movies are a genre of their own – they have the power to transport us to different worlds, make us laugh and cry, and sing along to catchy tunes that stay with us for years.
A Disney musical movie generally includes a captivating plot, memorable songs, witty one-liners, and unforgettable characters.
Each element works together to create an iconic masterpiece that is beloved by generations.
Disney Musicals vs. Musical Disney Movies
I know you might be thinking that most Disney movies have songs in them, but not all of them can be called musicals.
So, what makes a Disney movie a musical?
Disney Musicals
A definition of a musical is "a drama or comedy told mainly through singing and dancing", so in other words – the songs should have some relation to the plot and progress it in some way.
With that in mind, some of the most iconic Disney musicals throughout the years have been Beauty and the Beast, The Little Mermaid, Aladdin, Mulan, Frozen, and many more.
Musical Disney Movies
Disney musical movies not only provide us with entertainment but also offer a unique experience that can bring people together.
These films are able to encompass different themes and lessons that people of all ages can relate to, thus creating a connection between them.
The lyrics of these songs have the power to uplift our moods and make us feel like we can take on any challenge.
So, if you're looking for a way to escape reality for a while, why not take a journey through a Disney musical movie?
Re-watch your favorite one, or discover a new one and let the magic of Disney take you on an unforgettable journey.
You never know what kind of special memories it might create.
The Best Disney Musical Movies
So, why are these movies considered the best Disney musicals of all time?
Each film has its unique qualities, new songs and many have even won awards for best original song, but they all share some common elements that make them classics.
1. The storytelling is captivating, and the characters are memorable and relatable.
2. The music is catchy and stays with you long after the movie ends.
3. These movies have the power to inspire multiple generations and bring families together to watch and enjoy.
Disney musical movies have the power to bring us together, uplift our mood and make us feel like we can conquer anything. So, take a break from your day-to-day life and re-watch your favorite Disney musical, or discover a new one. Let the magic of Disney take you on a journey that you will never forget. Who knows what kind of inspiration or joy you may find?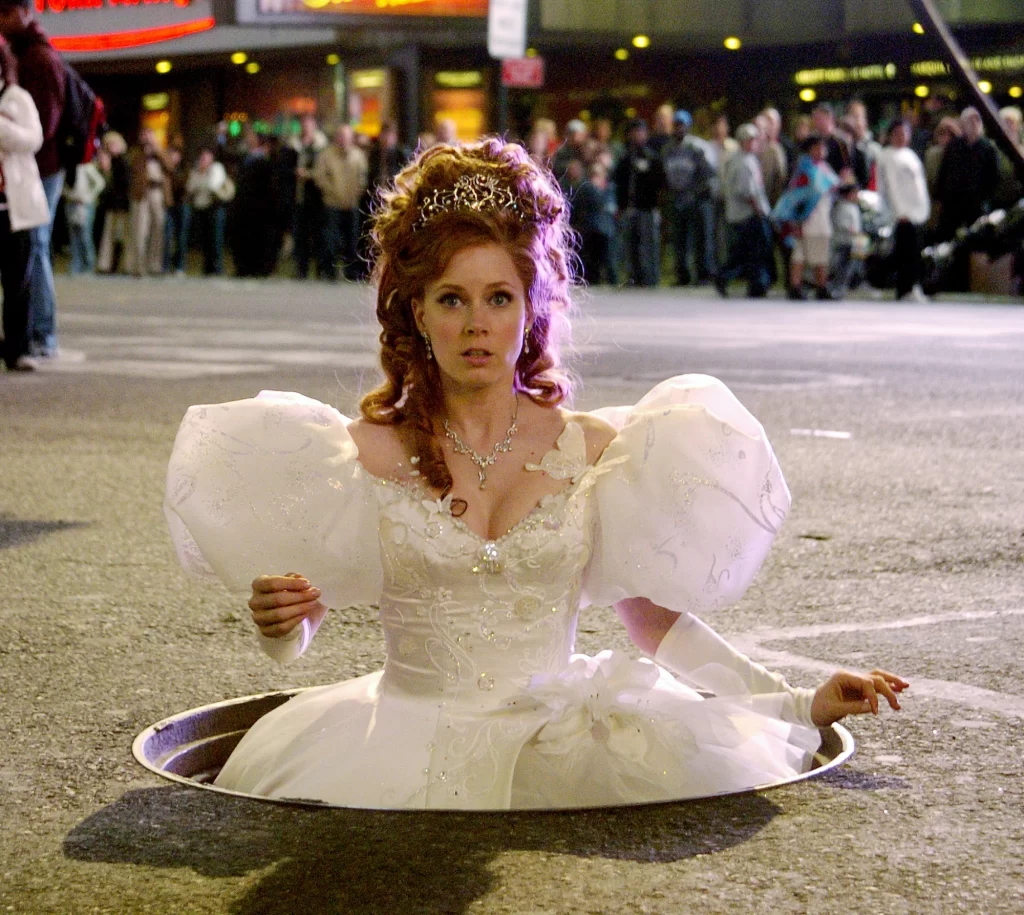 Must-Watch Musical Disney Movies
With the definition in mind, here are 10 must-watch Disney musical movies your whole family will love:
1. The Lion King (1994) – This film tells the story of Simba, a young lion who is destined to become king of the Pride Lands. With a powerful soundtrack by Elton John and Tim Rice, The Lion King features classic songs like "Hakuna Matata," "Circle of Life" and "Can You Feel the Love Tonight."
2. Enchanted (2007) – A fun twist on the traditional Disney princess story, Enchanted tells the story of Giselle, a cartoon princess who is transported into the real world. The film features catchy songs like "That's How You Know" and "True Love's Kiss."
3. Mary Poppins (1964) – Starring Julie Andrews as the titular nanny, Mary Poppins is a classic film that mixes live-action and animation. With songs like "A Spoonful of Sugar" and "Supercalifragilisticexpialidocious," this movie is sure to put a smile on your face. Not to mention the fabulous Dick Van Dyke and his exciting rendition of "Step in Time" that will have you out of your seat dancing along.
4. Beauty and the Beast (1991) – One of the most beloved Disney princess movies, Beauty and the Beast tells the story of Belle, a young woman who falls in love with a cursed prince. The film features iconic songs like "Be Our Guest" and "Tale as Old as Time."
5. Frozen (2013) – A modern classic, Frozen follows the journey of two sisters, Elsa and Anna, as they navigate through the challenges of sisterhood and magic. With songs like "Let It Go" and "Do You Want to Build a Snowman?" this movie became an instant hit.
6. Aladdin (1992) – This movie tells the story of a young street thief who falls in love with a princess and finds a magical lamp with a genie inside. The film features memorable songs like "A Whole New World" and "Friend Like Me."
7. The Little Mermaid (1989) – A classic tale of a mermaid who trades her voice for legs to be with the man she loves, The Little Mermaid features unforgettable songs like "Part of Your World" and "Under the Sea."
8. Moana (2016) – Set in Ancient Polynesia, Moana tells the story of a young girl who sets sail on a daring mission to save her people. With a powerful soundtrack featuring songs like "How Far I'll Go" and "You're Welcome," Moana is a heartwarming and empowering film that features Dwayne Johnson, playing Maui alongside Moana, played by Auli'i Cravalho.
9. The Jungle Book (1967) – Based on the book by Rudyard Kipling, The Jungle Book tells the story of Mowgli, a young boy raised by animals in the wild. With classic songs like "The Bare Necessities" and "I Wan'na Be Like You," this movie has stood the test of time.
10. The Sound of Music (1965) – Although not a traditional Disney movie, The Sound of Music is a musical classic that cannot be ignored. Starring Julie Andrews as Maria, a governess who falls in love with a widowed captain, this film features iconic songs like "Do-Re-Mi" and "My Favorite Things."
Disney Classic Movies
Feeling nostalgic? These musical Disney classics will take you back to your childhood with popular Disney songs you love to sing.
Cinderella
Peter Pan
Bambi
Sleeping Beauty
Lady and the Tramp
Pinocchio
The Aristocats
Live-Action Musicals
These live-action movie musicals are some of the most beloved Disney films. Some have won awards for their original songs that get stuck in your head. Just try not to sing along with these musical numbers.
Cheetah Girls
Camp Rock
Teen Beach Movie
Descendants
Newsies
Hannah Montana The Movie
Animated Disney Movies
When it comes to the classics, these animated flicks are pure gold.
With catchy songs and memorable characters, these movies will make you smile and might even get your toes tapping.
The Aristocats
Aladdin
Tangled
Snow White & the Seven Dwarfs
Hunchback of Notre Dame
Toy Story
Disney Broadway Musicals
Broadway musical fans and Disney fans collide when Disney brings their animated stories to the stage.
These musicals are perfect for people who want to have a theatrical experience and still enjoy the characters they love from their favorite Disney movies.
Beauty & The Beast
The Little Mermaid
Aladdin
The Lion King
Frozen
No matter which Disney musical movie you choose, you can be sure to be transported to a world of wonder and adventure.
These movies have the power to bring us joy, hope, and courage in difficult times.
From spirited princesses to brave heroes, they remind us that no matter what life throws at us, we can always overcome it with a little bit of magic.
So put on your dancing shoes and let the Disney musicals take you away!
More Posts You'll Love
Patty Holliday has been running Disney since 2011. She knows just about every tip, trick, and hack there is to cover the runDisney Magical Miles at Disney World and Disneyland. She knows every mile isn't *always* magical- but with training, tips, and a little bit of pixie dust, they can be a lot of fun! You can also find her at noguiltlife.com and noguiltfangirl.com